AirPlay is one of Apple's innovative features that is incredibly handy. It allows users to stream content from one iOS device to another wirelessly. For example, you can use AirPlay to connect your Mac or iPhone with your Apple TV to the local Wi-Fi network system. Once both devices are connected, you can easily play content directly from your iOS device to your Apple TV.
However, like other iOS features, AirPlay can sometimes stop working for some reason. If AirPlay not working the way it should, this article will propose solutions that will help you fix the problem.
Why is My AirPlay Not Working?
1. Airplay doesn't work on all devices, so it's possible that the device you are using is not compatible with this feature.
2. Another reason why your AirPlay can't stream your content is that there's an issue with your router. It probably restricts the content due to minor issues with the router's firmware.
3. Your devices might not be turned on or unlocked. If you use AirPlay on your Apple TV, it might be in sleep mode, causing a disruption in the connection.
4. AirPlay requires all your devices to be updated. If they are not running on the latest software version available, there's a chance that your devices will not work with AirPlay.
5. It is important for both the receiving and the sender device to be connected to the same Wi-Fi for it to work. If that's not the case, the feature will be unable to detect all AirPlay-enabled devices on the same network.
6. Apple recommends that you enable Bluetooth on your iOS devices to use AirPlay. If it is not enabled, it will not work.
7. If your Mac is not supporting AirPlay, the firewall may be restricting the connection causing all the issues.
How to Fix the Error of AirPlay Not Working with Apple Official Suggestion
If you are unable to stream content with AirPlay or mirror the screen on your iOS device to your Apple TV or smart TV or have any other issues using AirPlay, you can follow the following steps to resolve the issue.
1. Check if both devices are compatible– You have to make sure that all the devices you are trying to connect are compatible with each other and support AirPlay.
2. Devices should be placed closer to each other– AirPlay-compatible devices must be turned on and placed close to each other to ensure seamless streaming.
3. Update all devices to the latest version– Make sure that all your devices are updated with the latest software version.

4. Reconnect to Wi-Fi and Bluetooth– AirPlay needs the devices to be connected on the same Wi-Fi network with the Bluetooth feature enabled. Disconnect and reconnect both Wi-Fi and Bluetooth on the devices you are using.
5. Restart the devices you are using– If the above step doesn't work, restart the devices you want to use with AirPlay or screen mirroring.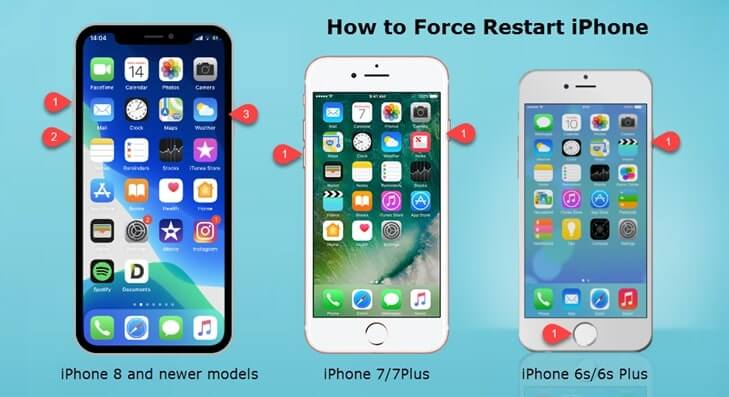 How to Solve Airplay Wont Connect to TV with the Easiest Solution
StarzSoft Fixcon is one of the easiest solutions to fix Apple devices problems within minutes. It allows users to repair issues in a few clicks without any loss of data and any tech knowledge requirement. With two repair modes that ensure the highest-ever success rate, Fixcon fixes issues efficiently with minimum effort.
If you are having trouble with streaming through AirPlay, you can use Fixcon to resolve this issue with ease. Download StarzSoft Fixcon on your computer and launch the app. You will have to choose between three modes:
Standard Repair
Advanced Repair
Enter/Exit Recovery Mode
When trying to fix common system issues, the Standard Repair option is recommended. Here is a step-by-step guide you can use to fix system errors without data loss using Standard Repair.
1. Launch StarzSoft Fixcon on your computer and select "Standard Repair" from the home interface.

2. Connect your iPhone or other devices via a USB cable/ Micro-USB. The software will automatically detect your phone and proceed to the next step. If that's not the case, put your device into DFU/Recovery Mode.
3. Select the firmware package you prefer from the choices shown to you. Click "Download."

4. When the firmware package is downloaded, click "Continue" to start system repair. Once the repair is complete, your device will be restarted, and all your data will be present.
Other Solutions for Why My Airplay is Not Working
There are several reasons AirPlay won't stream audio or video content from your smart devices. Sometimes, the network connection has an issue, while other times, your Apple device doesn't work properly, restricting content to your desired destinations.
You can fix most VIZIO Airplay not working issues with quick and easy methods. These are possible ways to fix AirPlay when it's not working.
1. Reboot your router– Sometimes, Airplay not working on LG TV if there's a problem with your router. The device might be restricting the content because of its firmware. This issue can be dealt with by simply rebooting your router in many cases. Turn off the router and turn it back on. This might resolve minor issues with the network.
2. Check your AirPlay password settings– If you are prompted to enter a password, it means you might have restrictions turned on your device, or you might need to alter your AirPlay password settings.
3. Reset iPhone network settings– If there's an issue with the network setting on your iPhone, VIZIO TV Airplay not working on your devices. It can help to reset your network settings. Go to Settings > General > Reset > Reset Network Settings. This also resets Wi-Fi networks and cellular settings, passwords, and VPN and APN settings that you've used previously.

4. Uninstall third-party screen mirror apps– If you have installed other third-party screen mirror apps, they might be disrupting the AirPlay connection. Uninstall all third-party apps and try to reconnect to AirPlay.
5. Check if you have enabled everyone to use AirPlay on Apple TV– If you are prompted to enter a password on your Apple TV, and you aren't using AirPlay, you might need to change your AirPlay settings. You can choose who can stream content using AirPlay to your Apple TV: select 'Everyone' or 'Anyone on the same network.'
6. Change firewall block settings on Mac– Use the Firewall pane of Security and Privacy to access your firewall preferences. Choose Apple Menu > System Preferences > Security & Privacy, then click Firewall. Check your firewall settings on Mac to see if you have accidentally blocked AirPlay
Conclusion
Many people rely on AirPlay for their daily tasks, and it can be really frustrating when the feature stops working for you. With the steps outlined above, you should be able to fix your AirPlay problems in no time.
You can download StarzSoft Fixcon and fix iOS, iPadOS, and tvOS issues in no time and get your device back to life. Whether you are struggling with Airplay not working, a black screen, an update failure, or other iOS issues, Fixcon saves your time and effort as it's a one-stop solution for all your problems.