Split screen is a feature available on iPad that allows you to split your screen in half so you can use two apps simultaneously. This multitasking feature is very useful for those who want to use two Apps at a time. However this feature is very convenient for multitasking, but having two windows sharing a single iPad screen sometimes can be confusing.
Therefore, this guide will show you how to get rid of a split screen on iPad. Make sure to read this guide till the end.
Why Do I Have a Split Screen on My iPad?
Split screen is one of the best features available on your iPad; with the help of the feature, you can work on more than one App at the same time.
Here are some of the main features that you will get from this feature.
Allows you to work on two apps at the same time.
Save your time.
The best feature to use when you are doing a research.
A handful for those who are working on a project or presentation.
These are the main reasons why Apple offers the Split screen feature.
As long as your iPad has Split screen feature and you enable it, it will perform automatically once you have multitasks running on your iPad at one time.
But if you don't find it helpful and want to remove it as soon as possible, then let us show you how to remove the split screen on iPad.
How to Remove Split Screen on iPad?
As we all know, having two apps open side by side can be extremely useful. It can be very helpful when using this feature while working on a project or presentation. This feature will save you a lot of time.However, you don't want this split screen when your project or presentation is complete. Then follow the instruction below to close the split screen on iPad.
Firstly you have to decide which App you want to close; once you have made your decision, tap on the divider available in the middle of both apps.
Now slide that divider left or right, depending on which app you want to close. If you want to close the App on the left, then slide the divider to the left of the screen.

Slide the finger to the left side until the App disappears.
Once the left tap is fully closed, the App on the right side will expand to full-screen mode. But if you want to turn it off permanently, then continue reading the article.
How do Turn Off the Split Screen Feature on iPad Permanently?
While Apple proudly says the new feature has made life easier, not everybody agrees with this statement. Many iPad users are confused after using this feature and even didn't consider it a good idea to split the screens. Luckily, the iPad also provides you with an option to turn off this feature permanently. The process is very simple and anyone can follow it. Follow the instructions below to turn off the Split screen iPad permanently.
Unlock your iPad and then visit Settings App.
Then select the Home Screen & Dock option.
Within the Home screen & Dock option, select the Multitasking option.

Now turn off the Allow Multi App option to permanently turn off the split screen feature on iPad.
Now split screen feature is permanently turned off, in case you want to turn on this feature on your iPad. Then you can follow the same steps to turn on the option from iPad settings.
How to Use Split Screen on iPad?
Before knowing how to use this feature on your iPad, first, we would like to inform you that the split screen feature doesn't work with every app available. For example, this feature doesn't work with apps like Instagram, Facebook, and more.
The second most important thing you have to know before activating this feature on your iPad is that this feature is not available on all iPad. Here is the list of iPad on which the split screen feature is available.
iPad Mini 4
iPad 5th Generation
iPad Air 2
iPad Pro
These are the list of iPad on which this feature is currently available. Make sure to check your device model before starting using the Split screen on your device.
Once you have confirmed that this feature is available on your iPad, let us show you how to use the Split screen on iPad.
Firstly open any app on your iPad, and it will automatically open in full-screen mode.
Then drag your finger on iPad to open the Dock Bar.
Select any app from the dock bar and then long press the second app icon; drag the following app to the left or right side of your screen.
Now the split screen is activated, use the divider to set the dimension of both apps available on the Split screen.
Bonus Tips: How to fix iPad Issues by repairing iPadOS System?
As we all know, repairing the iPadOS system is the final option for any user to solve the issue on their device. That's why we have introduced a program that helps you to repair your iPadOS and iOS system without facing any difficulties. This program is known as Starzsoft Fixcon and will help you fix any issue on your iOS/iPadOS/TVOS systems. The best part of this program is that it will repair your system without any data loss.
Fixcon can fix many major issues, such as iPad stuck on the Apple logo, iPad stuck on white or black screens, and many more.
Follow the steps below to repair your iPadOS with Fixcon.
Go to StarzSoft Fixcon's official website and download the program on your device.
Once installed, launch the program and select the Standard repair option available on the home screen. You can also find other options, including Advanced Repair and Enter/Exit Recovery Mode.

Now connect your iPad with a USB cable, and Fixcon will detect your device and then process it to the next step automatically.

All the list of suitable firmware for your iPad device will appear on your screen, select a suitable package and then click on the Download button.

The Download process will take some time, so please wait. Also, don't disconnect your device; otherwise, you have to repeat the steps again.

Once the downloading is complete, click the continue button to start the repair process.

The repairing process will also take some time, so wait until the process is completed.

After the process is completed, your device will reboot, and once it turns back on, you will notice that your issue is solved and all your data is still available.
You can follow the same steps to repair your iOS system on iPhone or another iOS device.
Conclusion
Now you have finally learned how to get rid of Split screen on iPad temporarily and permanently. With the help of this guide, you can get rid of the Split screen at any time. Furthermore, in this guide, we have mentioned third-party software that will help you repair your iPadOS and iOS system with data loss. This software is called StarzSoft Fixcon iOS System Repair, and it will help you solve any issue available on your iOS system with any difficulties. This program can solve many major issues, such as the iOS system stuck on a White or Black screen, iPad stuck on Apple Logo, and more.
The instructions to use this program are mentioned above, and you can follow these steps to solve your iPAD/iOS-related issue in no time. Hopefully, this guide has all the information you want related to the Split screen on iPad.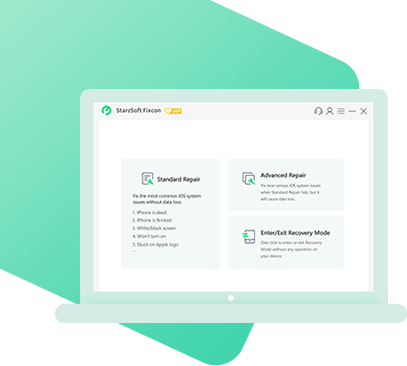 The tool is both fast and easy to use.
The professional tool fixes different issues without causing data loss.
Fixcon is fully compatible with all iOS versions.
Its free trial version lets you confirm whether it will work for you.