So you would like to use your iPad in a comfy position, just rotate your device and use the landscape view to work, see a movie or play your favourite game. Unfortunately, this can't happen, your iPad Screen won't rotate.
Why won't my iPad rotate? What can you do to fix it? This article would help find and proffer a solution to your device issue.
Part 1: Reasons Why Your iPhone or iPad Screen Won't Rotate
When it comes to mobile devices, unplanned malfunctions might inevitably occur, there are various reasons why your iPhone Screen won't rotate. They could be:
1. Incorrect Screen Settings: This is a common reason why your iPad screen or iPhone screen doesn't rotate. Settings are like commands to the operating system of your device, so if the "command" is given wrong, then you can encounter issues such as this.
2. Sensor Malformation: Your iPad screen might not rotate because the sensor might be damaged. Hence there is no reaction when your phone is slanted, to trigger a rotation by the iOS.
3. Software glitch: Periodic twitch in systems are normal, same with your device. Your iPad or iPhone might not rotate because of a glitch in the software, so it doesn't function properly, there are some discrepancies.
4. Newly installed apps: If you just installed an app and then notice that your iPhone or iPad stops rotating, then it's likely your phone and the app might not be compatible, as the app conflicts with your phone.
5. App type: Sometimes, your device is not the problem, some apps do not support rotation, so if you have an app like that installed you don't have to worry, your device is fine.
6. Your iPad doesn't know you are trying to rotate it: This sounds funny, right? But it isn't, if you are trying to rotate your iPad the wrong way, your device can't tell that's what you are trying to do, won't rotate.
Now how do you trigger a rotation properly? Hold your iPad properly in an upright position, raise it as if you want to take a selfie, then rotate it. These are a few reasons why your iPad Screen might not rotate. Now we have seen the problem, what is the way to fix it?
Part 2: How to Fix iPad Screen Won't Rotate
Like we mentioned earlier, malfunctions and anomalies are normal in devices, but thankfully, they can be fixed. If your iPad/iPhone screen does not rotate, try these suggestions to fix it:
1. Turn Off iPad Orientation Lock in Control Centre
The control centre is the fastest access to activities you perform the most like WiFi control, fast access to camera etc.
iPad with iOS 12 or iPadOS:
Swipe down from the top-right corner of your screen to access the Control Center >>tap the Rotation Lock button to make sure it's off.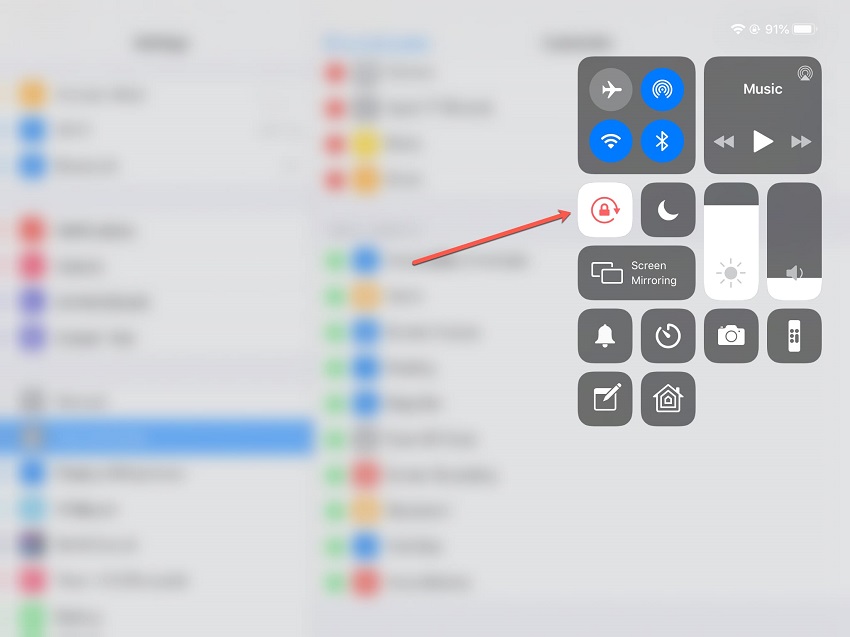 iPad with iOS 11 or earlier:
Swipe up from the bottom edge of your screen to open the Control Center>> tap the Rotation Lock button to make sure it's turned off.
2. Check and Use Side Switch
Some iPad models have side switches that can be set to serve as a rotation lock. To activate this feature do this: Settings >> General>> Use Side Switch To (select the option you desire). Toggling the side switch would fix the iPad not rotating issue.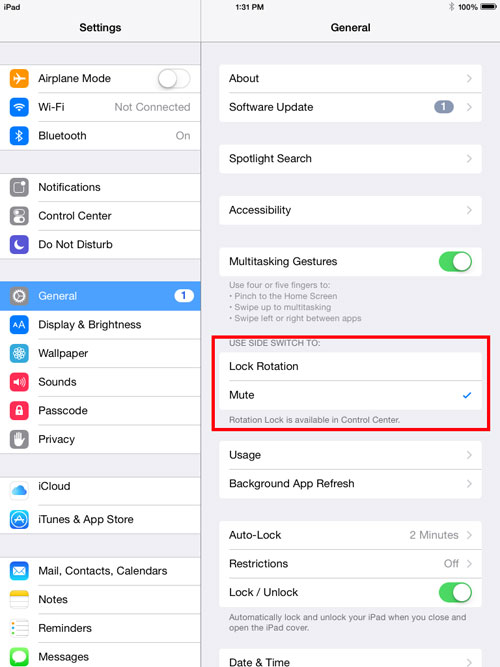 3. App Compatibility with Rotation
As we have seen, some dops do not support rotation. So even if you turn off Orientation unlock, If the app is incompatible with rotation it won't work.
So check the app for compatibility. To do this: if your iPad does not rotate when the app is open, go back to the main screen, using the home button, when you are on the main screen, rotate your iPad. If it rotates, then the issue is the app. You can't fix this problem.
4. Close and Re-open Apps
If the app supports rotation, then close the app and reopen it. This should refresh the app and it can rotate. If it remains the same and probably crashes your iPad you might have to replace the app.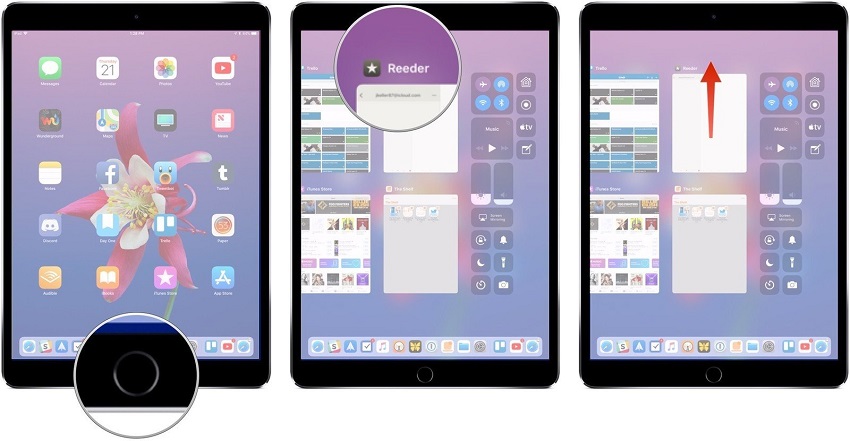 5. Reboot Your iPad to Fix Why Won't My iPhone Screen Rotate
This is a very simple but effective approach. Reboot your iPad if your screen does not rotate, this should fix it.
6. Use A One-click Repair Tool
This is a rapid, secure and smooth way to fix your iPad that does not rotate. StarzSoft Fixcon software is built especially for Apple devices. It fixes over 150+ Apple device issues, so you can be sure your iPad is in great hands.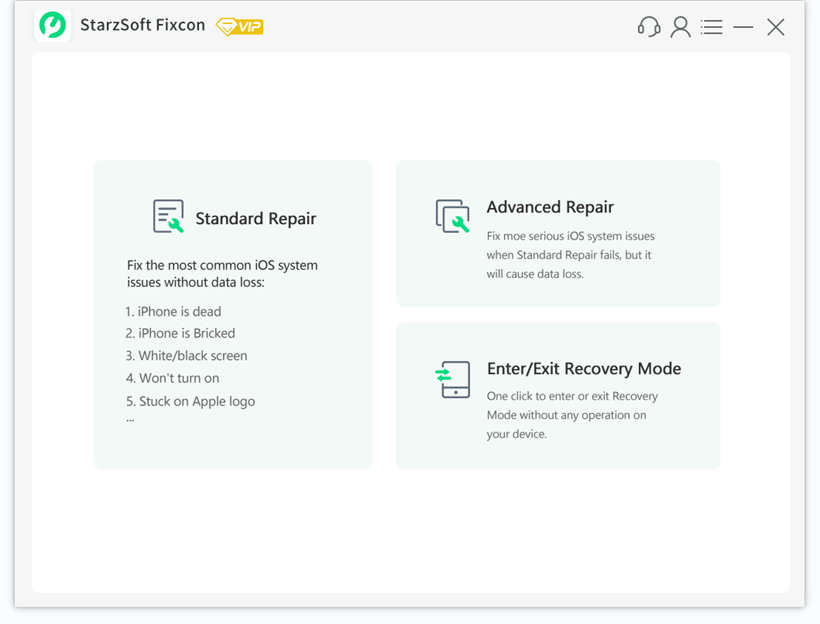 This software is guaranteed to not just resolve your phone issues but keep your stored information safe, so when you use it, don't worry about where to backup or store your files before you run the repair. Standard and Advance repairs are built just to take that worry off your chest.
7. Apple Hardware Store
If you are at this stage, then your device probably is the issue, it's best to contact Apple support and get help to fix your iPad won't rotate issues.
Part 3: How to Use StarzSoft Fixcon to Solve iPad Screen Won't Rotate
We have seen that StarzSoft Fixcon can solve a large number of issues for iOS users. To enjoy what Fixcon offers for iPad/iPhone screen doesn't rotate issue you need to do is follow these steps:
1. Download StarzSoft on your PC and install it. After doing this select Standard Repair. This is the basic repair that'll fix your iPad not rotate issues.
2. Connect your iPad to your PC using a USB cable.

3. Subsequently, download and install the firmware package.
4. After the download, the process of repairing your device begins. The standard repair mode of the firmware will help to fix the iPad not rotating issue. After these steps, check your iPad, problem solved!
When it comes to electronic devices, always remember that glitches, bugs, unprecedented malfunctions can occur. In fixing your iPad won't rotate issues, try restarting your device, check the app properly for its compatibility with screen rotation. Most importantly, we recommend StarzSoft Fixcon, an all-in-one Apple device easy fix software.
Finally, do not fret when issues like this come up, just follow these suggestions and your iPad should be as good as new.