There's nothing worse than trying to use your iPhone and getting hit with some kind of error. Whether it's an iCloud Activation Lock error or the more recent iPhone Error 4013, any kind of error can be disheartening and beyond that, it prevents you from using some aspect of your iPhone.

Error 4013 usually occurs after the user has restored a backup or updated their iOS version. That said, there are plenty of other reasons and today we'll be explaining why you're seeing this error and what you can do to fix it.
Part 1. Causes of iPhone Restore Error 4013
To kick things off we'll be listing some of the main things that can be behind this error occurring and most likely one of these will be the reason for it happening to you.
You restored a corrupt backup. After restoring a backup this error could occur. This usually indicates a corrupt backup which may be because the backup was taken with an older iOS version, or simply because the backup process was interrupted. Either way, the backup could be corrupted.
iOS didn't update properly. iPhone error 4013 may also appear after you update your iPhone's iOS version. If that happens, it's likely that the firmware didn't download and install on your device properly.
Random firmware bugs. It could also appear due to an unrelated firmware bug. These bugs can happen for no reason whatsoever but typically after firmware bugs are discovered, they are patched in future iOS updates. In this case, all you can do is wait for an update to release.
The reason for you encountering iPhone restore Error 4013 may not be on this list and if that's the case, don't worry. All of the solutions that we'll be showing you below will work regardless of the cause.
Part 2. Advanced Fix for iPhone Error 4013
Now we're going to get into the solutions that will help you to remedy iPhone could not be restored Error 4013. This first solution is more advanced than the other solutions and even though that's the case, we recommend you try this first.
1. StarzSoft Fixcon
StarzSoft has created a lot of top-notch software solutions over the years and now they've brought us StarzSoft Fixcon, a tool for fixing a wide range of iOS errors.
Here are the kinds of features you'll have access to with this software: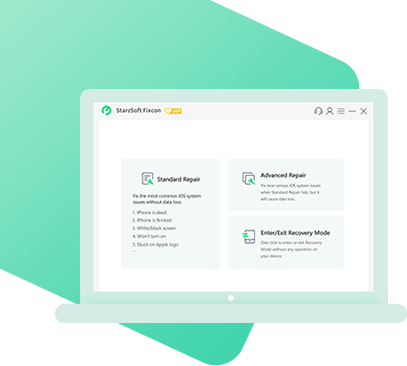 Repair iOS errors in minutes without any technical experience
Enter and exit Recovery Mode in just one click
Compatible with all the latest iPhones and iOS versions
A free trial is available for download!
Whatever error you're experiencing – iPhone Error 1403 or otherwise – StarzSoft Fixcon is the solution you should be using.
Download the program today then go ahead and follow these steps to fix your iPhone very quickly.
Step 1 – Begin by downloading the software and installing it on your computer. Once you have it installed, launch the program and connect your iPhone.
Step 2 – You'll now be taken to the main menu and for this method, click on the Advanced Repair feature.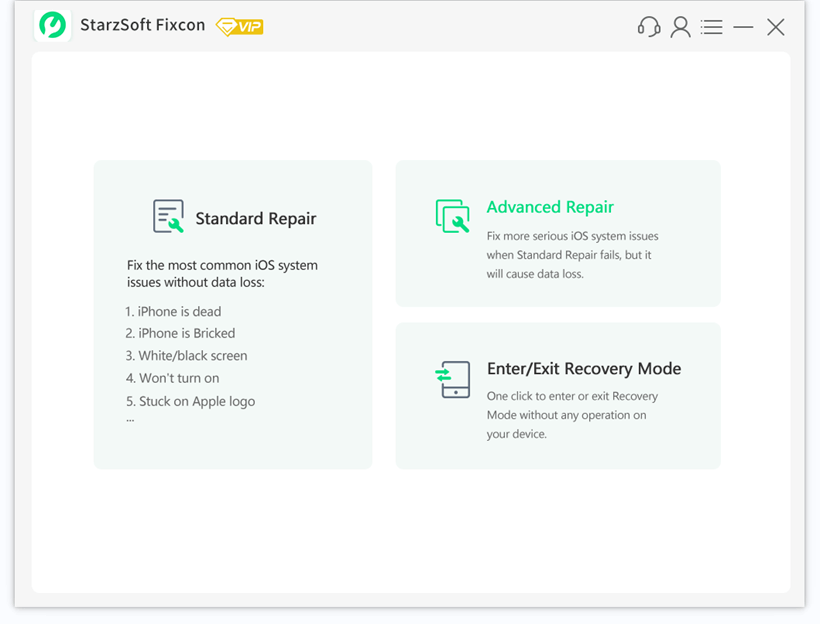 Step 3 – Next, read the briefing page so that you fully understand the process that is about to take place, then click Deep Repair to continue.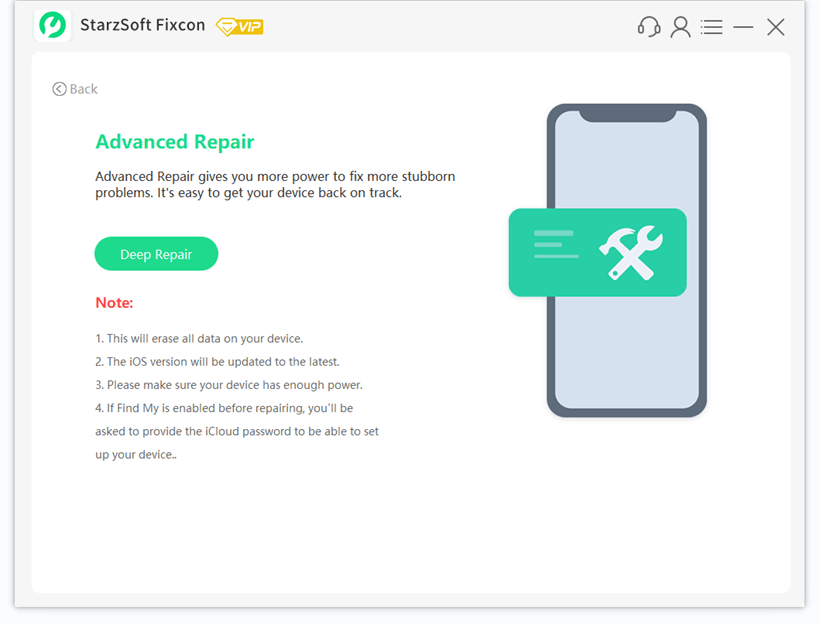 Step 4 – The firmware required to fix your iPhone will now be downloaded. After the download is complete, click on Continue to repair the device.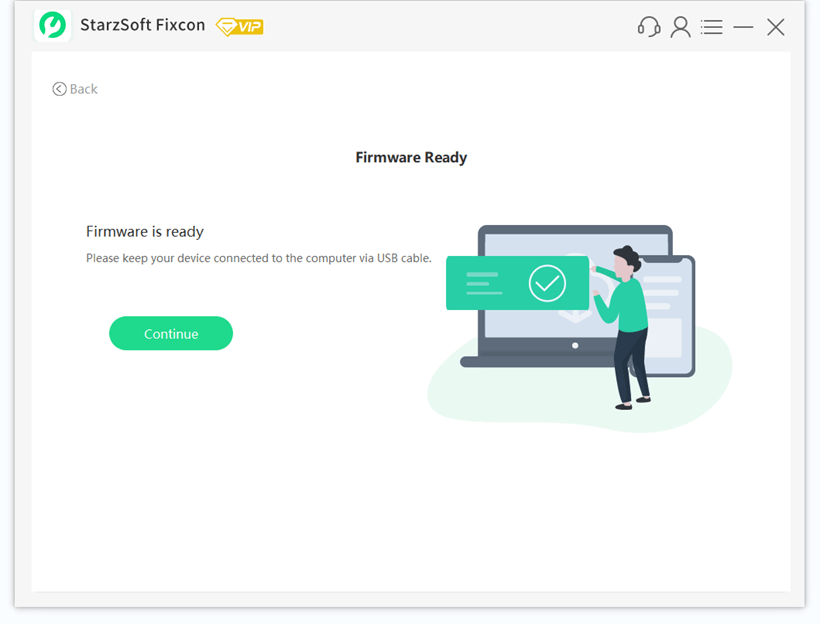 Step 5 – Enter 1111 to confirm that you want to use the firmware to repair your iPhone and the program will take just a few moments to fix the error for you.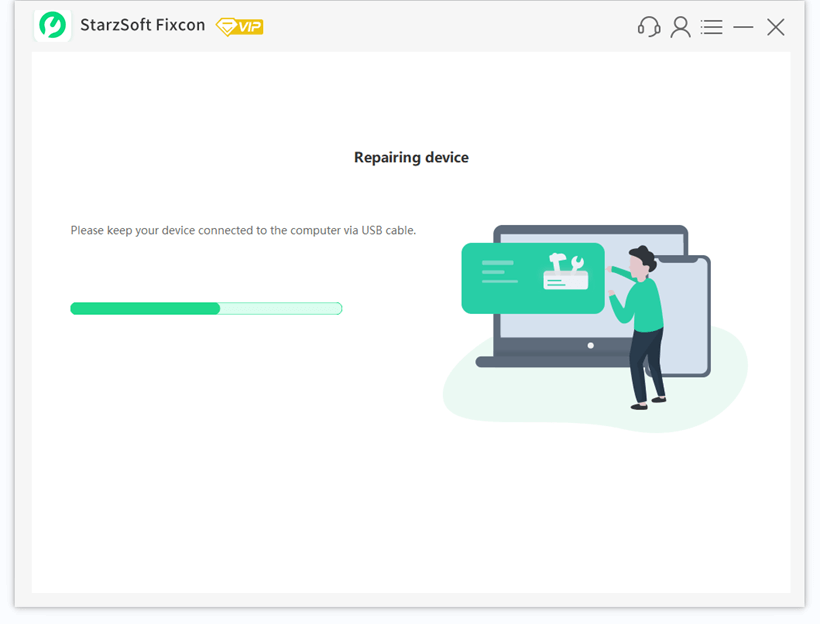 You can't find a more effective solution anywhere else. StarzSoft Fixcon will get rid of this error in just a few minutes and you barely need to lift a finger to get the job done.
Part 3. Other Solutions
Perhaps you didn't get the results you hoped for from using StarzSoft Fixcon. Although this is unlikely, we understand that you might want to try other solutions too. Thus, we've gone ahead and put together short guides for another 5 solutions you can use for iPhone restore Error 4013.
1. Reset All Settings
A conflict can occur among your iPhone settings and this could be the reason you're starting to see Error 4013. If this is what happened then quickly resetting your settings can help to resolve the issue.
Step 1 – Unlock your iPhone and open the Settings app.
Step 2 – Navigate to General > Reset and at the top of this menu, tap on Reset All Settings.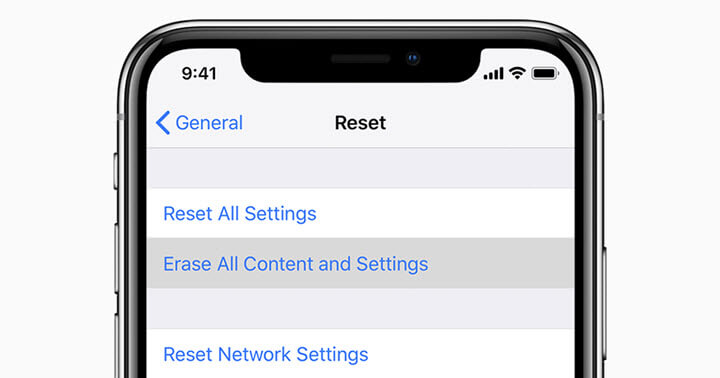 Step 3 – Confirm that you want to do this action and they will be reset.
Unfortunately, this will set all of your settings to their default state so you will have to change them to your preference once again.
2. Clean Up Your Storage
Another reason you could be seeing iPhone could not be restored Error 4013 is that your storage is too full. Here are some tips for getting the most out of your iPhone's available storage:
Connect your iCloud account and have your photos uploaded to iCloud storage instead of being stored on your iPhone
Delete any unused apps (most apps also store app data which can quickly add up)
Delete old iMessage chats, especially any which contain a lot of media files
Thankfully there is an iOS feature that makes managing your storage very easy. Go to General > iPhone Storage to find out what files are taking up most of your available storage and find out what needs to be removed.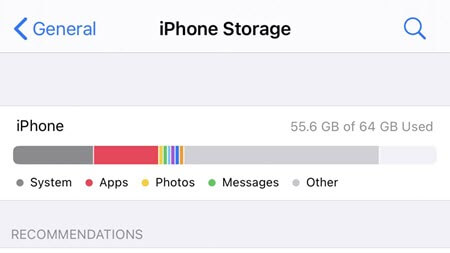 3. Restart Your iPhone
Sometimes when we encounter a problem with our iPhones the best thing you can do is restart the device and hope for the best. Here are various steps depending on your iPhone model:
iPhone X and later. Hold down the Side button and Volume Up (or Volume Down) at the same time. When the Power Off slider is displayed, swipe it.
iPhone 6 to iPhone 8, and iPhone SE (2nd Gen). Hold down the Side button and when the Power Off slider is shown, swipe it.
iPhone 5 and earlier, and iPhone SE (1st Gen). Hold down the top button and once the Power Off slider is displayed, swipe it.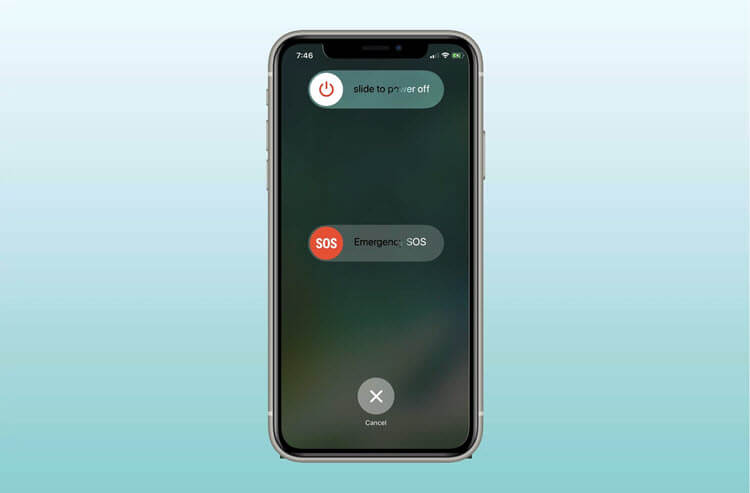 After you've powered off your iPhone, wait a few minutes before holding the Side/Top button to turn it back on. Wait a while and if this has helped fix iPhone Error 4013, it will no longer bother you.
4. Check for Updates (or Update Again)
If there was a problem installing the latest iOS update then you could see this error start to appear. When this is the reason you can either try updating iOS again or check if an update is available and install it if there is.
Step 1 – Unlock your iPhone and go to the Settings application.
Step 2 – Tap on the General option and from here, tap Software Update.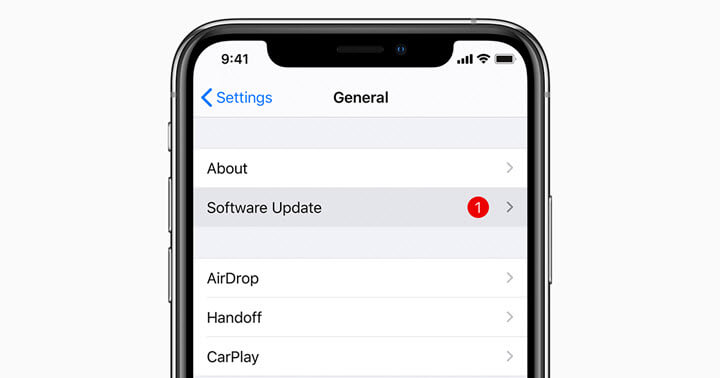 Step 3 – If an update is found, tap on Download and install and your iPhone will prepare the device with the new firmware.
It's a good idea to regularly check for iOS updates and keep your iPhone updated with the most recent updates. These updates always contain bug fixes that may well resolve the error that you're currently dealing with.
5. Close Apps Running in the Background
Finally, if iPhone error 4013 is a result of your iPhone's resources reaching almost maximum usage, you might want to try closing your background apps.
After you open an app, unless you close it using this method, it will continue running in the background forever. The more apps that you use, the more of your iPhone's resources will be used in the background and this can be extremely problematic.
iPhone X and later
Step 1 – Swipe up at the bottom of the screen and all running apps will appear.
Step 2 – Swipe up on any application that you want to close.
iPhone 8 and earlier
Step 1 – Press the Home button twice and you will see any running apps.
Step 2 – Swipe up on any of the apps that you want to close.
Unless you are currently using the app or have plans to use it again soon, it's a good idea to just close every app. Newer iPhones have no problem opening apps quickly and you won't lose any data by closing them when they're not in use.
On the other hand, if you have a lot of apps idly consuming your iPhone's resources, your device's performance will be notably slower and you're more likely to encounter these types of errors.
Conclusion
There you have it: the most effective solutions that you can use to fix iPhone Error 4013 and regain control of your iPhone.
Our recommendation is that you use StarzSoft Fixcon before trying the rest of the solutions we introduced since this is the most certain way of fixing your iPhone on the first try. Of course, if that software doesn't resolve it, you can work your way through the rest of the solutions until you get things sorted out.
Remember that StarzSoft Fixcon has a free trial you can try before buying it too!