When you use an iOS device, one of the most frustrating experiences is when the device begins behaving in an odd manner and you are unable to determine the cause of the strange behavior. One example of this is iPhone restarts when entering passcode. If you are experiencing this problem with your iPhone, you will feel anxious and annoying but you are not alone. Tons of users have experienced with this issue.
There are a lot of factors that may be given for this. Although, it might be difficult to place a hold on the exact reason, there are some common reasons you can check. In this blog post, we will show you these reasons and 9 effective fixes!
Why Does My iPhone Restart When Entering Passcode?
We have made an effort to identify any and all of the potential reasons why iPhone or iPhone x restarts when entering passcode. The reasons outlined below are the primary factors contributing to this problem.
1. Jailbreaking and Virus Attack
When you take away Apple's constraints and unlock it, enabling you to perform things like remove the pre-installed iOS apps, and install apps created by any third-party developer or iOS themes without restriction, you may have this problem. Although you can benefit from it, you also put your iPhone open for virus attach which may cause your iPhone restarting when entering passcode.
Some of you may not jailbreak your iPhone, but still meet this problem because of virus attack. This is caused by that you may download some apps with virus.
2. Problem with the Hardware
If you do not believe that there is anything wrong with the software on your smartphone, the problem may lie only with the hardware on your device. Even if there is a very small probability that your smartphone is being forced to restart because of the hardware, it is not impossible. The fact that your iPhone is restarting could be due to a short circuit or other security issues caused by faulty hardware.
3. Update Problem
If the process of updating the software on your iPhone to the most recent version is interrupted for any reason, it has the potential to cause several issues in your device. Because of this, Apple reminds its customers who are attempting to upgrade their iOS to keep their smartphones charged whenever they perform this task.
The other case is that if you are using old version iOS system, you may also meet this problem. Your old system may have some bugs or not be compatible with some apps which is easy to result in iPhone restarts when you enter the passcode.
4. App Problems
Some apps can be downloaded from the internet that has the potential to harm your iPhone. The majority of the time, apps do not cause problems but there is always the possibility that a bug or a glitch in an app will cause a problem.
Third-party app stores may offer a large selection of virus-free apps. However, there is a greater possibility that they will offer harmful ones. Additionally, these applications can infect your iPhone with harmful code, such as ransomware and adware.
5. Unstable Drivers
The unstable drivers on your phone are a further significant factor in making the iPhone restart when entering a passcode. An unstable driver on your iPhone is likely the source of the problem, which results in the device having to continuously restart. There isn't a single factor that can be pinpointed as the source of your driver's instability, but, every modification to the device can make drivers unstable.
9 Effective Fixes for iPhone Restarting when Entering Passcode
This problem stems from a variety of distinct causes, there are also a variety of approaches that can be taken to resolve it. The following is a rundown of all the potential fixes for the problem, the iPhone restarts after entering passcode. Pick the approach that caters most closely to your problems and demands.
1. Remove the App That May Cause the Problem
If you have any unsecured apps installed on your device, it can cause the iPhone restarting when entering passcode. Follow these procedures to remove the app to solve the problem.
Hold on the app you want to unistall.
You will see the ¨Remove App¨ button on the pop-up window.
Tap it to remove the app.
After implementing this procedure, the problem should be resolved.
2. Update All Apps
It's very important to keep your iPhone apps up to date. It will not only make sure you have the most recent features of your apps, but it will also let the developers fix security flaws that could put you at risk. By default, if you download an app to your iPhone, it should automatically update itself. But if you'd rather manage your updates by hand, follow these steps.
Navigate to the App Store on your iPhone
Scroll to the bottom until you find a list of apps.
Tap Update next to each program you want to upgrade, and the download/installation procedure will begin.
3. Clean up Your iPhone
Depending on how you use your iPhone, your Photographs app may be bloated with photos and videos. Games and social media apps may be hogging storage. If you use Safari or Chrome on your iPhone, it may save unnecessary caches and data. Clearing the browser cache frees up a surprising amount of space and delete a lot of photos and movies to clean up your iPhone. You can also delete corrupted downloaded files.
4.Restart your iPhone
Restarting your iPhone is always a good method to fix iOS issues. The ways to restart your devices will vary according to your device version. Here are the guide for all devices.
If your iPhone 6s and older version devices restart when entering passcode, you should do a hard reset. To do a hard reset on these devices, press and hold on the power button and the home button until the screen goes black and the Apple logo comes back.
If you want to do a hard reset on an iPhone 7 or 7 plus, press and hold the volume down and side button together for some minutes. Then, release when you see the Apple logo comes out.
Hard resetting is also different if you have an iPhone 8 or a newer model. Press and let go of the volume up button, then the volume down button, and then press and hold the side button until the Apple logo appears. This works when iPhone restarts when entering passcode.
No matter what kind of iPhone you have, you need to hold down both buttons for at least 20 seconds.
5. Update to the Latest iOS
When you use an older version of iOS on your phone, your device may begin to behave differently. If you want to use your iPhone without any problems or issues, you need to have the most recent version of iOS installed on your device.
You can check to see if there is an new version of iOS on your device through these steps.
Tap the Settings app.
Select General and you will be able to select software update.
Wait for a minute to get your iPhone with the latest iOS system.
6. Remove and Reinsert SIM Card
iPhone restart loops can be caused by problems with your iPhone's connection to SIM card.
To open the SIM tray, put a paper clip or a SIM-eject tool in the hole next to the tray.
Push it toward your iPhone and it will pop out. Then, you can make sure your SIM card in correct place.
Push it back to your iPhone to reconnect your SIM card with iPhone.
Run your iPhone to check whether the problem is fixed.
7. Reset All Settings
When you reset settings, you can fix the iPhone restarting issues when entering password caused by some iPhone settings. Just follow the below steps to have a try.
Open Setting App.
Follow this path: General, Reset, Reset All Settings.
Once it is done. You can check whether the problem is solved.
8. Using StarzSoft Fixcon
When your iPhone system has problem, it may cause your iPhone restarts when entering passcode. You can use one system repair tool to solve this problem. StarzSoft Fixcon is what you need. It repairs iOS/iPadOS/tvOS issues including iPhone restarting without data loss. Follow the procedure below.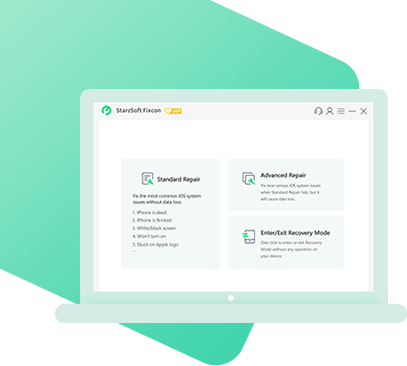 The tool is both fast and easy to use.
The professional tool fixes different issues without causing data loss.
Fixcon is fully compatible with all iOS versions.
Its free trial version lets you confirm whether it will work for you.
Step 1. Download and Install Starzsoft Fixcon
You can vsit Satrzsoft Fixcon product page or click the download button above to download and install the software. When you launch it you will see three modes for standard, advanced, enter/ exit recovery mode.
Step 2. Select Standard Repair
Choose the Standard Repair, then, follow the pop up guide to set your iPhone.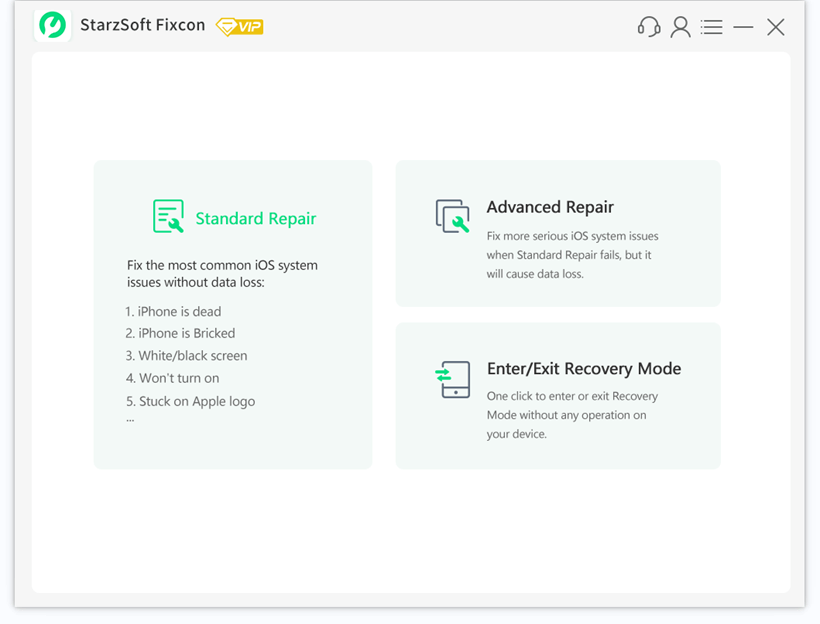 Step 3. Connect Your Device
Use a USB cable or a Micro-USB to link your device to your computer. StarzSoft Fixcon will find your device automatically and move on to the next step then follow the instructions on the screen to prepare your device for repair.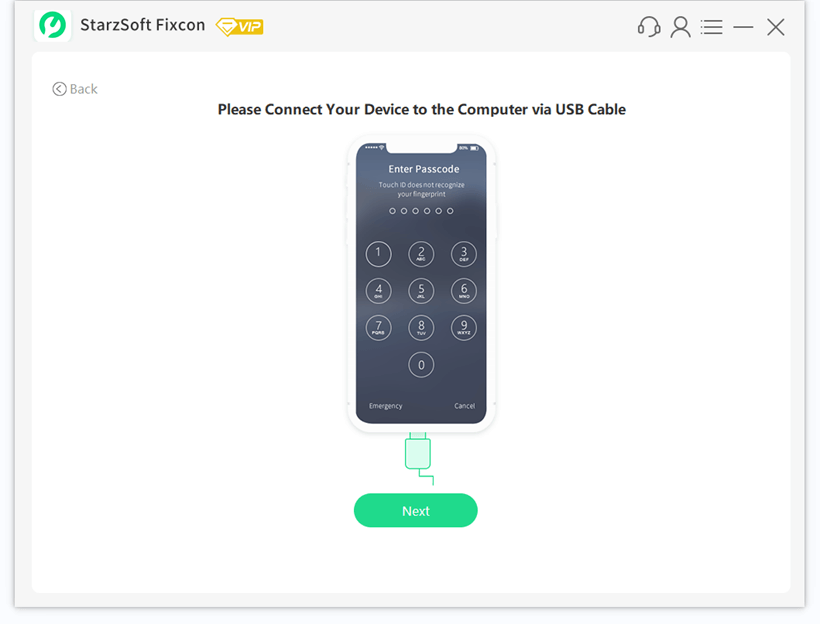 Step 4. Download Firmware Package
Fixcon will detect your device's model and display its firmware packages. Choose one and click "Download."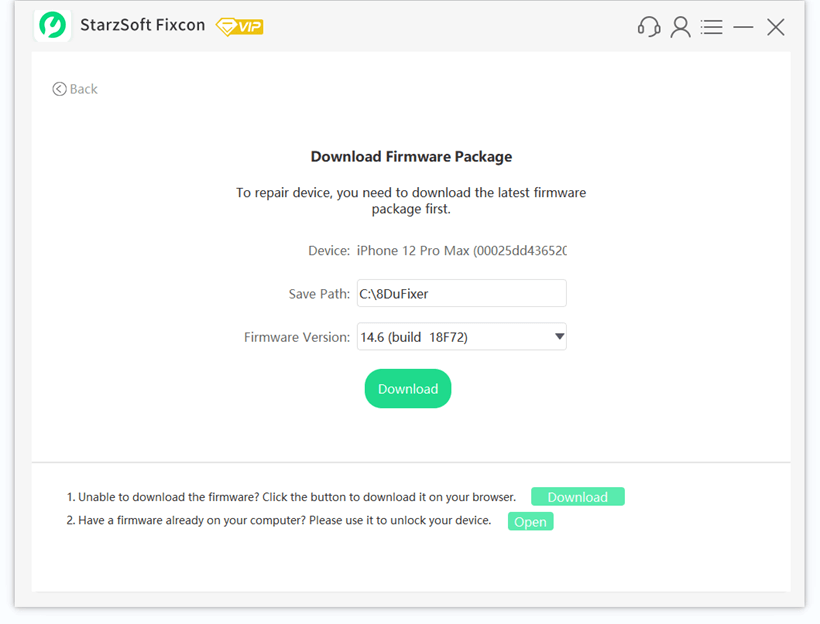 Step 5. Repair
The page for repair process will appear after downloading the firmware package. The repair may take some time. After the repair process, your iPhone will restart and the problem is fixed.
9. Contact Apple Support
If all above methods cannot work, you should content Apple Support as it may be the problem of hardware.
There are various ways to contact Apple's customer care team. You can call, chat, use the Apple Support app, or tweet them.
Final Words
If you cannot figure out the reason why iPhone restarts when you enter passcode, it can be hard to fix. With the above information, you can quickly figure out what's causing the problem and fix it. For a quicker fix, we recommend that you use StarzSoft Fixcon to fix this problem in minutes!