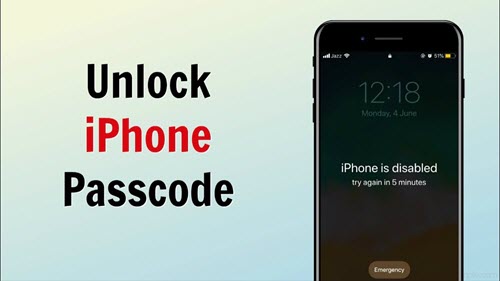 We've all been there – moments where you forget your passcode even just days after changing it are deeply upsetting. Apple has a lot of security features in place to make it harder for thieves and hackers to access stolen iOS devices too, which makes regaining access without the passcode a tedious task.
If you find yourself in this situation then don't worry because there are some methods to reset iPhone without passcode and computer that you can try.
Part 1. When Does an iPhone Get Locked?
It's no surprise that after a few failed attempts of entering the passcode, access is blocked. But there are different stages of an iPhone locking depending on how many times you get the passcode wrong:
Attempt 1 to 5. Wrong passcode, you have 5 attempts to get it right.
Attempt 6. iPhone will be locked for 1 minute before you can try again.
Attempt 7. iPhone will be locked for 5 minutes before you can try again.
Attempt 8. iPhone will be locked for 15 minutes before you can try again.
Attempt 9. iPhone will be locked for 60 minutes before you can try again.
Attempt 10. iPhone will be disabled until you connect it to iTunes.
There are pros and cons to this system. But after 10 attempts, you may be faced with the huge problem of not having computer access. So the next step is to unlock iPhone passcode without computer.
Part 2. How to Unlock iPhone Passcode without Computer
Without computer access, unlocking an iOS device isn't impossible. There are 3 methods at this stage which you can try.
1
Using iCloud to Unlock iPhone Passcode without Computer or Siri
First of all, you can reset iPhone 4 without passcode and computer using iCloud. The downside of this, and it's a big downside, is that you'll have to wipe your personal data too.
Situations like this are why it's important that you take regular backups of iPhone data so that you can use this easy fix and restore the backup afterwards.
All you need is access to the iCloud account linked with the iPhone and you can begin.
Step 1. On any device, like a tablet or someone else's mobile phone, go to iCloud.com.
Step 2. Sign in with the same iCloud account that is linked to the iPhone you want to reset.
Step 3. Navigate to the "Find My iPhone" page and select your iPhone from the device list at the top of the screen.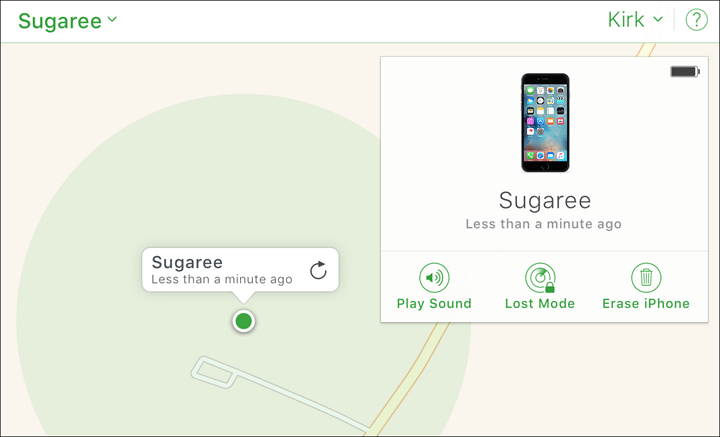 Step 4. On the box that appears, click "Erase iPhone". Confirm this by clicking "Erase" again.
Step 5. It'll take a few minutes for the factory reset to process. Once it's complete, set up your iPhone and the passcode will be gone.
Again, your personal data will be gone after you do this. Setting aside the data loss, this is still an effective way of unlocking an iPhone.
2
Using Siri Bug to Unlock iPhone 4 without Password
Another possible solution is with the help of the Siri bug. Keep in mind that this doesn't work for everyone as it was patched in recent iOS updates.
However, if you're a few updates behind, this could do the trick.
Step 1. Hold down the Home button to trigger Siri, and say "Hey Siri, what time is it?".
Step 2. After the time appears on the screen, tap the clock icon which will open the app.
Step 3. Hold down the Home button to trigger Siri, this time say "Do Not Disturb".
Step 4. The Settings app will launch and after you press the Home button, you'll have unlocked access to your iPhone.
As you can tell, this isn't an intentional iOS feature and it isn't an official way to unlock iPhone passcode without computer. Nonetheless, if it helps you regain access to your iPhone, it's worth trying it.
3
Using an Online Service to Reset iPhone 4 without Computer
The final solution to reset iPhone without passcode and computer is with an online service which specialises in this process. Basically, using this service will remotely get rid of the passcode and the best part about it is that your data won't be wiped.
Of the available services, we like DirectUnlocks.com for its ease of use and affordable pricing. Here's how it works.
Step 1. Go to DirectUnlocks Passcode Reset from the menu.
Step 2. Type the serial number of your iPhone into the box, and click "iPhone Passcode Reset Software".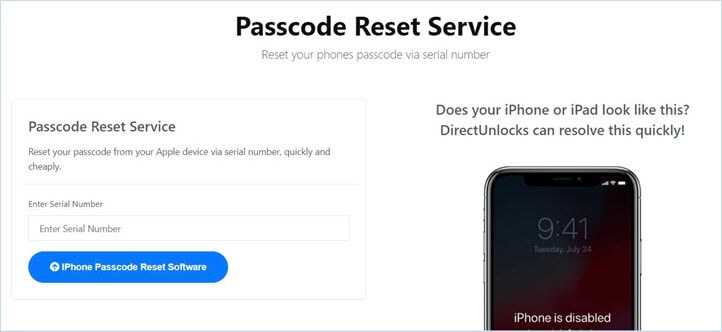 Step 3. The next page will instruct you on how to pay for this service.
Step 4. After payment has been made, the final instructions will walk you through the remainder of this process.
By using an online service to unlock your iPhone, you can wrap this whole thing up quickly. DirectUnlocks is an especially effective way of processing the unlock.
Part 3. How to Unlock iPhone 4/5/6/7/8/X/11/12 Passcode with Computer
Although this post is mainly about unlocking iPhone 4 without computer, what you have to admit is that it's more effective when using a computer to unlock iPhone passcode.
The best way is to use a third-party iPhone passcode unlocker such as StarzSoft KeyPass. Here are the main features that make KeyPass stands out.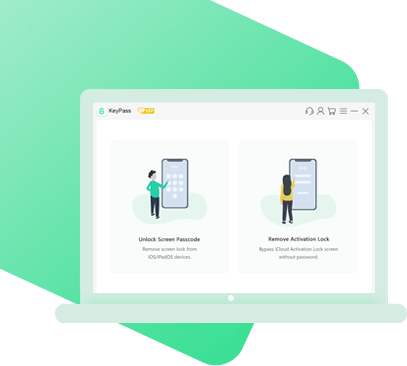 Unlock iPhone passcode within 5 minutes
Supports all kinds of lockes removal from iPhone/iPad/iPod touch
100% success rate is guaranteed
The safest way to unlock iPhone passcode
Steps to Unlock iPhone 4 Passcode on Computer
Step 1. Connect your iPhone to computer via a USB cable and open KeyPass.
Step 2. Click on "Start" button on the home interface.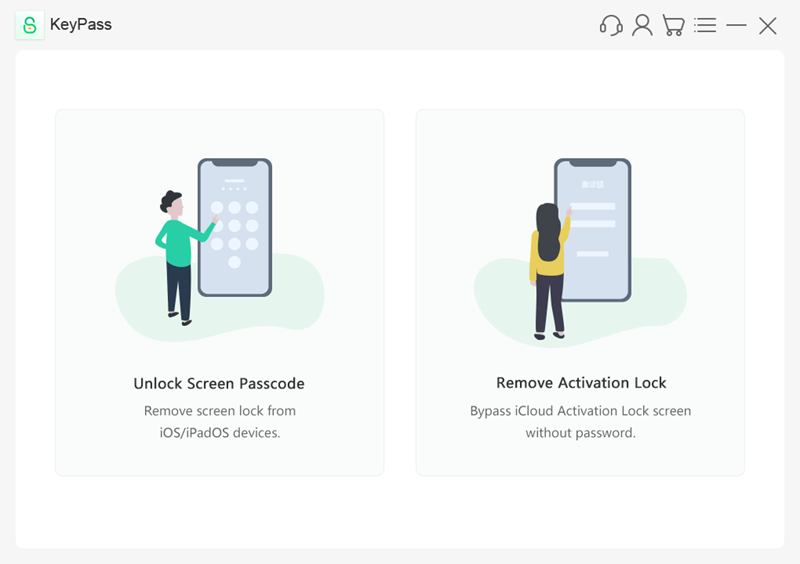 Step 3. Follow the instructions to put your iPhone into DFU mode.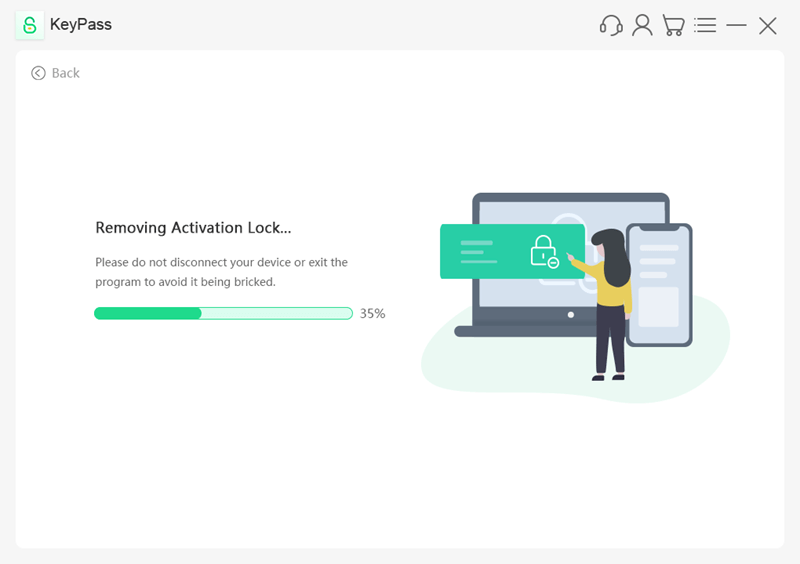 Step 4. KeyPass will do the rest for you.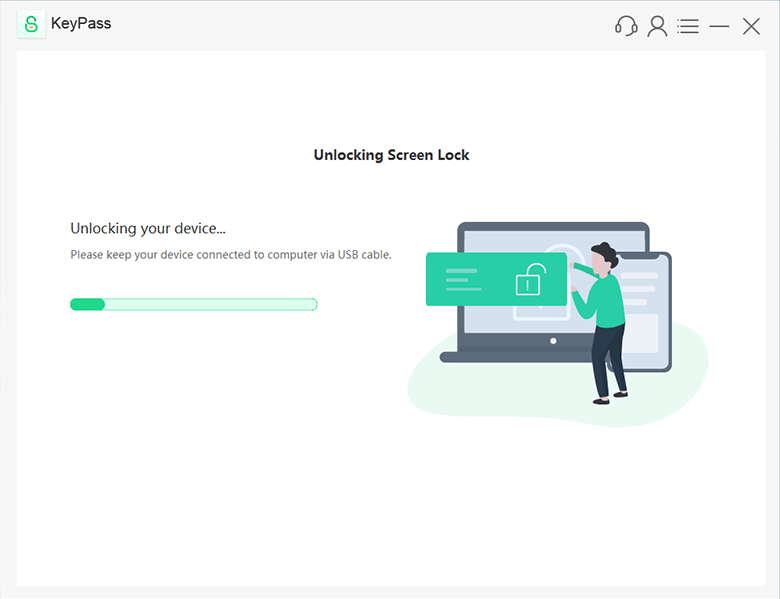 Bonus: 6 Tips to Remember Your Passcode
In this final section, we've put together a few tips for you. These will help you to remember your passcode so that you don't need to unlock iPhone passcode without computer at all.
1. Enter the password slowly and make sure you're typing the right digits in
2. Try the most obvious passwords (e.g. 1234, 4321, or your birthday)
3. Try all of your passwords – you've got 10 attempts, use them wisely
4. Remember when you made the password, and think about which password you used most at the time
5. If your passcode has letters, make sure you aren't in uppercase (or that you are)
6. Buy a password cracking software to forcibly remove the iPhone passcode
Remember these and you'll never forget your passcode again. Some of these may sound silly, but they've proven to be very handy in times of need.
Conclusion
Hopefully, this explains what you wanted to find out about your locked iPhone and successfully go through one of those unlocking processes. Although KeyPass can work, if you want to reset iPhone without passcode and computer, KeyPass isn't a valid option.
But if you want to find the most effective way, then consider the likes of StarzSoft KeyPass, it will do even better than you'd expect when it comes to passcode removal.