3-Step to Unlock iPhone/iPad. Safe & 100% Work
Have you been looking to factory reset iPad without iCloud password? There are numerous reasons why you might need to reset your iPad device to factory settings, but this usually requires an iCloud password.
However, if you don't have your iCloud password or if the device is still locked to the previous owner's iCloud account prior to you purchasing it second-hand, then you may want to look at how to factory reset iPad without iCloud password access. Luckily, we can help – so, today, we'll be looking at how you can achieve this to restore functionality to your device!
Method 1: Reset iPad without iCloud Password Using the Settings Panel
One of the first ways for how to reset iPad to factory settings without iCloud password use is to head to the settings panel for your device. This method is straightforward and a popular way to factory reset your iPad device, but it does require you to access the device; often, if you have purchased a second-hand iPad, you may not have the suitable login credentials.
To achieve this, start by:
1. Heading to Settings > General > Reset.
2. From here, you should select "Erase all Content and Settings." This will prompt you to select one of two options, but we highly advise you to take a backup of all data before continuing to ensure you don't lose anything.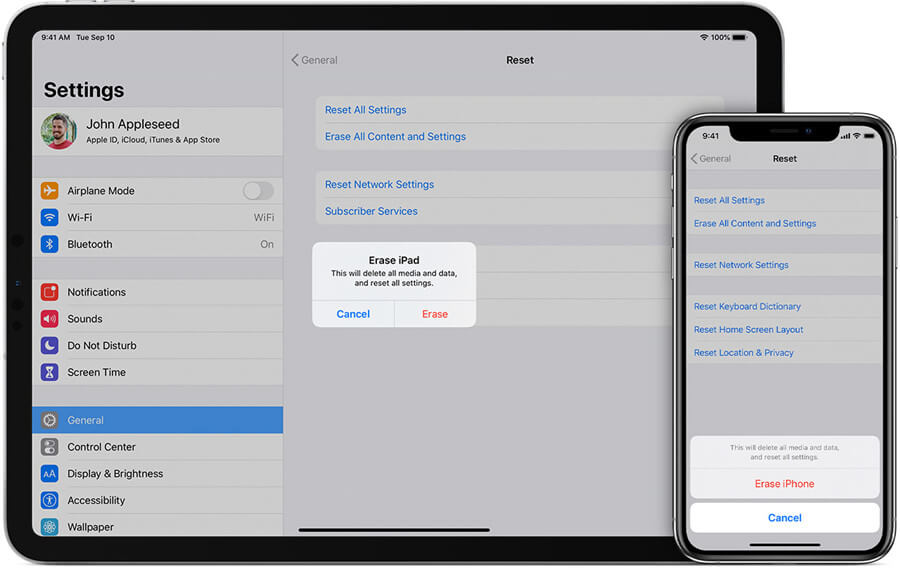 3. Then, simply select "Erase [Device]" and confirm, and the iPad should be then restored to its original factory mode.
Method 2: Reset iPad without iCloud Password Using iTunes
The next method you could consider for how to reset iPad to factory settings without iCloud password is using iTunes. Begin by:
1. Connecting your iPad device to your computer using a USB
2. Then load up the iTunes app. Once iTunes has opened, you should navigate to the device's summary tab.
3. Here, select "Restore iPad."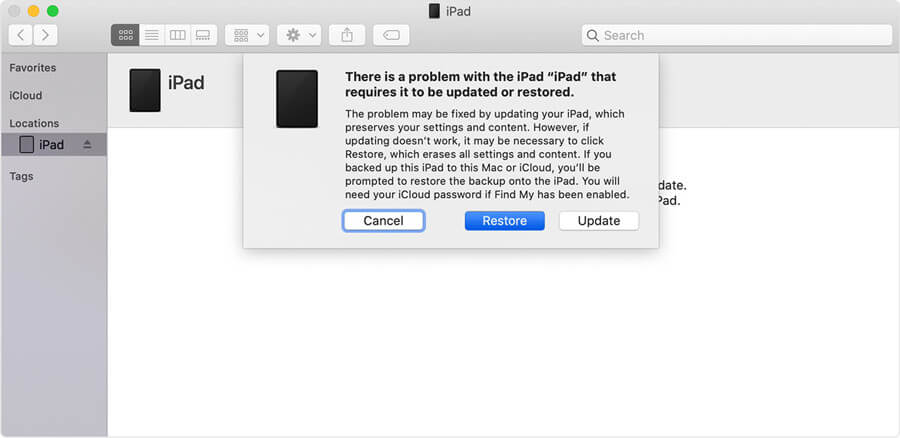 Backing up your data is always crucial before factory resetting your iPad. So, if you have not already, we recommend you do so when the system prompts it. Now, all that's left to do is to confirm the choice, and iTunes should reset your iPad device back to factory settings.
Method 3: Reset iPad without iCloud Password Using Recovery Mode
Sometimes, your iPad may not be synced with iTunes – but there are still other options for performing a factory reset on your iPad device. A third option available to you is to use the device's inbuilt recovery mode to force the iPad to reset itself.
1. First, connect your iPad device to a computer using a USB cable and launch the iTunes app.
2. Once the app has fully loaded, you should simultaneously hold down the home and sleep buttons on your iPad until you are given the statement reading, "Connect to iTunes".
3. Pressing OK will cause the screen to show, "iTunes has detected iPad in recovery mode," and this will give you the option to restore the device. Doing so will allow you to rapidly restore the device to factory settings.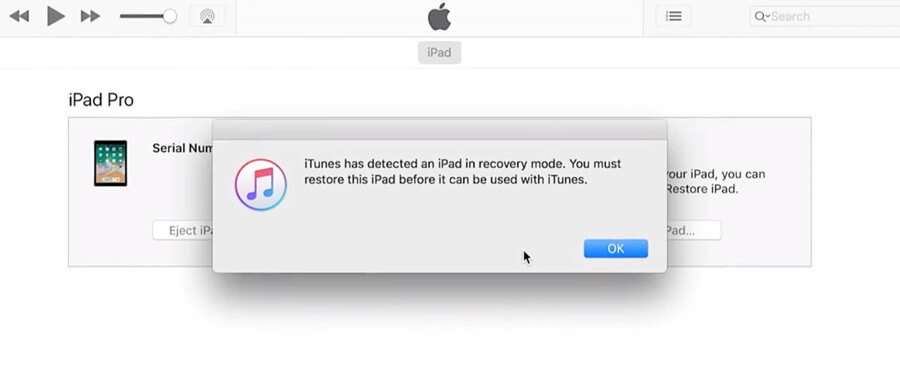 Method 4: Reset your Second-Hand iPad Through Contacting the Earlier Owner
Indeed, one of the most common reasons that you may need to reset your device to factory settings is because you have purchased the device second-hand, but the previous owner failed to restore the device themselves. After all, many people will not realize that they should restore their iPad to factory settings before selling the device, but this could pose problems for you as the buyer of the iPad.
In this scenario, unlocking the device yourself can be a highly beneficial and practical option oftentimes, and so this may be something you want to consider. Fortunately, if you have the previous owner's contact details still, then you could get in touch with them to quickly and easily rest your second-hand iPad. Indeed, the old device owner.
You don't necessarily need to be physically present for the past owner to reset your second-hand iPad. Indeed, the past owner could be across the country and still complete this step remotely so long as they have their own iCloud details to hand, even if you don't have the relevant iCloud details.
To do this,
1. First ask the previous owner to navigate to iCloud.com and sign in,
2. Use the "Find iPhone" functionality to select the device.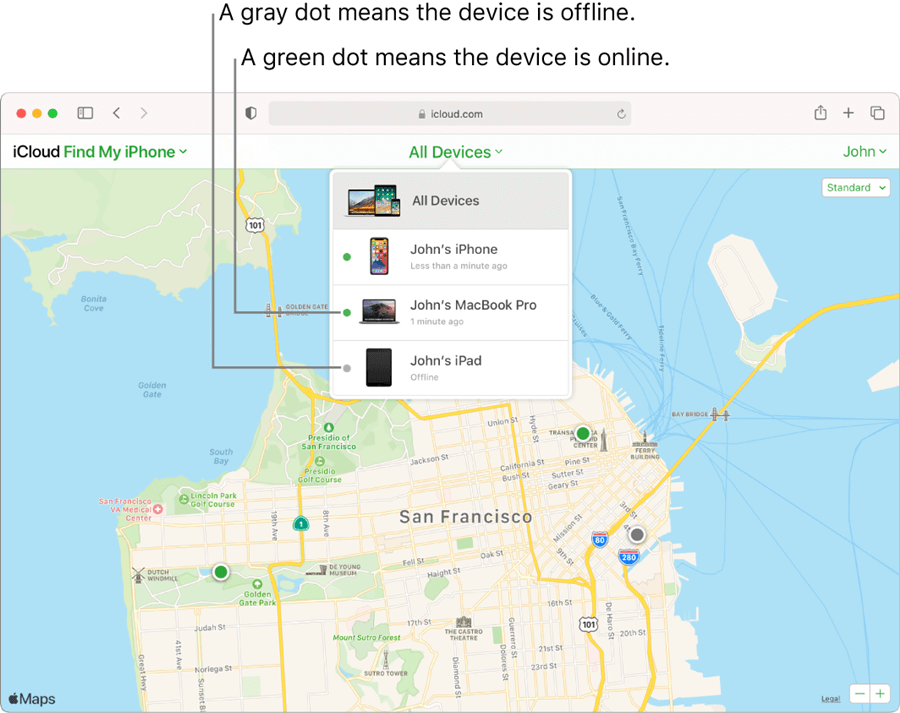 3. Then, ask the past owner to select "Erase iPad" to reset the device back to factory settings.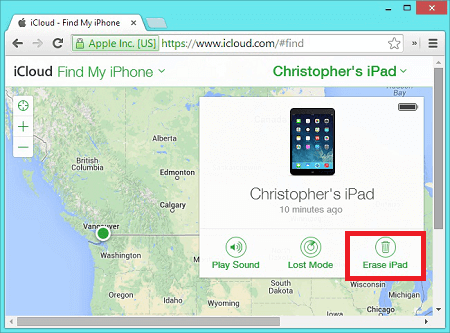 [Highly Recommended]: Reset Your iPad without iCloud Passcode —StarzSoft KeyPass
As a final method for unlocking your iPad device and restoring it to factory settings, you could consider using the StarzSoft Keypass tool. StarzSoft KeyPass is a specially made tool designed to offer your iOS device access if you have been locked out. Indeed, the tool was created by professional IT experts and can remove numerous different types of locks like:
Fast to remove iCloud Activation Lock without Apple ID or password
Simple to unlock screen passcode from disabled, used or locked iOS devices, such as the 4-digit Passcode, 6-digit Passcode, Touch ID, Face ID.
then allow users to reset their device to a factory setting.
Don't compromise when it comes to your iPad device. If you need to factory reset iPad without iCloud password access, StarzSoft KeyPass could almost certainly be the most effective option for you to consider!
1
How to Use StarzSoft KeyPass to Factory Reset iPad Without an iCloud Password
How can you use StarzSoft KeyPass to factory reset iPad without an iCloud password? The KeyPass tool is effortless to use and can be summarized in three simple steps as follows.
Step1:Download the KeyPass tool onto your device and launch it. Use a USD cable to connect your iPad to the computer. Then click on the "Remove Activation Lock" mode.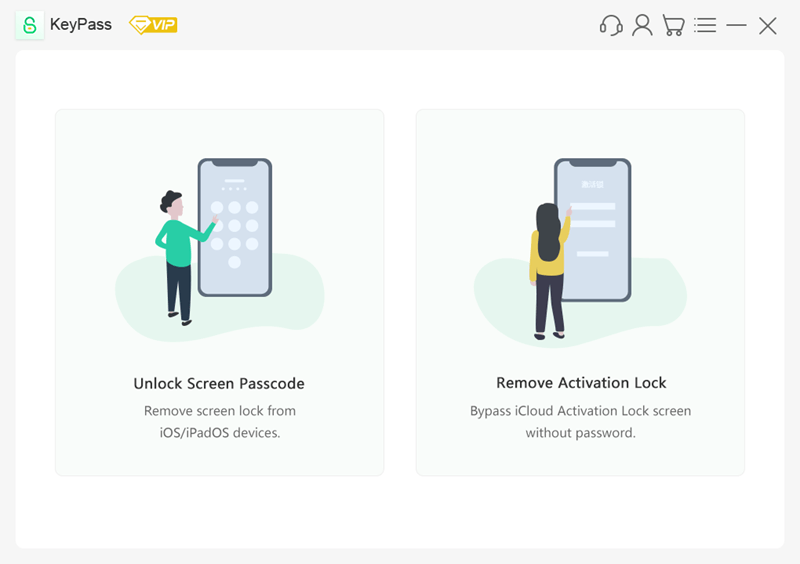 Step2: Click "Start" to remove the activation lock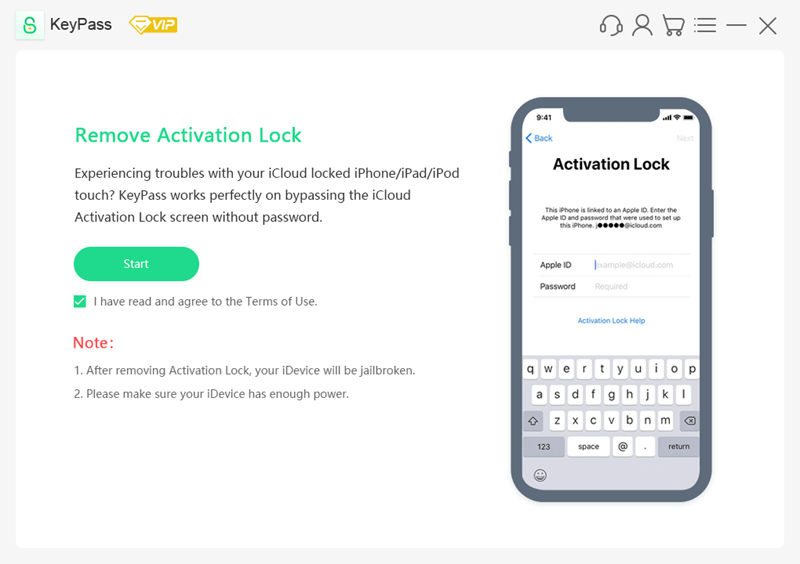 Step3: Remove activation lock and finally successfully!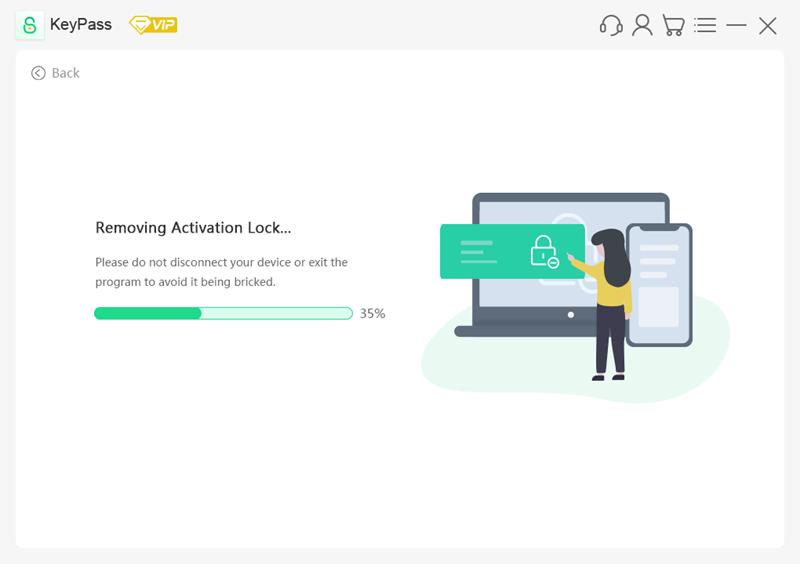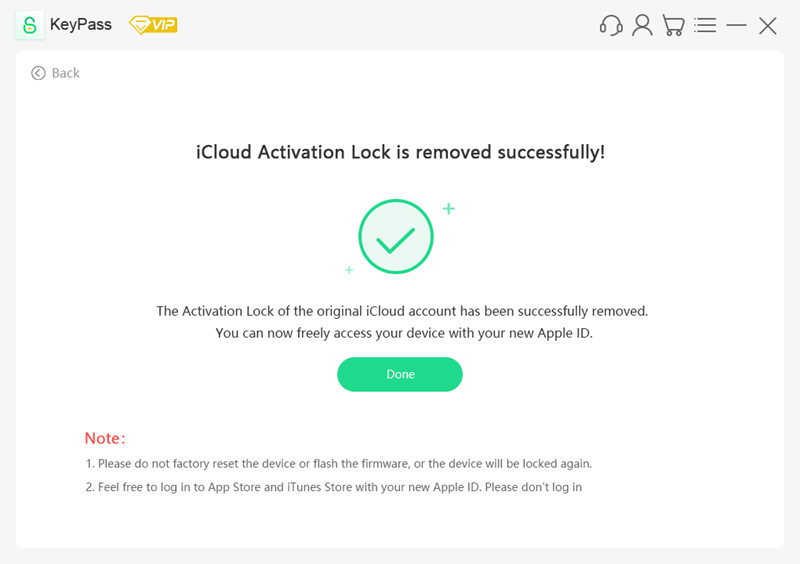 You may like:
The detailed User Guide for remove iCloud activation lock by using StarzSoft KeyPass.
Article: [Solved] How to Bypass Apple Activation Lock on iPhone or iPad
2
Always Download Legitimate Copies
Indeed, while the KeyPass tool is safe to use, it's possible for fraudulent copies found on other websites to be less upstanding. Attempting to download a copy of the KeyPass tool from another website could result in your device getting infected. Malware or viruses are no laughing matter and can represent a significant security risk for your device.
So, don't take this risk, always download KeyPass – or any other app – from the developer's website. Furthermore, we highly recommend that you always ensure you have full antivirus software protection in place. This is crucial before downloading anything online, just to be sure that your download doesn't come with any extra nasties.
Conclusion
If you've been wondering how to rest iPad to factory settings without iCloud password access, there are a few potential options to consider. Indeed, resetting your iPad to factory settings doesn't need to be impossible.
We highly recommend, if you've purchased a second-hand device, that you should always try to start by contacting the past owner to see if they are able to help out; however, if they are not able to, then there are fortunately other methods like StarzSoft KeyPass that you could try to factory reset iPad without iCloud password.