Do you want to know how to downgrade iOS without computer?
Unlike Android devices, it's not easy to switch to the previous version on an iOS device. After upgrading the iOS system to the latest updates, people often find the new updates more complicated.
It is why they want to downgrade their iOS version. You can downgrade iOS by using many methods. You can iTunes or some other ways to serve your purpose. Recently, a debate has started to begin that whether it's possible to downgrade ios without a computer or not. We'll be answering this question in this article.
Part 1: How to Downgrade iOS 15 to 14 Without Computer
No, you can't downgrade iOS without a computer. If you're looking to know how to downgrade iOS 14 or 15 without, it's impossible to do so.
You'll need to take a PC onboard while performing any such task on your iOS device. If someone is offering you the opportunity to downgrade ios without a computer, he is wrong, don't trust that person.
Some scammers offer this to access your personal information and then blackmail you later. It is why if you want to save your data and integrity, don't put your ear to this fake news.
Part 2: How to Downgrade iOS with iTunes
If you're looking for an easy way to downgrade your iOS version, iTunes can be an appropriate choice for you. It allows you the installation of downloaded firmware files.
You can install your older version of the firmware using this feature of iTunes on your iPhone. However, this process will remove all your stored data from the device. And you also need to install firmware signed by Apple. Here is the simple to downgrade your iOS version with iTunes.
1.You need to download firmware after going into the IPSW website. Download the firmware version that suits your iPhone model.
2.Now, you'll need to open iTunes on your PC and connect your iPhone with your computer.
3.You need to press the Restore iPhone button option if you've opened iTunes app on Mac or Windows. When you click the restore button, you'll need to hold the shift key button on the keyboard.
4.And if you're using iTunes on Mac, press the Restore button option in the hinder after pressing and holding down the option key.
5.Now, you need to reach the place where you've downloaded IPSW. After getting there, you need to install it on your iPhone.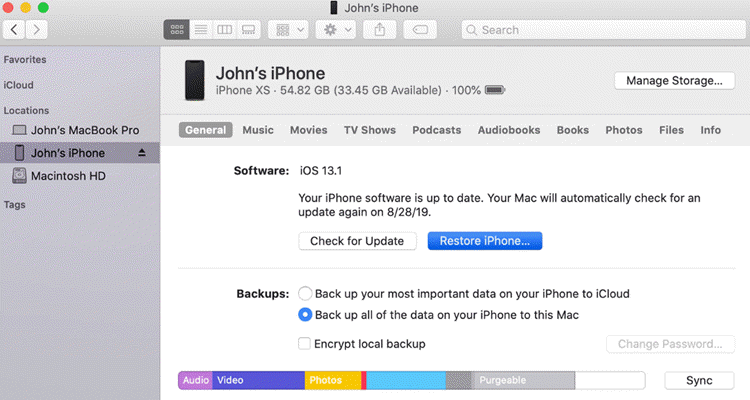 After its installation, your iPhone device degrades to the previous version.
Part 3: How to Downgrade iOS without iTunes
You can downgrade iOS without iTunes by using third-party tools. Let's talk about two of them.
1.StarzSoft Fixcon
StarzSoft Fixcon is a prolific third-party tool that helps you solve many iPhone issues. Using this software, you can also downgrade your iOS version.
1.After launching StarzSoft Fixcon, you need to hit the Standard Repair button option from its home interface.

2.Now, you'll need to connect the iOS device to the Desktop through a cable. The software will detect your iOS device automatically.
3.Fixcon will recognize your iPhone's model type. After, it will offer you the available firmware package if you want to downgrade your iOS version.
4.You need to check whether the oldest older version is available or not. If yes, you can select it from here.
5.After selecting it, you need to press the Download button to start installing the previous version. It will take some time before it gets completed.

6.After downloading the firmware package, you'll need to repair the device. Click on the Continue button to start the proceedings.
Your device will restart again after the repairing process got completed. Now, you've returned to your previous iOS version. And also, you'd not lose any data.
2.TinyUmbrella
TinyUmbrella is another method that can help you to downgrade iOS without iTunes. TineUmbrella downgrades your iOS by using a server.
It's a bit complicated method to operate if you're a newbie. However, if you feel comfortable with it, you can downgrade the iOS version by following simple steps. Let's dive into the steps.
1.You need to Download TinyUmbrella on your PC and install it.
2.After installing it, you'll need to connect the iOS device with your PC. After doing it, open TinyUmbrella Utility.
3.You only need to press the Save SHSH option and hit Start TSS Server to proceed further in this phase.
4.Select Exit Recovery after right-clicking on iPhone in the sidebar. After this, your iPhone will be out of recovery mode.
5.After performing all the necessary tasks, you need to open Advanced. After opening it, you'll need to click on the Exit option for disabling the Set Hosts to Cydia. Now, you can see the iOS process starts.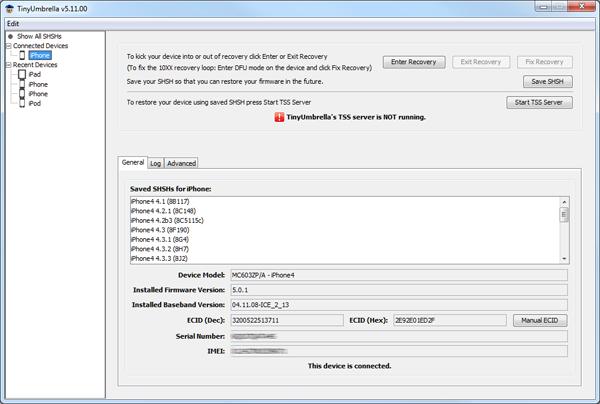 Part 4: FAQs about Downgrade iOS 15
(1) What should I do before downgrading?
If you want to download your iOS version, you need to use a PC. You can't serve your purpose without a computer. There's no method revealed yet that can help you downgrade the iOS version without a computer.
You need to connect your iPhone to a Desktop computer to make sure your firmware files are signed. If you see any trick, method, an app offering you a downgrade ios version without a laptop, it's a big trap, don't fell into it.
(2) Does a downgrade need jailbreak?
When we say downgrading the iOS version, it means we're shifting iPhone to the previous version. Apple doesn't allow you to downgrade your iDevice to fight fragmentation. It's why jailbreaking your device to downgrade iOS isn't necessary.
(3) Can you downgrade to an unsigned version of iOS?
You'll not find any approach to downgrade an unsigned iPhone version. However, there are some unofficial methods available to downgrade the iOS version.
For this purpose, you need to acquire an unsigned Software [IPSW] file. After downloading it, you'll need to install it on your iOS device.
Conclusion
Every debate about downgrading the iOS version without A PC is baseless. It's not practical to downgrade the iOS 15 without a computer.
You need to use a computer to take the help of iTunes or some other software to serve your purpose. Without a computer, iTunes and other third-party tools won't work for you.
You can switch to your previous iOS version using iTunes. However, if you want to know about the alternatives to iTunes, you can use TinyUmbrella and Starzsoft Fixcon software.
Without degrading any other software, it's safe to say that StarzSoft Fixcon is the most recommended third-party tool to download your iPhone version.