The world of iOS doesn't seem to relent when it comes to new innovations and updates. Due to how you have been made to believe that upgrading your iOS device is the best, you are constantly on the lookout for the latest versions. Well, the truth is that the most recent versions of iOS may not meet your needs for some reasons. An issue like this can bring about frustration. There is no need to feel disappointed though.
This is because you can still downgrade your iOS for much better functionality.
Here is the challenge.
The problem is that most iOS users don't understand anything about downgrading their devices. Are you amongst such persons? Do you know that there are times when this may be needed for your device to function properly?
This post will be revealing everything you need to know about How to downgrade iOS. There is no doubt that after checking out the details below, you will be convinced that downgrading your iOS isn't as complicated as most experts are making it sound.
Why Downgrade iOS
Just as mentioned above, there are lots of reasons why you would want to consider the option of downgrading iOS. These will be explained below.
User preference
Being the newest version doesn't mean users must like it. There are instances when users have complained of older iOS versions having better features than the current ones. It could even be that they find the
Better functionality
There have been instances when users of apple devices have complained about new versions not working like older versions. In other words, they are not as effective as advertised. This is probably why people are always reluctant to test out such versions.
Having seen some of the reasons why many people have considered the option of how to downgrade iOS without computer, there is no doubt that you are very eager to get the process started. Don't worry as subsequent sections will be helping you out with various options on how to downgrade iOS.
How to Downgrade iOS with iTunes
In this section, you will be learning how to downgrade from iOS 15 beta. Beta versions have been discovered to have lots of flaws in the past. When people have installed them out of excitement, they would want to switch back to their former versions. Just follow the steps below and you will be fine.
Step 1. Ensure your iTunes is the latest version. This is also the same if you are making use of MacOS.
Step 2. Ensure that the device to be downgraded has an IPSW file that is very relevant. This is very important to ensure there is no problem during the downgrading process. Just search for the IPSW file that is compatible with your device.
Step 3. Go to Settings > iCloud > Find My iPhone/iPad. Ensure the switch is turned off. Please note that your password and user ID will be requested for this process to be complete. You can see an example from the screenshot below.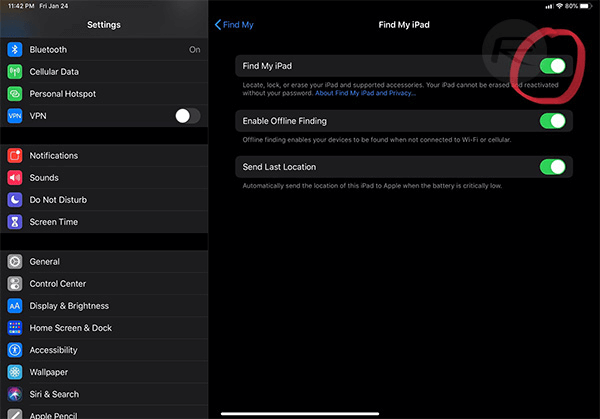 Step 4.Your apple device needs to be connected to a PC via a USB cable. At this point, the finder has to launch. Your device needs to be put into Recovery or DFU (Device Firmware Update) mode.
Step 5. In Finder or iTunes, the option key should be held and pressed for Mac. After that "Restore iPhone" should be selected. The IPSW file which you would like to downgrade to should be selected from your PC.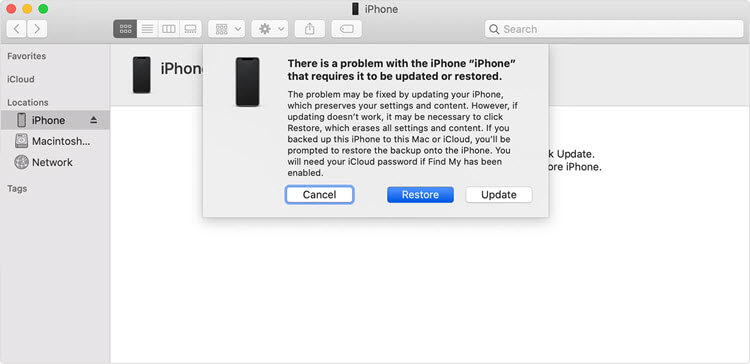 Step 6. Once this has been done smoothly, the downgrading process will commence.
*Important note*
Please remember that in Step 4, the processes required to put iOS devices in recovery mode varies with different versions. For instance, iPhone 8, iPhone 7 and iPhone 6s have slightly different processes.
How to Downgrade iOS without iTunes
Most people don't understand how to downgrade without iTunes. In case you don't know, this process is much easier than the one explained above. It is quite straightforward.
What you will need
For this process to be successful, you will need the following items:
A PC
A tool known as 3utools
A stable internet connection
USB cable
Step 1. 3Utools should be downloaded and installed on your PC
Step 2. With the USB cable, have your iPhone connected to the PC
*Important note*
Ensure that your data has been backed up before proceeding. This will avoid a situation whereby you will lose important applications and documents.
One of the best parts about 3Utools is that it will automatically detect your device and display its current iOS version. It will also show your device's compatible firmware
Step 3. Once it has shown you, have the firmware selected which you would like to downgrade
Step 4. Now, click on "Flash". During the process of downgrading, don't choose the checkbox which says "Retain data of users while flashing"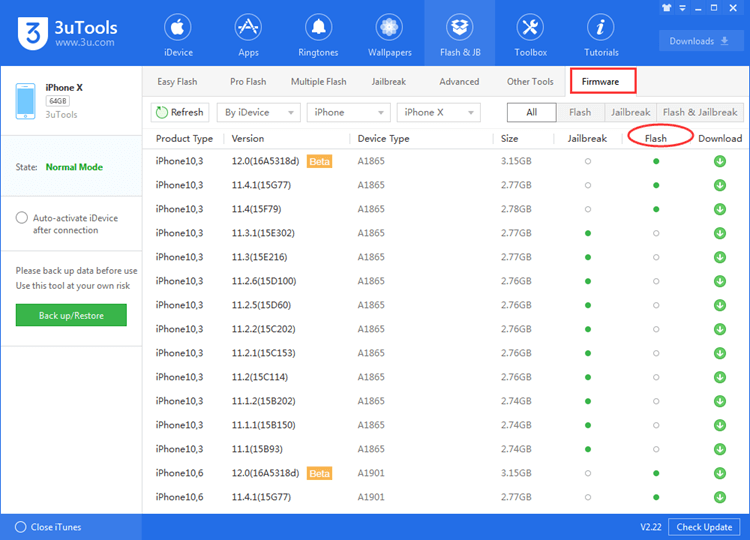 Once the process is complete, your problem regarding how to downgrade iOS has been solved. You can see how easy it is.
How to find your matching firmware in 3Utools
This is very easy as all you need to do is click on "Firmware". It will display various options. The ones having green dots under the "Flash" section are compatible with your device.
Is it Possible to Downgrade iOS without Computer?
The subject of "how to downgrade iOS without computer" has always remained highly controversial. This is because there are many people who believe that such is possible. Sometimes, you could even be confused by some of those fraudulent companies online which make false claims about how to downgrade iOS without computer. They will only end up complicating your problems.
At the moment, there is no way to downgrade your iPhone or any other iOS device without a PC. This is only possible with the use of a tested and proven desktop application. The only process that has proven to be possible is having to upgrade your iPhone without a PC. All you have to do is head over to settings > General > Software Update. However, note that when it comes to downgrading, you will need to make use of a computer.
Anything short of this means such process won't work. The bottom like here is that when it comes to issues like how to downgrade from iOS beta, how to downgrade from iOS 15 beta, or how to downgrade iPadOS, a computer is going to play a crucial role.
Conclusion
Having said the above, it can be seen that downgrading your iOS is neither technical nor complicated. You only need to know the rights steps to be taken in order for such process to be successful. Just as discussed, it is crucial to weight its pros and cons before taking such a decision.