As time goes by, the official release date of iOS 15 is getting closer and closer. From June 7 to now, Apple has released 8 beta versions that have a different new update in each one. Apple has announced that they will release the public iOS 15 version to all of us on Sept. 20. Here, we list the particulars of each beta version to help you learn more about the new iOS 15.
iOS 15 Beta 8 and iPadOS Beta 8 Released
With the release of iOS 15 beta 8, many users find that this version also fixes many previous problems. It looks very close to the official version, however, we still suggest you waiting for a while as there always bugs in the beta version.
As far as we know, Apple announces that the beta 8 has several problems in App Store, Find My, Guided Access, Home Screen and other features need to be solved. You can check here to learn more details.
iOS 15 Beta 7: New Release for Developers
The 7th beta version of iOS 15 comes one week after the release of beta 6. Beta 7 is now for both developers now and public users.
Users who tested this version found that there was no large changer as Apple is busy with the overall stability of the system which will be released to every user.
From what Apple has released, iOS beta 7 fixes many issues, including Focus issue, Maps issue, Phone issues, safari issues and so on.
The most important changes of iOS 15 are FaceTime, Focus, Safari, etc. If you are interested in them, please go ahead to check the previous beta features.
iOS 15 Beta 6: 6 New Features
Apple has released the public beta 6 of iOS 15 since the beta 5 version has been released one week ago, there are plenty of new features in Safari, SharePlay and Watch Face Automation.
Safari Address Bar Change
In iOS 15 Beta 6, Apple has changed the Safari address bar to the top of the screen, which comes back to the similar design of iOS 14.
However, if you prefer the bottom bar, you can still change the setting from Settings>Safari to switch from "Tab Bar" or a "Single Tab" as you like.
Safari Show Color in Tab Bar Setting Change
From the new iOS 15 Beta 6, you will find that there is no "Show Color in Tab Bar" Setting, but a new one called "Allow Website Tinting" which contains the same usage.
Safari Views Quick Switch
There is an Aa menu in Safari, you can simply click on it to switch from two different views without needing to access the Safari app.
Safari Bookmarks and History
The special change of Safari history, bookmarks, and reading list is that they will appear from the bottom of the interface and occupy less space than before.
However, if you choose to use the "Single Tab", the interface will show no difference from the previous version.
SharePlay Removed
In the new iOS 15 beta 6, the SharePlay feature is unavailable anymore as Apple has temporarily removed it. Instead of that, Apple plans to add this feature after the release of the official iOS 15, iPadOS 1, tvOS 15, andmacOS.
Watch Face Automation
This feature has been removed in the iOS 15 beta 5 version, but in the iOS 15 beta 6, Watch Face Automation comes to available again in the Shortcuts app.
iOS 15 Beta 5: Several Small Changes
There are no important changes in the fifth beta version of iOS 15, but various small changes to help improve users' experience.
Weather App Icon Change
The new Weather app icon is darker and blue than the last one.
Safari Reload Icon Change
The reload icon will no longer appear on the URL bar in the full web page view. However, in the standard view, there is no change.
iPadOS 15 Safari Change
The new iOS 15 beta 5 changes the shadow of the tab in Safari, which will make the active tab clearer.
iPadOS 15 Home Screen Settings
From Settings>Home Screen& Docks, the iPad can also change to use the large icons.
Control Center Icon Changes
In the control center, the beta 5 version removes the shutter button from the camera icon.
Apple also changes the icon for the Sound Recognition, the new icon is a sound wave with a little magnifying glass search icon.
iPhone Power Off
There is a new pop-up message when turning off iPhone, which describes that iPhone remains findable after power off. You can click OK to confirm or choose "Temporarily Turn Off Finding."
Splash Screens
Apple adds a new splash screen for apps like Photos, Reminders, Home, and Maps.
Background Sounds
Even your iPhone is locked, you can turn off the background sound from Settings > Accessibility > Audio and Visual> Background Sounds.
Legacy Contacts Removed
The Legacy Contacts have been removed in beta 5 and may become back again the future updates.
iOS 15 Beta 4: Safari, Notifications, Focus mode, and Other Changes
There are lots of new updates in iOS beta 4 which you can refer to:
The complete support of MagSafe Battery.
The Note app shortcut icon update in Control Center.
New large Podcasts widget on iPad.
New icon for Notes, Notifications, Camera on the home screen.
Several changes in Safari, such as s permanent reload button in the address bar, a new share button in the address bar, reader mode can easily be enabled from the address bar.
New return to home screen action in shortcuts.
New update to help disable notification when using Screen Sharing or Screen Mirroring.
The App Store account page update to rounded edges.
iOS 15 Beta 3: Safari, App Store, Apple Music Widget, and More
Safari Address Bar Change
When you searching for an URL in the address bar, it will display above the keyboard instead of on top of the interface.
Safari Reload
If you need to use the reload function, you can long-press the address bar to get a pop-up window, which contains the reload option.
App Store Splash Screen
In the new iOS 15 beta 3, Apple adds the splash screen that highlights the new feature, like in-app events, app store widget, and safari extension.
Apple Music Widget
The color of the widget changes according to the song that is playing instead of the art album. There is a new quick action to help remove a song from the playlist, just long-pressing the specific track to click Remove from Playlist.
Focus Updates
In the Focus option, Focus Status and Phone Calls options have been removed from the main interface and re-added to each Focus section.
Check the new features of iOS 15 beta 2 from the list below:
New icon for Maps and Books.
New splash screen for Weather app when you are the first time to enter it.
New update for a quick note on iPad, users can swipe from the bottom right corner.
New SharePlay feature to help users share songs, videos, screens without any limits.
Lossless Audio on HomePod has been removed in beta 2. It may return in a later update.
Safari reloads button comes back when you are using a mouse or trackpad.
iOS 15 Beta 1: The Great Changes of New iOS Version
Apple released the iOS 15 beta on June 7, let's check how many updates they have made.
Notification Redesign: from iOS 15, now people can check the contact photos and large icons for each app.
Focus, a completely new tool for users to reduce distraction.
Spotlight can help search for photos with location, people, or other objects, it also supports web image searches. You can also use Spotlight When your screen is locked.
FaceTime update offers the Spatial Audio and can split a user's voice from background noise or introduce background noise in Wide Spectrum mode if there is a need.
FaceTime links, users can now create FaceTime Links and then share them with friends, the links can be opened with FaceTime App or web browser.
SharePlay let users share songs, videos or screen when they are using FaceTime, but this feature is not available in the latest beta 6, it may be re-added after the official iOS 15.
For other great changes in iOS 15 beta 1, you can check this guide from Macrumors.
What If There are Issues with the iOS 15 Beta Versions?
If you feel that the iOS 15 beta version is not so good, or there are issues occur, we recommend using StarzSoft Fixcon to help you fix the system issue and make your device go back to the iOS 14 version.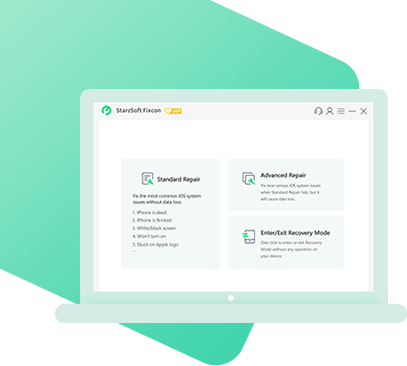 Easily fix iOS 15 beta bugs, glitches, or general problems with your iPhone/iPad
Users don't need to be tech-savvy to use this software
Data is kept intact after using Fixcon and there is no risk of data loss
Suitable for any iPhone/iPad model and works with all recent iOS versions
Available as a free trial version (try before you buy!)
Conclusion
That's all the main introduction of iOS 15 beta 6 to beta 1, if you want to know more about iOS 15, please feel free to contact us or leave a comment below.