Apple tends to come with new iOS updates to enhance the users' experience. Hence, the latest iPhone update was iOS 15, which brought many changes to iPhone functionality, but at the same, it also created some issues for iPhone users.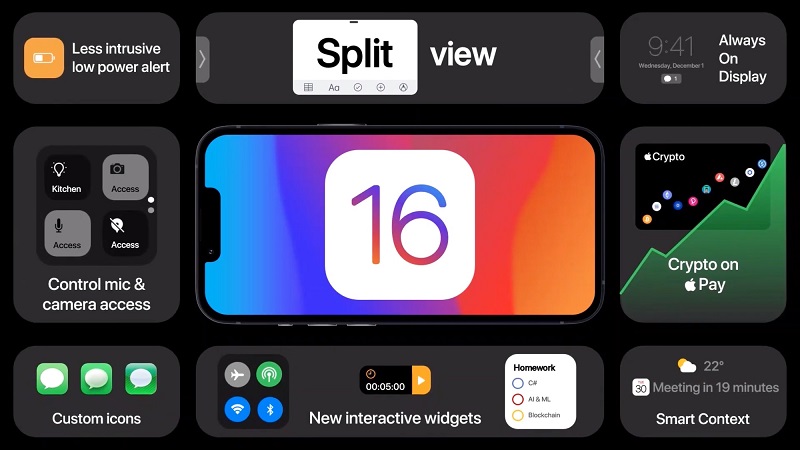 After iOS 15, Apple has now decided to launch the iOS 16 version. Although the expected data has been announced, no one officially can confirm what iOS 16 will bring for the users. Surprisingly, many credible sources have claimed that certain features are added to your iPhone when iOS 16 arrives. Let us talk about those rumors and features.
Part 1: The Most Possible iOS 16 Release Date
The most expected data for iOS 16 is the 6th of June, 2022, when the new update will be released at WWDC. Some people have been circulating the news that the expected data might get delayed, but official sources denied the rumors and maintained that the new update will come on the due date.
Part 2: Will iOS 16 Be on iPhone 7
Yes, iOS 16 will support iPhone 7 and 7+ according to the information coming regarding iOS 16. Although no official announcement has been made to confirm the compatibility of devices with iOS, iPhone 7 is most likely to get supported by the iOS 16 version.
Part 3: iOS 16 Supported Devices Rumors
Whenever Apple devices release a new update, the focal point of releasing the new update is to enhance the user experience by offering the new features. When IOS 15 update was released, it supported iPhone 6 and the later iOS version.
Other iPhone models like iOS 5 etc., weren't included in the iOS 15 supported profile. But, the rumours are strongly confirming that the idea of the iOS 16 release is to introduce the new features in the devices that don't maintain hardware limitations.
It means that iPhone 6 or 6+ won't be able to install the iOS 16 update, implying the devices eligible to install the iOS 16 update starting from iPhone 7 to the latest model of the iOS device.
However, the features of iOS 16 won't remain the same for all iPhone models. For instance, you can't expect to explore the features in iOS 7 which you'd be able to use in iPhone X.
Part 4: How Much Will iOS 16 Costs?
Contrary to the premature speculations that iOS 16 will charge any fee, iOS 16 will be free of cost. Like any other latest update, you'll be able to install it on a supported iPhone device when it arrives. Hence, if your iPhone supports iOS 16 update, you'll be able to install it without any trouble.
Part 5: Latest iOS 16 Features Rumours
There is no official confirmation of what to expect from the iOS 16 update, but you'll see many rumors about the features which iOS 16 will bring. Let's talk about the potential features change iOS 16 is most likely to bring into the party.
1. Notification Changes
Bloomberg's Mark Gurman revealed that the new iOS 16 update would change iPhone devices' notifications handling. Many people have speculated that it could be about enhancements to Focus mode.
However, Still, Apple needs to do much more than this, as iPhone users have always talked about making changes to notifications.
2. AR/VR capabilities
Gurman also has given a clue about the iOS 16 will come with some references about Apple's mixed realist headset and how it should be linked with iPhone.
Although you can expect Apple to introduce a new headset at WWDC as there might not be any new feature available for you, you might see some improvements to the ARKit framework for new developers.
3. New Fitness and Health Features
You can't rule out the possibility of Apple releasing new health and fitness features. Although Apple's focal point might not be releasing these features, you can still expect to see the new fitness and health features in your Apple Watch.
Moreover, many speculations indicate that there might be some Nutrition and Food tracking features that will be made available in iOS 16.
Despite these speculations, the only thing we could do was to wait for the update to arrive and then see what it brings for us.
4. Always on Display
When iPhone 13 had launched, the speculations suggested that Apple has now decided to develop an always-on display with dates, notifications, and time, other data at a glance. However, the speculations turned out to be hoaxes.
However, there have been some rumours circulating that the arrival of iOS 16 might bring the feature many people would have expected when the iPhone 13 arrived.
5. Interactive Widgets for iPhone
Another important leak that has given a ray of hope to iPhone users is that iOS 16 is bringing interactive widgets for your iPhone. It might be similar to Android, where you can perform any operation using a widget instead of relying on notifications or apps.
6. When will Apple Release the iOS 16 beta
Since the expected date of iOS 16 Beta hasn't been made public, the speculations suggested many dates, and you can't trust those rumors. But, you might see the arrival of the iOS 16 beta version after a week or two when the new iOS 16 will come available.
7. Other iOS 16 Rumours and Leaks
Apart from rumors we've discussed in the upper part of this guide, more such speculations have been made before the arrival of iOS 16. Here's the list of those leaks and rumours.
1. No one can deny that iPhone has probably the best camera compared to all the mobile brands. However, some people have still claimed that the emergence of iOS 16 would bring redesigned camera apps to make the user's experience better.
2. Apple doesn't come up with betters plans when it comes to connecting AirPods, as you can't connect these AirPods without Bluetooth. However, the rumors suggest that iOS 16 will end the need for Bluetooth to use AirPods as new applications will be launched.
Part 6: A Great Tool to Fix Any iOS System Issues – Starzsoft Fixcon
If you encounter any iOS device issue, you don't have to worry about it as you've got a brilliant tool in the shape of StarzSoft Fixcon. Using this mind-blowing, you can fix any iOS device issue easily.
How to fix iOS issues with Starzsoft Fixcon
1. After installing Fixcon, you need to launch it straight away and connect the iOS device to the PC.
2. Enter into the tool's interface and select the "Standard Repair" icon from there.

3. Get the suitable firmware package downloaded by tapping "Download".

4. After hitting "Continue", you can restore your device within a few moments.
Conclusion
Apple hasn't released the iOS 16 update yet, but rumours are already circulated about the potential features that this new update could bring for users. You can find the complete detail of those rumours in this guide.
Moreover, if you're facing an iOS issue, you can opt for StarzSoft Fixcon, as it can fix any iOS device issue.