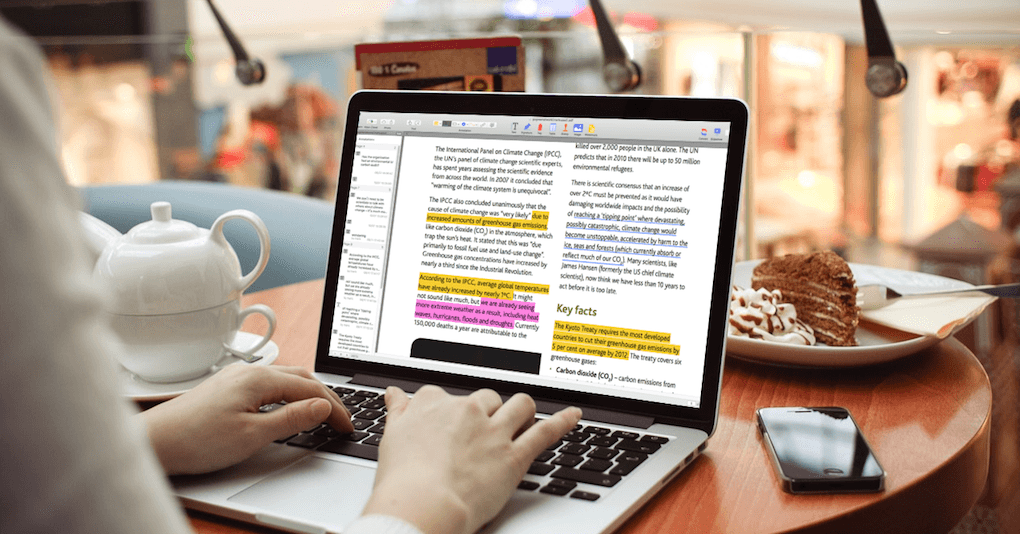 Converting files from PDF to other formats is often necessary. For example, if you need to edit the content you have on a PDF document, you may have to convert the document to an editable format, such as Microsoft Word. Since PDF files are generally more accessible on all platforms and operating systems, most people convert other file formats into PDF before sharing them. By showing you free PDF converters, we hope to help you avoid paying to convert all your files to and from PDF.
Option 1: PDF WIZ – Best Free PDF Converter
If you are looking for a free and simpler way to convert and edit your PDF documents, PDF WIZ is your best option. Unlike the other tools we will mention in this article, PDF WIZ is 100% free.
The rest of the PDF converters mentioned in this article (options 2 to 9) will only have free trial versions. The trial versions have limited features – to access the full features, you will have to pay to upgrade to the pro versions.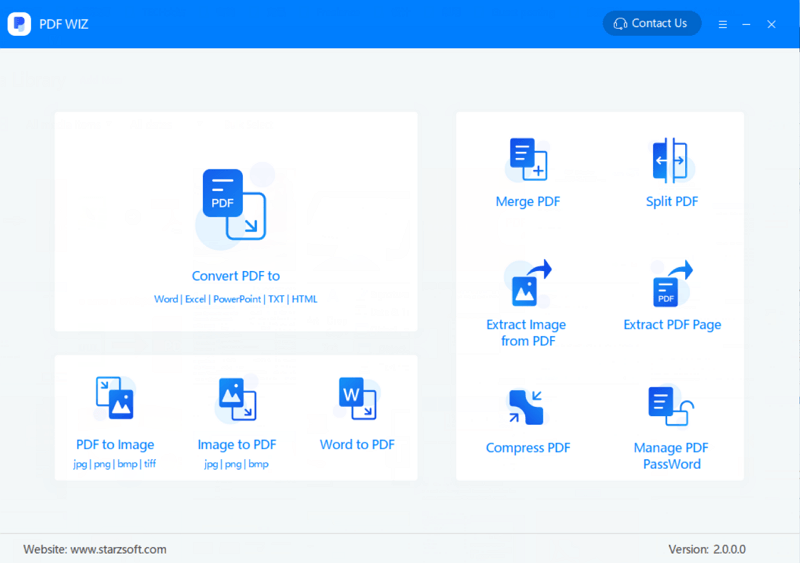 But with PDF WIZ, you get the full package, with no feature limitation, without having to pay even a dime.
PDF WIZ is a full-featured free PDF converter. The all-in-one tool has the ability to perform all PDF conversions, including:
1. PDF to Word – This lets you convert PDF documents to the editable Microsoft Word documents.
2. PDF to PowerPoint – You can convert PDF to PPTX or PPT slides.
3. PDF to Excel – With just a couple of clicks, you can easily move data from the PDF document to Spreadsheets.
4. PDF to Text – This helps you change uneditable PDFs to editable TXT files.
5. PDF to HTML – If you would like to view the PDF in a browser, this feature should come in handy.
6. PDF to Image – PDF WIZ supports all image formats, including TIFF, PNG, and JPG.
7. Word to PDF – This lets you convert DOC and DOCX documents to the more accessible PDF files.
8. Image to PDF – You can combine numerous images into a single PDF document.
PDF WIZ is not just a free PDF converter. The tool does feature other capabilities which make working with PDF documents easier. The capabilities include:
1. Splitting PDF – This feature lets you separate 1 PDF file into multiple PDF files.
2. Merge PDF – You can combine numerous PDF documents into one document, using your preferred order.
3. Compress PDF – Reduce the size of the PDF document without losing quality.
4. Extract images from PDF – This lets you get all the images present on your PDF document and store them on your computer.
5. Extract pages from the PDF – You can extract specific pages from the PDF document.
6. Password management – PDF WIZ makes working with PDF passwords much easier.
When using PDF WIZ, you will never have to worry about information security and privacy. Since the tool will work exclusively on your computer, no third-party will have access to your files. Online tools (option 10) usually feature privacy risks since after you upload the document to a third-party server, you cannot control who can view it.
PDF WIZ Price: 100% Free!
How to Convert a Word Document to PDF Using PDF WIZ?
To demonstrate how easy it is to use PDF WIZ, we will show you how to convert Word to PDF using the tool:
Step 1: Download and install PDF WIZ on your computer. After launching the tool, select Word to PDF on the Home screen.
Step 2: On the following screen, either drag and drop the PDF document to the work area or simply click Add File to the top right. You can add more than 1 file.
Step 3: After uploading the files, you can choose the pages you would like to convert and where you would like to save the document. Next, hit CONVERT NOW and wait.
Step 4: Once the conversion is complete, the status bar should go to 100%. To go to the folder that has the file, hit the button under Location. To open the document directly, hit the button under Open.
Developed by Wondershare, PDFelement claims that it has the ability to meet all your PDF needs. The free PDF converter makes it possible for you to convert PDF documents to and from the most popular file formats, including HTML, text, Powerpoint, Excel, Word, etc. Since the tool does have an OCR feature, this allows you to convert scanned PDF documents into editable files.
Installing PDFelement on your computer will be free if you choose the free trial version. However, if you want to access the full feature version, you will have to be prepared to pay a minimum of
PDFelement Price: $69 per year with a free trial.
This tool claims that it features accurate and easy conversion and editing of PDF documents. In addition to the conversions, the tool allows assembling, combining, creating searchable PDF files, filling forms, and more.
The tool features enhanced security precautions with its advanced features such as the redaction. The converter allows its users to work with documents across devices and also share their documents in the cloud.
If you would like to use the KOFAX tool as a free PDF converter, you will have to settle for the free trial version which has extremely limited features.
KOFAX Power Price: $129 for the standard license with a free trial.
Soda PDF markets itself as an intuitive, reliable, and portable PDF software that you can use both at home and on the go. Currently, the tool claims that it can support PDF 2.0. The tool makes it possible for you to create PDFs from more than 300 file formats.
You can also convert the PDF documents into an array of varying file types. The tool makes it possible for you to annotate the files, add an electronic signature, create custom forms, and even edit the PDF content.
While all the above features are extremely impressive, you won't find them in the free PDF converter offered by Soda PDF.
Soda PDF Pro Price: $48 per year with a free trial.
Option 5: PDF Converter Pro
This is another PDF tool made by Wondershare. The tool is built specifically to handle PDF file conversions. Some of the formats supported by the tool include Texts, RTF, HTML, PowerPoint, Excel, Images, and Word.
The tool does make partial conversions possible. What this means is that you can select the pages you would like to convert from numerous pages. The tool does allow batch conversion – this feature makes it possible for you to convert more than 1 document.
PDF Converter Pro Price: $39.95 per year with a free trial.
Option 6: Foxit PhantomPDF Standard
This tool is capable of helping you with PDF editing, the addition of comments, annotations, and even sharing of your documents. The tool helps you manage access to the document you create via PDF passwords.
The tool's OCR feature makes it possible for you to edit image-based PDF files. When it comes to conversion, some of the file formats supported by Foxit PhantomPDF include text, RTF, HTML, Word, images, Excel, PowerPoint, etc.
If you are willing to stick with limited features and functionalities, a free trial version of the Foxit software may be ideal for you.
Foxit PhantomPDF Price: a one-time fee of $129 with a free trial.
Option 7: Adobe Acrobat Standard DC
Adobe came up with the PDF file format. This means that they do have a PDF software capable of offering great results – the tool is known as Adobe Acrobat DC. The product features a comprehensive set of tools which can help you perform a wide range of conversions and even edits.
When converting PDF files using Adobe Acrobat DC, you get to merge emails, spreadsheets, Word documents, etc. into a single PDF file. The tool does make it possible for its users to password-protect their documents.
Adobe Acrobat DC Price: $12.99 per month with a free trial.
Option 8: Nitro Pro
Nitro Pro offers a cool platform for carrying out most of the PDF-related functions, including converting the PDF to Microsoft Office file formats and other types of documents.
The tool has a very interesting Outlook plugin that makes it possible for you to sync it with your Outlook email account – this allows you to convert email folders, your emails, and other attachments to PDF without the need to download them first.
The tool comes with the OCR feature. This means that you can easily convert the scanned PDFs into editable Excel, Word, or even PowerPoint documents. Other features offered by the tool include PDF merging and cloud support.
The free trial version is ideal for you if you are okay with limited features. To get the full features, however, you will need to purchase a license.
Nitro Pro Price: the cheapest license will cost you $159 with a free trial.
Option 9: DeskPDF Studio XE
This is a PDF application developed by Docudesk. DeskPDF makes it possible for its users to convert PDF documents to the most popular files, including the Microsoft Office documents such as Word, PowerPoint, and Excel.
With the tool, you will have the ability to mass create PDF documents from more than 300 file types. The tool does feature a number of modification and editing features, including Google Drive and Dropbox integration, form creation and editing, digital signatures, password protection, OCR, etc.
DeskPDF Studio XE Price: $83 for the pro version license.
Option 10: Online Free PDF Converters
If you are working with non-sensitive documents, you can find the best free PDF converters online. The online PDF converters are usually 100% free and do not have feature limitations. Their major downside is that information privacy is not guaranteed.
Once you upload your file to a third-party server, you will not have the ability to control who can or cannot view the document. Below, we have examples of online converters you can use with your documents:
https://smallpdf.com/pdf-converter
https://topdf.com/
https://www.freepdfconvert.com/
https://www.sodapdf.com/pdf-converter/
Online PDF Converters Price: Free.
Final Words
If you have been trying to convert PDF files without having to pay anything, you can achieve this using PDF WIZ. PDF WIZ does not have any feature limitations like most of the tools we have mentioned in this article. When using PDF WIZ, you won't need to pay in order to access the full features offered by the tool. Unlike online tools, PDF WIZ guarantees you 100% privacy – this is simply because your documents will never have to leave your computer during conversion.