PlayStation 4 includes an eighth-generation home video game console that is highly integrated into various smartphones and other devices.
Connecting and mirroring your iPhone to Ps4 allows you to control the device with your smartphone, text messages to other gamers, and download Ps4 games from your phone.
This article will explain how to mirror iPhone to Ps4 and how to mirror an iPhone to a computer.
How To Mirror iPhone to Ps4
The process of mirroring iPhone to Ps4 involves a few procedures and can be quite simple for the most part.
Using PlayStation
Ensure you have a working HDMI within your reach because you will need it. Begin the process by plugging your HDMI into your Ps4 and your iPhone.
The next procedure will involve casting your phone's screen to the Ps4. Here are some simple steps to follow;
1. Download the PlayStation application on the App Store.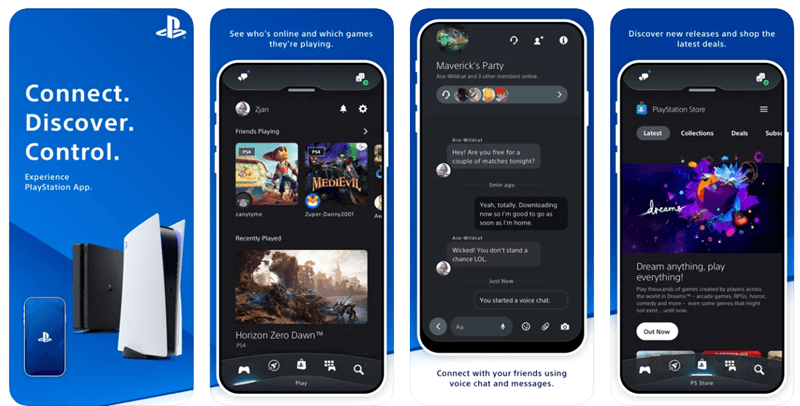 2. Ensure your iPhone and Ps4 are both connected to the same Wi-Fi.
3. Click on the "PS" button located on the top-left edge of your device's home screen. Tap on "Cast Screen/Audio."
4. On the pop-up menu, tap on "Casting from a Mobile Device."
5. Finally, tap on "Apple TV." Your iPhone screen will be mirrored to the Ps4.
6. A code will pop up on your Ps4. Enter that code into your iPhone, then select connect. Tap the "Next" button on the two devices, and your iPhone will be mirrored to your Ps4.
Using My PlayStation Service
A second method of connecting your iPhone to the Ps4 can be done using My PlayStation Service. This method was availed in 2018.
It allows users to access their PSN profiles and conduct functions such as messaging friends, profile updates, and viewing trophies.
You require a web browser on your device when using the PlayStation service. The instructions are as follows;
1. Go to my.PlayStation.com.
2. Use your credentials to sign in to your PlayStation Network account.
3. You can access your friend lists, your trophies, and any other available feature.
How To Mirror iPhone to PS4 Using Third-Party App
It is possible to cast your iPhone screen on Ps4 using a third-party app. The process is as follows;
1. Download your preferred third-party app on App Store.
2. Connect your iPhone with the Ps4 via Wi-Fi, then follow the directions on the application.
This mirroring iPhone to Ps4 allows you to enjoy gaming on your Ps4 or TV instead of playing console's sizable screen.
How to Mirror iPhone to computer
Most people enjoy using multimedia on big screens. Understandably, not everyone can afford an iPhone and an Apple TV.
This section will guide you through various ways to mirror iPhone to computer to get you covered.
The first method that comes to almost everyone's mind is enabling AirPlay on your computer. This article presents three different ways of mirroring the iPhone to a computer. Check them out;
1. StarzMirror
Using StarzMirror takes the first mention in this list. It's among the most straightforward ways to mirror your iPhone to a computer.
You only make a single click, and your computer starts functioning like an AirPlay connected device.
Using StarzMirror
Follow the following steps to screen mirror your iPhone to your Windows Operating System computer.
1. Download and install the StarzMirror application on your iPhone and computer from App Store and Play Store.
2. Ensure both devices are connected to the same Wi-Fi network. Start StarzMirror then select "iOS."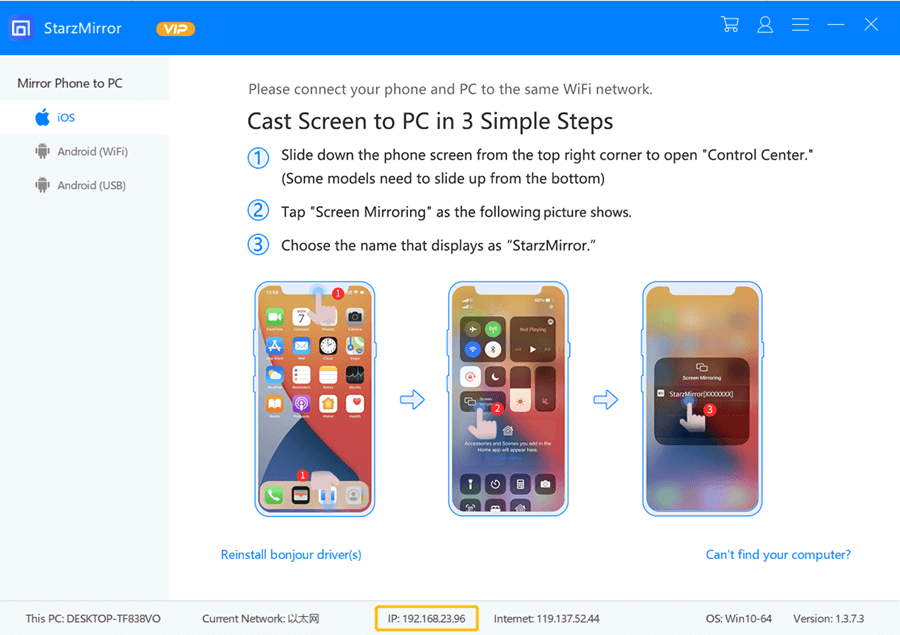 3. The computer may ask to access all networks.
4. Using your iPhone, go to the Control Center.
5. If your iPhone is version X or a later one, put the finger at its screens's top right corner, then swipe down to access the control center.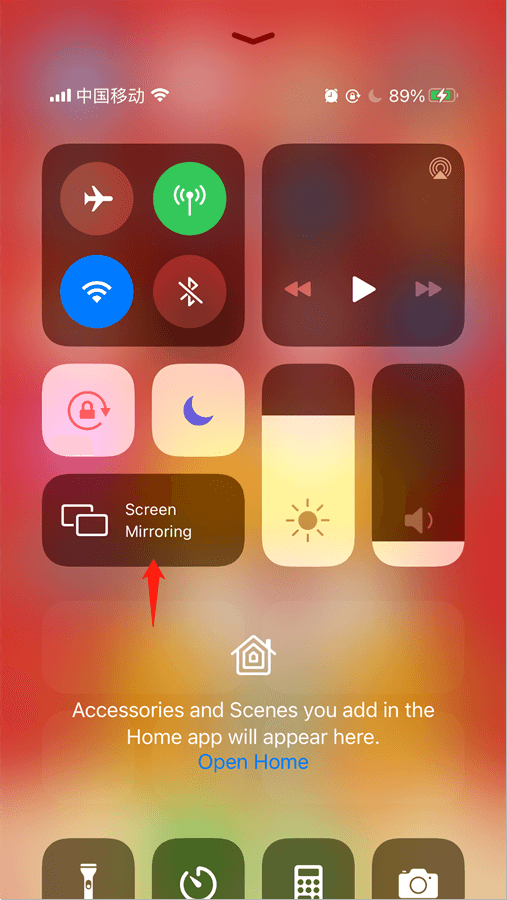 6. Swipe up your screen to access the control center if you're using earlier iPhone versions.
7. You should see all actions of your iPhone on your computer since the screen mirroring is complete at this point.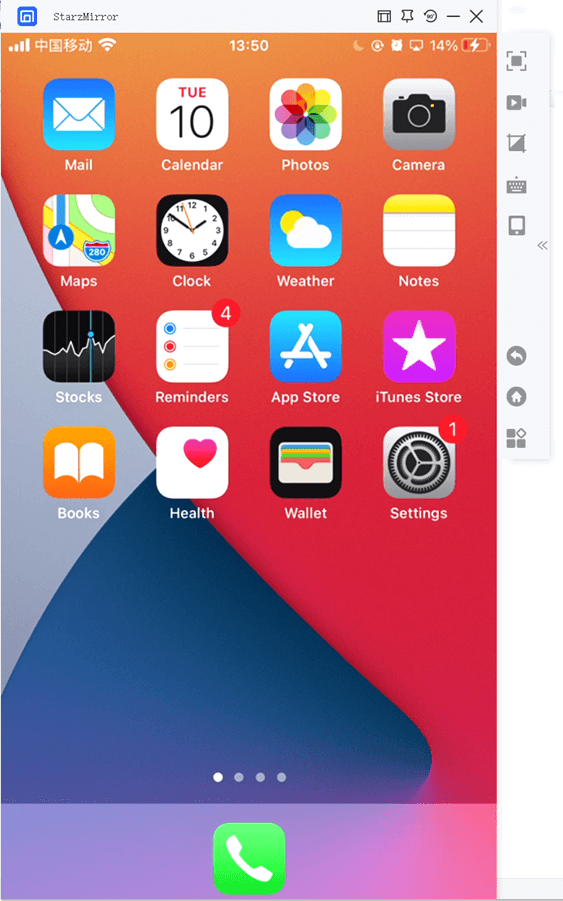 In case you wish to control your phone using the PC, pair your Bluetooth on the "Settings" of the two devices.
2. Mirror iPhone to a computer with LonelyScreen
LonglyScreen works for both Android and Apple gadgets. This mirroring application is easy to use and allows you to use your iPhone with a computer.
The app helps you to cast or mirror your iPhone to a computer.
If you make your computer AirPlay-enabled, it can easily allow you to mirror your iPhone.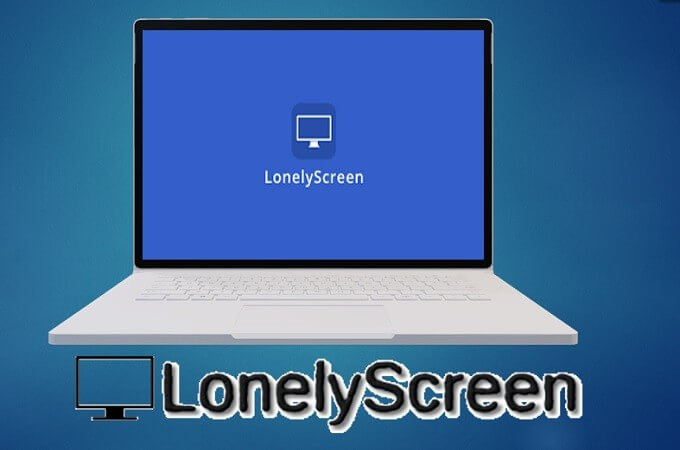 Note that you do not need to use any third-party app assistance. Below are the simple steps to help you.
1. Download LonelyScreen and install it after the download is complete.
2. Allow the app it launches itself after installation.
3. Ensure you allow access when the firewall denies access.
4. Initiate AirPlay
5. Tap the device you want to mirror from the list available.
6. Enable mirroring
Your iPhone mirroring should start when the process is complete. You may want to change your device's name to a convenient one.
You should now be able to stream and access content using your phone remotely.
3. Mirror iPhone to a computer using MirrorGo
Wondershare MirrorGo is a mirroring software that is easy to use.
The best feature of this software is that it enables reverse control of your iPhone from the computer. It allows you to take screenshots from your PC and save them.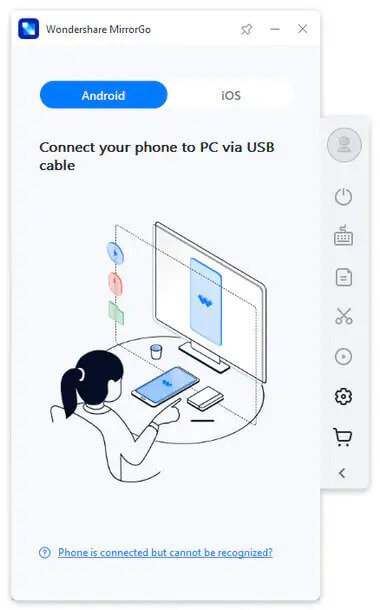 With the two devices connected to the same Wi-Fi network, follow these easy steps;
1. Download, install and launch Wondershare MirrorGo software.
2. Ensure your iPhone and computer are connected to the same Wi-Fi network.
3. Go to the screen Mirroring on your phone and select MirrorGo.
4. Your iPhone screen should appear on your computer and allow you to control it remotely.
Conclusion
Mirroring your iPhone to Ps4 allows you to share a video, presentation, or play a video game on a large computer screen.
Now that you have learned various screen mirroring apps and methods, you might want to download the one that suits your preferences the best.
I believe you already have an idea of the app that can match your needs the best.