Apple Watch is an exceptional device for iPhone users. It requires creating a unique code during the setup process and asks for it when the user removes it from their hands.
But it is not uncommon that people come up with issues where they forgot the apple watch passcode. It's alright- we have come up with tools to help you out.
Let's have a look at distinctive situations that you may come across while you forgot the Apple Watch passcode and struggle to unlock it. Make a note that these process work on all Apple watch OS.
When You Forget the Passcode but Have a Paired iPhone
If, in any case, you have a complete washed out brain for the passcode, you can still unlock your Apple Watch. All you need is an iPhone with backups and pairing with the Apple watch. The process involves restoring your Apple watch to Factory settings with the removal of your data entirely.
There's no reason to worry about your data as it gets backed up on your iPhone along with iTunes and iCloud regularly. This backup restores your data after your Apple watch gets reset. This process works on all Apple watch OS. Let's go through the steps;
1. On your iPhone, open Apple Watch App.
2. Tap My watch > General > Reset.
3. Tap Erase Apple Watch Content and Settings, and confirm.
4. Choose to create a backup if the iPhone is not paired with already.
5. Apple watch will get reset to new in some time.
6. On completion of the reset process, enter your new passcode.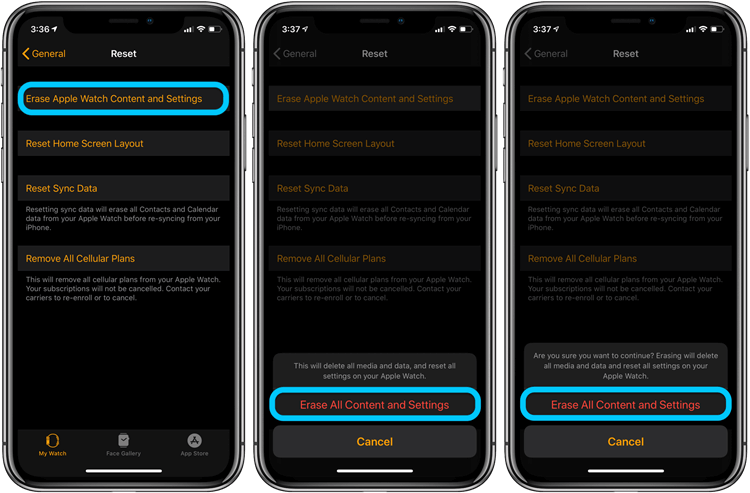 The iPhone paired with your apple watch shall automatically create a backup in the clouds. It happens during the unpairing of the Apple watch. Here is how to restore a backup for your Apple watch:
1. Grab your iPhone and open the Apple Watch app.
2. For unpaired watches, click on Start Pairing. Usually, the top item on the pairing list is the newest Apple watch to be paired.
3. Click Restore from a backup once the pairing is complete.
4. Select the backup file to restore. Make sure to place the devices close enough for the process. Also, note that the process may take some time to complete.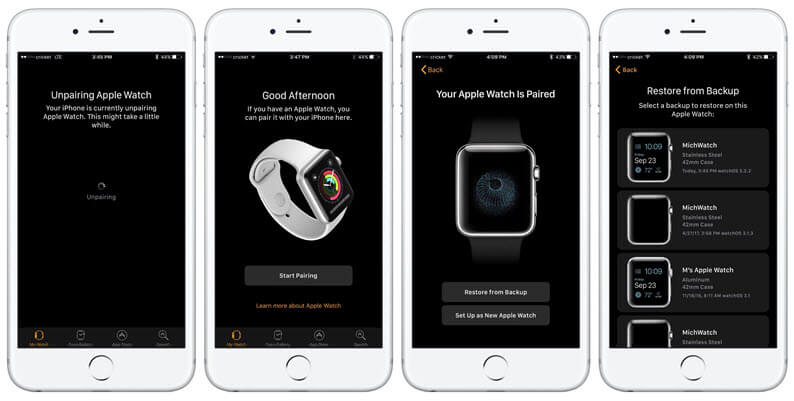 When You Forget the Passcode and Don't Have a Paired iPhone
This one appears a bit scary for the Apple watch user but, we are here with an effortless trick to reset your device to the out-of-the-box state.
In the scene where you don't have access to your iPhone or the paired iPhone, you can reset the Apple watch with the aid of its charger.
The data will get deleted when resetting the device. It can get restored with a backup on your iPhone. This process works on all Apple watch OS. Here are the steps to be followed;
1. Press the Side button to bring the Power-off screen.
2. Firmly press the Power-Off slider without sliding it.
3. Now, you get prompted to connect it to the power source.
4. Keep your Apple Watch on its wireless charger slot.
5. Click on Erase Apple Watch Content and Settings.
6. Select the green confirmation button when prompted through the reset process.
7. Apple watch will get reset to an out-of-the-box state. Then go through the general setup process and pair your iPhone.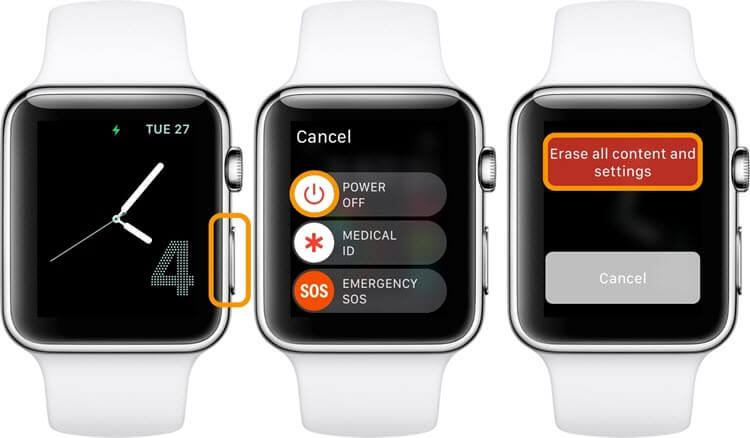 After the above steps, you'll get rid of the trouble of forgetting apple watch passcode. Enjoy your Apple watch now!
What to Do If You Find it Locked by Activation Lock?
Activation lock is an advanced feature from the Find My section. It protects your Apple Watch from being misused if stolen or lost.
While setting up the Find My Apple Watch on your iPhone, the Activation Lock on your Apple watch is configured automatically. Pairing and unpairing of iPhones and Apple watch required login credentials when the activation lock is on.
It builds a likelihood for recovering the lost Apple watch. It reduces the misuse possibility of the Apple watch when lost.
Activation lock restricts anyone else from reactivating the device without your consent. It avails you to erase the device remotely.
What to do if your Apple watch is locked by Activation Lock? Here are two ways for you:
Unpair it with iPhone
To unpair the Apple Watch and the iPhone, keep them close enough during the entire process.
1. Grab your iPhone and go to the Apple Watch app.
2. Tap All Watches > info button > Unpair Apple Watch.
3. Keep your mobile data plan if you wish to pair the device again. Remove your mobile data plan if you do not intend to pair the devices again. Consider cancellation of data plan if needed.
4. Disable Activation Lock with login credentials if prompted.
5. It will create a Backup and delete the data on Apple Watch. Now you have your watch ready to use.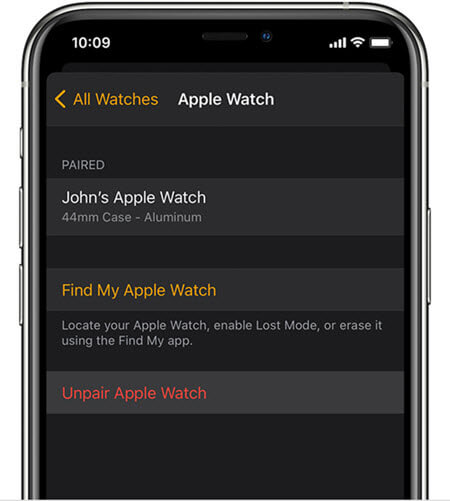 Remove if from the iCloud
Sign in with your id on the iCloud website, on a computer device.
Click on Find iPhone > All Devices > Apple Watch > Erase Apple Watch.
Then click on Remove from account. After this, Your Apple Watch is as ready to use and new as just unboxed.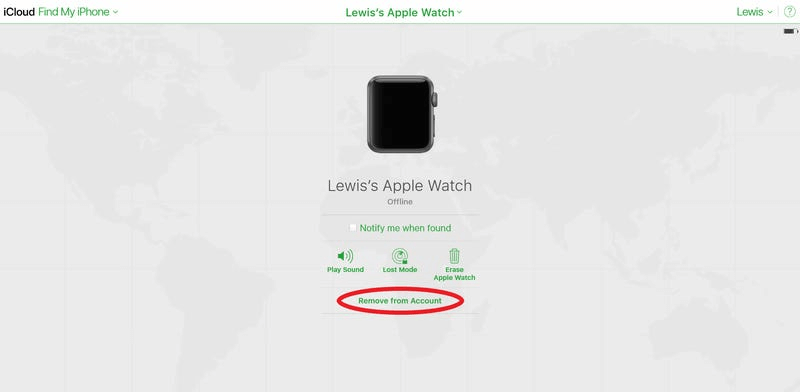 Bonus- How to prevent this from happening again?
Who would want to come across a situation like this? It is indeed better to prevent the occurrence. Like it's said, "Prevention is better than cure", you can also take steps to go with the prevention.
1. Create a passcode that is way easy for you to remember. You can go with important dates and events of your life.
2. You can opt to note the passcode in a secure location. You have apps on your iPhone to save the passcodes or write them into a diary.
3. The best of them all is Unlock with iPhone feature. It helps you unlock your Apple watch without any code but with the iPhone.
Conclusion
Forgetting a passcode is not intentional but natural. Whether it is due to workload, children or forgetfulness, it ought to happen to everyone. But like a solution to every problem, this daily life issue also has solutions to imply. We need to be careful and try to avoid the situation with some easy, lazy tricks.
Whether you forget a passcode or lost access to your iPhone, there's a solution to your problem. Passcodes are for our safety and, we should keep them safe and secure. However, if we fail to do so, we always have a solution to our problems. So you can stay calm and relax.