As Apple produces new and more advanced gadgets, most users choose to buy the cheaper used versions in order to save some money. In case you buy a second-hand iOS device whose previous owner did not remember to deactivate their iCloud account or if you are selling your iOS device and you have forgotten the Apple account password or iCloud ID, then most people will recommend using iCloud Unlock Deluxe to remove the activation lock.
All iOS-powered devices are built in such a way that their Activation Locks can only be disabled by using the Apple Password and ID of the original owner. In the event that you acquired a used iOS gadget and you are unable to contact the previous owner, you have to look for a tool that will help you in getting rid of the activation lock on your own. iCloud Unlock Deluxe is a widely known software used to remove iOS activation locks.
Part 1: iCloud Unlock Deluxe Review
1
What is iCloud Unlock Deluxe?
iCloud Unlock Deluxe is a circumvention software that enables a user who does not know their password or Apple ID to unlock an iOS-powered gadget whose iCloud Activation is locked.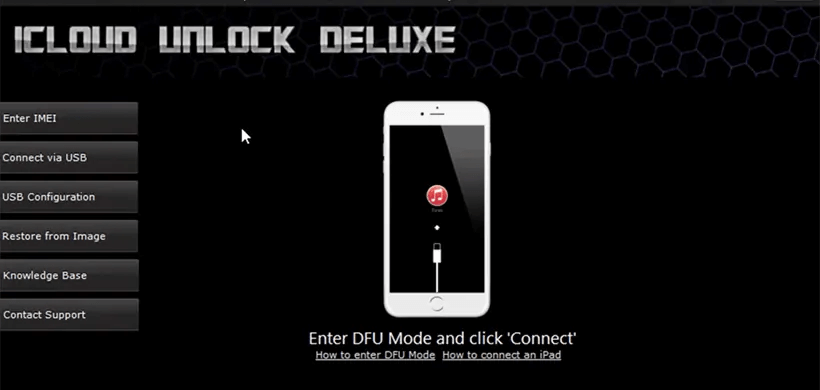 This issue is common in used iOS devices whose previous owners sold without signing out of their Apple accounts. In such scenarios, the new users of these used devices are left with only two choices: to contact the previous owner or to use iCloud Unlock Deluxe.
To start using the iCloud Unlock Deluxe tool, you will need to fill out a questionnaire, register an account, and confirm your payment. When you connect your iOS gadget to your computer, the iCloud Unlock Deluxe will automatically handle the task.
Once iCloud Unlock Deluxe has finished unlocking the iOS device, you can create a fresh iCloud account or add your existing account and start using your gadget as you like.
2
Pros & Cons of iCloud Unlock Deluxe
a) Pros
This software will help you get rid of the iCloud lock in your iOS gadget using IMEI
The iCloud Unlock Deluxe tool works via a simple USB link between your computer and an iOS-powered device.
b) Cons
There is no guarantee that the iCloud account will be unlocked without fail.
It is very hard to find the correct download link for iCloud Unlock Deluxe.
Your information may not be protected by the software to ensure complete privacy.
3
Does iCloud Unlock Deluxe work?
I have personally attempted to unlock more than two iOs gadgets using iCloud Unlock Deluxe but the unlocking process failed. Therefore, I can not advise anyone to use this tool.
I have also read stories stating that most of iCloud Unlock Deluxe are redirected to spammy links and websites.
4
How to Install & Use iCloud Unlock Deluxe
a) How to install iCloud Unlock Deluxe:
Below, we are going to learn how to install the iCloud unlock deluxe tool and use it.
After downloading the iCloud unlock deluxe tool, right-click on its icon, then click on "Run as Administrator" in the popup box.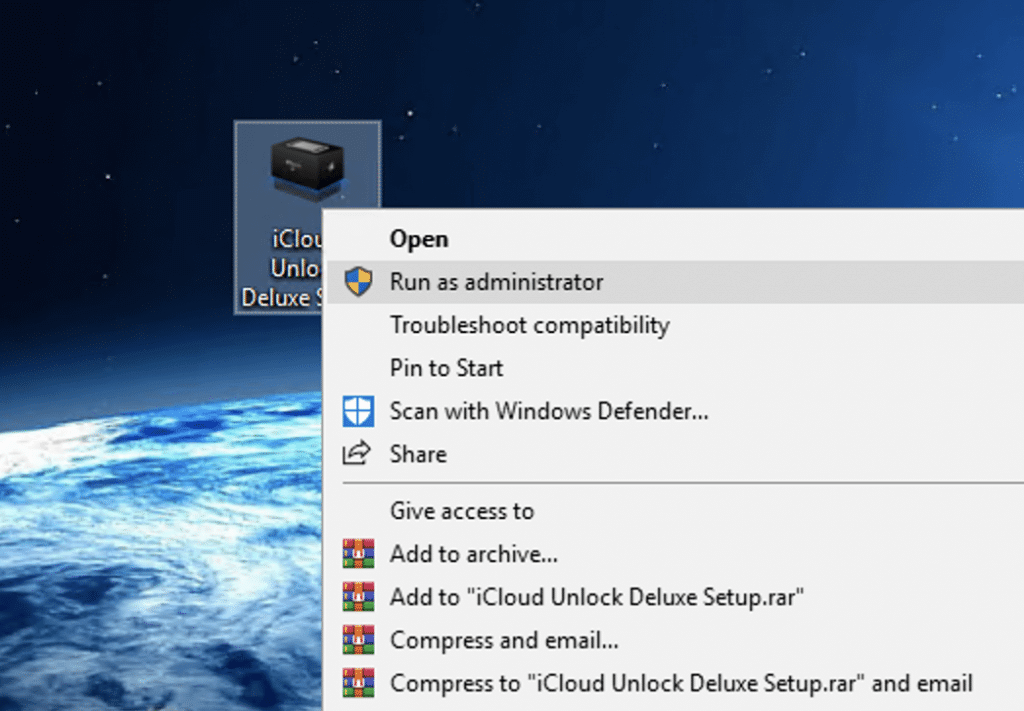 The iCloud unlock deluxe configuration box will be shown on your screen. Press the "Next" button to go to another step.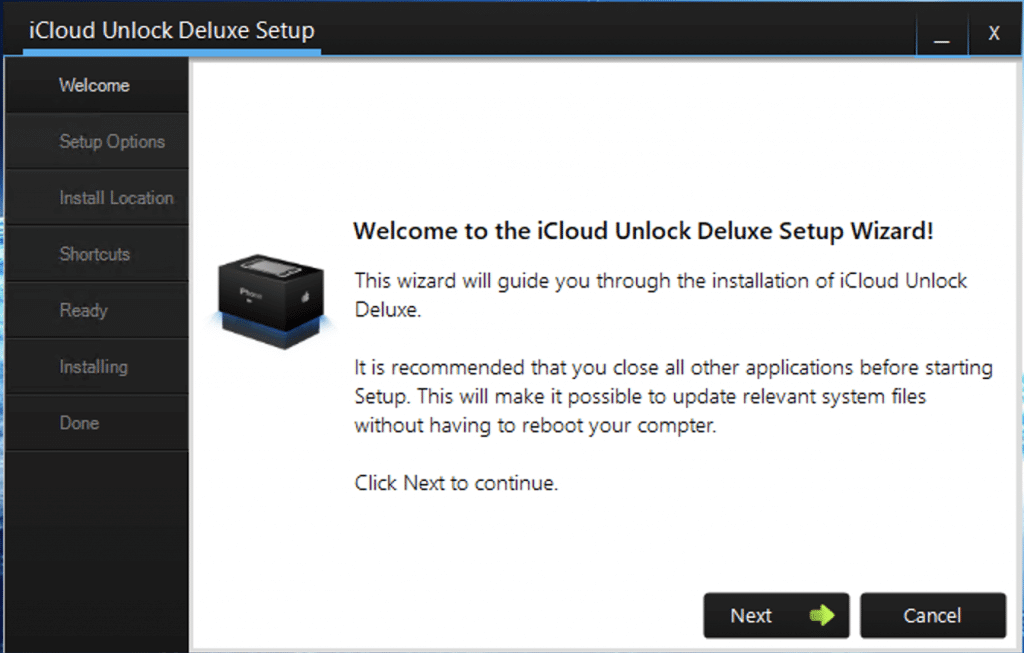 If you have never installed iCloud unlock deluxe on your computer, ensure that you tick all the available checkboxes and then press the "Next" button.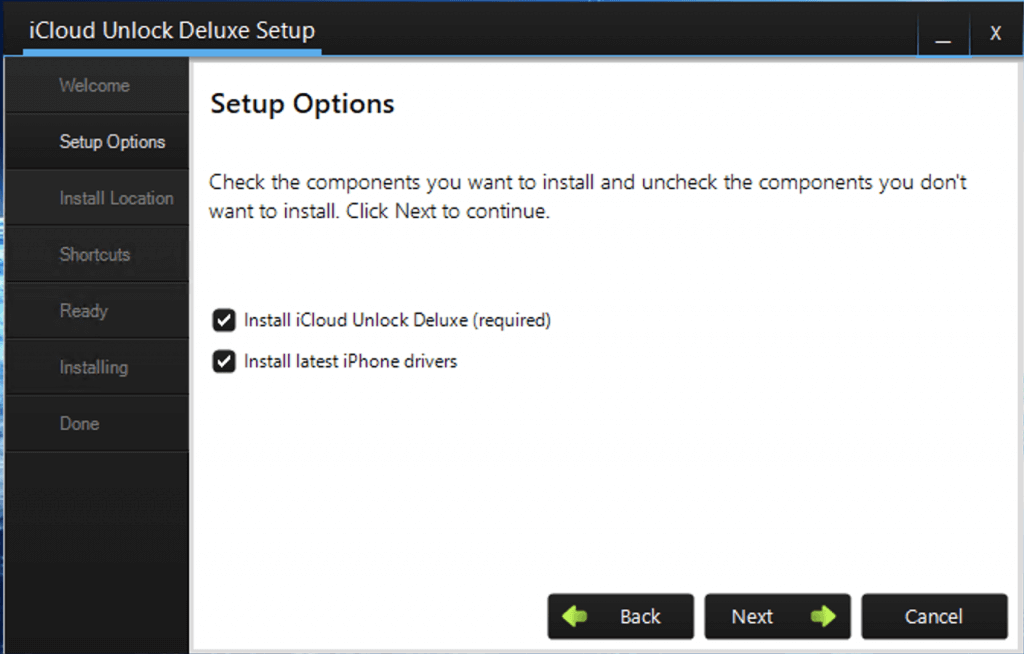 Select a designated folder in which you would like to install the iCloud unlock deluxe tool. Make sure you have enough space on your hard disk. Click on the "Next" button.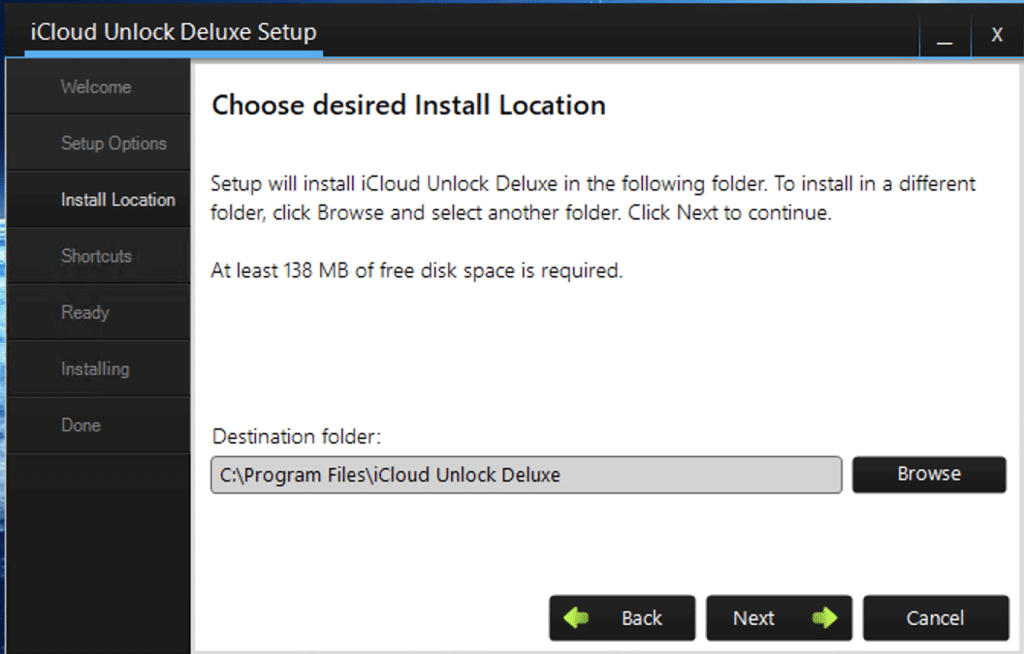 After selecting whether to install extra functionalities or not, click on the "Next" button to proceed.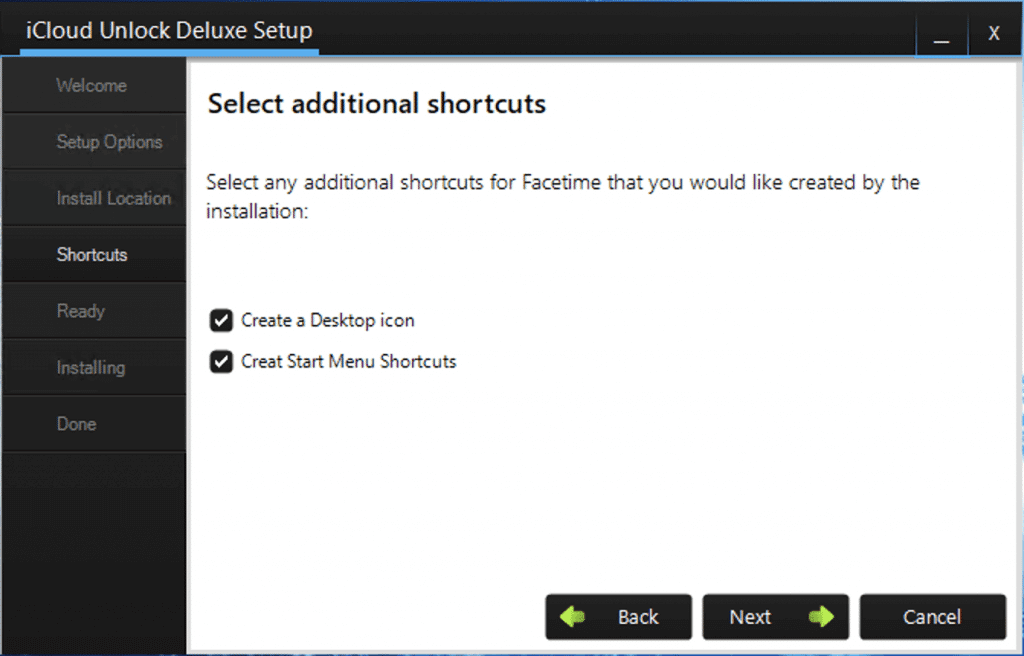 Press the "Next" button after confirming that the chosen installation folder is the right one.
Allow a few minutes for the iCloud unlock deluxe tool to install on your computer. The installation speed will depend on how fast your computer loads.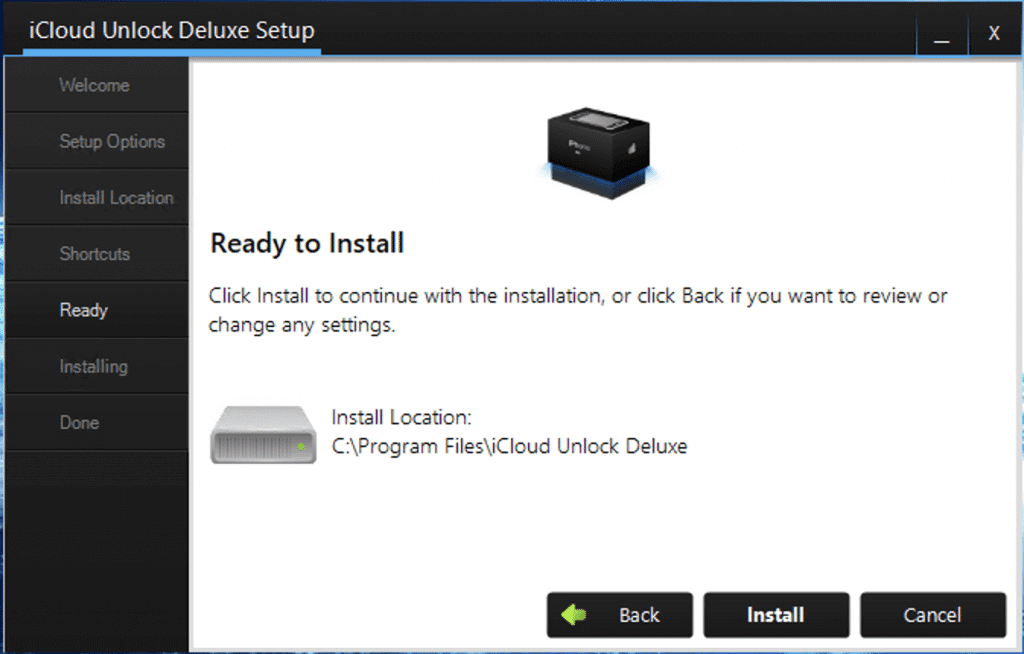 When the configuration process is finished, press the "Finish" button to complete the setup.
b) How to Use iCloud Unlock Deluxe:
Start the iCloud unlock deluxe software after it has been correctly configured on your computer. On the opening screen, you will be presented with the following choices:
1. Add IMEI
2. Link with USB
3. USB setup
4. Image restoration
5. Help center
6. Contact administrator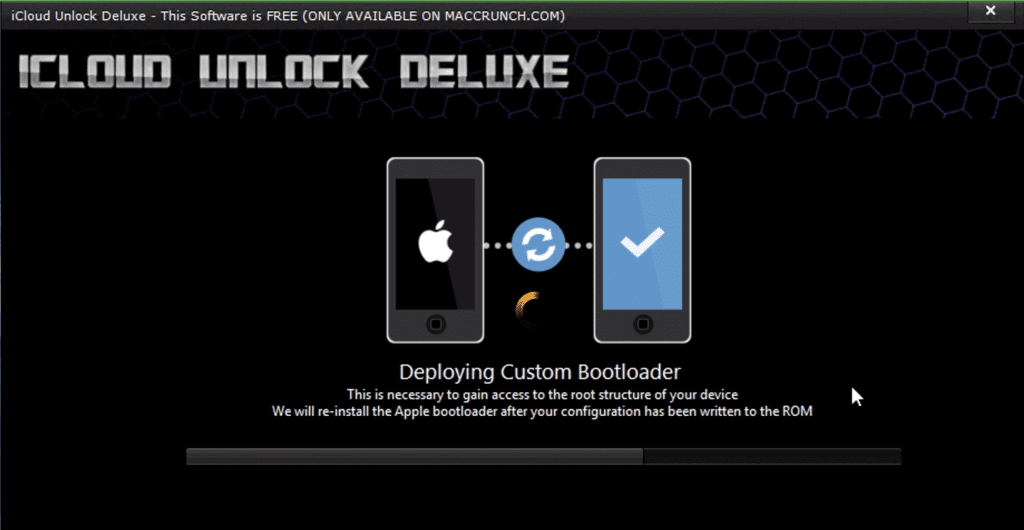 Since you would like to remove the iCloud lock, ensure that you have linked your iOS device to your computer via a USB connection and select the "Link with USB" checkbox.
When you click on the "Link with USB" option, your iOS gadget will restart immediately. A special boot loader will be added to your iOS device in order to give iCloud unlock deluxe all the required permissions to update your device.
After proceeding into DFU configuration, you will be presented with more choices on your computer's screen. These options include:
1. Connected iOS gadget
2. Information about Gadget owner
3. Related iCloud ID
4. iCloud Lock Details
5. Carrier Blacklist Details
6. IMEI data
7. The Serial Number will be shown
8. MAC Address details
In case the iCloud Lock is showing as "Active", press the "Proceed with Unlock Process" button. However, ensure that you have checked the box before proceeding so as to be sure that the details you have entered are free of errors and that you are the current owner of the iOS device.
You will then be presented with the following choices on the next screen:-
1. Renew Serial Number
2. Add fresh IMEI
3. Refresh IMSI to work with IMEI
4. Special setup.IPA
5. Apple ID checking servers blockage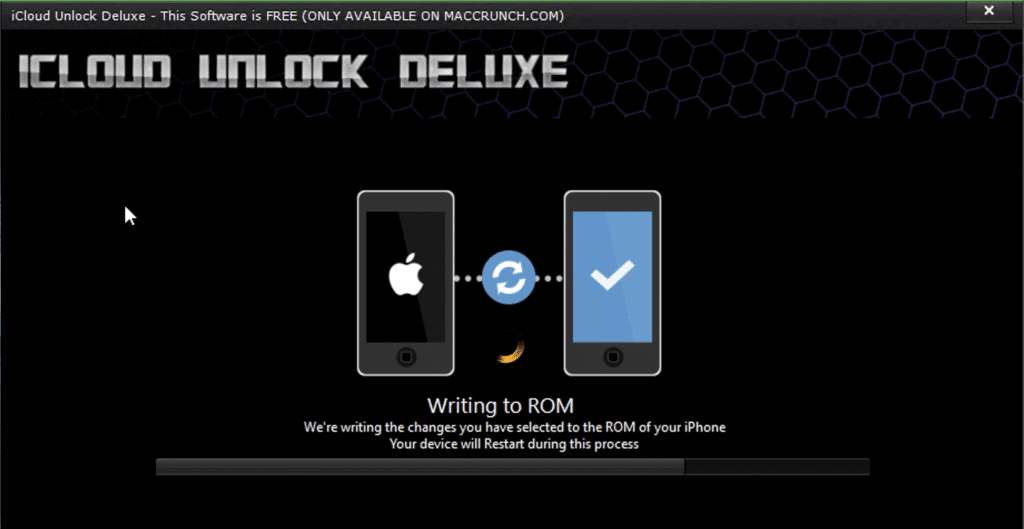 Choose the appropriate option basing on your requirements and press the "install" button to proceed.
iCloud Unlock Deluxe will start configuring your iOS gadget according to the option you chose above. Your device may restart numerous times but do not worry. Simply give it time until the installation procedure is completed.
If all goes well, your current iCloud Lock status will be showing as "Clean" and you will now be able to use your iOS-powered device without the old iCloud ID.
5
How to Download iCloud Unlock Deluxe
You probably want to know if iCloud Unlock Deluxe works or not given the fact that it is not easy to download. The simplified answer is YES.
iCloud Unlock Deluxe is commonly regarded as open-source software. Even though this is the case, it is very hard to download this tool free of charge since it has not been listed on any website. Here's what you should know:
1. iCloud Unlock Deluxe has no verified website from where to download the software
2. It is common to find spammy websites posting fake download links for iCloud Unlock Deluxe
3. There are websites that will even take your money by promising to provide you with a legitimate download link for iCloud Unlock Deluxe
4. Some websites will also require you to fill out internet questionnaires by making you believe that you will be able to download the iCloud Unlock Deluxe tool. These questionnaires are infinite and you will not get any real download link.
Part 3. Top 2 Alternatives to iCloud Unlock Deluxe
1
Tenorshare 4MeKey
Stop spending lots of your valuable time looking for a free download of iCloud unlock deluxe. Most download links will not lead you to the right download location. There is an amazing alternative to iCloud unlock deluxe and it is called Tenorshare 4MeKey. Tenorshare 4MeKey is an easy-to-use and robust iCloud unlocking tool which handles all issues related to your iCloud accounts such as lost Apple password or locked iOS device.
Key Features:
Tenorshare 4MeKey does not require a password to unlock an iCloud or Apple ID in an enabled iOS gadget.
It can unlock different types of screen locks such as Face IDs, Passcodes, and Touch IDs.
Tenorshare 4MeKey works with all new iOS releases.
See our full review about Tenorshare 4MeKey
2
AppleiPhoneUnlock
AppleiPhoneUnlock provides an interesting method of removing Activation Locks or iCloud Locks from all iOS gadgets. You should use it while connected to the internet. You will need to enter the previous owner's iCloud password and ID if you want to get more information.
Key Features:
You will get rid of the iPhone's iCloud account forever
You do not require a password to remove the iCloud ID
AppleiPhoneUnlock works will all new iOS versions.
Conclusion
iCloud Unlock Deluxe is certainly not the best option among iCloud account unlocking tools. Downloading iCloud Unlock Deluxe is very difficult because there's no verified website to provide real download links. Even after being able to access the iCloud Unlock Deluxe software, you are not certain that it will work on your device because it has failed on many common iOS gadgets we attempted to unlock.
If you have been searching for a free download of iCloud Unlock Deluxe, we recommend that you end your search because most download links for iCloud Unlock Deluxe are fake and contain malware that will damage your computer system. Using iCloud Unlock Deluxe is not the best option in any way. Therefore, we suggest that you use other iCloud Unlock Deluxe alternatives to unlock the iCloud account on your iOS-powered device.
Feel free to send this article to your friends who are facing the same issue.