Tenorshare is a reputable brand when it comes to developing intuitive software. One such software that Tenorshare has come up with is 4MeKey. iCloud Activation Lock is a great feature to have because it prevents unwanted users from accessing a device; at the same time, if you own a second-hand device or you are using a device whose iCloud password you are unaware of, you will find yourself at a blind-spot.
There are many software and tools available online that will help you remove the iCloud lock; however, not every tool is worth the investment. This led us to review this popular iCloud Activation Lock removal key by Tensorshare. Our in-depth review of Tenorshare 4MeKey will help you decide whether you should use this tool or not. Without further ado, let's dive into this in-depth review of Tenorshare 4MeKey.
1
What Is Tenorshare 4MeKey?
Tenorshare 4MeKey is a robust iCloud bypass software. With the help of this tool, one can remove the iCloud Activation Lock and turn off find my iPhone without password. One can use Tenorshare 4MeKey to unlock the iCloud Activation lock from multiple Apple devices, such as iPod Touch, iPhone, iPad, etc. Because the tool is developed by one of the software leaders, 4MeKey has already made a good impact in the industry, and many users are availing of its impressive features and benefits.
It's a computer-based software, which means one will have to buy the software and download and install it on their computer or laptop. The good thing about Tenorshare 4MeKey is that it is available for both Mac and Windows operating systems.
After installing Tenorshare 4MeKey, a user will simply have to connect the iCloud locked device to the laptop or computer with the tool and begin the unlocking process to re-access the device. This tool is exceptionally useful for all the users who have forgotten the iCloud Activation Lock password or unable to access a second-hand iPhone or other similar devices.
2
Top Features of Tenorshare 4MeKey
This simple-to-use tool offers multiple features. One good thing about Tenorshare 4MeKey is that it can be used to unlock various Apple devices. Here are some of the features that you should know about:
Tenorshare 4MeKey can easily remove the iCloud Activation Lock even without Apple ID and Password.
With this tool, you can unlock your iCloud account whenever you want. Whether you have purchased a second-hand mobile or have forgotten the password for your own device, you will be able to remove the iCloud Lock.
Tenorshare 4MeKey supports different iOS versions, such as 12.3 to iOS 13.6.
This robust tool lets you completely bypass the iCloud Activation Lock even though you don't know the previous owner/owners.
Apart from bypassing your Apple device, you can turn off Find My iPhone/iPod/iPad.
It comes with a free trial. The free trial will let you check whether the tool supports your device or not.
3
Disadvantages
Despite being one of the top iCloud Activation Lock removal tools in the market, Tenorshare 4MeKey does have a few downfalls. Some of the challenges that you may face are as follows:
Once you remove the iOS activation lock, unfortunately, you won't be able to use some of the primary iOS device's functions, such as you won't be able to log in to iCloud of the new Apply ID, you won't be able to make phone calls, cellular functions won't be available, etc.
After completing iCloud lock removal, don't try to factory reset or flash firmware, and do not restart; if you do, your device will be locked again. However, you can unlock your device once again prior to the license expiration date.
Tenorshare 4MeKey will jailbreak the iOS device before you begin the removal of the iCloud Activation Lock process.
4
Does it work?
Before writing this review, we tried to bypass some of the devices to be sure that Tenorshare 4MeKey works seamlessly. We tested the Win and Mac version on multiple devices. Tenorshare 4MeKey did bypass all the Apple devices. We tried to bypass iPhone 5, iPhone X, and others, and yes, it worked without any hassle.
If you have purchased Tenorshare 4MeKey and not really sure how to use it to bypass your Apple device, here are some steps that you need to follow.
Step 1: First, you need to download Tenorshare 4MeKey from the official website. Wait for the installation process to get completed. Once both the things are completed, and you see a small icon of the Tenorshare 4MeKey on the desktop screen, double click on it to launch Tenorshare 4MeKey.
Step 2: The main interface will pop up. You need to click on the start option to begin the process. Also, the tool shows you the risk, which is if you use this tool to bypass iOS devices, it will be jailbroken.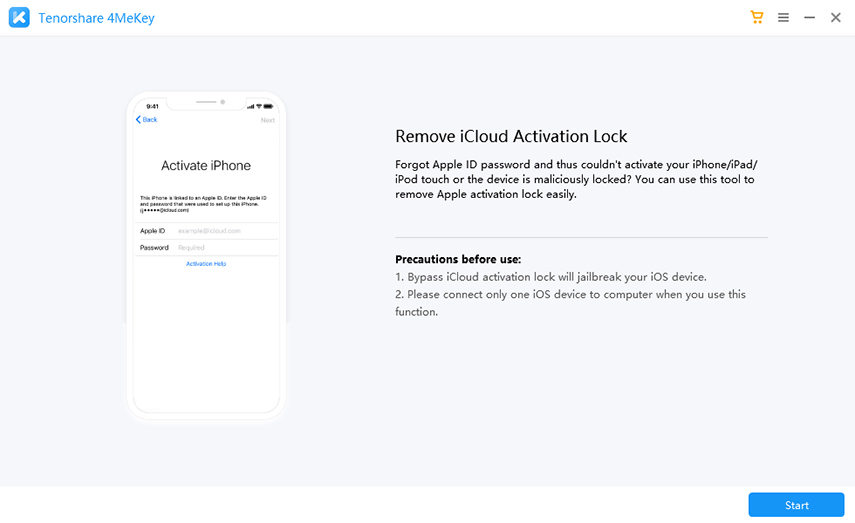 Step 3: Take the Apple device that you need to bypass. Connect it to your laptop or desktop that has the Tenorshare 4MeKey tool in it. Use a USB cable and connect it. Tenorshare 4MeKey will also prompt you to use an USB and connect the Apple device to your desktop.
Step 4: Wait for some time for the jailbreak to be completely downloaded. Once it is done, you need to click on the Start Jailbreak option. The option will be in the bottom right.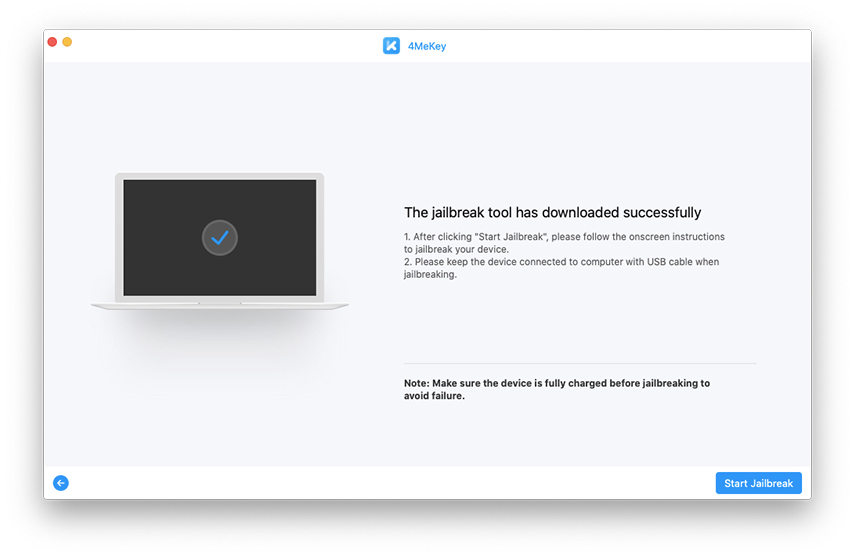 Step 5: Click on the Next option you see, and finally hit the Start Removal option.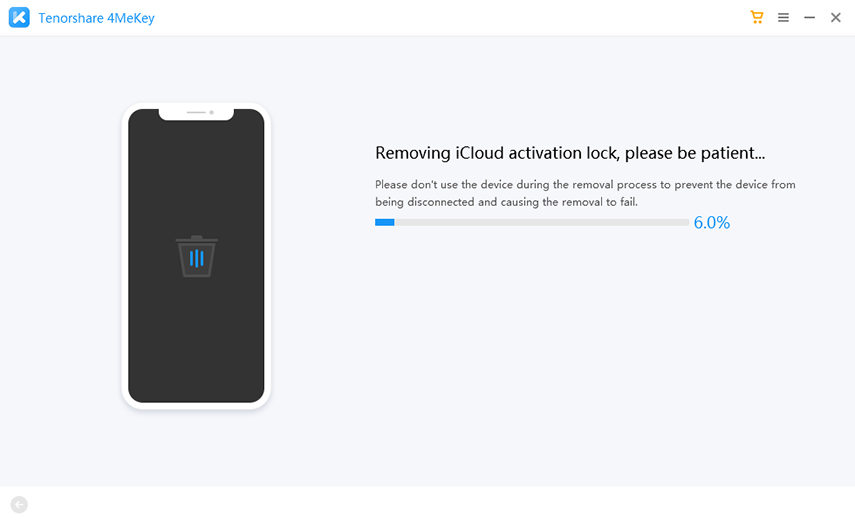 Completing all the steps will let you remove the iCloud Activation Lock. Once the iCloud activation lock gets successfully removed, you will be notified about the same.
5
Is Tenorshare 4MeKey Free?
Everyone is aware that passwords and iCloud Activation Lock are indeed important, but the struggle one has to go through when they forget the password or iCloud can be pretty frustrating. This is where tools like Tenorshare 4MeKey Free comes into place.
Now, Tenorshare 4MeKey Free is not a free tool to use. One will have to buy the license to start using Tenorshare 4MeKey Free and avail of its benefits. The free trial that you see will let you connect your device to the tool and see whether it is compatible or not. Let's take a look at the different licenses that are available.
Windows Version:
1 month: $35.95/5 Devices
1 year: $39.95/5 Devices
Lifetime: $59.95/5 Devices
Mac Version
1 month: $45.95/5 Devices
1 year: $59.95/5 Devices
Lifetime: $79.95/5 Devices
The price for the Mac version is a little higher than Windows, and we don't know why they have kept the price higher for Mac. Probably, developing tools for Mac requires more effort, that's why. You can begin with the one-month license because that's the cheapest. But do get the free trial first to know whether your phone is supported by the tool or not.
Part 2: Alternative ways to unlock iCloud
In case the free trial shows you that your device is not supported, don't feel disheartened. We have some alternatives ways that will let you unlock iCloud. Try any of these alternative ways.
1
StarzSoft KeyPass
The first alternative would be StarzSoft KeyPass, it works even better than Tenorshare 4Mekey but comes with a lower price.
StarzSoft KeyPass is programmed by the latest technology with a higher success rate of unlocking Activation Lock. If Tenorshare 4MeKey failed to unlock your device, you can try KeyPass.
To help you understand how KeyPass works, here are the detailed steps to follow:
Step 1. Download & install StarzSoft KeyPass on your computer. Then launch it.
Step 2. From the home interface, select the "Remove Activation Lock" function. And then connect your iPhone.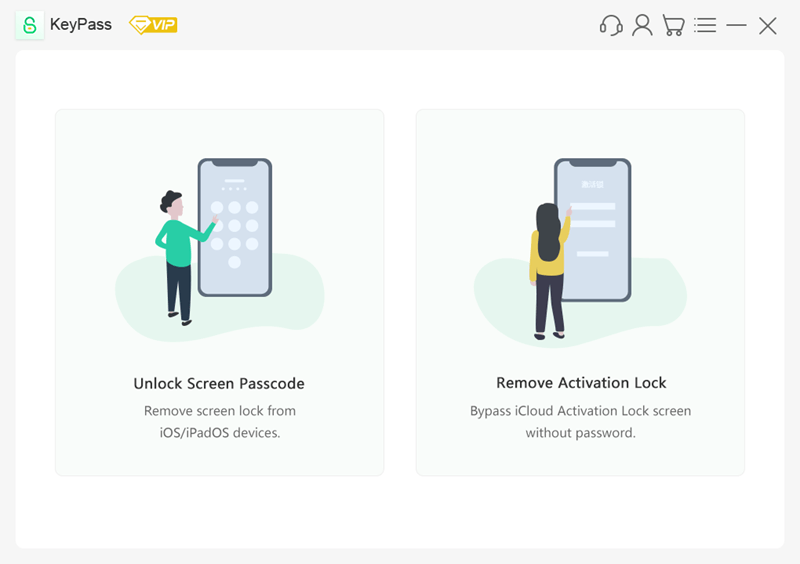 Step 3. It will require you to jailbreak your iPhone, just follow the steps it shows.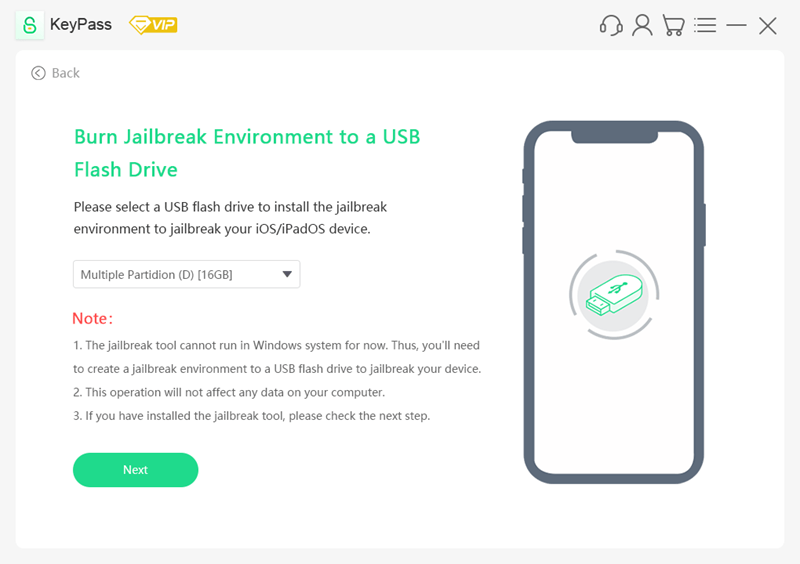 Step 4. Once jailbroken, start to remove the Activation Lock.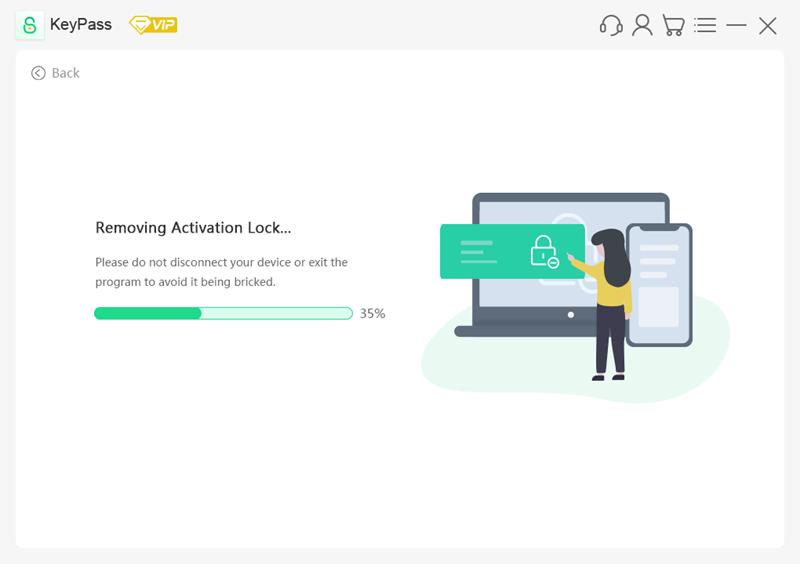 The whole process won't take you long.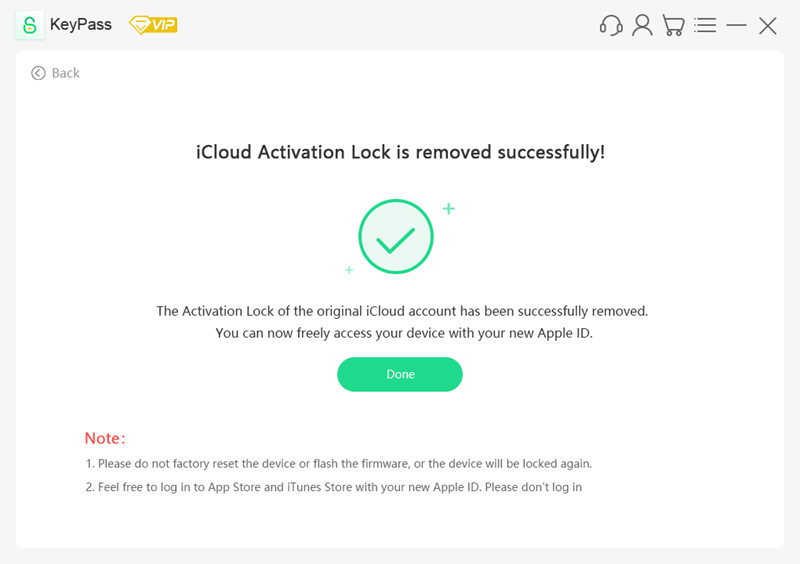 Now you can use your iPhone as brand new!
2
Ask the previous owner for help
If you tried using Tenorshare 4MeKey and found out that your device can't be supported, follow these three things.
Step 1: During the setup process, ask the previous owner to enter their Apple ID
If you have purchased the Apple device from someone known or are still in contact with that person, the best thing to do would be to ask them to enter their Apple ID. They need to add that detail in the Activation Lock Screen.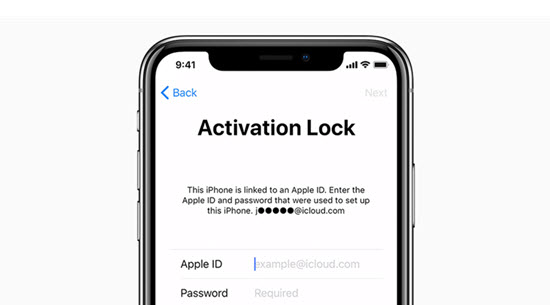 You will see this screen in the initial setup process. Once the Apply ID details are added, click on the next option. This way activation lock will be disabled.
Step 2: Ask the owner to enter the old passcode
If you have an Apple device running on iOS 11 or later, and you find out that the person has used Two-Factor Authentication with iCloud, just ask them to enter the previous passcode. They don't need to enter the Apple ID password in this case.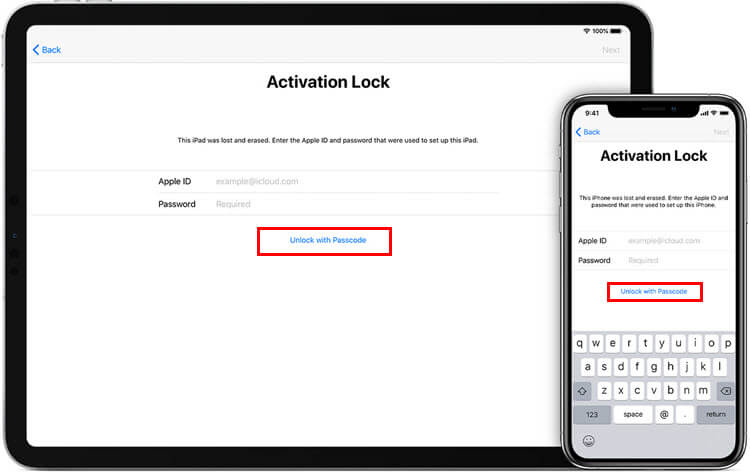 Once the Activation Lock screen appears, you need to tap on the Unlock with Passcode option. Enter the passcode that the previous owner used.
Step 3: Ask the owner to remove their device from iCloud
Here's the third thing that will let you disable Activation Lock. You can ask the previous owner to remove their device that they have sold from iCloud. Here's what needs to be done:
First, you need to visit the iCloud website.
Now, click on the Find My option.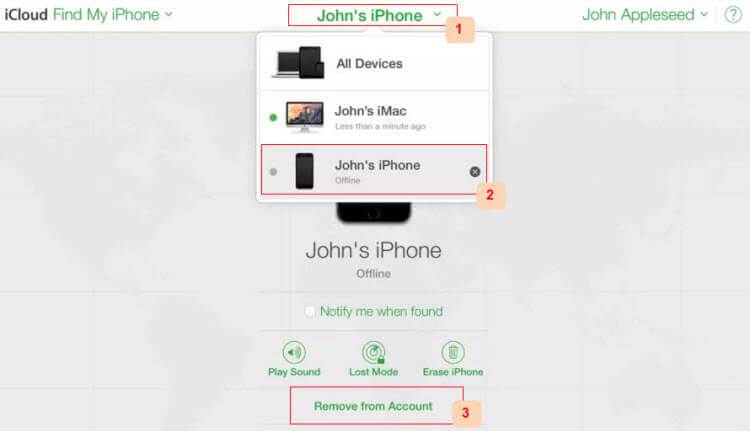 From the All Devices dropdown menu, you need to select the device that you wish to remove.
Click on the Erase (Device) option and then proceed with the prompts. Now click on the remove from account option, and you are done.
3
Ask Apple for help
If you have purchase proof for your Apple device with you, you try contacting Apple for their assistance. Apple's technical team can unlock the iCloud Activation Lock without any fuss. However, there are some protocols that Apple needs to follow.
If you can show the purchasing proof and have the legit packaging box of the device that proves you to be the new owner of the device, yes, Apple can unlock iCloud Activation Lock without any password. You also need to show the service team the receipt of your purchase.
Before they do anything, the service team of Apple will check if the Apple device if someone has reported the same Apple device to be missing or stolen. If they find out that it is, Apple won't do anything. Also, if you fail to prove that you are the legit owner of the second-hand device, please note that Apple won't do anything. Hence, gather all the documents that you have with you before contacting Apple's service team.
Conclusion
These are a handful of tips that will help you unlock the iCloud of your Apple device. You can try any of the steps that we have shared here. StarzSoft KeyPass turns out to be the most suitable solution to unlock iCloud Activation Lock out of all the alternatives. Try the free version of StarzSoft KeyPass and see whether the tool supports your device or not before turning it into other alternatives.