Disk Drill Data Recovery is one of the oldest recovery software on the market. It was first launched in 2010. Using this software, you can easily recover your important data. It can quickly and easily recover any files in Windows, including Documents, Messages, and Media files. This program offers 2 versions for Mac and Windows. If you want to know whether it is worth trying, you should continue to read this article. We will show all you want to know here including its interface, features, the good, the bad, and more.
Disk Drill Interface
The latest version of Disk Drill has a modular user interface, allowing us to switch between the recovery data features without leaving the main window. The interface of Disk Drill is very straightforward; you can use it without taking any lessons or anything. A non-technical user can also operate this software without facing any difficulties.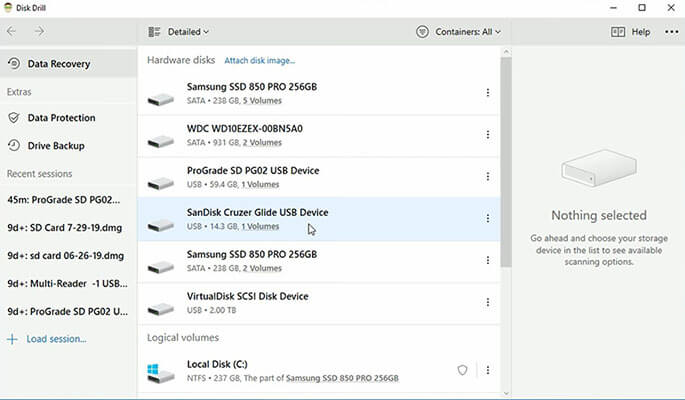 Disk Drill Features
As I told you before, if you lost or deleted any important file from your Windows and Mac, then this data recovery tool can get it back instantly. Here are some of the main features that Disk Drill provides you:
You can recover your data for free up to 500 MB
It provides you with free data protection with its recovery vault feature
It offers free byte-level backups
It shows you the list of the lost file before performing a recovery.
It is compatible with Windows, Mac, HDD, SDD, USB Drive, Digital Camera, and Smartphones.
It allows you to recover any type of file or documents.
These are the main feature that Disk Drill can provide you.
Is Disk Drill Safe?
We have listed many features to show what this software is capable of, but the main question on every user's mind is, "Is it safe?" The answer to this question is Yes; it is safe to recover deleted files and documents with this program.
We have tested this program on our Windows, and when it runs, it works normally without causing any damage to your system and hard drive data. So, it won't be wrong to say that it is 100% safe.
Is Disk Drill Free to Use?
The answer is No! Disk Drill is not free. It offers three price plans for their user Basic, Pro, and Enterprise. Here are the plan prices that this software provides to its users.
| | |
| --- | --- |
| Plans | Prices |
| Basic Plan | Free |
| Pro Plan | $89 |
| Enterprise Plan | $499 |
Disk Drill Free vs Pro
To understand the difference, we have managed to create a comparison between the free and the Pro plan.
| | |
| --- | --- |
| Free | Pro |
| Data recovery up to 500 MB | Unlimited Data recovery |
| Includes recovery vault | Prevent data loss with the help of a recovery vault |
| Preview recoverable items | Includes all recovery methods such as quick scan & deep scan, smart FAT and NTF, Partition search, and other |
| Create Byte-to-Byte | All the features that the basic plan offers are also included |
Disk Drill Student Discount
If you are a student or teacher, then you are in luck because Disk drill offers 20% discounts to any representative of the education establishment. You can get this discount if you only write from your official email.
Student Discounts: https://www.cleverfiles.com/noprofit.html
Disk Drill Coupon
If you feel the price of Disk Drill is too expensive and want to find some coupon code to get the discount, here are some of them.
How to Use Disk Drill?
To use Disk Drill, you need to download, buy, activate, and then, recover deleted data. We will show you all of them step by step here.
How to Download Disk Drill?
Here are the Steps to download Disk Drill for Mac
Open Safari on your macOS. Then go to the Cleverfiles official site.
Select the Data Recovery for Mac option.

Then select the Free Download option.
After selecting the free download option, the Disk Drill Application file will start downloading on your Mac.
Follow these steps to download Disk Drill for Windows
Open your web browser on Windows and then go to clever file's official site
Then select the Data Recovery for Windows option available in the top right corner

Select the free download option, and the Disk Drill application file will start downloading on your Windows.
Once the downloading is complete, launch the application and install it on your Windows.
How to Buy and Activate Disk Drill?
Here are the steps to activate Disk Drill
Now choose the package and then click on Buy Now button.

Enter your Email address and then click continue.
Select your location.
Choose the Payment methods to complete your order.
After completing the order, you will receive your Disk Drill pro License. Now it's time to activate this software.
Launch the software and click on the Menu bar.
Select the enter activation code option.
Enter your Disk Drill Activation code and then click on activate button.

Now you can enjoy all the features of Disk Drill Pro.
How to Recover Deleted Files with Disk Drill?
Launch the software on your device
All the drives found on your computer will preview on the home page
Select the drive from which you want to recover lost data and then click the quick scan button

The software will start scanning, and all your lost data will preview.
Choose the lost file you want to retrieve and then select recover.

Within no time, your deleted file will be recovered.
How to Uninstall Disk Drill on Windows and Mac?
If you don't feel satisfied with Disk Drill and want to uninstall it from your Windows and Mac, then follow these steps to uninstall the software from Windows and Mac.
How to Uninstall Disk Drill from Windows:
Open the Start Menu and then select settings.
Now from settings, click on Apps.
Select the Apps & Features.
Now select the Disk Drill from the Apps list.
Click on Uninstall button to delete Disk Drill from Windows.
How to Remove Disk Drill from Mac:
Click on the Launchpad icon in the Docks
Find the Disk Drill on your Mac
Click and hold on the app until it starts shaking
Now select the X in front of the Disk Drill to completely uninstall it from Mac.
The Good
Here are good parts for Disk Drill.
The interface is straightforward
Very easy to use
Available on both Mac and Windows
Preview the lost files before recovering
Less time consuming
If you want my opinion on the good parts of Disk Drill. The interface is straightforward, and I face no difficulties using Disk Drill. I am able to recover my lost data in minutes.
The Bad
Here are bad parts for Disk Drill.
It only allowed me to recover only 500 MB of data with the free edition.
Disk Drill is expensive, and the free version needs more features.
The preview doesn't show me the file condition.
5 Best Disk Drill Alternatives
Starzsoft Data Recovery is the best alternative to Disk drill for windows. Using it, you can recover different data formats. It is much cheaper than Disk Drill while providing more features than its competitors.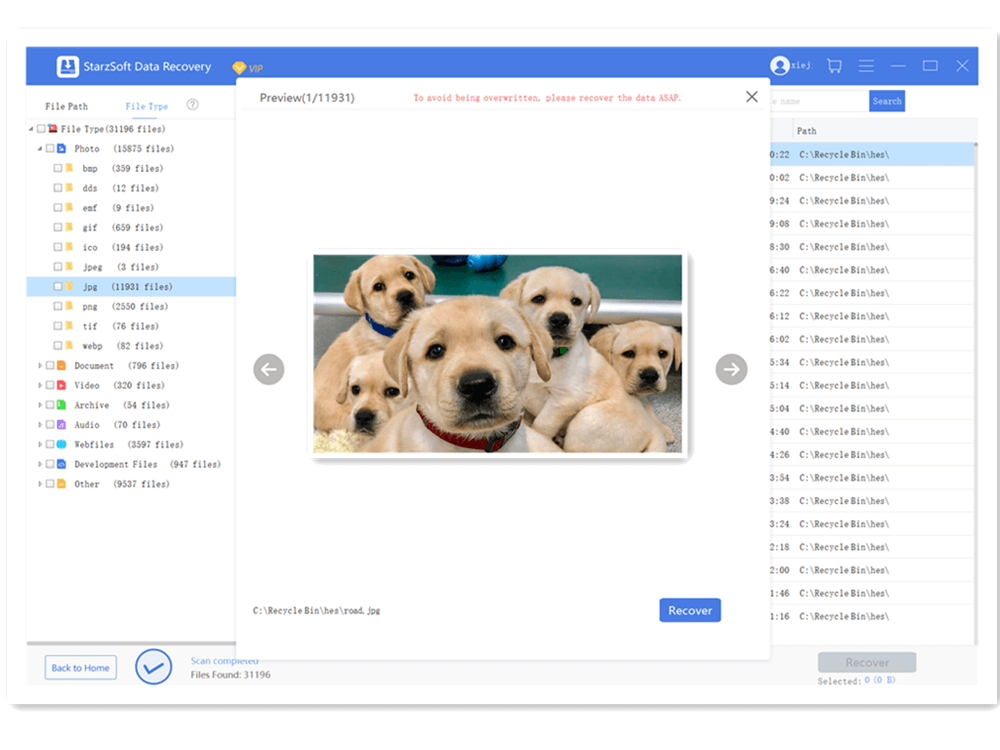 2.Recuva
If you have accidentally lost your data, then don't worry. Recuva will help you to recover all your lost data in Windows. You can recover data from recycling bins, digital cameras, or MP3 players with the help of this software.
3.PhotoRec
This tool is specially designed to recover your lost data, including video, documents, and CD-ROMs, from your hard disk.
4.DiskWarrior
DiskWarrior is the safest and most advanced tool to recover files, folders, and pictures. With this tool's help, you can quickly recover your data from the failing hard drive.
5.GetDataBack
This software is specially designed for FAT or NTFS drives and partitions. This software lets you quickly recover all your data from lost or damaged hard disks.
Final Words
Disk Drill offers a friendly user interface for Windows and Mac. But for some users, the recovery result could be better even though this software is the oldest in the game. If you are looking for a tool that even your grandparents can use, this is the perfect choice. But this tool's price range is much higher than its alternatives. For this reason, we have mentioned the top 5 alternative lower-cost recovery tools of Disk Drill and StarzSoft Data Recovery is the top one in the list. You should give it a try.