Myspace was the most visited social networking site back in 2008. It's no wonder that many of us were active on this social platform, uploading pictures and videos to share with the world. However, as Facebook, Instagram, and the likes have replaced Myspace over the years, it makes you wonder how you can retrieve your old photos. This article is for you if you are facing trouble with Myspace photos not loading.
Part 1: Why are Old Myspace Photos Not Loading
When you switch to newer social platforms, it's understandable to forget the old ones. Still, browsing through old photos is always fun. It feels like going down memory lane with some happy and embarrassing moments.
There can be a few reasons why Myspace photos not loading.
You are unable to access your account because you have forgotten your password.
The photos from your account were probably not transferred to the new Myspace.
Your old Myspace account is not synced with your updated Myspace profile.
Part 2: Where Are My Photos On Myspace
When Myspace developers redesigned it, they transferred most accounts to the new version. Your photo albums, videos, and friends list were all moved to the new Myspace application. So, if you're having trouble with Myspace not loading, you can find your old photos in your profile's "Mixes" tab.
Log into your Myspace account and search for 'Mixes' on the left pane. On the same screen, you can find 'Classic– My Photos.' Nonetheless, you should also check folders other than My Photos to look for old memories. For example, your pictures might be saved in "ProfileMix" or "CoverMix" folders.
Part 3: Can We Recover Content from Myspace
It's possible that you can't see your old content on Myspace anymore, and you're wondering, 'Why do some Myspace photos not load?' It can be because your old account was not transferred to the new application, and your data wasn't synced. In this case, The system must have erased your old photos.
Luckily, you can recover your Myspace photos even if you don't remember your account password. You can achieve this through the Myspace website or data recovery software.
Part 4: What Can You Recover From Myspace
Since Myspace was a popular social networking website in the US from 2005 to 2009, users had their personal profiles on the platform. Moreover, they shared photos, videos, music, and blogs that made Myspace a thriving community.
With the rebuilding of Myspace, all previously stored data of users was automatically transferred to the new version, provided both accounts were synced. So, if you're thinking, 'Why does Myspace not load photos?' It's probably because your new account isn't synced with the old one.
Luckily, you can recover the following categories from Myspace:
Photos
Videos
Friends list
Playlists
Music
Blogs
Part 5: How to Recover Old Myspace Account Password
If you haven't used your Myspace account for a while, chances are you have forgotten your password. You can follow the directions below to retrieve your account password and access your Myspace data.
1. Open Myspace on your browser and click 'Sign-in.' Select 'Forgot Password' to start the recovery process.
2. Insert your username or email address and click 'Submit.'
3. Check your emails for any new emails from Myspace. If you can't see it in your primary Inbox, you should also check the Spam folder just to be thorough. Once you locate the received email, open it and select 'password reset URL.'
4. Enter a new password that you're likely to remember. After resetting the password, you can use your Myspace account again and retrieve Myspace photos.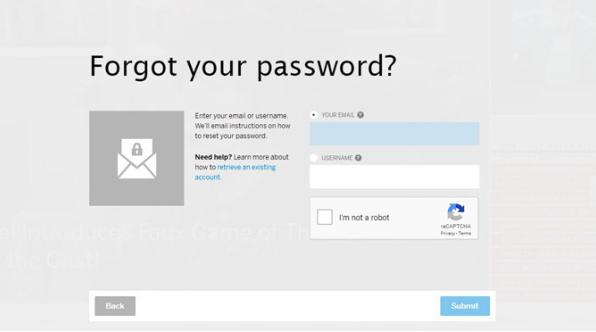 Part 6: Recover Myspace Password from Browser
Another way to recover your forgotten password is through your browser's saved passwords. Usually, web browsers ask users if they want to save a password when logging into a new website. If you had saved your password when creating your Myspace account, you might be able to retrieve it through your browser.
You can check your 'browser's preferences' and navigate to security/ privacy. You will find the option to view saved passwords. You can also view your saved passwords by clicking the 'Autofill' tab on the left pane of your Chrome browser settings.
Part 7: How to Recover Old Myspace Photos from Mixes
Even if you haven't used your Myspace account lately, chances are your photos are still safe on your profile. If you want to find out 'How to retrieve Myspace photos,' you can follow these steps to recover them.
1. Log in to your Myspace account. If you don't know your password anymore, you can refer to the information above to retrieve it.
2. Look for the tab labeled 'Mixes' on the left pane of your profile. If you are using a mobile device, click on the drop-down menu on the top left and select your profile name.
3. On the Mixes page, you will find a folder named 'Classic– My Photos.' This is where you will find all the memorable photos you shared on Myspace.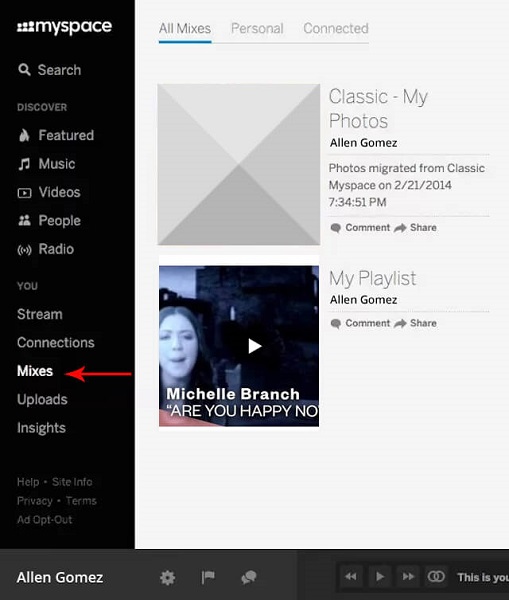 Part 8: How to Recover Myspace Photos Without Password
Accessing your old photos on Myspace without a password is only possible if you have set your account to a public setting. If your account was put on a private setting, you must retrieve your password first and then sign into your account.
We have discussed how to recover your old password and set a new one to access your account here. If you had a public account, you could recover Myspace photos by following these steps:
1. Go to myspace.com.
2. Type your profile name in the search bar and hit the Enter key. The system will now scan for your profile.
3. Browse through the results to find your old Myspace profile. Once you have located it, simply open it and retrieve your photos. You can also access your Myspace videos, friends list, music, etc.
Part 9: How to Recover Old Myspace Photos from Your Computer
Your photos may be permanently lost if they weren't transferred to the new Myspace platform. Moreover, if you have lost both your password and email address, you might have no way to access your account. However, if you have downloaded or saved the photos on your computer, there's still hope for Myspace photo recovery.
StarzSoft Data Recovery is a software that helps you recover lost data from your devices. You can not only restore deleted files but also recover files from a crashed computer system. Here are steps you can follow to recover the old photos you may have accidentally deleted.
1. Download StarzSoft Data Recovery software and open it. Select the path from which you want to restore lost data. In this case, select the Recycle Bin.
2. Choose the folder where the file may exist before you put it in the recycle bin.

3. Once you have made your selection, the software will automatically scan the recycle bin for lost files.
4. When the scan is complete, the recovered data can be previewed. As soon as you find the photos you're looking for, click Recover. You will be asked the destination folder where you want to save it. Select the desired folder and click Recover again.
Conclusion
Reliving old memories through photos can be a thrilling experience. Hopefully, this article helped you bring back happy and embarrassing moments you shared on your old Myspace account.