Are you looking for the best data recovery tool? Don't know which tool is authentic? We have got you covered. In this article, we have introduced a tool named Photorec, which is one of the best data recovery tools. Many people don't know about this software, so don't worry. In this review, we will explain everything about this software and how it works. Continue reading the article.
Photorec Overview Before Using
Photorec is a file data recovery tool specially designed to recover your lost data from your device's hard disk or CD-ROMs, including documents, videos, and pictures. This tool will help you to solve all your data loss issues. We will give you an in-depth review of Photorec before using it. Make sure to follow this complete review article if you want to know about Photorec.
What is Photorec?
Have you remembered those photos and videos you captured with your friends and family? We know that all those pictures and videos hold significant value to you. Losing such valuable data or memories can be irritating because everyone wants to retain this data forever. But sometimes, accidentally, you lose all your memories instantly. Then How to recover all those memories?
This is where Photorec, a data recovery tool, will come in handy. This software is designed to recover all your long last files, including videos and pictures, from your device's hard disk.
The best part of this software is that it's free and open-source data recovery software, which will help you to get all your lost files back.
Photorec comes with TestDisk, which will help you retrieve non-bootable disks and the partitions you have lost.
What Features Does Photorec Have?
Here are some excellent features that the Photorec recovery tool includes:
1.Free and Open Source
Apart from being free to use, this software is also open source, which means that redistribution of this App is also free. Anyone can improve or modify this software. You can also fix the parts you feel need to be fixed.
2.Compatible with all Operating systems
One of the best features of Photorec is that this software is compatible with all Operating systems. This recovery tool is also available in 32-bit and 64-bit versions.
3.Performance
Scanning for lost data might be time-consuming. But not with this software. This software consumes less time and recovers tons of data in no time. With this software, you don't need to get tensed about hours of recovering; Photorec will recover your data in minutes.
4.Multi-Language Support
This tool supports multi-languages, which will be very helpful for many users who speak different languages. Photorec supports English, German and French languages.
What files does PhotoRec recover?
Photorec tool will recover all the lost pictures and data even if the search file system is damaged or lost. This recovery tool will recover the lost data from the following formats:
What Platforms Can Photorec Work On?
The Photorec recovery tool is compatible with many OS systems. Here is the detailed list of operating systems that you can operate this tool on:
macOS
Window 9x
All Windows
Linux
DOS
Sun Solaris
FreeBSD
NetBSD
OpenBSD
These are the operating systems on which you can use Photorec. Photorec is entirely free on these operating systems. Make sure to try Photorec if you own one of these devices.
Is Photorec Safe?
Yes, Photorec is a safe tool to use on your operating system. You have to download it from the developer's website. To ensure that you have the right software, feel free to use Photorec on your OS; this tool will never harm your operating system.
Is Photorec Free?
Photorec is free to use, unlike different recovery software available in the market, which will force you to buy its pro version. That's why Photorec is known to be the best in the market as an open-market data recovery tool.
There is only one plan that Photorec will offer you, and that is free. You don't have to pay a single penny to use this tool on your operating system.
How to Use Photorec?
Now let's start the process to know how to download and install Photorec on your device and how to use it. Follow the instruction below to learn to download and use Photorec on your Operating system.
How to Download and Install Photorec?
Follow the steps below for Photorec download and then install it on your operating system:
Visit https://www.cgsecurity.org/wiki/PhotoRec, click ¨Download¨ at the left side.

Now navigate down and then select the TestDisk Free Download to download it.
Then click on Windows 64-bit if you are using windows as your operating system, and soon your downloading for Photorec will start
After the downloading is completed. Extract the downloaded file, and then you are ready to use Photorec.
How to Use Photorec to Recover Deleted Files?
Here are the steps to use Photorec to recover your deleted files
Launch the Photorec on your Windows. Make sure to run the software as an administrator.

Then use the up and down button to select the disk and then choose enter.

Now Photorec will give you 4 options: File Opt, Search, Option, and quit. From this option, select search to continue to recover your lost data.
Then you have to choose the partition of your hard drive from which you desire to scan the deleted files. Provide file system information, and then select the other option.
Once you have selected the partition, two options will appear on your screen, such as free and whole. It would be best if you choose the free option to recover your lost data.

In this step, you must select the folder in which your file was located before scanning.
Now the recovery process will start, and you need to wait until the process gets complete.
Customer Reviews About Photorec Data Recovery
Here are some customer reviews about Photorec Data Recovery
You can't beat something free.
Being using it for many years and its keeps getting better.
I wish it had a GUI interface in Linux so I could run a graphical version.
A little complex to use but still doable
Very hard to use but still works and helps me recover my lost data
What Customers Like:
1.Free to use
2. Support many platforms
3. Works with a variety of storage
4. Recover different types of files
What Customers Dislike:
1.Tough interface
2.No GUI interface
3.Not suitable for long-lost data
4.Poor Customer Service
Our Thoughts about Photorec Data Recovery
In our opinion, the Photorec data recovery tool is a safe and free open-source recovery tool. You can recover all your lost data with the help of this tool. Photorec is compatible with almost every operating system available.
But there are some cons with these tools. The first bad point of this recovery tool is that it has a tough interface. Only a pro tech users can use this tool to recover their lost data. New users will face some difficulties while using this tool. Another bad point of this tool is that it is unsuitable for long-lost data and provides poor customer service.
Many people prefer the Photorec alternative because it is easy to use, recovers fast, and provides the best customer service.
Best Alternative to Photorec
StarzSoft Data Recovery tool is a great alternative to Photorec because it is more user-friendly than Photorec. Starzsoft data recovery software tool is listed as one of the world's top tools because it is compatible with many devices and can recover your long-lost data. It can support more than 1000 types of data formats. If we compare Photorec with StarzsSoft, Photorec will lose the fight because StrazSoft provides much better services than Photorec. Moreover, it supports more file formats than Photorec. Photorec is unsuitable for long-lost data, and StarzSoft can recover long-lost, formatted, crashed, or RAW data. You can also say that Starzsoft is the new and improved version of Photorec.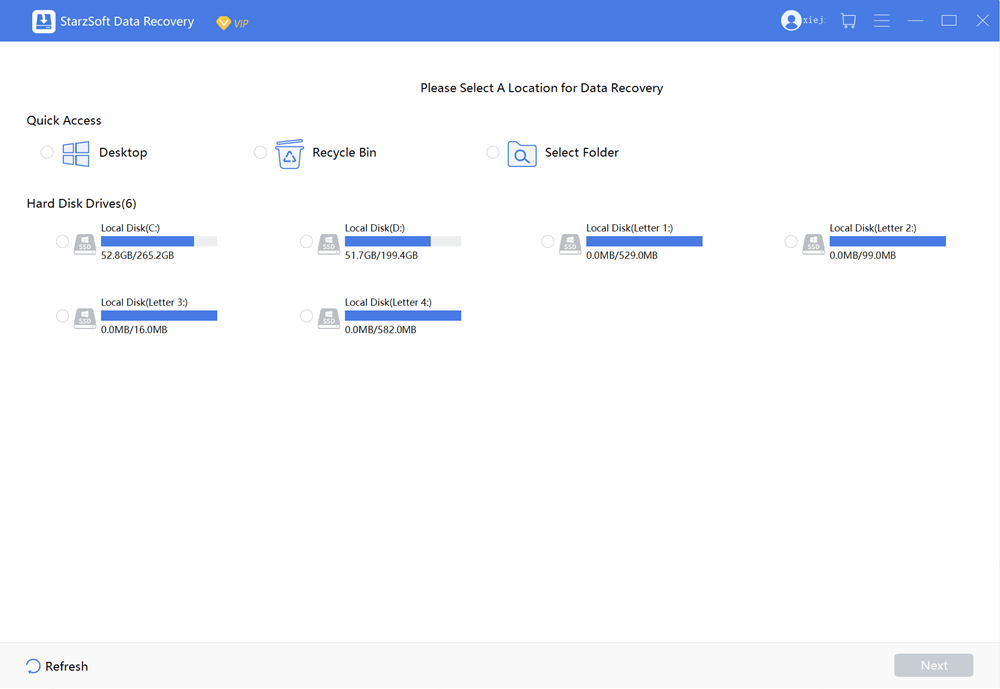 Final Words
In this article, we have discussed Photorec and how to download and use it. Also, we have mentioned the best alternative to Photorec. This guide will help you understand Photorec. We have mentioned some customer reviews in this article, which will help you decide whether to use Photorec. Many customer reviews we mentioned in this article are from their experience with Photorec. Read this complete guide before choosing Photorec as your data recovery tool. We assure you this will surely help you decide if you want Photorec.