Technology isn't the perfect creation and among the flaws it has is data loss. Sometimes user error is to blame and there are some tools users can take advantage of to prevent losing their files.
But in some cases, you mind find yourself having to recover permanently deleted files. Of course, we use the term "permanently" loosely here.
In some situations, data loss may in fact be permanent, but more often than not it's possible for you to recover your data.
We're going to show you how.
Reasons for Files Disappearing
Let's start by looking at why you might experience this and why you need to recover permanently deleted files in the first place.
Hard Drive Corruption
Hard drive corruption isn't an uncommon thing to happen. Even if only certain parts of your hard drive have corrupted, the rest of your computer can work fine without you realising.
Files Were Overwritten
Another common cause of files being deleted is that they've been overwritten. For example, copying the files inside of a folder to a different folder may overwrite the file that you've lost.
PC Crashes
Have problems with your computer's performance such as random crashes? This is likely why you have to recover permanently deleted data.
If you're working on a document and your computer crashes while doing that, there's a high chance of the document being corrupted and lost.
User Error/Accidental Deletion
In the majority of cases, recovering files is necessary after user error. You might have thought you don't need a file anymore and deleted it, then later realised you do need it. Or perhaps you moved a file to a different folder and forgot where it is.
There are thousands of reasons for files being deleted or lost and it would be unreasonable for us to list all of them.
No matter the reason though, we're going to explain a handful of fixes that will help you to resolve this problem swiftly.
Are Deleted Files Recoverable?
A common question we see users asking is, "Is it possible to recover permanently deleted files?". Usually, yes – you can recover seemingly permanently lost files.
The way that hard drives store data is quite technical. Your data is stored until it is deleted, but after deletion, it isn't actually removed. It remains there until it is overwritten.
This means that if you haven't used your computer a lot or downloaded many files since the file was lost, there's a high likelihood that you can still recover it.
Recover Files with StarzSoft Data Reccovery (Top Solution!)
Our preferred method of recovering permanently deleted files is to use StarzSoft Data Recovery. This is a well-known brand that consistently releases software that is effective at its job, and StarzSoft Data Recovery is no different.
To give you an idea of what this software has to offer, here are the key features:
Data can be recovered from any tech device (PC HDDs and SSDs, SD cards, and memory sticks)
Limitless amounts of data can be recovered
Virtually any type of data is recoverable (photos, videos, PDFs, emails, and many others)
Suitable for recovering data that has been lost for any reason
Highly effective and data scans can be filtered to locate specific files
30-day moneyback guarantee if data recovery is not possible
There's no arguing that this all sounds great and we assure you that it gets the job done. In the past, data recovery was a daunting and difficult task.
Thanks to software like StarzSoft Data Recovery, that's not the case any longer. Follow these steps to see how you can use it to recover permanently deleted files.
Step #1 – First you will have to download and install the appropriate version of StarzSoft Data Recovery.
Step #2 – Launch the software and select the drive that you want to scan for lost files.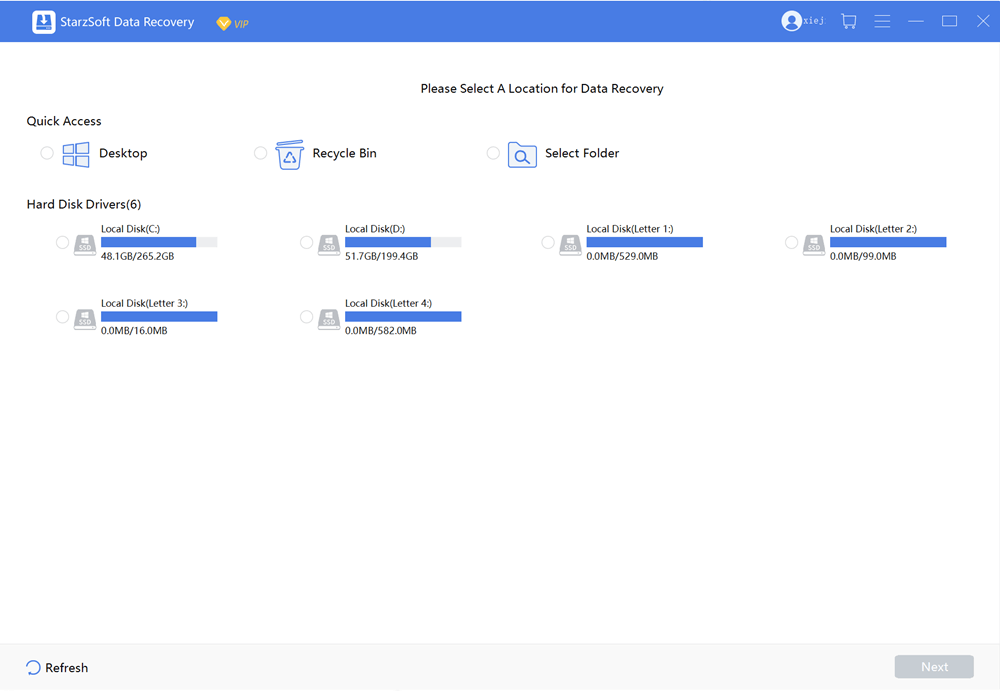 Note: to scan a specific location, click on Select a Folder.
Step #3 – Depending on the size of the selected drive or folder and your computer's hardware, the scan may take a while. Once it is complete, all of the detected recoverable data will appear.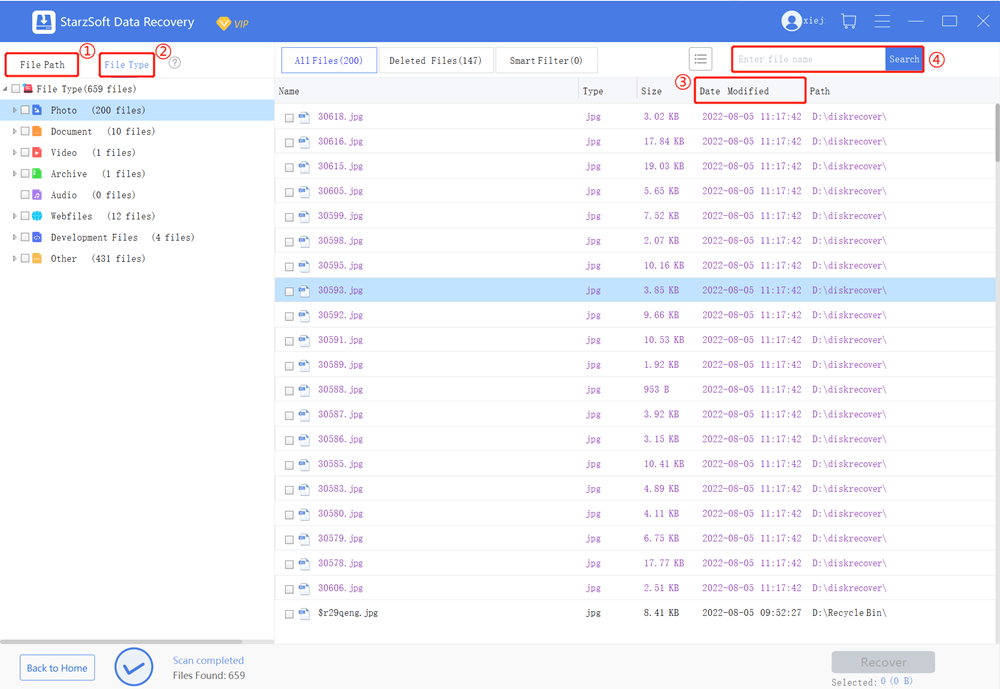 Step #4 – Using the tree menu on the left sidebar, browse all of the folders and locate the files that you want to recover. If you want to ensure that you recover the right things, click on a file to preview it before proceeding.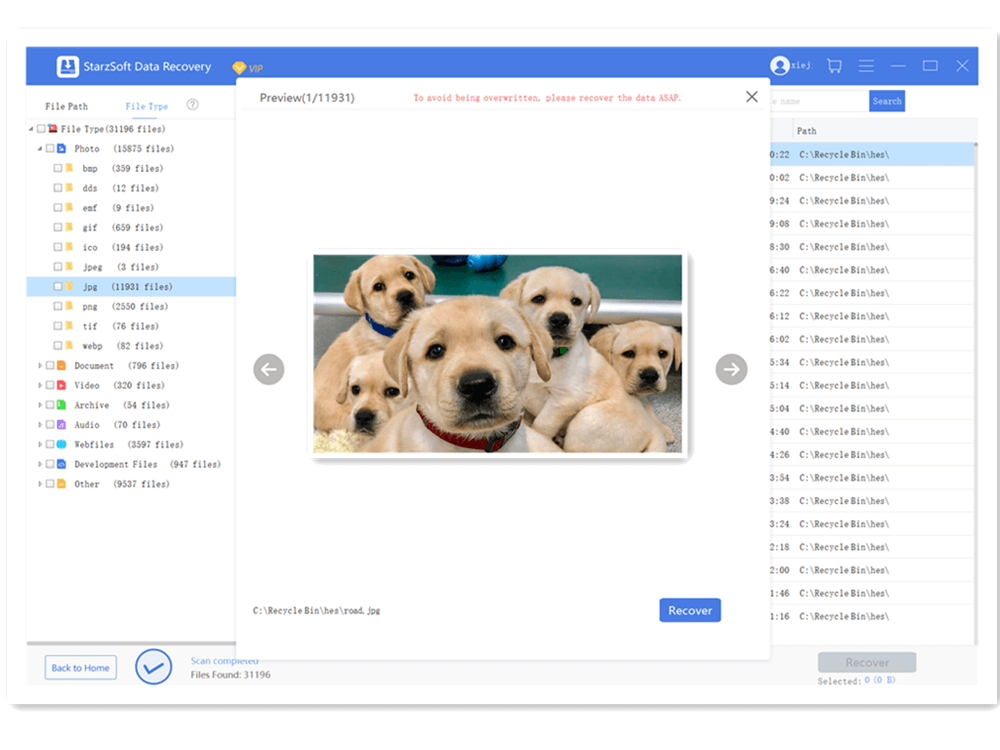 Step #5 – Select each file for recovery and click Recover to save them to your computer.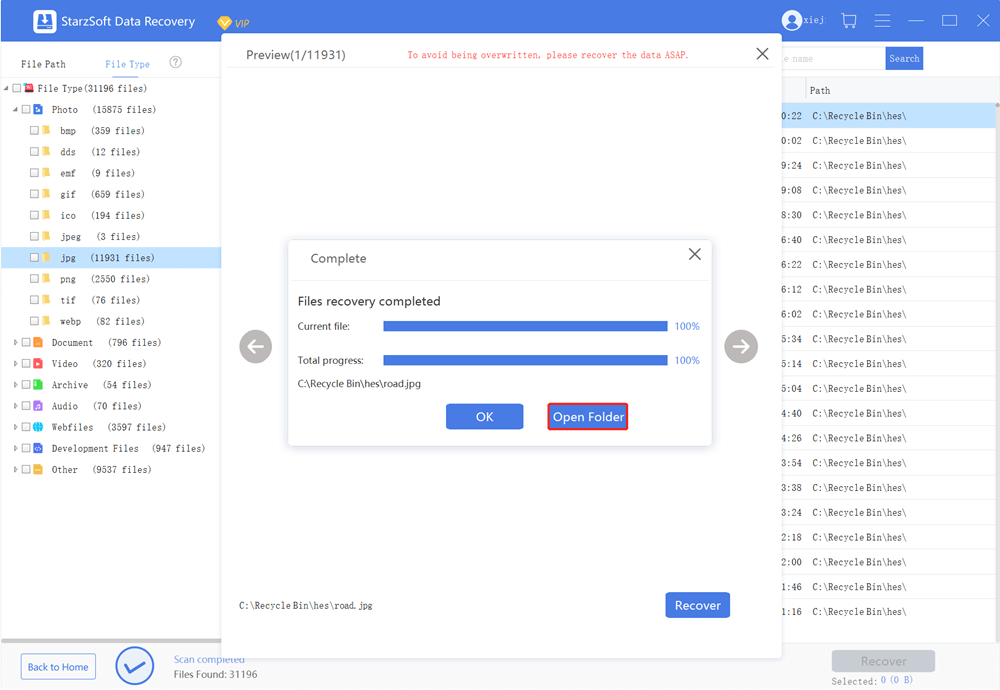 The longest part of using this solution to recover permanently deleted files is waiting for the scan, and that is largely dependent on your computer. Other than that, regardless of the software that you use the scan will take a while.
But, as you can tell, StarzSoft Data Recovery is incredibly simple to use and if want to have the best chance at getting back your lost data, this is the software to use.
Other Ways to Recover Permanently Deleted Files
Thankfully there is a selection of other solutions out there. So, if you don't want to use StarzSoft Data Recovery for any reason, you can try these instead.
1. Windows "Restore Previous Version" Feature
This nifty Windows feature doesn't always work, but it's usually down to the fact that it needs to be used in advance of data loss. Here's how it works:
Step #1 – Locate the corrupt file that you want to recover.
Step #2 – Right-click on the file and click the Properties button.
Step #3 – Click the Previous Versions tab and select the version you want to restore.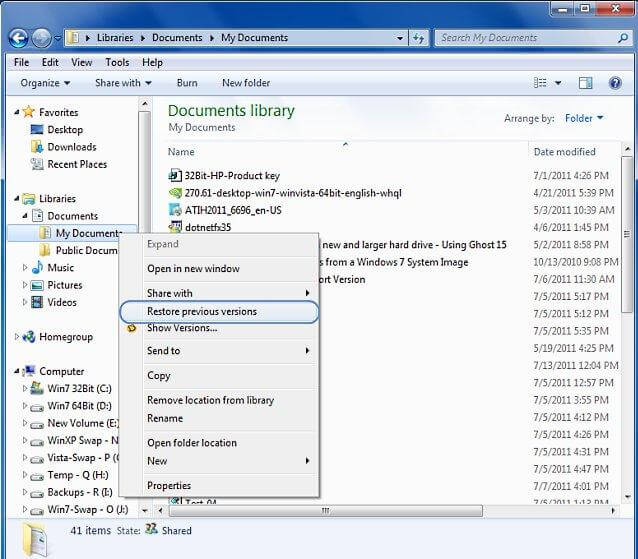 Step #4 – After the restore is finished, click OK and you're done.
As we said, you'll have to have it set up properly before experiencing data loss if you want to use this method.
It can be tricky, but it'll prove to be a useful way to recover permanently deleted files.
2. Restore from the Recycle Bin
If the situation is a result of user error, then sometimes it's as easy as restoring your file from the Recycle Bin. For those who don't know how to do that just follow these easy steps.
Step #1 – Search Recycle Bin in the Windows search bar and select the top result.
Step #2 – Locate the file you want to restore and click on it.
Step #3 – Click on Restore the selected items and your file will now be accessible from its original location.
A good tip for this method is that if you are recovering multiple files, hold the CTRL key to select all of them at once. After you have them selected, then click the button.
This will save you the time of manually following these steps for everything you want to recover.
3. Windows "Backup and Restore" Feature
This final method to recover your deleted files also uses a built-in Windows feature. Again, it only works if you've taken a backup before the files were lost.
Step #1 – Use the Windows search bar to go to the Backup Settings menu.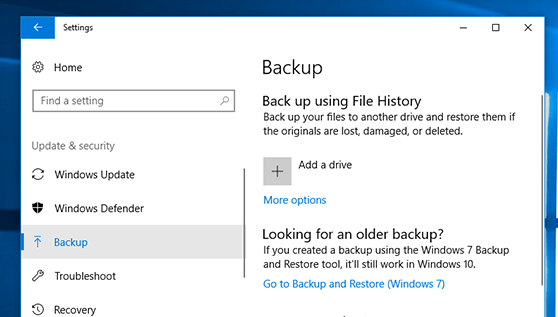 Step #2 – Click on the Go to Backup and Restore (Windows 7) button.
Step #3 – Click on Restore my files and you will have a range of options that can be used to recover your lost files. If using Search doesn't work, consider being more specific with Browse for files or Browse for folders.
As you can tell, having a backup of your files available makes the data recovery significantly easier as many methods are available to you.
Thus, you should get into a routine of backing up your important files to ensure they aren't lost forever.
Avoid Losing Files Forever
If you find yourself frequently requiring solutions to recover permanently deleted files then it might be time to take precautions from it happening in the first place.
Realistically, there are only 3 things you can do:
Back up
Take backups of your important files to an external hard drive.
This adds an extra level of security to your data because if anything causes data corruption on your computer, that data will be isolated and unaffected.
Use a Coud Backup Service
Tools like Google Drive and OneDrive offer free plans and there's no reason to not keep your most important files safe by syncing them to one of these platforms.
To store a lot of data on them, you'll need to pay a monthly fee.
Be More Cautious
If the issue is that you keep accidentally deleting files or moving them and forgetting where they are, all you can do is try to be more cautious.
With user error being a significant cause of data loss, this is your best bet.
Conclusion
You might be stressed about trying to recover permanently deleted files but we assure you that with the right method, you can restore them to your computer easily.
Our recommended solution is to use StarzSoft Data Recovery. We've shown you how it works and some of the features that you'll get to indulge in while using it – it's clearly among the most impressive recovery options out there.
Try it out for yourself and it'll prove to be useful!