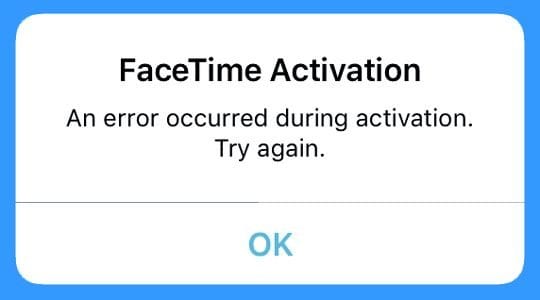 So you are waiting for your FaceTime to let you start doing video and audio chatting and start the communication in general? But are you able to start this feature? If not, you have come to the right place to get some answers.
If you are new to using iPhone or have switched over from Android or other OS, it will take time to get used to the iOS as you need to learn some ways to get certain functions started.
The same function is Apple's FaceTime. Once you get registered on your iPhone or when you start your iPhone, you need to make sure that you have entered the correct details while registering especially your email address. FaceTime is not readily available so to use FaceTime, you need to activate it on your iPhone or other Apple devices.
While activating, you might face different error messages on your screen. The same happens when you activate iMessage. The errors are not permanent but you can solve the following the right steps so that you can activate your FaceTime application. So what are the solutions for such errors? Well, the errors, as well as solutions, are listed down below.
Usually, if you have been using iPhone for years you will know what steps to follow but if you are not then here is the list of problems you might face when activating FaceTime,
Waiting for activation
Activation unsuccessful
An error occurred during the activation
Please check your network connection if you Could not sign in.
If you are helpless to contact the iMessage server. Try again.
Moving forward to focus on the "waiting for activation" problem:
First, check your basic setting
You need to check your iPhone's internet connectivity or your Wi-Fi connectivity.
You need to activate FaceTime with your phone number.
Your phone will send a message and the charges may be applicable depending upon your carrier.
You need to make sure that the Date and Time are set according to your time zone.
So tap open the Setting and go to the option General. Then tap on Date and Time.
Now you check your FaceTime
When opening the app, you are going to see a welcome message that says "People can contact you on all your devices with FaceTime, using your phone number or email addresses."
Then on the bottom, you will see a short message saying "Waiting for activation."
When you see this message, exit from the app to the main screen.
Go to the setting to find FaceTime.
To find FacTime, you need to scroll down till you see the option.
Turn off and turn on FaceTime
After opening the FaceTime from Setting, you will find an activated green button. Now you need to tap on it to turn FaceTime off.
When you turn it off you will see a message saying, "FaceTime Activation: An error occurred during activation. Try again…" At that time tap the "Ok" button in the message.
You will then receive another message saying, "Your carrier may charge for SMS messages used to activate FaceTime." Just tap on "Ok" to close the message.
Just look at below you will see an option "Use Apple ID Tap on Sign in".
Use Apple ID and sign in
click on "Use Apple ID Tap on Sign in" option.
You will be greeted by a short window saying, "Use the Apple ID yourname@icloud.com for Facetime".
Below you will be given to Sign In or "Use other Apple ID".
Tap on Sign In. If you have already signed in to your iCloud email ID then you will see Apple ID with your email address and other options open.
Now go to the main screen to check if FaceTime is working or not.
If FaceTime opens up with your iCloud email ID like yourname@icloud.com then your FaceTime is active.
You can now use FaceTime to make calls.
Is your FaceTime still not activated?
Usually, it takes time up to 24 hours to activate FaceTime. You can wait for the activation, but if your FaceTime is not activated after 24 hours you need to follow the below steps.
Check with your telecom service provider whether you can send or receive SMS or not. Also, check if you are able to send the SMS by sending it to your phone. You can ask your service provider to help you get activated in SMS, and you can activate FaceTime by sending SMS.
Another way to check your status is to check if you are using the current version of iOS. Because the older version may also be causing problems in activation.
Contact Apple Team and describe to them the issue you are facing and they will guide you with proper steps and help you get activated.
FaceTime is not available in all the regions in the world. So your current region may not support FaceTime. So you need to check and identify if you are in the region that supports it.
Activate using your iCloud email address. If you cannot send a message or it is not working then use your email address to verify. Keep in mind that you have added the correct email address. If you are using a different email address, update it. If you have entered an incorrect email address, update it.
Final words
By doing these steps, you will be able to solve the FaceTime "Waiting for Activation" error. But you need to follow the steps as they are given. There is always a plan B so you need to keep trying all the other options carefully till you get completely activated on FaceTime. When the error keeps coming back, you can stop putting your efforts and find a safe way which is contacting the support team to assist you in solving such problems because they can better guide you without repeating some errors.