There's an activation lock on your iPhone, which prevents anyone else from using your iPhone. If your iPhone gets stolen or lost, it will keep your mobile protected.
It gets turned on whenever you turn on Find My Device. There would be an iPhone activation lock on your device if you got an old or refurbished iPhone. It increases the iPhone's chances of having an activation lock requiring its original owner to open.
Only the original owner can deactivate this activation lock by adding his login details. iPhone activation lock removal without the help of the owner of the iPhone is not easy.
Part 1. FAQs About iCloud Activation Lock Removal
1
Why is your iPhone iCloud locked?
There is a high chance of having some activation lock on iCloud if you got an old iPhone. It might be there because of the previous owner. You will need the previous owners' login details to get through this locked iCloud.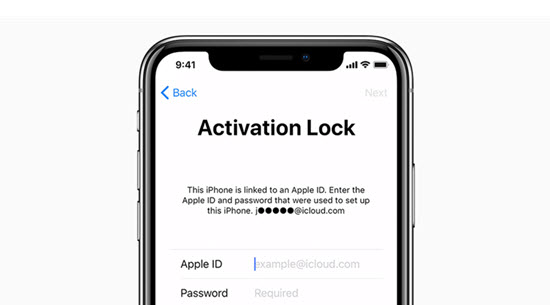 This iCloud lock prevents others from seeing your data or using your mobile. The iPhone will always be on the activation lock screen if one doesn't know the login details.
2
Can you bypass the apple activation lock?
If you want to open the activation lock, there are only two possibilities. One of those possibilities could be to have the Apple ID and password.
The other one is to get Apple support or some other method. You should be careful while choosing any solution as some of them can be scams and can use your information for other purposes.
A few of the ways to bypass activation locks are as follows:
Part 2. How to Remove iCloud Activation Lock without Previous Onwer?
1
Remove iCloud Activation Lock with Tenorshare 4mekey
Tenorshare 4mekey is software that would help you to remove iPhone activation lock. You will not need the previous owner for unlocking purposes. You can remove iCloud activation lock without password with the help of this tool. There would be some functions that you still wouldn't be able to use after unlocking with this software.
Tenorshare 4mekey allows free login to a new Apple ID.
You can enter the new Apple ID after unlocking your iPhone device.
It allows you to log into the Apple Store to download apps via Wi-Fi.
There's no need for an Apple ID and password for this tool.
It bypasses the previous iCloud Activation lock.
This tool removes the iCloud activation lock easily.
Step 1. Download and Launch Tenorshare 4Mekey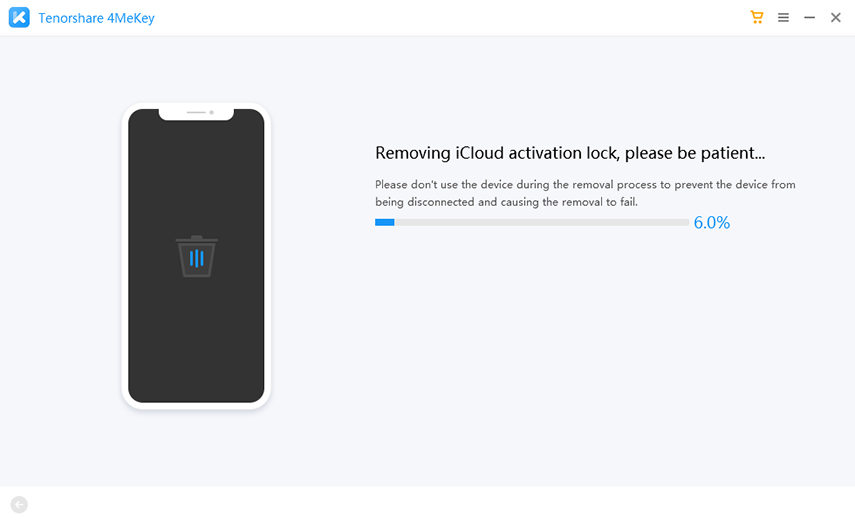 Step 2. Start Jailbreak Your iOS Device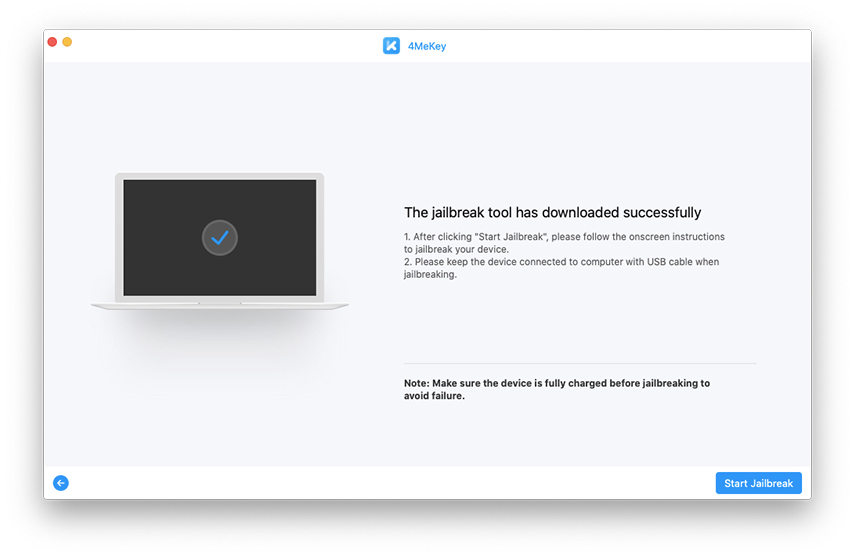 Step 3. Remove iCloud Activation Lock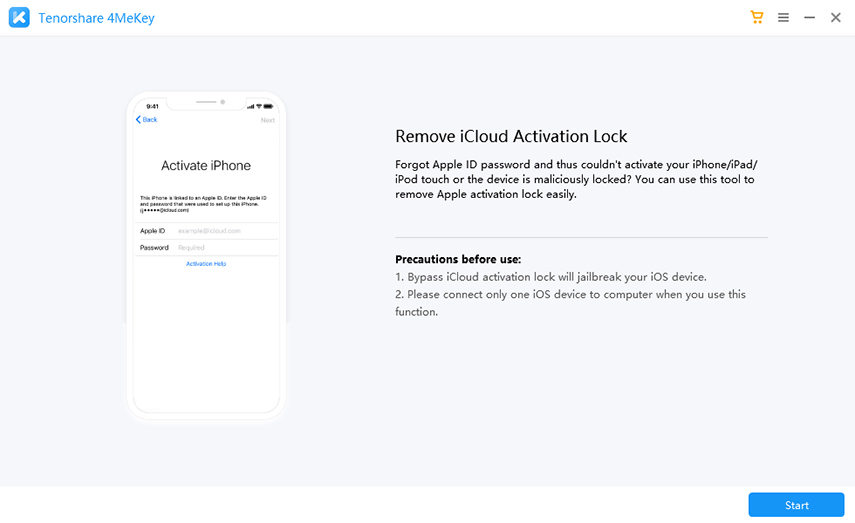 After some time, the iCloud activation lock would get removed.
Now the iPhone activation lock screen got bypassed so you can set it up as a new one.
2
Using iCloud DNS bypass
DNS is short for Domain Name System. This method converts human-readable website names into computer-readable numerical IP addresses. This method would change the activation path to remove the activation lock and use the iPhone.
The DNS method would change the activation to the original Apple server. After that, it will forward it to another server. You can do this by changing the activation request path in Wi-Fi settings.
This method would allow you to visit sites, watch videos, use a camera, and listen to music. Some functions might not work as it is not a complete unlock.
Step 1. You must first select your country and language.
Step 2. After that, you will need to choose the Wi-Fi Settings. If there's no 'i' letter beside the Wi-Fi network, you can go for an alternative. As an alternative, you can press the Home button and select 'More Wi-Fi Settings.'
Step 3. For the DNS method, your device shouldn't have a connection with the network, so you would need to forget the network.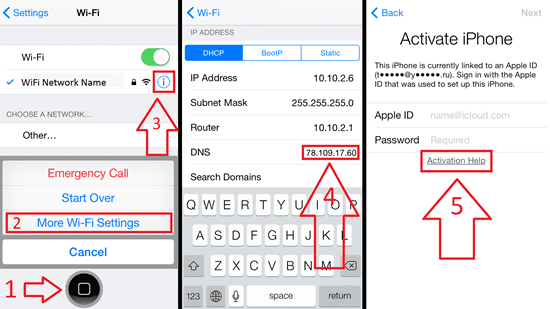 Step 4. After disconnecting, you should tap the 'i' button. You will need to insert custom DNS so you can choose accordingly. Below are the DNS server IP addresses:
USA: 104.154.51.7
Europe: 104.155.28.90
Asia: 104.155.220.58
Rest of the world: 78.100.17.60
Step 5. After choosing and inserting your Wi-Fi, you need to tap 'Back' at the screen's top left. Don't let it open the next page and press 'Back.' There will be an iCloud Bypass screen after this step.
Step 6. You can scroll down and choose Menu to set the right applications, music, camera, etc.
3
Contact Apple to Remove Activation Lock
It could be difficult to find the device's previous owner because you can't remove the iCloud Activation Lock. In such a case, the best thing would be to speak to Apple directly. Apple can remove Activation Locks from devices without iCloud login details and passwords. For this purpose, you must show all the proofs of legal purchase or inheritance proof.
There needs to be a device's serial number and your name on these poofs. You will need a Service Confirmation if the same serial number gets replaced at the Genius bar. If you inherited this device, you must show proof such as a Death Certificate, proof of your relationship, and possibly purchase proof. You can visit the Apple support website or Apple support on Twitter.
Part 3: Remove iPhone Activation Lock with the Previous Owner
1
Ask the Owner to Enter Apple ID Password
If you know the owner and he lives near you, you can ask them to enter the apple id password. This will make it easier for you to remove iPhone activation lock.
2
Request to Remove from iCloud
If you live far away from the previous owner, they can disable Activation Lock from their iCloud account. They can remove their activation lock by following the given steps:
Step 1. They would need to sign in to the iCloud website.
Step 2. After that, they would click the Find My icon.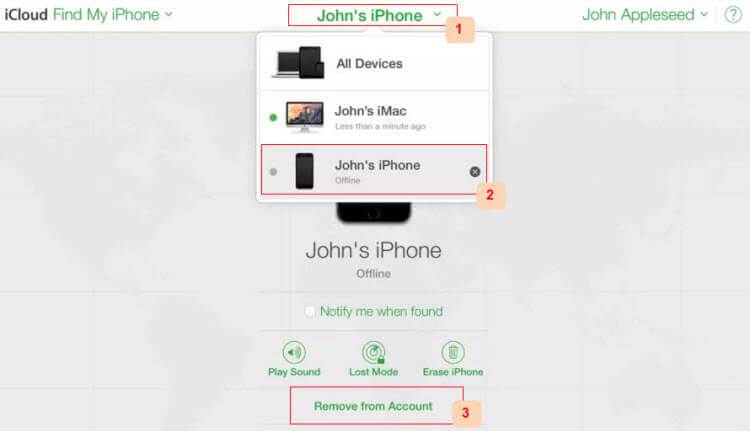 Step 3. They need to select the device from the All Devices dropdown menu.
Step 4. After clicking "Remove from Account," it would get removed.
You must restart it before you can finish the setup.
Bonus: How to Find the Previous Owner?
If you want to find the previous owner of the iPhone you bought or found, then the following ways can help you:
1
Find IMEI and Contact Carrier
There is a unique number for every iPhone name as IMEI. You can contact the owner with the use of the information. The best way would be to visit the carrier's store to take possession of the iPhone.
You can call the carrier to get information about the owner for tracking purposes. There would be a carrier name in the upper left-hand corner of the screen if you got the iPhone powered.
You can find IMEI information in several ways, such as:
You should check the back of the phone as there can be IMEI printed at the back.
The IMEI will be on screen when you type *#06# into the Phone app.
You can look for the number on the back of the sim tray. Do eject the SIM tray on the side of the device and flip it over for this purpose.
2
Using the Info Provided By iCloud
If the owners realize that he lost his iPhone, he may send out signals to the iPhone through iCloud. He can also put it into Lost Mode, which will show a message on the screen that the iPhone is lost.
The owner can also leave a message with contact information, which would help you to contact him.
3
Using iCloud Login Finder
iCloud login finder can find Apple ID associated with an email from a locked iPhone with an IMEI or Serial Number. This will help you gain access to the previous owner for iCloud unlock. The finder will provide services such as:
The original owner's contact information
For iCloud unlocking the full email template to ask the owner
Methods to bypass iCloud
Conclusion
This article will help you if you want to remove "Find My iPhone Activation Lock" with or without the help of the previous owner. There are many methods to remove the activation lock, such as the DNS method, Apple store help, and many others. We hope this article will help you tackle iPhone Activation Lock issues, whether you know the owner or not. You need to follow the step by step method that applies to you and get it done today. Goodbye!