There's nothing like getting home from a long day at work, getting a cold drink, and putting your feet up to spend your downtime watching some TV.
This simple life pleasure will be halted immediately if you find that your Apple TV won't turn on.
While there are thousands of reasons why this happens, fixing it can be tedious and coming up with the right ideas to fix it isn't easy. Thankfully we've done the hard part for you.
Today we will be going over what causes problems with turning on your Apple TV and the best ways for you to quickly remedy this issue.
Part 1. Causes of Apple TV Won't Turn On
First things first: why exactly are you having to deal with Apple TV won't turn on? Below are some of the top reasons for this happening.
Faulty Cables. It might seem like cables are meant to bend at all sorts of angles, but this isn't true. If you don't take care of your cables, their internals will be strained and eventually, the cable will become faulty.
Firmware Errors. Regular iOS updates provide more functionality, fewer bugs, and improved security for any iOS device including the Apple TV. If there is a problem installing a new iOS version or firmware files were corrupted for whatever reason, your Apple TV may struggle to turn on.
Power Supply Issues. On the other hand, the problem could be completely unrelated to the Apple TV itself and might be a problem with your power source. Perhaps a fuse has blown, or your home has some electrical issues which prevent your wall socket from working properly.
There are some other reasons but that's beside the point. Whatever the cause of your Apple TVs problem is, you can use our solutions to overcome it in no time at all.
Part 2. Advanced Fix for Apple TV Won't Turn On
So, what can you do to fix your device when Apple TV won't turn on? There are a lot of options for resolving this issue but we're going to start with the one which we believe is the most effective and which will fix the problem the quickest.
StarzSoft Fixcon is by far the best software that you can use to fix an Apple TV. If there are errors with the device's firmware then Fixcon will find them, repair the device, and you won't have to deal with those errors anymore.
The top features of this software include: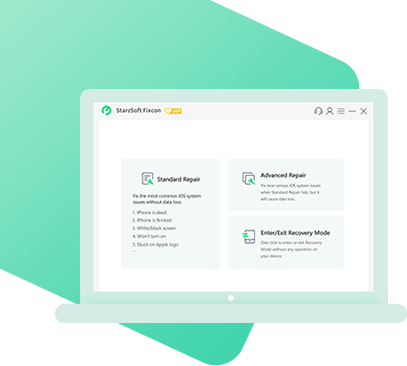 Can be used to fix any tvOS errors
Resolves tvOS issues without doing a erasing data
Very user-friendly and doesn't use an overly technical process
Available as a free trial
There's no doubt that anyone can grab a copy of StarzSoft Fixcon and repair their faulty Apple TV device in just a matter of minutes. Don't believe us? Follow these steps and see how easy it is to use this software.
Step 1 – Install the StarzSoft Fixcon software on your computer and launch the program to begin.
Step 2 – Select Standard Repair from the main menu.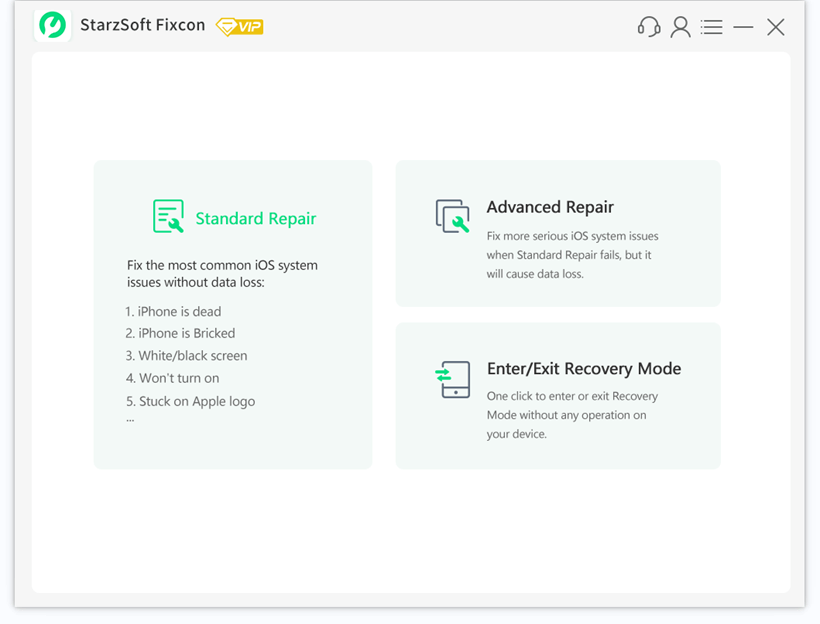 Step 3 – Connect your Apple TV to the computer using a USB lightning cable and click Next.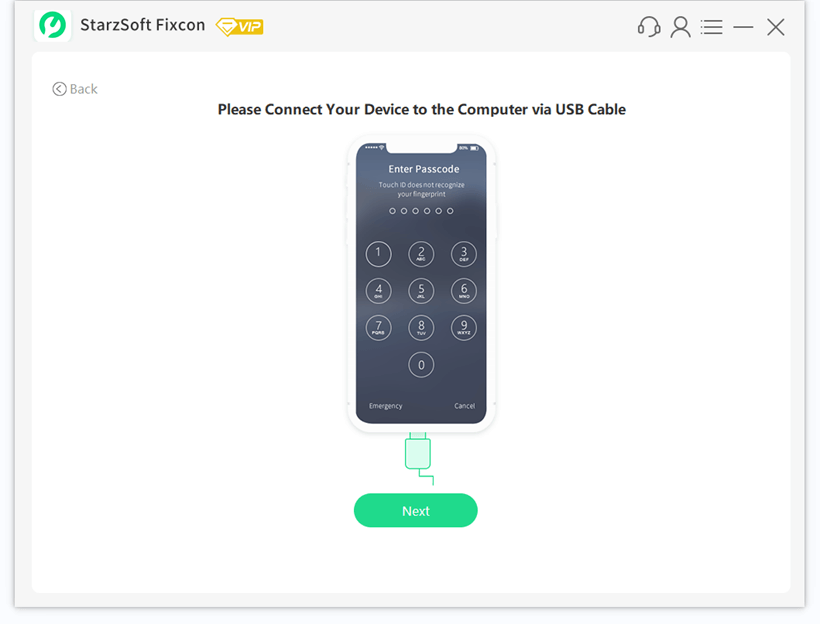 Step 4 – On the next page, you'll be given instructions for putting your device into Recovery Mode. Select either the Apple TV 2nd/3rd or Apple TV HD tab depending on your device's model, then follow the instructions.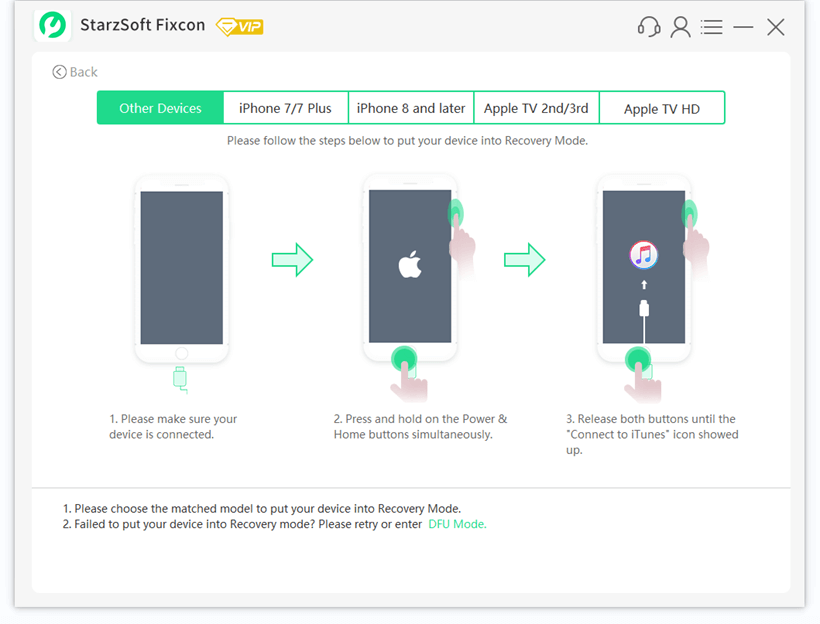 Step 5 – Once you have the Apple TV in Recovery Mode, choose the firmware version that you have installed and click Download.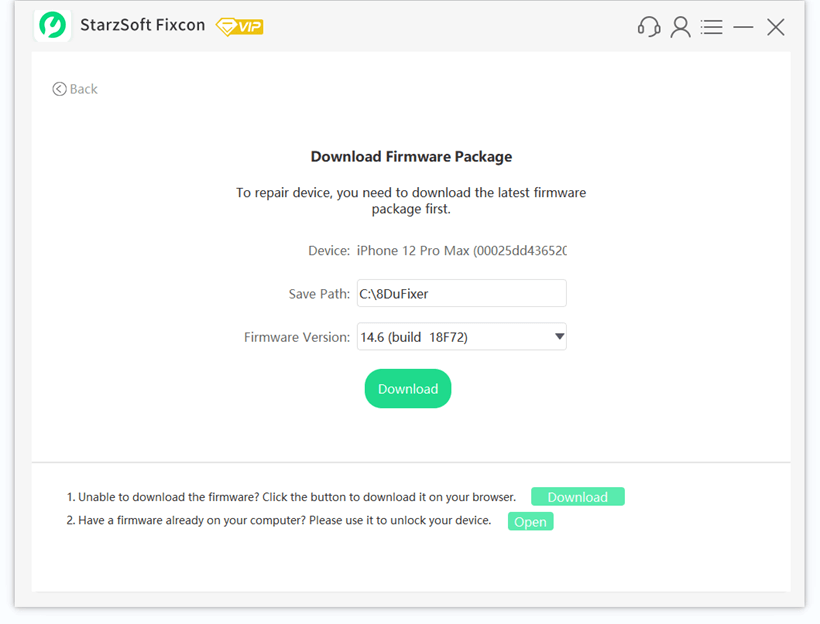 Step 6 – After a few minutes the download will be done and you can click Continue to have Fixcon repair the Apple TV firmware.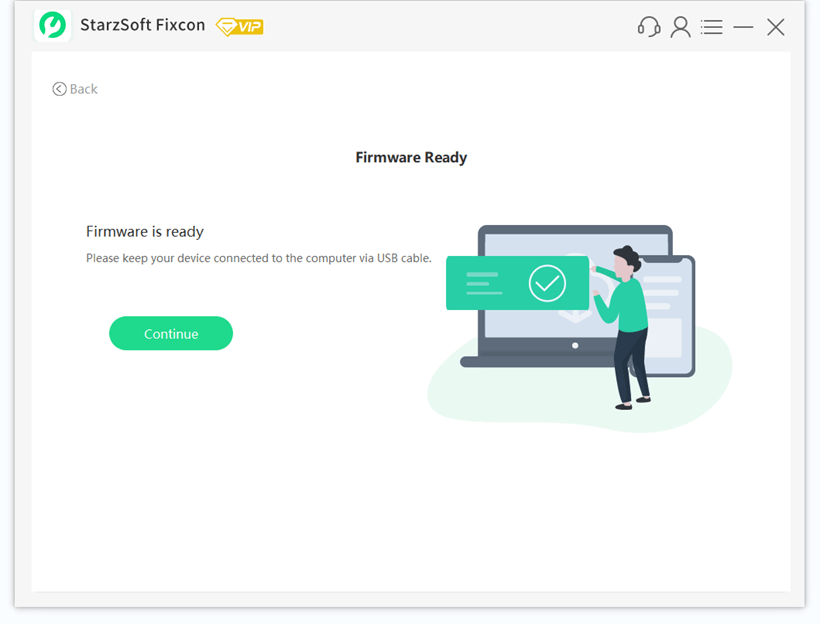 Step 7 (Optional) – If these steps don't repair your Apple TV, repair the process but this time use Advanced Mode instead of Standard Mode. This will completely reinstall the firmware and wipe your data, but it is more likely to fix tedious errors.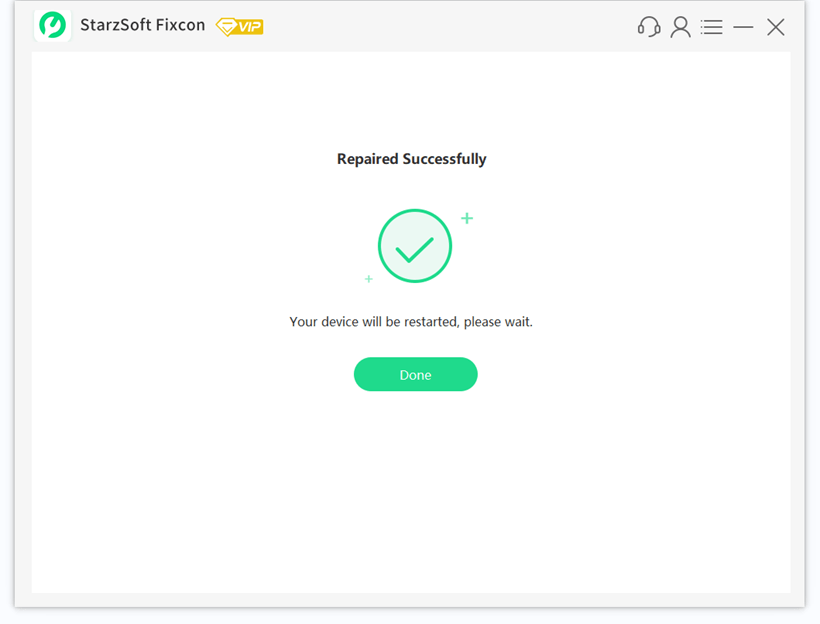 That's all you have to do. Most of this process involves waiting for the software to download the iOS firmware and repair your Apple TV, so it doesn't require that much work on your behalf! Be sure to install the free trial version of StarzSoft Fixcon and try it out for yourself.
Part 3. Other Solutions for Apple TV Won't Turn On
Perhaps StarzSoft Fixcon didn't get the job done or you have the slightly different issue of Apple TV won't turn on blinking light. In that case, try these other solutions instead.
1. Power it Off and On
One of the first things you will want to try is unplugging the Apple TV from the power source, waiting a few minutes, and then plugging it back in. This is a common solution for any tech device that won't turn on and is often the approach that fixes it.
Similarly, you can try plugging in your Apple TV device into another power outlet. The current outlet could be faulty due to a blown fuse or wiring issue, so checking that the problem is actually the device and not the outlet is an important distinction.
2. Restore tvOS
If when you try to turn on your Apple TV you notice that Apple TV won't turn on blinking light for several minutes, this usually indicates a problem with loading the firmware. Restoring tvOS is the ideal solution when this happens.
Step 1 – Unplug your Apple TV from its power source and remove the HDMI cable too.
Step 2 – Connect the Apple TV to your computer using a lightning cable.
Step 3 – Open iTunes and go to the Summary page for the Apple TV device.
Step 4 – Click on Restore Apple TV… and follow the instructions to restore the iOS for your Apple TV.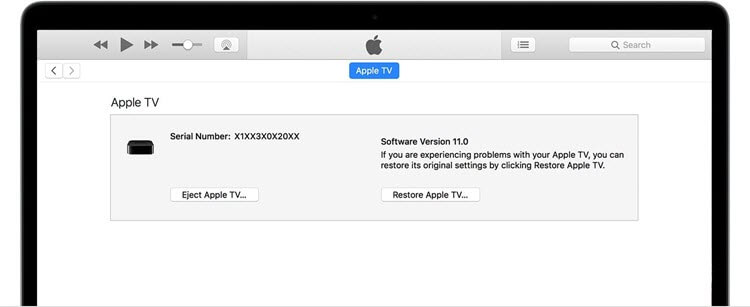 Step 5 – After restoring, plug in your Apple TV and reconnect the HDMI cable, and set it up normally.
You can also reset your Apple TV without iTunes. However, you are required to go into the Settings menu on your Apple TV and since your device isn't turning on, that won't be possible.
If the issue is firmware related then after you follow this method, the Apple TV should turn on without issue.
3. Check the HDMI Cable
While it might seem like your Apple TV isn't turning on, it could be that it is turning on but the HDMI cable doesn't work. Therefore, the content is not being displayed.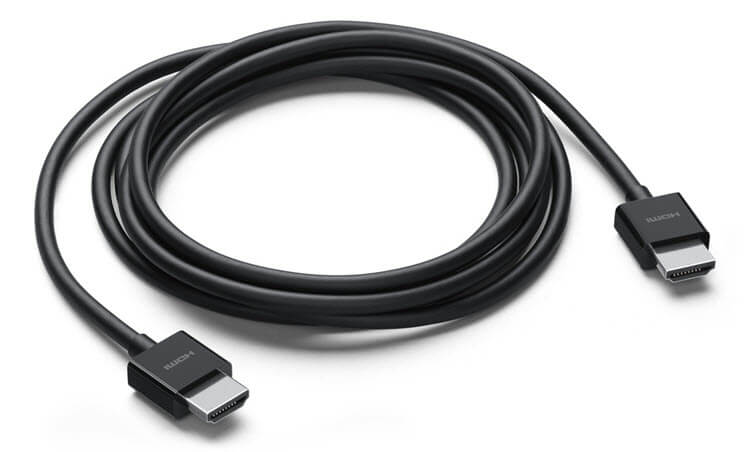 To check your HDMI cable there are two things you can do. First, get a different HDMI cable and connect that to your Apple TV and see if that fixes the problem. Second, connect the current HDMI cable to a different device (e.g., a gaming console). This will help to clarify if the problem is with the Apple TV or the cable.
If using a different HDMI cable resolves your problem, then all you have to do is order a new HDMI cable and you're good to go. If the current HDMI cable works fine with different devices, unfortunately, the problem lies with the Apple TV.
4. Check Your TV
Similarly, Apple TV won't turn on could be a problem with your TV. Checking if this is the case is fairly simple. All you need to do is unplug your Apple TV and connect it to another TV in your home (or a friend's home). If it works when connected to a different TV then the issue is with your TV and not the Apple TV device.
Another thing to check with your TV is the source. If you have multiple devices connected to your TV then you will be able to switch between what you're using by just changing the source that is being displayed. Make sure that when you are trying to watch your Apple TV, your TV is displaying the same source for the same HDMI port that the Apple TV is connected to.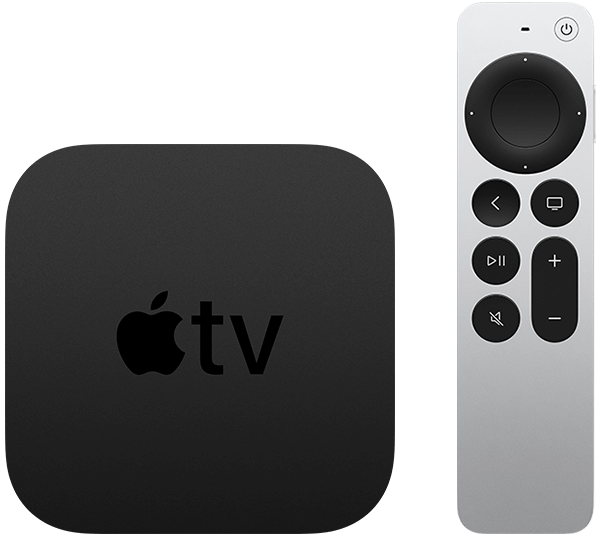 5. Check the Remote
Finally, if you're trying to turn on your Apple TV to no avail, take a look at your Apple TV remote and make sure there aren't any issues with that. Here are a few things to do:
Replace the batteries or check if the batteries are positioned correctly
Unpair the remote from the Apple TV and then re-pair it
Make sure there are no obstructions between the remote and the Apple TV
It could be as simple as your Apple TV remote's batteries needing replacing and fortunately, that's a very easy problem to fix.
Conclusion
The frustration of trying to use any piece of technology only to find that it won't turn on isn't specific to the Apple TV, it's something that all devices experience from time to time. When Apple TV won't turn on, the frustration makes this is an issue that you want to deal with as quickly as possible.
Thankfully this guide will allow you to do this and if you work your way through these solutions, your Apple TV will be working in no time at all. You should especially try StarzSoft Fixcon as this is our recommended solution and is the most likely to fix your device straight away.