Ever since the iOS 15 was introduced, every iPhone user has been pretty excited about it. The latest version offers some unique features, and its graphics are mesmerizing.
But at the same time, some people are having some issues with it. One of the main issues people nowadays face is there is no sound on Instagram stories after iOS 15 update. It isn't a good sight to behold because everyone loves Instagram wants it to function properly.
But what could you do in this situation?
You only need to check little things that might help you. We'll try our level best to provide you with the best solution to get rid of this problem.
Part 1: How to Fix No Sound on Instagram Stories After iOS 15
If you're looking for solutions to fix Instagram stopped having sound Instagram stories after iOS 15, you need to follow the guide below.
Fix 1: Turn off Silent Mode to Solve iOS 15 Instagram No Sound Issue
It has been noted that when you turn on the silent mode on your iOS device, it also mutes the sound of Instagram stories. It is why you need to turn off the silent mode when you intend to play Instagram stories and videos.
You can turn off silent mode by flicking the Ringer Switch on the left side of your iPhone screen. Alternatively, you can also drag the switch above your volume button to turn off the silent mode.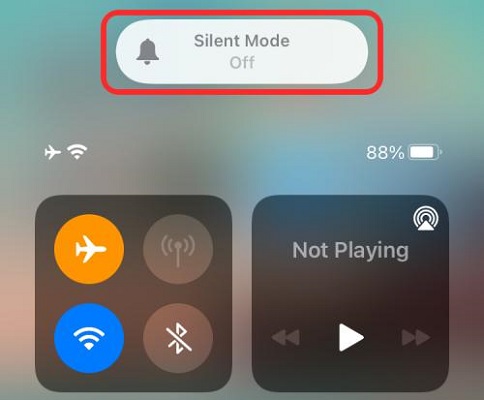 You need to ensure the orange color doesn't appear because that means that your device is Still in silent mode. After turning off your silent mode, you should be able to hear the sound of your Instagram stories.
Fix 2: Turn Off Focus Mode
Despite turning off the silent mode, if you're unable to hear the sound of Instagram stories, something else needs to be done.
Since iOS 15 is a new version, and most people don't know about its working. It offers a New Focus Mode that would automatically silence every unwanted sound from the iPhone. You can assume it is the reason you can't hear Instagram stories sound.
So what should you do now?
If your Focus Mode is turned on, you need to turn it off. After turning it off, check whether you can hear Instagram stories or not. If yes, well and good, navigate to the next solution if you still don't hear the sound.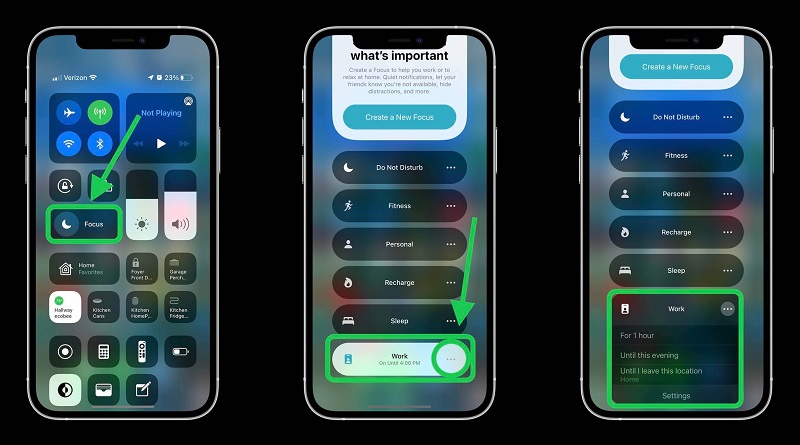 Fix 3: Check and Update Instagram for iOS 15 No Sound Problem
If turning off Silent and Focus Mode doesn't prove to be enough to fix your problem, then something might be wrong with your Instagram app. You need to check whether the new update is available or not.
If it is available, you need to update your Instagram and check whether it solves your issue. To need to update your Instagram app, you need to follow these steps.
1. First of all, you need to navigate to the App Store and search for Instagram.
2. If you've downloaded Instagram already on your device, you need to check available options there.
3. If you see two Update and Uninstall options, then your Instagram surely needs an update. You need to click the Update icon to get your job. It will take some minutes, depending on the speed of your network.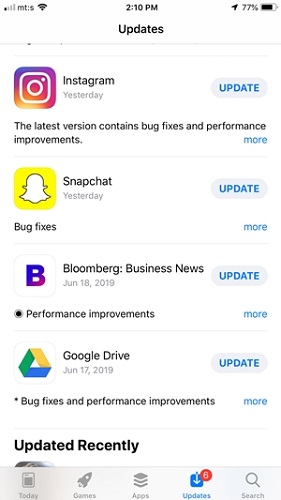 After completing, you need to see it fixes your issue or not. If not, you need to look for other solutions.
Fix 4: Check Instagram Microphone and Camera Permission on Settings
Sometimes you can't hear sound on install because you didn't allow your iPhone to access Instagram Mircorphone Camera. You need to enable it to see whether it helps or not. You can allow it to go into the settings and enable Instagram Mircorphone from there.
1. Navigate to settings and then open app settings.
2. Go to Permissions after selecting Instagram.
3. Drag the switch to the malicious site to turn on Microphone.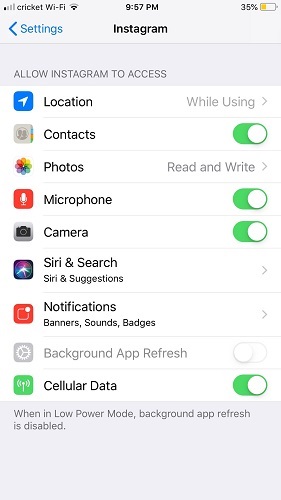 Fix 5: Restart iPhone to Solve Instagram Stopped Having Sound on Instagram Story iOS 15
Most often than not, restarting your iPhone help to solve minor glitches.
Here's the guide to restart your iPhone
Press the Power and Volume buttons and hold them until a slider appears. Now, you need to drag the slider to the screen, and that will restart your device.
Even if this process also doesn't fix the "Instagram stopped having on Instagram stories after iOS 15" issue, you can wait for a new update from Apple.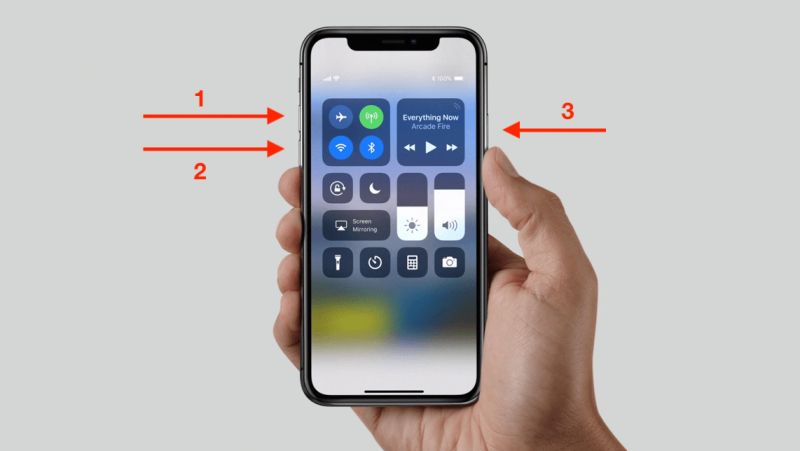 If you can't wait, you need to look for other solutions to solve the fuss.
Fix 6: Force Restart Instagram for iOS 15 No Sound on Instagram Story
You can restart your Instagram app to see whether it is helpful or not. Sometimes, when you play many stories in minimal time, it causes the chaos we've been talking about for so long.
To restart Instagram, you need to move back to your home page and drag the Instagram app to the left to remove its presence in the background.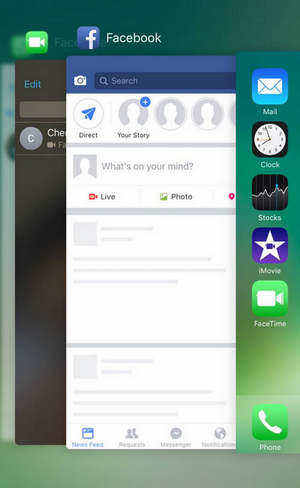 After doing it, you need to open the Instagram app again and try to play Instagram stories. Most of the time, this process works and solves the issues you face with Instagram sound. However, if it doesn't prove helpful, you need to seek other ways to fix your problem.
Fix 7: Uninstall and Reinstall to Clear Instagram Caches
Another thing that might help you eliminate Instagram stories sound issue is to Uninstall Instagram and install it again. In this way, you'll be able to clear all Instagram caches, which in turn may fix your problem.
Here's the way to uninstall Instagram. You can uninstall your Instagram app in three ways.
First, you need to open App Store and look for Instagram. After finding it, you can swipe the app tile to get the Delete option. You can uninstall the application by tapping Delete option.

Second, you can navigate to settings and Uninstall Instagram after finding the app from there.

Third, you can simply press and hold the app icon on your home screen until it is trembling. Then delete the app with clicking the cross icon.

After deleting your Instagram, you need to install it again. You can follow a similar pattern of going into the App Store and downloading the app from there. After installing it, you might fix your sound issue.

Fix 8: Report to Apple Support or Instagram Help

If any of the above methods don't work, then the problem is somewhere else. Now, you need to contact the Instagram Support service. Tell them the problem you're currently having with the Instagram sound.

They'll probably try to solve your issue by contacting Apple. If they can't solve the problem, you need to call Apple support and tell them the whole scenario. They are pretty credible and have a history of solving these kinds of issues.

Part 2: How to Fix iOS 15 Instagram Stories No Sound with StarzSoft Fixcon

StarzSoft Fixcon is a brilliant third-party tool capable of solving the sound issue on your iPhone. It offers a standard repair mode with no data loss to help you get rid of sound problems. Here are the steps to get your job done:
1. After opening Starzsoft Fixcon, you select the Standard Repair option out of the three options out there.
2. Now, you'll need to download the available firmware package after connecting your iOS phone to your computer.

3. Start the repair process by pressing the "Continue" button.
After you're done, it will restart your device fix your issue.
Final Words
Many people complain about their sound not working when they play content on Instagram. It's certainly a bad scenario, but you can learn the reasons and fix this problem by reading our blog above.
All the solutions are worth it, but StarzSoft Fixcon might be the answer to every question that has been raised against the iOS 15 version. You can acquire Starzsoft Fixcon and solve your sound issues with ease.