With the update of iOS 15, users find that there are many new features and also bugs in the new operating system. The widgets are useful for people to glance at information from apps, however, the iOS 15 seems to come up with issues with widgets, like blank white, black screen, not showing up or widgets not loading, and more.
To help iOS users to solve different widgets issues, we searched for solutions and tested them on our device. The issue is annoying but can be solved, just follow us to learn what you can do.
Part 1: How Many Kinds iOS 15 Widgets Issues are There?
There are several issues with widgets that have been reported by users after updating to iOS 15, some of them are:
Are there solutions to these problems? Of course, let's learn the fixes right away.
Part 2: How to Fix iOS 15 Widgets Blank White/Black/Now Showing Up
Check the solutions below one by one to fix your iOS 15 widgets blank/black or other problems.
1. Close and Re-open Your App Fix Widgets Not Showing Issue
Widgets are a part of your app features, when there are issues with your apps, like freezing or others, the widgets may not be able to show on the home screen correctly. Let's try to close all your app to solve the problem.
How to Close Apps on iPhone or iPad
1. Double-click the Home button if you are using the model before iPhone 8, or swipe up from the bottom of the screen to check the App Switcher.
2. Close the apps running background one by one, then tab anywhere blank to get back to the home screen.
3. Press and hold the side button and the volume down button. Slide to turn off your iPhone when the power off slider appears.
4. Press and hold the side button to turn on your iPhone, please wait until the Apple logo appears.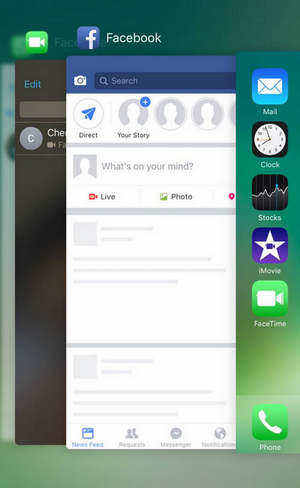 2. Remove Widgets That Not Working and Then Add Again
If the first solution not working, you can try to remove the widgets that not working on your home screen as there may be compatibility problems.
To remove the widgets, press and hold on to the widgets until the action menu appears. then select the option to Remove Widget.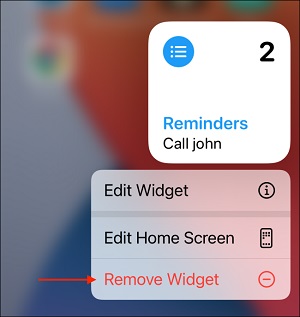 After that, you can long-press on your home screen to enter Jiggle mode, then click the plus icon on the top left corner to view all your widgets and add the one you like again.
3. Remove and Reinstall Apps with Widgets Blank iOS 15
Like what we have mentioned in the first solution, the widgets are paired with your apps on iPhone or iPad. If your widgets not loading after the iOS 15 update, there might be a problem with the apps. Thus, you can try to remove and reinstall apps to fix the issue.
At first, please make sure you have backed up the data in the app you need to install. Then, press and hold the app on your home screen. Click the Remove App option once the pop-up menu appears. Now restart your iPhone/iPad to ensure that there is no cache exists.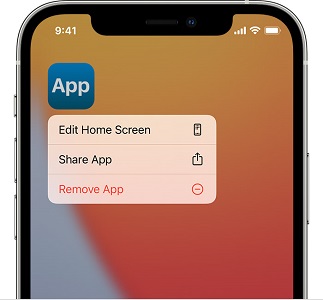 At last, turn on your device and go to App Store to download the latest version of the apps you need again.
4. Check and Enable Allow Access When Locked to Fix Widgets Black iOS 15
If the issue just occurs on your lock screen, then you need to check if you have allowed access from the lock screen. If you haven't enabled the feature, the Today View will not show up on the lock screen.
How to Allow Widgets When Locked
1. Please go to Settings > select Face ID & Passcode or Touch ID & Passcode according to the model of your device.
2. Find the option Allow Access When Lock and enable Today View. Now your widgets should be found on the lock screen.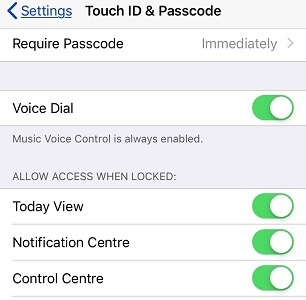 5. Switch Bold Text and Language Settings for iOS 15 Widgets Not Showing Up
The bold text and language settings seem to be irrelevant to the widgets issues, however, users who encountered the issue prove that these little tricks are working in some situations. They are worth trying and you don't need to worry about the changes as you can switch them back to normal after the issue is solved.
How to Turn on Bold Text
1. Go to Settings > Display & Brightness.
2. Scroll down to find the Bold Text button and turn it on.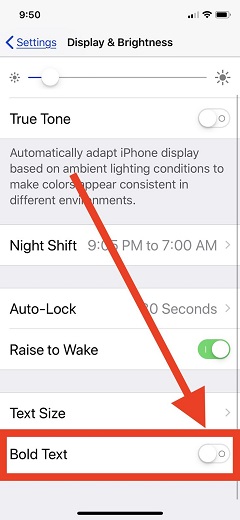 If the Bold Text trick not working, you can try the other one.
How to Change the Language
1. Go to Settings > General > Language & Region.
2. Click the device language and select a different region, like English (Canada) or English (UK).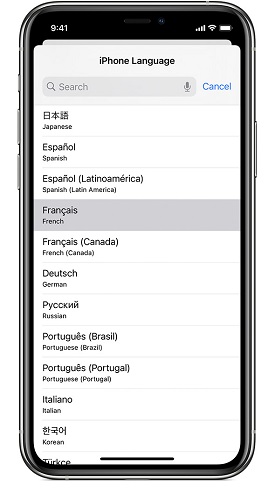 6. Check Your Settings to Solve Widgets Not Loading After iOS 15 Update
Different widgets need different permission to work, there are several you need to check according to the widgets you are using.
1. Locations Services: turn on location services from Settings>Privacy>Location Services and then scroll down to find the app with widgets and set the access to While Using the App.
2. Background App Refresh: go to Settings>General>Background App Refresh and select to refresh using Wi-Fi or Wi-Fi & Mobile Data. Scroll down to view the apps and turn on each you need to use with widgets.
3. User Account: go to Setting>Your Name to sign out and then sign in again to check if the issue can be solved.
7. Using a Third-Party iOS System Tool to Fix iOS 15 Widgets Issues
If all the solutions above not working, you may need to fix the iOS system as there may be uncertain issues. StarzSoft Fixcon is just one of the kind of tools, it helps resolve 150+ iOS issues without losing data, if you want to have a try, follow the step below:
1. Download and install the tool on your Windows PC.
2. Then open StarzSoft Fixcon and select the first option Standard Repair.
3. Connect your iPhone or iPad to it and start to download firmware.

4. After downloading the firmware, click Continue to start to fix your system.
Wait for a few minutes, the widgets not showing up problem will be solved.
BTW, you can also choose to use iTunes restore to fix your device, but it will cause data loss. Thus, if you want to keep all your iPhone data, you can try to use StarzSoft Fixcon or make a backup before restoring.

8. Feedback to Apple and Wait for the Next Update
If the widgets blank issue exists after trying all the methods, it might be a bug of iOS 15 or the app with widgets. We suggest you feedback the issue to Apple and wait for the next official update.
If the App is a third-party one, you can also feedback to the provider and ask them to test the compatibility with iOS 15.
Sum Up
In a word, the widgets blank or black issue is not a new problem as many users have reported it in iOS 14. Hope the solutions we list in the post can help you to a certain extent. Besides, if you have any other iOS 15 issues, you can also try StarzSoft Fixcon as it is a one-stop solution tool for any iOS system problems.