As well as enjoying the new features iOS 15 provided, many people have been facing significant problems with this new version. It has been noted many people downgraded their iPhone to previous due to problems in the iOS 15 update. What are the problems, and how are they affecting users?
This article is all about iOS 15 problems and solutions. We'd explore some problems that have been caused by the iOS 15 update and will be looking to give some solutions.
Part 1: The Commonest iOS 15 Problems
Here are some common problems that people face with the iOS 15.
1. iOS 15 Update Issue
When Apple announced they would introduce a new iOS 15 update, everyone iPhone user was over the moon. Now when the update has been released, every iPhone user wants to install it in the first place.
Unfortunately, many people have complained that they're facing the update issue, which includes:
Unable to install the new version of iOS 15.
iPhone stuck on preparing update.
iPhone stuck verifying update.
2. iOS 15 Functional Issue
People have been facing some functional issues after installing iOS 15 updates. Such as the problems below:
You might not receive the calls on your iPhone after iOS 15 updates.
iPhone storage is almost full notification won't go away on iOS 15.
iPhone cannot connect to WiFi or cellular data.
It can be due to wrong settings, software issues, or problems with your network. Whatever the reasons are, you need to look for solutions. We'll tell you the solution to this problem later in the article.
3. iOS 15 App Issue
It has been noted that there are lots of app issue after installing iOS 15, some of them are:
Mail not working after iOS update
Instagram stories no sound on iOS 15.
Safari not working after upgrading to iOS 15
They just don't function properly and take you back to the home page more often than not. It could be that apps aren't compatible with the new update, or you've not updated your app for a while.
Part 2: How to Fix Various iOS 15 System Problems in One Place
You can fix any iOS 15 issue with the help of StarzSoft Fixcon. It uses Standard Repair, Advanced Repair, and Enter/Exit Recovery mode. Most of the time, Standard Repair proves to be enough for fixing the majority of the problems.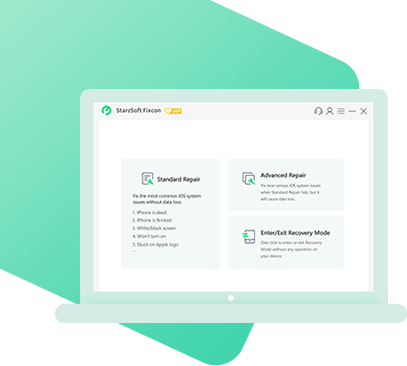 The tool is both fast and easy to use.
The professional tool fixes different issues without causing data loss.
Fixcon is fully compatible with all iOS versions.
Its free trial version lets you confirm whether it will work for you.
Repairing iOS 15 Problems using Starzsoft Fixcon
1. Download and install it. Then after selecting the Standard Repair option, you need to connect your iOS phone to your desktop via a USB cable.
2. After downloading the Firmware Package, you need to press "Continue" to repair your device. You'll not lose any data using Starzsoft Fixcon.
Part 3: Common Fixes for All Kinds of iOS 15 Issues
If you're having some issues with your new iOS 15 version, you're not alone in this. The majority of Apple users often complain about it. The question arises, "how to fix these issues"? Here are some standard solutions to some iOS 15 problems.
1. Restart Your iPhone
If you're facing any iOS 15 issues, you need to try restarting your device. It has been noted that restarting the device can solve the problem most of the time.
You can restart your iPhone by pressing the Power and Volume buttons simultaneously. After restarting your device, you need to look at your iPhone and check whether things have improved or not. If not, you need to look for another solution.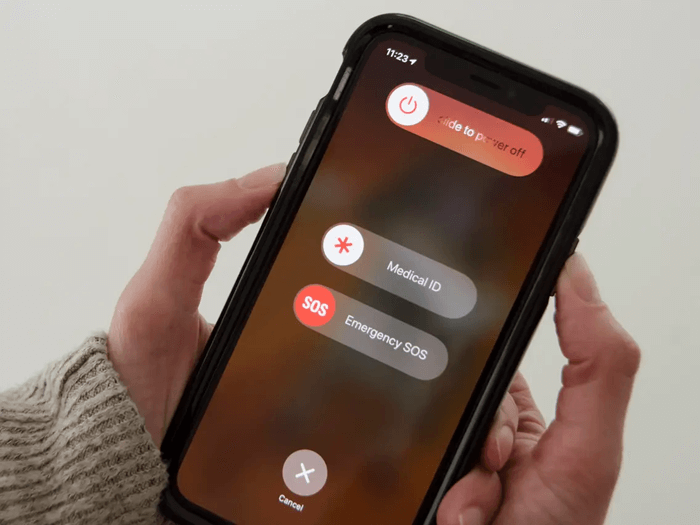 2. Clean Up Your Storage
If you notice the slowing down of your iPhone after installing iOS 15, there can be few reasons for it. First, when you use the device for so long, many applications work in your background, consequently taking space from the iPhone's internal storage. It can cause chaos to make your iPhone run a bit slow to your likings.
Cleaning this clutter storage might help you to fast-track the speed of your iPhone. First of you'll need to check how much space is left on your iPhone. Here's the guide to do so.
1. Open Settings and navigate to the General setting option.
2. Now, you need to hit iPhone storage, and you'll be able to see the storage settings on your screen.
3. Apple gives you recommendations about your iPhone storage, but you need to clear all the unnecessary data files from the iPhone storage to make it function properly.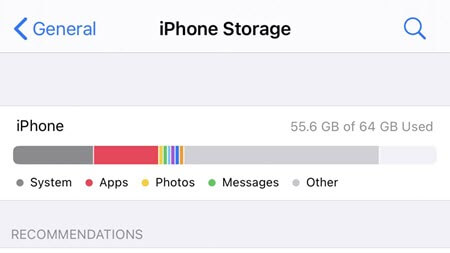 3. Reset All Settings
If you're not able to succeed after trying so hard and applying many things to solve iOS 15 issues, you probably need to look otherwise.
Resetting your iPhone would be a wise idea, even though it will remove all your data. But in this way, you're giving yourself high chances to solve your issue. Here's the step-by-step guide to reset your iPhone.
1. Tap the "General" option after opening the iPhone settings.
2. Now, you'll see Reset iPhone or Reset Transfer options, hit Reset, and get on with it. After, you need to press Reset All settings.
3. It will ask you to give your passcode for confirmation; your iPhone will be reset after you've given your passcode. Now, your device restarts again. Your iOS 15 problems have likely been solved.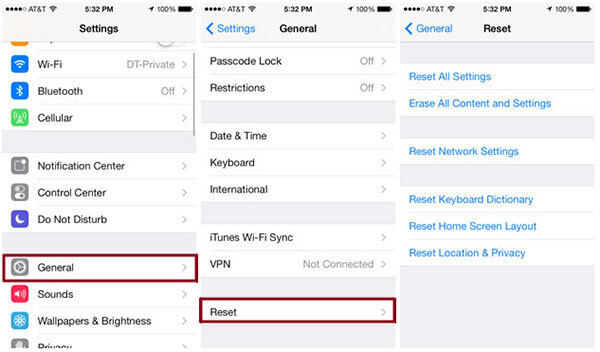 Part 4: Special Fixes for Special Issues
Here are some solutions to common problems people face after installing the iOS 15 update version.
1. For Update Issue
If your device is compatible with the iOS 15 version, you shouldn't have any issue installing it. You only need to for a while to serve your purpose.
But if you haven't got any clue about it after waiting for so long, you need to clear out some storage from your iPhone.
It might help the new update appear on your iPhone because sometimes the iOS 15 update doesn't appear due to the low storage of the iPhone.
You also need to ensure the iPhone is appropriately charged. These are two things you need to take care of if you can't update the latest version of iOS 15. Despite these two things, if you're having the same issue, you need to reboot your device that might help your cause.
2. For Functional Issues
For functional issues, you can try to reset all settings, reset networks settings to fix them. Besides, the more useful way to fix functional issues is to figure out the reasons of the problems first. For instance, below are some effective tips for not receiving calls after installing the iOS 15 issue.
1. Turn on your iPhone's Airplane Mode after going into the settings. After some minutes, you need to turn it off again.
2. Now, you need to turn "Do Not Disturb" after going into the settings.
3. Take out the SIM from your iPhone and insert it again
4. Open General settings> Reset. After, you need to click Reset Network Settings.
5. Now, you need to navigate to About>Carrier. After going there, you need to look for a new carrier update.
3. For App Issues
If you're having some apps crashing or not working issues or other issues downloading iOS 15, you need to update your apps when the update is available. You can update your app by following these steps.
1. Search for the apps that aren't working..
2. Press the Update button option if the update is available. If not, you need to wait for few days or so.
Sometimes Apple releases another small update to iOS 15 to fix the minor bugs. It is why you need to check for any system software update available. Apple releases small update like iPadOS 15.0.1 or IOS 15.0.1.
Conclusion
After installing the iOS 15 update, you might have to face some issues initially, but you can fix these problems with minimal effort.
First, you need to analyze the root cause of the problem and then look to solve the issue appropriately. If you're looking to solve the iOS 15 update issue in a quick time, you can acquire the services of StarzSoft Fixcon. It can serve your purpose better than you think.