A vertical line or pink line on iPhone screen can be very annoying and interfere with your phone activities. There can be software or hardware issues behind your iPhone screen pink lines; however, you can resolve them using StarzSoft Fixcon and other easy methods mentioned in this article.
Why Is There A Pink Line on My iPhone Screen
We often get queries like 'why is there a pink line on my iPhone screen?' and now it is time to answer all the reasons why this issue happens. Below we have laid down all the possible reasons causing the iPhone screen to show vertical pink lines.
1. Internal Damage
One of the most common causes of the iPhone screen pink lines issue is internal damage that can happen for various reasons. Sometimes everything looks good on the outside but the inside, it is not the same. If your iPhone accidentally falls to the ground or you spill water on it, the chances are that you will see pink lines.
So, if you are looking for a way to resolve the iPhone XS Max pink line on screen issue or iPhone X pink line on screen issue, you must consider the internal damage.
2. Software Issues
Sometimes you face the pink line down iPhone screen issue due to underlying software problems and if you don't know how to check for that, go to an expert so that they can fix it for you.
3. Extreme Temperature Exposure
You have to be highly vigilant about the temperature you are exposing your iPhone to because extreme temperatures can quickly cause the pink line on the iPhone screen. And that means that you have to keep your iPhone away from extreme cold or hot temperatures.
4. Radiation Exposure
Have you ever heard of electrostatic discharge production? Well, prolonged exposure to any radiation can cause intense static electricity production, which can cause the pink line on iPhone screen issue.
5. Hardware Issues
Hardware problems can also cause the pink line on iPhone screen issue. Mainly these issues are with the display screen that is damaged because of negligence. And if you fix that by replacing your screen, your iPhone's pink vertical lines also disappear.
6. LCD Cable Issue
Even though we take care of our iPhones as much as we can, sometimes, we end up dropping them in a vulnerable moment. iPhones can take easy falls well, but the LCD cable gets disconnected from the logic board if you drop them on harsh surfaces. And that disconnection causes pink lines to appear on the iPhone screen.
What to Do Before Fixing Pink Lines on iPhone Screen Issue
Instead of trying different ways to fix the pink line issue on iPhone, you can perform some steps that may resolve the problem. Here are some easy ways you can try to see if the issue is there for real.
1. You can try to restart your iPhone, and hopefully it will resolve the issue. Because sometimes there is a glitch due to multiple apps running in the background.
2. You can also update your device by clicking on all the software updates and see if it changes anything.
3. One thing you can do is contacting Apple support and ask them for their advice if you are unable to resolve the issue.
How to Fix Pink Line on iPhone Screen: 5 Solutions
Now that we have told you all the possible reasons for the pink line on iPhone screen issue, it's time for us to tell you how to get rid of the pink line and iPhone screen issue. First of all, we will tell you about ways to resolve the software issues, and later, we will move towards hardware problems.
However, before trying the solutions to fix the iPhone xs max pink line on screen issue, it is essential to back up all your data, including multimedia files, contacts, and essential documents on your iPhone. You can easily backup data on your iPhone through iTunes or iCloud; however, make sure you have enough storage on iCloud and a lightning cable for the iTunes method.
1. Try StarzSoft Fixcon – The Best Way
If you are tired of solving your iPhone problems, you need to download StarzSoft Fixcon as it is an all-in-one solution for all iPhone, iPad, and Apple Tv related issues. StarzSoft Fixcon is a free app that you can easily download on your device and has numerous features to reset, upgrade, downgrade, and repair your iOS.
StarzSoft Fixcon is a secure app that comes with a money-back guarantee for its paid version and offers 24/7 customer service to its users. You can quickly solve common iPhone issues like won't turn on, boot loop, black, update failure, etc. To Fix the issue, you only need to:
1. At first, download StarzSoft Fixcon from the download icon above.
2. Then, install it and connect your device to it. Select the "Standard Repair" if you do want any data loss.

3. Now you can browse frimware and click "Download" button to start.

4. Once finished, click "Continue" button to fix your iOS system issues.
2. Restart and Update iPhone
Another reason you're seeing the pink line on your iPhone screen can be because of software glitches, so the best way to resolve that is by restarting your iPhone. It won't be a normal restart; instead, we will do a forced reboot.
1. The easiest way to force restart your iPhone is by quickly pressing and releasing the volume up button and then the volume down button.
2. After that, you will long-press the side button, an apple logo will appear on the screen, and your iPhone will restart.
3. Once your iPhone restarts, you can also update its software by first going into settings and then selecting the general option.
4. There you will find the option of 'software update,' you will then click on 'download and install' to update your iPhone iOS.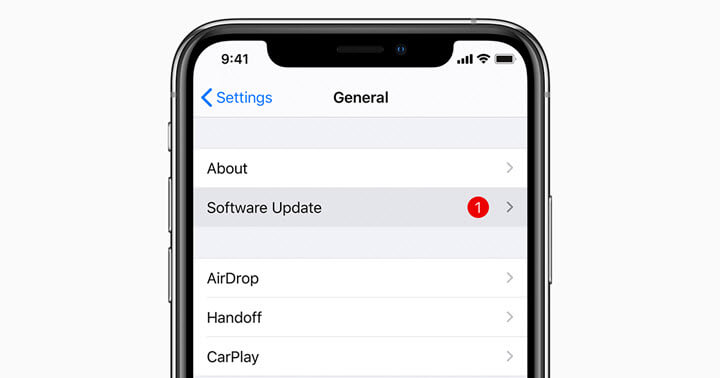 3. Use iTunes Recovery Mode to Fix Pink Line on iPhone X
You can consider the recovery mode via iTunes for restore factory settings because once you do that, it will put your phone to an un-updated version removing all the content from your device.
First, you connect your iPhone to iTunes on the restore option that you might see on top of your screen. It will take a few minutes, and then your iPhone will automatically restart.
4. Clean iPhone and Erase Everything
Another way to get rid of the pink line on iPhone screen issue is by cleaning your iPhone and erasing all the files and content on your device. If you want to try the resetting method, you will need to follow the steps given below.
1. First, you will open the settings on your iPhone and click on the general option.
2. An options panel will appear from where you will select the reset option.
3. Finally, you will click on erase all content and settings to proceed with the reset method.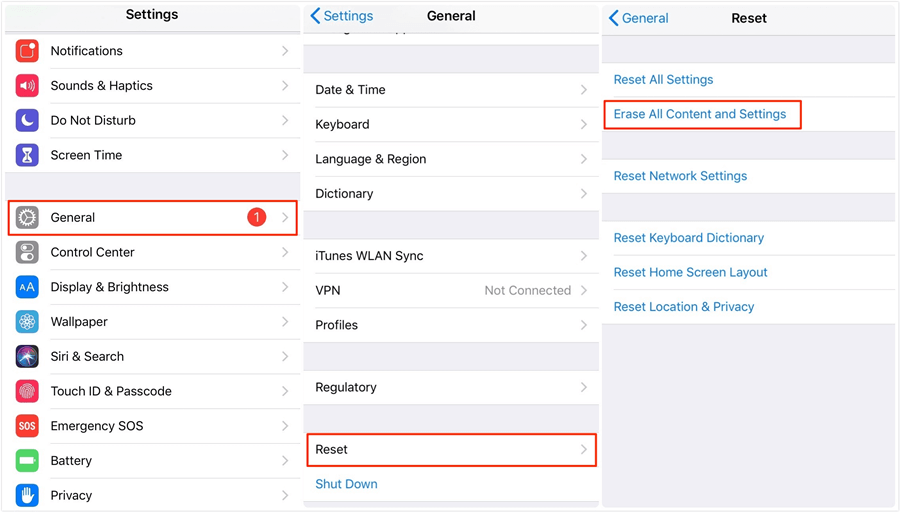 5. How to Get Rid of Pink Line on iPhone Screen with DFU Mode
The DFU (Device Firmware Update) mode restoration of your iPhone will convert your iOS into an unmodified version that can resolve your pink line on iPhone screen issue. However, to do this method, you will first have to put your iPhone on DFU mode.
You will then access iTunes, and from the summary option, select the restore icon. Once you click on the restore icon on your iPhone, it will be set to an unmodified version.
What to Do If It is the Hardware Problems That Cause the Pink Line on iPhone Issue
Even though all the methods we have mentioned above will resolve your iPhone screen pink lines issue; however, if you still see the pink line on iPhone screen, the problem can be with the display. Display issues come under hardware problems, and the only way to fix that is by getting a new screen for your iPhone.
It is significant for you to have a warranty if you are thinking of getting Apple Support because that way, you will get the screen replacement for free. However, if you don't have a warranty, the smart idea is to sell your iPhone and buy a new one because screen replacement costs a lot.
Final Words
Mobile devices can have issues like pink lines as they are machines; however, there are ways to fix them. However, we hope that our suggested solutions have helped you remove the pink line on the iPhone screen issue by giving you all of our practical ways to resolve the issue.
In the end, we want to remind you of StarzSoft Fixcon as it is an all-in-one solution to your iPhone and iPad-related problems. And it comes with several free features like the recovery feature, which can be highly beneficial in fixing issues like the pink line on iPhone screen. You can download it for free and enjoy its unique features.