Nothing is as annoying as an iPhone getting stuck on power off screen. For anyone encountering this problem, you are not alone because many iPhone users have faced this common issue.
To help you understand what needs to be done, we have prepared this post to find different solutions to fix iPhone stuck on power off screen issue.
How to Fix iPhone Stuck on Power Off Screen
Hard Reset Your iPhone
Since the iPhone is stuck on power off screen, it means that you can't restart it normally. So, you will have to hard reset it. Hard reset is not challenging to do, and depending on the iPhone model you have, choose one of the following methods.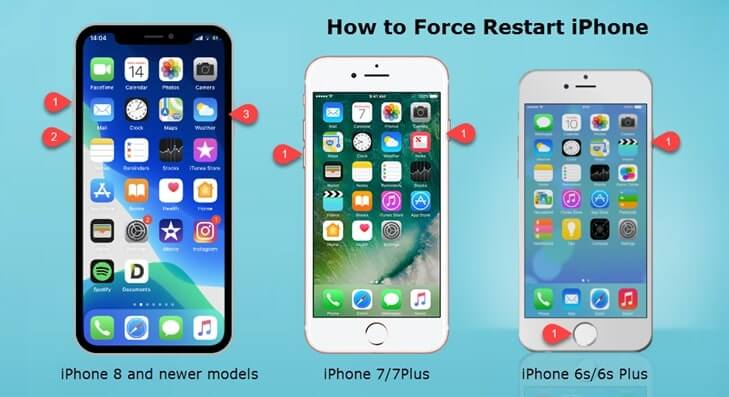 Once you do that, your iPhone will be restarted. When it restarts, try to switch off your iPhone or use it for some time to see if the problem occurs or not.
Try Using the AssistiveTouch
In case the Home button is broken of your iPhone, in that case, a hard reset will not be possible. In this case, you can use the AssistiveTouch feature to turn off your device.
Here are the steps that one needs to follow:
Step 1: Launch your iPhone and go to the Settings option.
Step 2: Once you are there, you need to locate the Accessibility feature. After that, click on the Touch icon.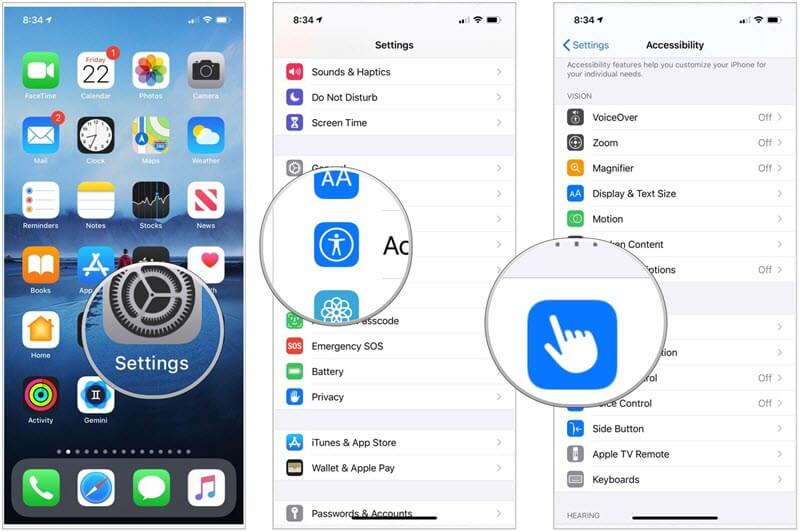 Step 3: Now, touch the AssistiveTouch option to enable it. Once done, you will see a light grey square box. This means that the AssistiveTouch feature is enabled.
Step 4: Hold the Lock screen for some time and once you see the Power off slider, simply drag it. Once you do that, the iPhone will be switched off.
Switch it on after some time. Let your iPhone take some rest and switch it on. Your device should now be working normally.
Try Using the Recovery Mode
Recovery mode is a fantastic way to make your iPhone work again. To do this, you will need your iPhone, USB cable, and a computer with iTunes.
Once you are ready with all these things, just follow the steps that we have mentioned below:
Step 1: Take your iPhone, and with the help of a USB cable, plug it into a computer that has iTunes. Please note that if you don't have iTunes, you will have to download it.
Step 2: After that, press both the volume down and up keys one after another. After some time, hold the side key. This will allow the iPhone to reboot itself. Don't let go of the side keys. You see the Apple logo.
Step 3: You will see the logo that says "Connect to iTunes." When you see this notification, let go of the side key you have been holding on to.
Step 4: You will be able to locate your iPhone on iTunes. When you see it, click on the Summary option and click on the Restore iPhone option.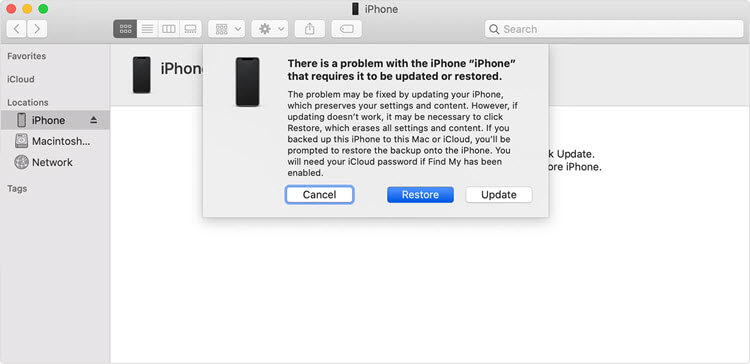 Then, follow the instructions on iTunes and update or restore your iPhone.
Once done, turn on your iPhone, and your device should normally be working. See if this solution works; if not, follow the following method.
Reboot Your iPhone Using the DFU Mode
If you fail to restore your iPhone using the previous method, there's another thing that you can try, which is DFU mode. This will let you repair your iPhone.
The screen of the iPhone will turn black, and you will iTunes detecting the device. This means that the DFU mode is enabled. Please note that restoration of an iPhone using the DFU mode will take some time.
So, while your device gets restored, please let the iPhone stay connected to iTunes and don't do anything.
Contact Apple Customer Service
Even after trying all the methods, if you fail to solve the main problem, the last and the most important thing you must do is contact Apple customer service.
Apple has a strong customer service and technical team proficient in taking care of multiple problems, including the iPhone getting stuck on power off screen.
So, ensure to contact them online, else, take your device to the nearest service point. Let the professionals take a look at the device.
Bonus Tip: Delete Faulty Apps
Once your iPhone is restored, and you can use it normally, check all the apps you may have on your computer.
You may have downloaded third-party apps on your computer from other sources, which are not reliable. These apps may also cause issues. To delete apps, follow these steps:
Step 1: If you use an iPhone 8 or earlier model, you need to double-tap the home key. And for iPhone X and later models, you will have to swipe up from the bottom. This way, you will see all the apps you have downloaded on your iPhone.
Step 2: Once you check it, you need to hold an app that you think is unreliable. When you do that, you will see the Remove App option. It will be highlighted in red. Next, click on the – sign.
Step 3: When you see the Delete App option, please click on the delete option to permanently remove the application.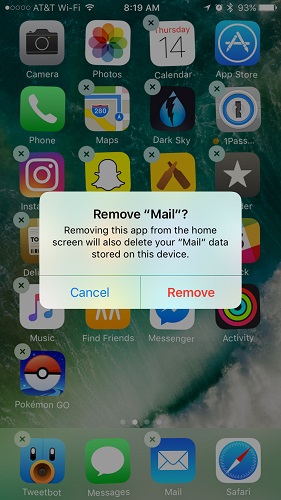 Other than this, another suggestion is to get an antivirus for your iPhone. Your iPhone could be a victim of a virus attack as well.
Even in this case, your iPhone will malfunction. Hence, make sure to get a reliable antivirus application from a reliable source and run the antivirus app from time to time to take care of any viruses.
Conclusion
These are the solutions that you can try to overcome iPhone stuck on power off screen. In most cases, it is usually a minor bug or glitch, which causes the iPhone to get stuck on power off screen. But as recommended, keep your device protected and avoid downloading apps from an unknown source. Moreover, if nothing works, call Apple customer service for support.