It is usually always a software issue rather than a problem with the lenses or sensors if your iPhone exhibits a dark screen when you attempt to snap a picture. However, now you no longer need to worry if your iPhone camera black or not working.
Here are several solutions you can try.
Part 1: Why is My iPhone Camera Black
There can be two major causes behind why your camera is black on iPhone.
Hardware Issues
A hardware-related problem is to blame if your phone still has a blank screen after a hard reset. This indicates that the lens is damaged or that the camera software is broken. If so, bring your smartphone in for service.
Software issues
In most cases, software problems are the major reason behind iPhone camera blackening issues. Problems with lenses are comparatively rare. Software issues can be resolved by using techniques like quitting the camera application, restarting the iPhone and updating the iOS software.
Part 2: How to Fix iPhone Camera Black (Related to Camera App)
Force Close and Restart Camera
Your iPhone's camera app may occasionally fail to load properly, which results in a blank screen. In that scenario, forcefully exiting the camera app would resolve the problem. Get the app preview by touching the Home button twice to use this feature.
Swipe up the camera interface to close the camera app. Restart your phone once more after waiting five minutes. This might aid in resolving the camera black iPhone problem.
Switch Between Front and Rear
You might be able to solve the iPhone camera black issue with this method without visiting an iPhone repair service. Users occasionally report that the iPhone's front camera isn't performing well. In this case, tap the camera icon to switch to the rear camera. After a few seconds, turn on the front camera to see if the black screen issue has been resolved.
Clean Camera Lens If iPhone Camera Black
If your case is securely fastened, it's conceivable that dust or other particles are blocking the lens and rendering your iPhone's camera inoperable. If you leave your iPhone in your pocket for the majority of the day, it's very easy for muck or lint to collect on the camera lens.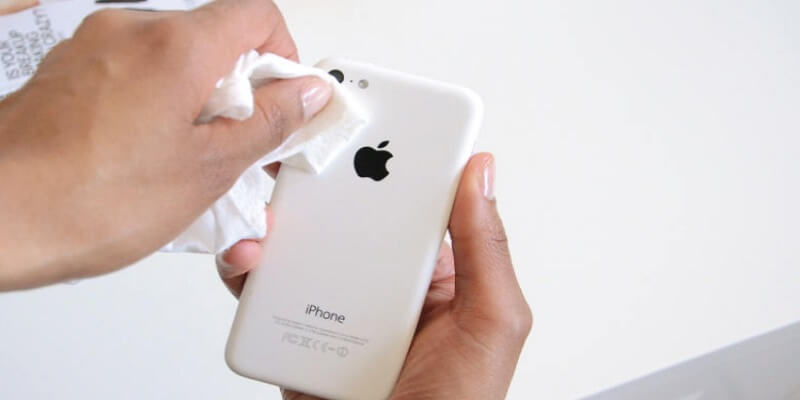 Use a microfiber towel to gently wipe out your camera lens to make sure nothing is adhered to it.
Part 3: How to Fix Camera is Black on iPhone with iPhone Settings
Restart iPhone to Solve Black iPhone Camera
All of your apps will have the chance to close and start over if you restart your iPhone. This can sometimes correct a minor software issue that is causing your iPhone camera to malfunction.
Press and hold the power button until Slide To Power Off appears if you have an iPhone without Face ID. Press and hold the side button and either volume button at the same time on an iPhone with Face ID until you see Slide To Power Off.
To turn off your iPhone after noticing the power slider, swipe the red and white power icon from left to right. To restart your iPhone, wait a short while, then hit the power button (for iPhones without Face ID) or the side button (for iPhones with Face ID).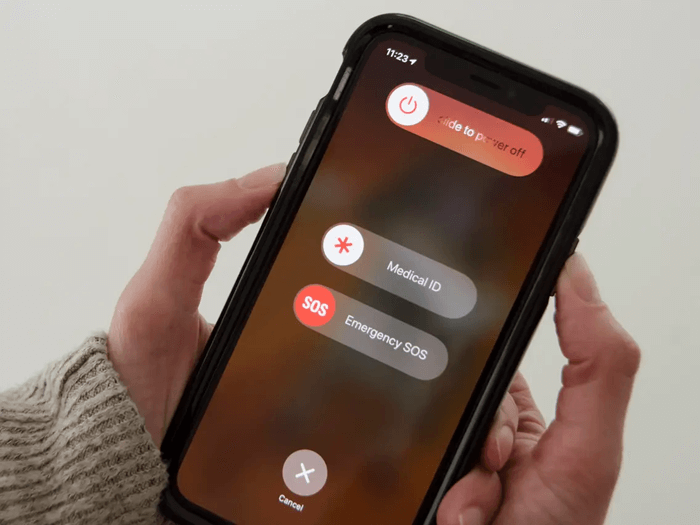 Update iOS If Camera on iPhone is Black
Because the Camera app is a native iPhone app, iOS updates are the only way to update it. Apple regularly upgrades its software to add new features and fix faults, one of which can be the one affecting your camera.
Click General -> Software Update under Settings. If there is a new iOS version, you can select Download and Install or Install Now.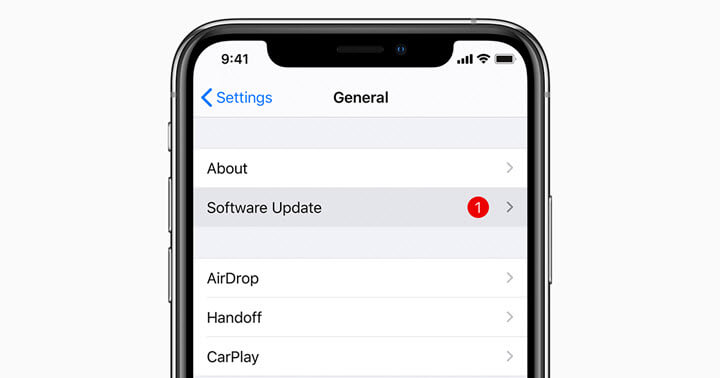 Disable Camera Location Access
1. On your iPad or iPhone, tap Settings.
2. Click Privacy.
3. Go to Camera.
4. Turn off the toggle for location access.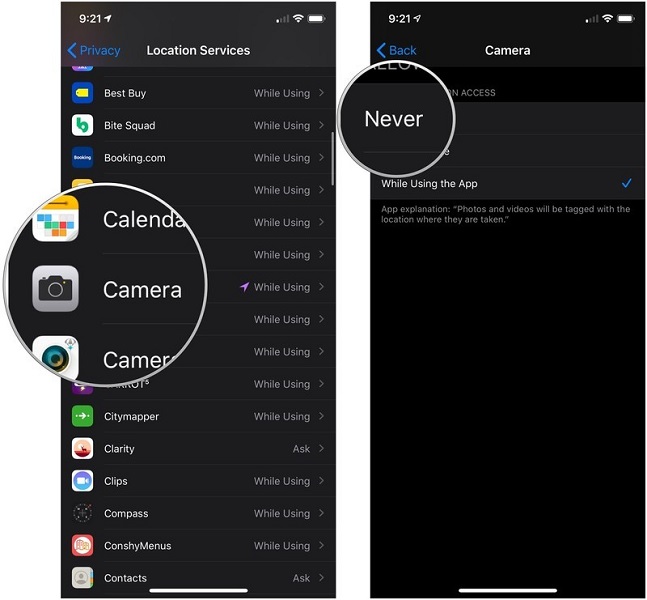 Your location will no longer be added to pictures or videos when you use this setting.
Disable Voiceover Accessibility
It seems odd that the iPhone black camera problem occurs while the Voice-Over option is enabled. Simply taking these actions will allow you to remedy the problem.
Turn off the "Voice-Over" option by going to Settings > General > Accessibility on the phone. After that, wait a little before starting the camera app once more.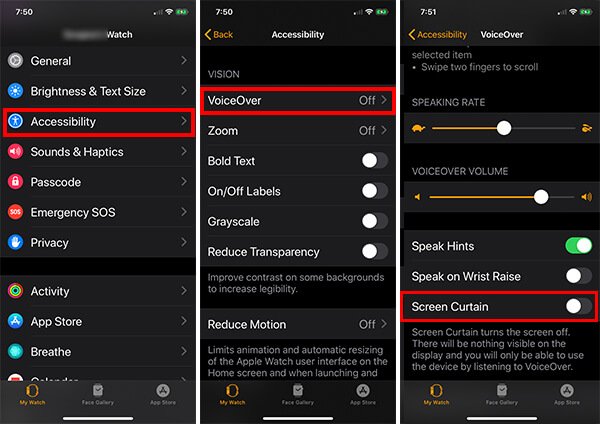 Quit All Background Apps to Try Again
When an app crashes, it can lead to a multitude of iPhone software issues. Your iPhone's camera may not be functioning if the Camera app or another app crashes in the background. Closing an app that has crashed on your iPhone can fix the issue!
You need first launch the App Switcher. Double-tap the Home button (for iPhones without Face ID) or swipe up from the bottom of the screen to accomplish this (iPhones with Face ID).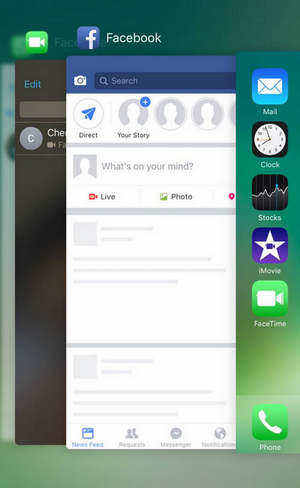 Once the app switcher is active, swipe your apps up and off the top of the screen with your finger. When your apps are closed, you'll notice because they won't show up in the App Switcher.
Once all of your apps are closed, launch the Camera app again to check if it has resumed functioning. Continue to the following step if it's still black or not working.
Part 4: Check If It is Third-party Camera App Issue
Apple built cameras with confidentiality in mind, and any third-party programmes that wish to obtain your camera must first get your permission. Apps on iOS can view live images from the front and back cameras if you give them access to Camera. The camera cannot be used by apps without being transparent about it.
Usually, the Camera app requests authorization to access the device storage the first time you launch it. Your phone may have recently updated an app that changed the permissions, though.
First, touch the gear symbol on your iPhone to access "Settings." Tap "Privacy" under "Settings." Tap "Camera" under "Privacy." A list of the apps that have previously requested access to your camera will appear after that.
The Camera app should operate normally if you try to open it.
Part 5: How to Fix iPhone Camera Black When You Cannot Figure Out the Reason
If you're having issues with iOS/iPadOS/tvOS screen and it gets black even if everything seems ok, StarzSoft Fixcon is the simple and dependable way to resolve "iPhone Camera Black" and other IOS device malfunctions and issues.
Here's what you should do simply and that is to follow the instructions and proceed with the Standard Repair option of StarzSoft Fixcon.
1. Install and set up StarzSoft Fixcon and then move to the main menu where you will see repair options, like any other utility. You should then hurriedly move to the Standard Repair option.

2. After choosing the Standard Repair method, connecting your iPhone to your computer through USB is undoubtedly a straightforward process.
3. Fixcon swiftly recognises the model type of your device and other information, and will also install the required firmware files. You must keep your focus, select only the option you want, and then click "Download."
4. Pick the Continue option in the green box that will appear. Continue with this decision to launch the system repair.
At this point, the only thing left to do is wait for the repair option to be finished. The "iPhone screen black or not functioning" issue will then be resolved, you'll notice.
Part 6: How to Fix Black iPhone Camera When There are Hardware Issues
Nothing is working? Then your phone must have hardware issues. Here's what you should do in this situation.
Ask apple store for help or go to local repair store
Imagine if hardware damage has only left your iPhone with a dark screen. The sole option in that situation is to bring it to an authorized Apple service center or local repair store to be examined by a mobile hardware expert.
Sum Up
Now that you have read about all the possible solutions to the "iPhone Camera Black", you can easily understand the cause of the problem and how to solve it. If you want the solution to work for you for sure you can proceed with StarzSoft Fixcon. It is the recommended solution to solve all of your iOS problems including the iPhone camera blackening or darkening issues.