Taking a few pages from an otherwise huge document is just one situation where a PDF page extractor comes in handy. This tool simply scans the PDF to identify the pages you need to extract, copies them into another file, and saves a completely separate PDF.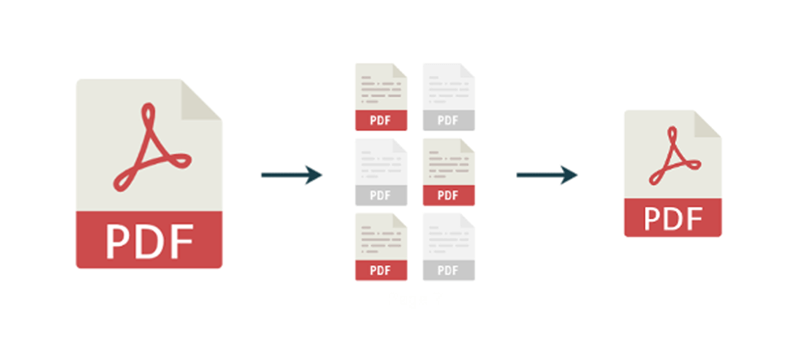 Believe it or not, this is a problem some users encounter daily in their office. Rather than only giving readers one specific solution, we've gone ahead and found a variety of online and offline tools to choose from.
Part 1. Top 3 Offline PDF Page Extractor
To start with we'll be focusing on the offline PDF page extractors. An offline software can be preferable due to there not being an internet requirement or file size limits that prevent you from handling certain PDFs.
1
Best Free PDF Page Extractor – PDF WIZ
Besting all other extractors is PDF WIZ, a totally free toolkit that provides converting, compression, extracting, and PDF protection tools. It may be surprising to find a program that doesn't limit free users but this is it, and here's how to use PDF WIZ's page extraction feature.
Step 1. Launch PDF WIZ. And click on "Extract PDF Page" on the main menu.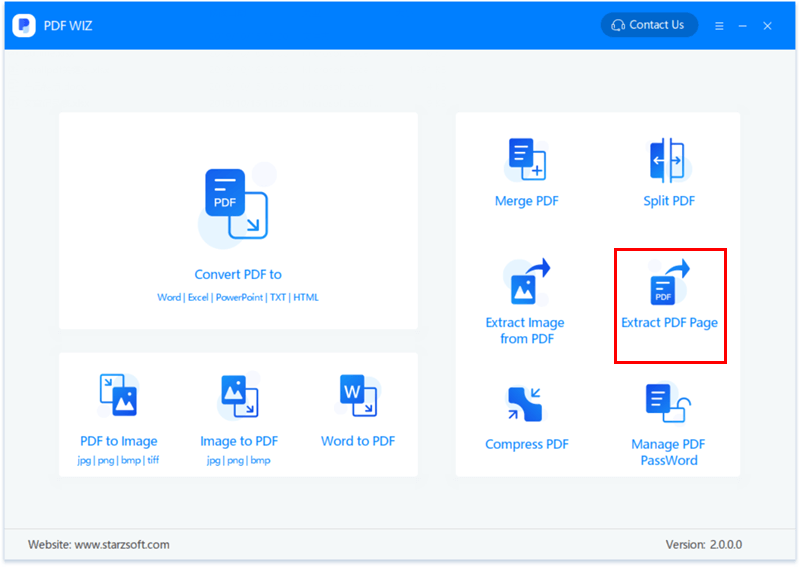 Step 2. Drag the PDF file you want to extract pages from and drop it on the window.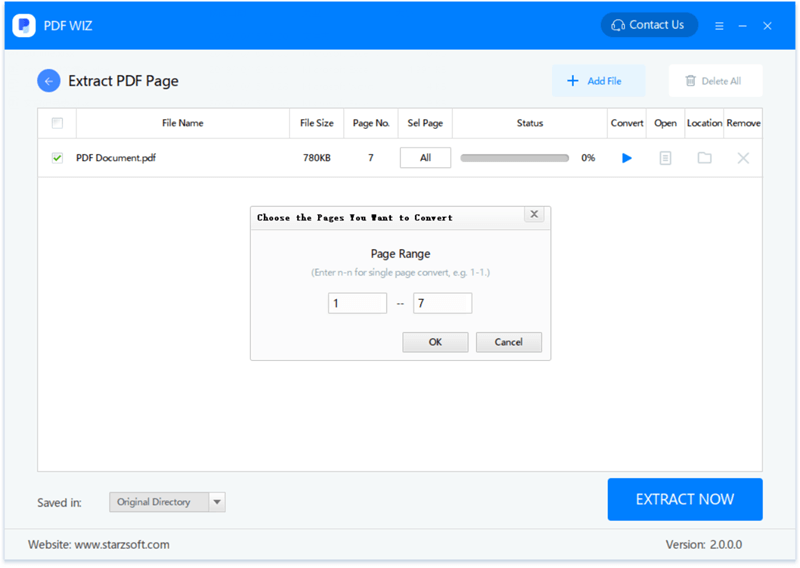 Click the "All" button and enter the page range to have extracted.
Choose a folder to save the extracted pages to by clicking the drop-down button at the bottom of the window.
Step 3. Finally, click "EXTRACT NOW" and seconds later the extraction will be done.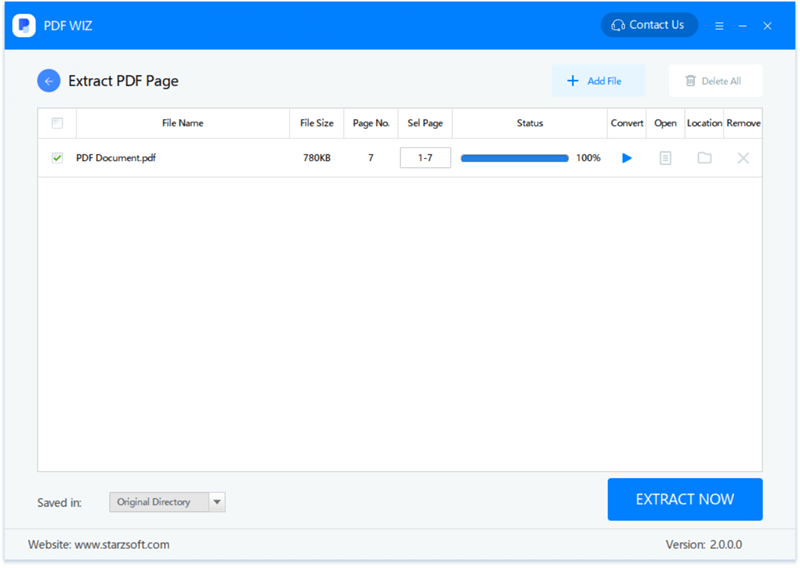 As well as this, you can extract pages in bulk meaning there's no time wasted from individually processing files. Remember that PDF WIZ is among the small group of toolkits that doesn't charge users so there's no reason to search for a different solution!
2
PDFelement
A full-on professional PDF editor like PDFelement may be more the type of software you're looking for. Rather than being only essential tools, PDFelement lets users create documents from the very beginning.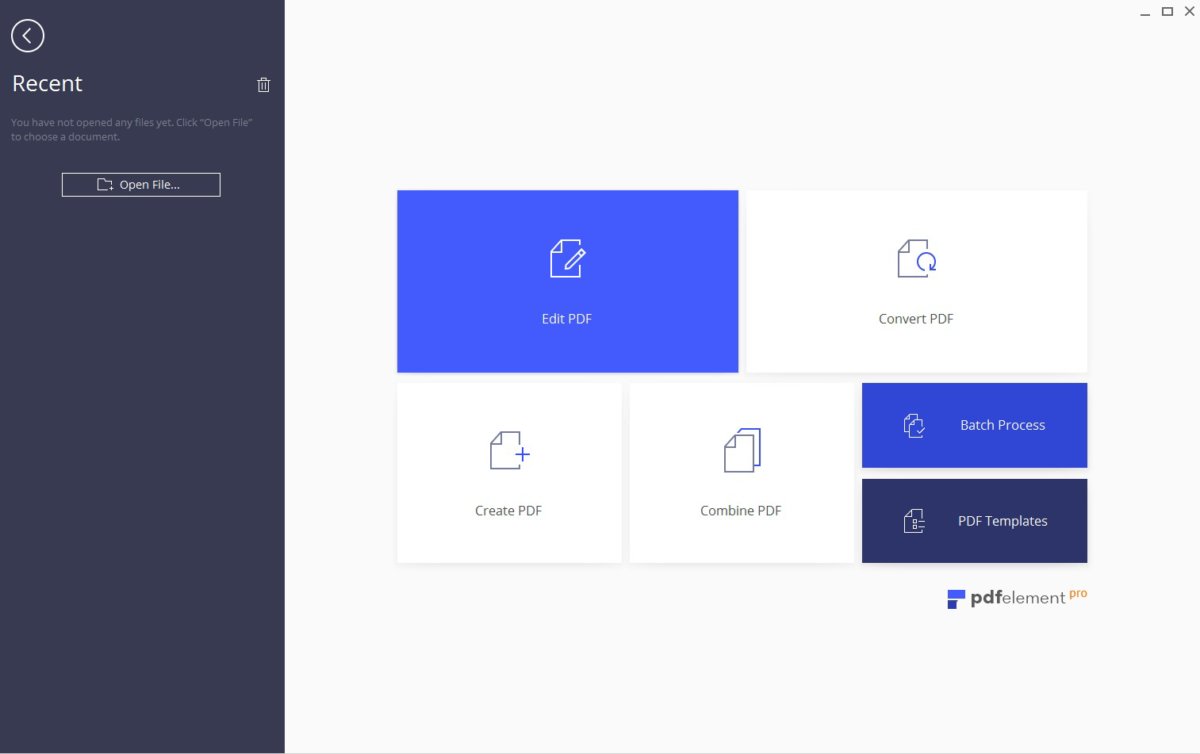 Simple edits, format conversions, OCR scanning, and digital signature signing only touches on what can be done with it. The free trial can be appealing to users but it is heavily limiting and if you truly want a free PDF page extractor, this isn't it.
+ POSITIVES
● Lots of basic and advanced features
● Allows bulk PDF page extractions
● Not reduced to just being a page extractor
● Can open and display multiple PDFs at the same time
● Different page viewing modes
– NEGATIVES
● Free trial prints a PDFelement watermark on all PDFs
● Overwhelming layout for users who only want one tool
3
Adobe Acrobat
Adobe Acrobat is the final software suggestion we've got and it's possibly one you've considered already. Using this program can be confusing if you're like most people and have only used it as a PDF viewer because there are a lot of useful feature. Therefore if you aren't familiar with Adobe Acrobat, it's not easy to learn quickly.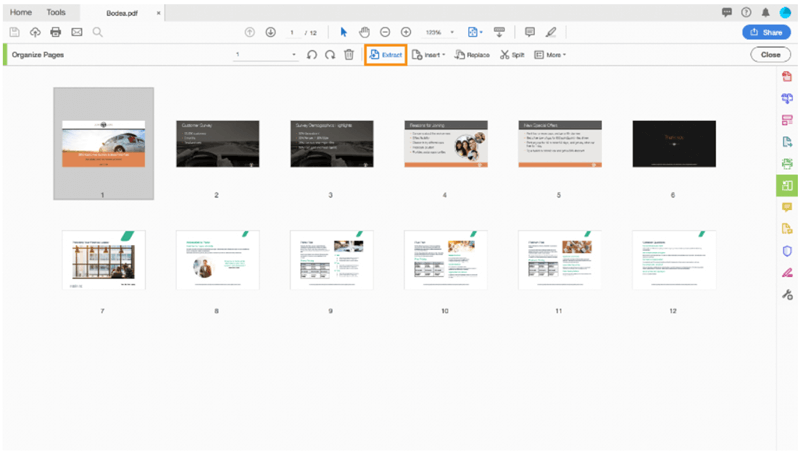 That said, if you've got a rough idea of how it works, extracting PDF pages can take a short amount of time. Purchasing Acrobat's pro version is necessary otherwise restrictions are in place.
+ POSITIVES
● Well-known and easy to use
● Extract pages from multiple PDFs at the same time
● Reduce PDF file sizes by removing unneeded pages
– NEGATIVES
● Not ideal for beginners, this is a professional program
● Adobe Acrobat's full version is expensive
Part 2. Top 3 Online PDF Page Extractor
We'll be explaining why an online PDF page extractor is less preferable to software but first, here are some online extractors to consider.
1
iLovePDF
Most noticeable among the online tools is iLovePDF which expands itself to be a toolbox more than it is a page extractor. Import files from your Dropbox cloud storage, or Google Drive, and save the final PDF back to either account after.

Other tools as well as page extraction are merging, compressing, and converting can all be done directly from iLovePDF.
+ POSITIVES
● Import PDF from cloud storage and save extracted pages back on cloud account
● Free to use, no payment is required for access to page extracting
● Extract individual pages or a page range
– NEGATIVES
● Removing PDF pages can't be done directly
● Identifying specific pages is difficult due to small thumbnails
2
Sejda
Sejda isn't getting as much attention as the online PDF page extractor iLovePDF, but it is virtually identical in terms of the features it includes.
The PDF extraction feature works by splitting the original PDF to remove unwanted pages. It's worth mentioning that any documents have to be under 200 pages and can't exceed 50 MB. Keep those limits in mind when deciding on an extractor.
+ POSITIVES
● Online PDFs can have pages extracted using the URL
● Dropbox and Google PDFs can be managed from Sejda
● Selecting pages is easy because of bigger page thumbnails
– NEGATIVES
● Files can't be more than 50 MB or 200 pages
● 3 PDFS can be processed each hour
3
Smallpdf
Another tool which is reputable and relatively popular is Smallpdf. It's simple, gets straight to the point and extracts the chosen pages, and even has a few extra features.

After the PDF has been uploaded, Smallpdf gives two options: extract or merge. Both of them are easy to understand and use, not to mention there are numerous settings to change in the process.
+ POSITIVES
● Simple and easily navigable interface
● Extract pages from multiple PDFs at the same time
● Sync Dropbox storage with Smallpdf
● Other tools like converting, PDF editing, and compressions are available
– NEGATIVES
● Has a cap on the PDF file size
● Extract pages from 2 PDFs each hour
● Users need a subscription for all Small PDF fools
Important Things to Know About Online Tools
To quickly cover some important aspects of using online tools, here's what you need to know:
Online tools don't have powerful server power, thus the PDF quality isn't as great as software solutions produce

There is always the risk that the page extraction website is unsafe (it may be hacked, PDFs could be infected with viruses, and your connection could be unencrypted)

Online tools have file size limits which are usually small, meaning a lot of PDFs are too large to be uploaded and extracted
Conclusion
The next time you're in need of an offline or online PDF page extractor, direct your attention towards our list. Each of the solutions we've given you are among the best tools for this specific job. After much thought being put into our decision, PDF WIZ is irrefutably the greatest extraction tool for PDF documents and thus we recommend that software.