Online tools frequently get flack for the risks that come with using them. Smallpdf is one of those tools and even with these risks, it continues to be the best online tool out there. But there are a lot of considerations to keep in mind during this Smallpdf review, so let's dive into them.
Part 1. Smallpdf Review: Safety, Features, Performance & Pricing
In short, Smallpdf is a collection of PDF tools. Users can compress PDF files, convert them to various formats, convert other documents to PDF, and plenty more.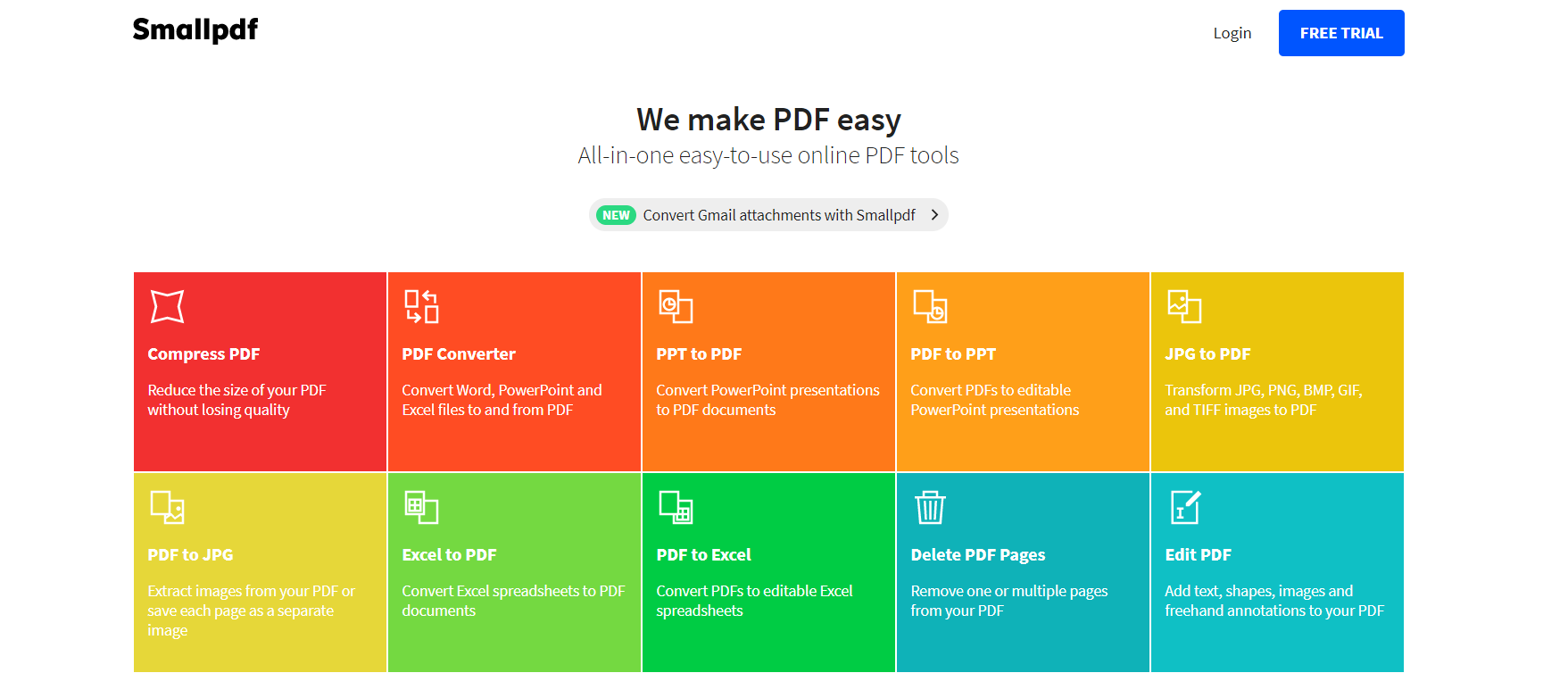 It is online and free to use, but there are perks that come with paying for a Pro subscription. The limits of not paying aren't too restrictive, fortunately, but nonetheless are still there.
1.1 Is it Safe to Use?
We repeatedly remind users of the dangers of uploading files to online tools, so the assumption of is Smallpdf safe would be no. In fact, even one of the cofounders has raised concerns regarding the safety of Smallpdf.
Smallpdf claims that none of the files you upload will be stored on their servers, nor will they examine the files. This is great, of course, considering that nobody wants their files to be read by other people. Even though they have ironclad privacy measures in place, they still recommend against converting files that contain sensitive information.
This is because even if Smallpdf has the best security set up, there are other risks that they can't control. Factors such as your own network security and internet connection. if either of those is hacked then there's nothing Smallpdf can do.
What would be the solution to this? Firstly, you can develop a more secure network. Secondly, you should consider a software solution instead. Software doesn't use an internet connection so there's no risk of files being intercepted when you upload and download them.
1.2 Features of Smallpdf
In this next section of our Smallpdf review, we are going to discuss some features. When it comes to managing a PDF file, here are the things that you can do with Smallpdf:
● Convert PDF to Word, Excel, Text, PowerPoint, and vice versa
● Compress PDF files to reduce the file size
● Delete pages from a PDF
● Edit an existing PDF file flawlessly
● Merge multiple PDFs or split a PDF into multiple files
● Rotate pages in a PDF file
● Add eSignature boxes to pages
● Remove, add, and manage any PDF protection
Additionally, there's a Smallpdf extension for Google Chrome that makes it easier to access the tools. The extension has a few other features including the ability to convert Gmail attachments. You might notice that Smallpdf has a Pro subscription option and we'll get into that later, but a 14-day free trial is readily available.
1.3 Performance (from User Feedback)
Although we've used Smallpdf ourselves to get a better idea of the features and how it works, we thought it would be more accurate if we brought some users' opinions into consideration. After all, long-term users have much more experience using Smallpdf and therefore know all the pros and cons of it. What better way to make a precise Smallpdf review?
So, based on user feedback, here are the pros and cons of how Smallpdf performs.
+ Positives
● User-friendly design with minimal ads (no ads for Pro users)
● Has a variety of useful PDF tools
● Cheaper than a lot of competitors
● Effective for heavily compressing files
● Doesn't reduce document quality
– Negatives
● Can't be used as an offline tool without the top Pro subscription
● To use Smallpdf for a long time, a subscription is needed
● File names are changed after using the site
1.4 Price of Smallpdf
Smallpdf can be used for free but as we've already said, users are limited unless they pay a monthly subscription. Priced at $6/month you'll get:
1. File upload limit is increased to 5GB
2. Process multiple PDFs at the same time
3. Ads are removed from the site
4. Access to all the PDF tools without limits
5. PDFs can be signed with the online eSignature
6. Files are transferred through 256-bit SSL
This is charged on an annual basis, so you'll have to pay $72 upfront. To get access to the Smallpdf Desktop app, you can pay a slightly higher fee.
Part 2. Best Alternative to Smallpdf – PDF WIZ
Why Should You Use Software?
An online tool like Smallpdf clearly has a lot of pros, cons, and features that are important to remember, but the online aspect is a deal-breaker. StarzSoft PDF WIZ is a great alternative to Smallpdf which is free, offline, and doesn't have any ads or limitations.
Why should you use PDF WIZ? Most important is the fact that there are no file size limits, privacy and security are guaranteed, and the quality of documents remains unaffected.
| | | |
| --- | --- | --- |
| | PDF WIZ | Smallpdf |
| Price | Free | Free |
| Size Limit | / | <200 MB |
| No Registration Required | | |
| Speed | Fast | Slow |
| No Feature Limit | | |
| Privacy Safety | | |
To persuade you even more, below is an example of how to use one of PDF WIZ's features – the PDF compressor.
Step 1. Launch PDF WIZ and select "Compress PDF".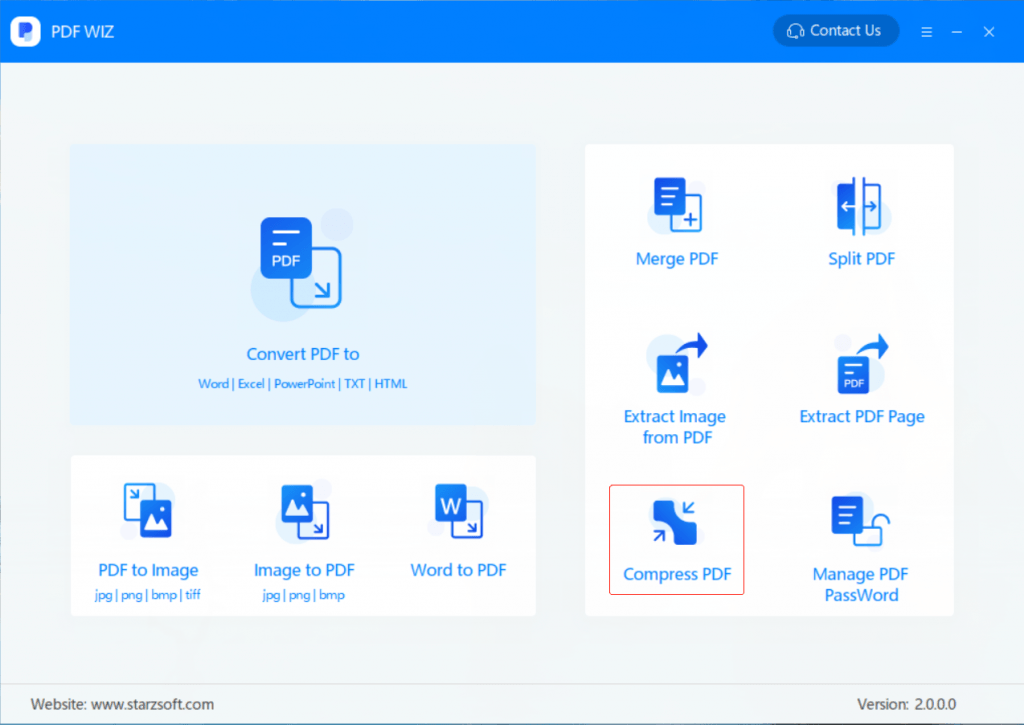 Step 2. Drag and drop the PDF you want to compress onto the interface or click "Add File".
Below the main box, decide which compression settings to use based on how compressed you want the PDF.
For the best compression results, choose "Deep Optimization" and "Size First".
Click on the "Saved in" dropdown menu and select "Customized Directory" to choose the save location of the converted file.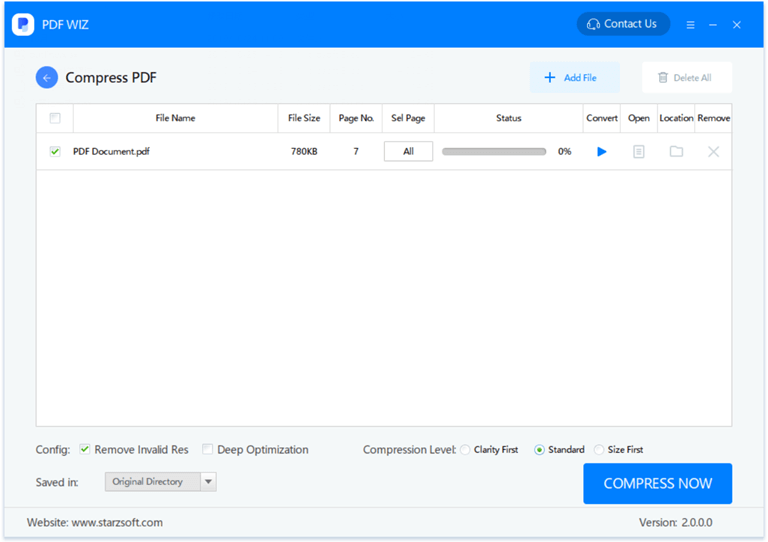 Step 3. When you have the settings you want, click "Compress Now" and PDF WIZ will take care of the rest.
If you have a folder of PDFs that are taking up valuable storage space, PDF WIZ can compress them all at the same time. Unlike asking "is Smallpdf safe?", there's no question about whether or not PDF WIZ is safe because it works entirely offline.
Conclusion
In this Smallpdf review, we dove into some specifications of the online tool and explained the advantages, disadvantages, and took into consideration what the userbase thinks. At the end of the day, Smallpdf's biggest problem is that it's an online tool. Because of that, switching to PDF WIZ and using this offline tool is highly preferable.