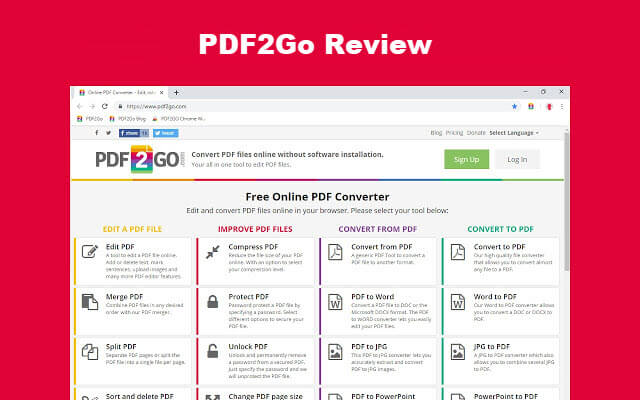 PDF toolkits are essential for many workers who handle documents on a daily basis. With a toolkit, you can do tasks such as editing a PDF, extracting pages from a PDF to create a new document, and even convert a PDF to a completely different format.
Better yet, there's no shortage of PDF tools out there and one which catches many users' attention is PDF2Go. For users who want nothing but the best, go ahead and read our review. We've taken the liberty to highlight the main features PDF2Go offers, its weaknesses, and what alternatives are out there.
Part 1. PDF2Go Full Review
Don't know what kind of tool PDF2Go is? This is an online toolkit which acts as a PDF editor, convertor, and many other things. It includes a diverse collection of PDF tools that make it appear to be incredibly helpful for lots of document tasks. Here is a quick rundown of the features which stood out the most to us:
Edit a PDF document without the original file (add images, edit text, etc)
Convert PDFs to Word, JPG, and many other file formats
Repair damaged or corrupt PDF files that won't open
Rotate scanned PDF pages that have been uploaded to the computer the wrong way
Files can be imported to PDF2Go from Google Drive and Dropbox
All PDF tools are available for free (although there are some limits, such as file sizes)
All of its main PDF tools can be accessed online
There's no way around the fact that PDF2Go has a lot of use to the typical office worker, and these features only show a fraction of how useful it is.
1
Performance
How well a PDF toolkit performs is an important part of our reviews, and PDF2Go is no different. After checking out this online toolkit for ourselves, we found a few interesting points regarding the performance of PDF2Go.
● There are no installations needed, it is purely an online toolkit
● Files are processed efficiently and high-quality documents are produced
● As far as safety is concerned, all of our files were managed securely
● Since this toolkit is online, it can be accessed from anywhere without the need to download
● Files are converted at a high speed, unlike other slow online tools
● Formats such as DOC and DOCX are interchangeable (both can be converted), and this applies to similar formats like PowerPoint and Excel
2
Pricing and Plans
For the most part, PDF2Go is a free online PDF toolkit, but users do have the option to upgrade to have a Premium account. Below is a breakdown of the different account plans.
● Unregistered Account (free). Access to all tools, but users will have big limits on how large the file size they upload is and the number of files that can be converted simultaneously.
● Registered Account (free). Access to all tools and requires users to sign up with their email address and create an account. There are still limits on the file size and how many files can be converted, although the limits aren't as big as an unregistered account.
● Premium Account (€5.50/month). Limitless access to all available PDF2Go tools and the file size limit is raised to 8GB, and there are high file limits which vary for each tool. Website ads are also hidden when the user is accessing PDF2Go tools.
Most users will have their PDF needs satisfied by simply registering their accounts. That said, if you need to manage larger PDF files and want to get rid of the ads, the €5.50/month subscription isn't an expensive cost.
3
Cons
The last part of our PDF2Go review is going to focus on the weaknesses of the toolkit.
Online toolkits aren't as safe as installable applications
PDF2Go has file limits for users who aren't paid subscribers
Free users will experience website ads
Online toolkits provide lower quality PDFs due to having fewer server resources
An internet connection is required to use PDF2Go
Privacy is not guaranteed (on an insecure connection, your files could be leaked)
Because of broadbands limits, large documents can't be processed by PDF2Go
Part 2. Alternatives to PDF2Go
Perhaps PDF2Go wasn't what you expected it to be and if that's the case, don't hesitate to look into one of the alternatives we've researched for you below.
1
PDF WIZ
PDF WIZ is an amazing piece of software and the thing which makes it stands out from the crowd of other PDF toolkits is the lack of a paywall. All users can access every feature that PDF WIZ offers without the need to purchase a license – every other toolkit requires a license! That's not all it has to offer: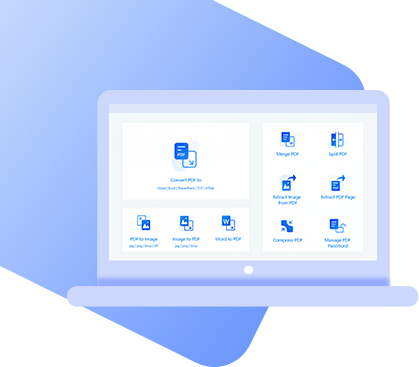 PDF conversions including PDF to Word/PowerPoint/Excel/Image
Convert images into a PDF document
Split up a PDF into more than one file, or merge multiple files into one PDF
Extract individual pages or images from a PDF document
Add PDF password protection or remove the PDF encryption
Minimize the size of a PDF document with the PDF compressor
Since PDF WIZ offers 3-day free trial, the best way to understand if it will fulfil your needs is to download it and try it out for yourself.
2
iLovePDF
If PDF WIZ doesn't do it for you, iLovePDF could also benefit you. This one comes as an online toolkit as well as a desktop application. Although it is free, there are restrictions placed on users until they sign up for either a Premium or a Premium Pro account.
Convert multiple formats to and from PDF
Add page numbers to each page in a PDF document
Repair corrupt or damaged PDF files that are unopenable
Reorganise the PDF pages to the correct order
Desktop application can be downloaded and used offline
Subscriptions begin at £6/month and provide several benefits
The kind of benefits you can expect from a Premium account include ads being removed, increased file sizes for conversions, and access to the desktop application. Unlike PDF WIZ, full access will require a paid subscription.
For more details about iLovePDF, you may like: iLovePDF Review
Conclusion
That sums up our PDF2Go review and hopefully this has helped you decide which PDF toolkit is the one for you. Some of the tools provided by PDF2Go are great, but the limits of having a free account can't be dismissed too soon. That's why we feel that other options, like PDF WIZ and iLovePDF, are worth consideration over PDF2Go.
In particular, PDF WIZ offers a similar range of features without the need to pay for unlimited access. Go ahead and download it, we're confident you'll agree with us!