The iCloud Activation Lock used on the iPhone is Apple's authentication mechanism. The iPad was created to deter stolen devices from being used by someone other than the original user.
This article covers maximum possibilities to overcome the iCloud locks. You will get the complete guide and tools that you can use in case your iPhone iCloud locked.
All the tools we use have some drawbacks as well. So when you choose the one, try to use the one with more facilities and fewer consequences. Although there are also some free tools, they are not reliable.
If you are ready to unlock your iPhone, let us start this journey with some amazing tools and tips.
Part 1. FAQs about Unlocking iCloud Locked iPhone
1
What is meant by an iPhone is iCloud locked?
That means the owner has turned on "Find my iPhone" by signing into Apple ID from iCloud account settings/ name or setting/iCloud on iPhone. As a result, your iPhone will be iCloud locked.
This means if the person who gets the iPhone reverts the phone to its factory settings, then a prompt will say, "This phone is locked to an Apple ID or iCloud account." It will ask you to enter the Apple ID and password if you want to unlock this iPhone.
2
What else to do with an iPhone locked by iCloud?
An iCloud locked iPhone is as helpful as a pillar unless you know the previous owner's email and password (their Apple ID). If you have unintentionally fallen into contact with a locked iCloud phone, you will most likely accidentally purchase a locked phone from a scammer. You should not decide to re-sell the device to anyone else unless promoting it is as "iCloud locked."
You can try to reach the buyer and let him know that the phone is locked. However, if you become a victim of assault, you could report the police about the vendor. If you have an iCloud locked phone and are unable to return it to its owner and do not want to recycle it, here is a list of stuff you can do for an iPhone locked by iCloud:
Use It For Spare Parts
Use It As A Demo Phone
Use It As A Prop
Use It As A Paper Weight
3
Can you jailbreak an iCloud locked iPhone?
Yes, you can jailbreak your iCloud locked iPhone by using different tools. These tools will access your iOS files and bypass the iCloud lock from them.
But they won't let you enjoy the full functions of your device.
Part 2. How to Unlock/Bypass iCloud Locked iPhone?
You can unlock the iCloud lock iPhone. However, be very careful about who you choose. It is a sad reality that numerous suppliers act to help you to remove the lock. Unfortunately, they are mostly scammers. However, do not lose hope. Eventually, after testing hundreds of approaches, we found realistic vendors that will work for you. Yes, they will manage to unlock iCloud locked iPhone.
1
Ask the Previous Owner for Help
By removing the phone from your iCloud account using some other computer connected to the internet, you can delete the "find my iPhone" functionality on your phone.
This is how you should proceed:
Step 1. Go to iCloud.com and use your Apple ID and password to log into your iCloud account.
Step 2.Click on "Find iPhone."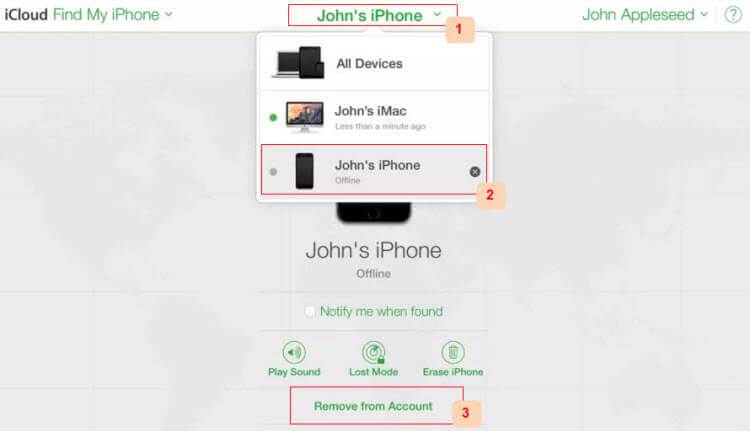 Step 3.Click on all devices, then select your iPhone from the list.
Step 4.Select "Remove from Account" and type in your password and Apple ID.
2
Using iCloud DNS Bypass
Do you guys have any knowledge of an iPhone unlocking the DNS method? To answer the above inquiry equally, we will explore what DNS bypass is and what it functions on various iPhone and iPad models of iOS.
Are you aware that the system will submit an authentication request to the Apple server so that you can set up your iPhone after restoring or resetting it? When Apple evaluates the request and determines that the system is "Find My" activated, the iCloud account information will be demanded by the iCloud activation lock.
If you can't remember your iCloud username or password, the iCloud DNS bypass comes in handy. Though you have no idea about the former user, it is still effective at unlocking a secondhand iPhone.
The abbreviation "DNS" means Domain Name System and is a service that transforms readable names into numeric IP addresses. DNS diverts the authentication route of your iPhone from "Apple servers" to "iCloud DNS authentication bypass servers" in simple words. You will now customize your computer and use it at ease until your computer is authenticated.
Systematic Guide to Bypass iCloud Activation by Using DNS
The steps in DNS Bypass iCloud Activation are:
Step 1: Switch on your device. From the menu, select your LANGUAGE and COUNTRY.
Step 2: To access the Wi-Fi settings tab, click on 'Proceed.' Look for the "I" symbol that is closed on the Wi-Fi tab when requested to connect to Wi-Fi.
Step 3: Now, unplug your Wi-Fi network, go to Connection Settings, and then press Forget network.
Step 4: Now press the 'I' symbol and enter the IP address of the DNS server to disable the iCloud activation lock.
You can pick an IP address according to your position from the list below:
USA: 104.154.51.7
South America: 35.199.88.219
Europe: 104.155.28.90
Asia: 104.155.220.58
Australia and Oceania: 35.189.47.23
Other continents: 78.100.17.60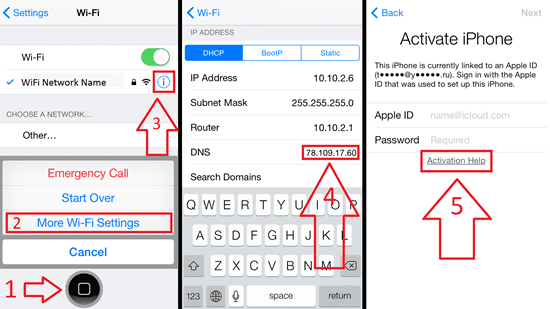 Step 5: Now, on the left-hand side of your computer, press the Back option, switch on Wi-Fi, pick the correct network from the list, and type your passwords.
Step 6: Click on "Next Tab" and then click "Back" to access the iCloud bypass panel.
Step 7: Now, you can set up your apps and use your phone as you want.
Pros of iCloud DNS Bypass
Easy to proceed
You can set your DNS from manual settings.
Cons of iCloud DNS Bypass
Not a guaranteed service
It does not work for all versions of iOS
You can't use all the features if it works for you.
3
Tenorshare 4Mekey
A tool helps you with this annoying problem, as it will delete the activation lock even without knowing the previous owner's Apple ID password. The tool simply removes the lock for iCloud activation. The system is built to be as easy as it comes; the first thing you have to do is connect your iPhone to the computer using the USB cable. It is advisable to search whether the Apple drivers are still upgraded to their new version to prevent any complications.  
It is necessary to remember that the tool does not jailbreak the system but deletes the activation lock for iCloud instead. After you have completed this phase, you can quickly enter a new Apple ID, start configuring your computer and log into the Apple Store to download the apps you regularly use.
Make sure that your OS version is compatible with the tool, as it does not work with IOS 12.4.5 / 12.4.6 / 12.4.7. Devices starting with iPhone 5S to iPhone X as well as iPad and iPods from iOS 12.3 to 13.5.1 are more likely to work. Tenorshare 4MeKey deserves a try if you want to get iCloud credentials.
4
Using an iCloud Unlock Service
You can also use an iCloud unlock service to unlock your iCloud locked iPhone/iPad without password. Devices unlocked by it are permanent. Your system has no chance of being locked again. To enjoy all of the functionality on your Apple computer, you can set up your device with a different iCloud account or build a new one.
How does an iCloud unlock service work?
iCloud unlocking service is based on IMEI (a special number to identify your mobile device), unlike the iCloud removal apps. They will activate your iPhone without Apple ID or password within 24 hours! By whitelisting the IMEI from the Apple Activation Database, it deletes the iCloud account from a locked computer.
Bonus: Where to sell an iCloud locked iPhone?
1
SellCell
In the USA, SellCell.com is the No. 1 comparison site for the online sale of used cell phones. Since 2008, they have helped more than 2 million people sell their phones in safe hands. The platform does not generally pull up the top purchasers for your phone. Since SellCell is not the real customer, it is not responsible for the sale; it just provides a comparison platform. Based on the terms of the website, you may click on the highest bid listed at SellCell. But it is not an offer calculation. Moreover, that bid does not come from SellCell.
Before sending in your phone, you can individually try out every buyer you choose. All of these third-party platforms have engaged in spam-and-switch schemes where, after the mobile phone is in their hands, they withdraw remarkably high deals.
2
Bankmycell
You need a bidder for your old handset if it's time for an iPhone update. However, most users will not be able to do it if the iPhone has an iCloud lock. That makes it a struggle to find a customer, let alone get a decent deal. You will find the perfect bidder at BankMyCell to sell your iCloud locked iPhone. We also have affiliates that purchase phones that are iOS or Provider-locked. Let us take a detailed look at how you can trade your locked iPhone.
How to sell an iPhone Locked by Cloud?
You can sell an iPhone that is locked. Furthermore, the lock style on your iPhone is important. For instance, if the phone has a provider lock on it, just on one network will the customer be able to access it. It is also possible to jail the handset, which means that it can only access the software via an iOS operating system.
Trying to sell your locked phone is legal, and you will find a buyer for a phone with a lock using our price comparison site. So if you figure out a way to remove the lock, you would have even less than you will if you found a way to remove the lock.
Conclusion
It is not likely to face problems like forgetting your phone ID and password. However, it happens sometimes when your iPhone iCloud locked. Don't worry if you face such problems. Take a deep breath and start working on the guide mentioned above. You can definitely resolve this issue by using these tools and techniques. We tried out some of the best techniques to help you unlock iCloud locked iPhone. We hope this worked for you. Stay blessed!