The iOS 15 has amazing features for drivers, making their experience smooth and their ride safe, features like Announce Messages with Siri, Driving Focus (an amazing upgrade of the 'Do Not Disturb' feature), Maps, personalized experience and lots more. However, there are plenty of complaints said that the iOS 15 Carplay not working with Spotify, Apple Music or Amazon Music.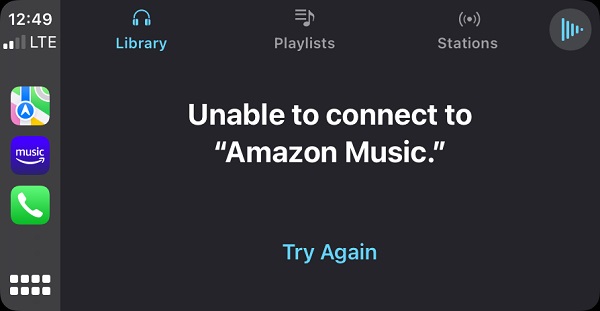 You sure do not want to be in this position, especially with the new updates and features of the iOS 15 Carplay. Let's find out how you can fix it.
The Most Frequent Carplay Not Woking Issues After iOS 15 Update
As with every problem, the root cause has to be known so the right solution can be applied, and the problem fixed once and for all. Let's take a look at some of the issues Carplay can develop after updating to iOS 15.
1. Unable to Connect to Amazon Music.
2. There is a problem connecting to Apple Music after iOS 15 update with Carplay.
3. Unable to connect to "Deezer" with iOS 15 Carplay.
4. Carplay after iOS 15 Update Cannot Load SiriusXM Or Amazon Music.
5. iOS 15 Carplay not playing either Spotify or Apple Music.
There are various reasons why iOS 15 Carplay may not be working, like location settings, car type and restrictions. Now that we have seen the most frequent Carplay issue after iOS 15 are connections and music playing problems, how do we fix them?
How to Fix iOS 15 Carplay Unable to Connect to Music with User Suggested Ways
So these solutions would be related to the exact cause of your Carplay not working issue, follow the suggestions given until you find one that works just fine for your device or car. Let's get to the methods:
1. Turn off EQ to Solve Unable to Connect to Amazon After iOS 15
If your EQ is turned on and set in music, it can cause your iOS 15 Carplay unable to connect to music, so turn off EQ and it should fix this.
To do this, go to Settings >> tap Music >> click EQ >> toggle to Off.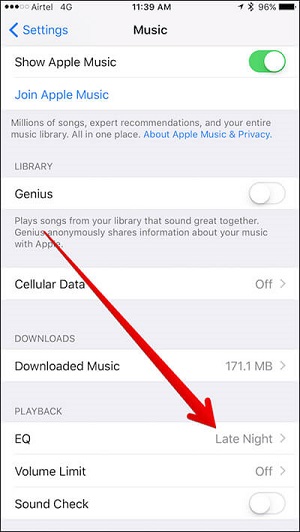 2. Reset and Update Your Car's System
If Carplay stops working, it could be due to your car's infotainment system, so you have to reset and update, an easy way is to turn off and restart the car. This method is also useful if you don't see the Carplay logo on your Car display.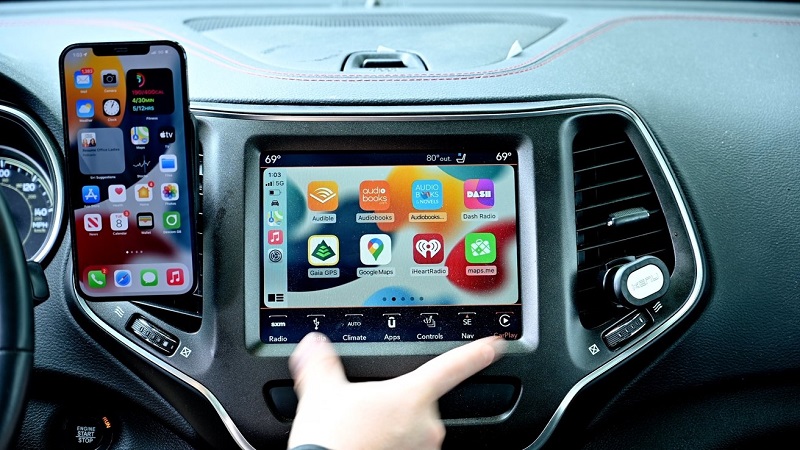 3. Update the App to Fix iOS Carplay Keeps Disconnecting
As with all devices, updates are key for them to function properly. So if your Carplay app is not working, update to the latest iOS version and update the Carplay app, this should fix the issue.
4. Hard Reset Your iPhone/iPad
This is the extreme measure if the other suggestions don't work, according to your phone model, this is what you should do:
iPhone X/8 (Plus)
Quickly press and release the Volume Up button, then quickly press and then release the Volume Down button. Lastly, press and hold the Power button until you see the Apple logo appears.
iPhone 7/7 Plus
To reset press and hold down the Home button and the Volume Down button simultaneously until the Apple logo pops up.
iPhone 6s and earlier models
Press and hold down the Home button and the Power button instantaneously until you see the Apple logo on your screen.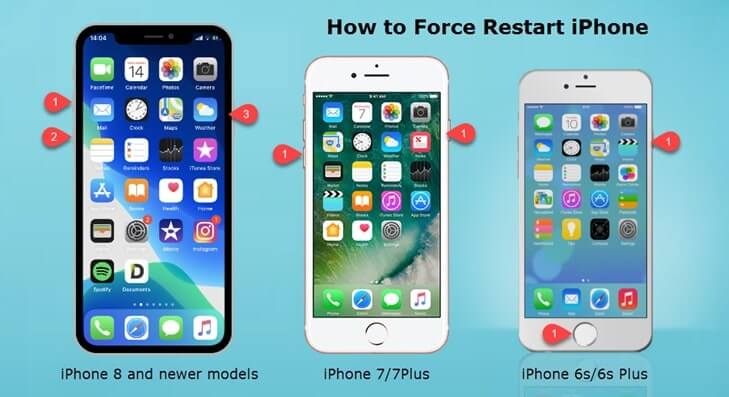 How to Fix Carplay Not Working After iOS 15 with Common Tips
1. Check Location and Car Type
As we have seen, location and car model can determine if your Carplay would work. So check with your car manufacturer to be certain that your car is compatible with Apple Carplay. Also check your vehicle's manual if there is a stereo firmware update, if there is then update the firmware. This should upgrade the compatibility of your stereo and make it work with Carplay. But check with your cat manufacturer first.
2. Change Connections and Compatible USB
When connecting to Carplay with a USB, use an original cable not better yet, try using another USB port in your car. This suggestion works if you use a wired connection.
If you are using a wireless connection, ensure your WiFi and Bluetooth are enabled. You can also check your Bluetooth settings to see if some old connections are interfering with your CarPlay, if they are then get rid of the connections.
To do this go to Settings >>Turn on WiFi to enable WiFi. To enable Bluetooth go to Settings >> Turn on Bluetooth. This should fix the connection and your iOS 15 Carplay should work.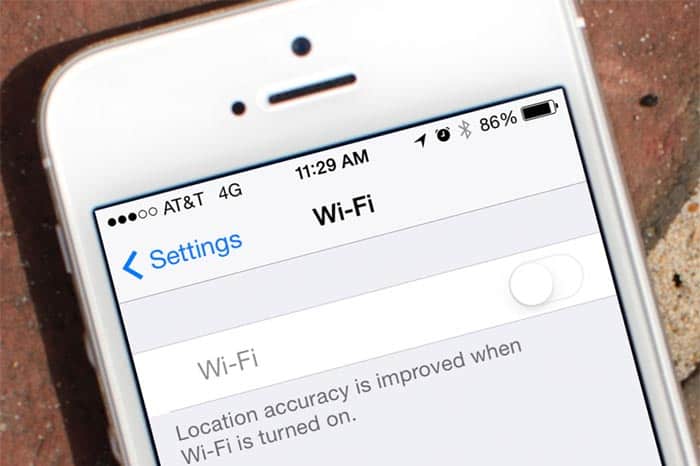 3. Check Siri to Fix Carplay Unable to Connect to Music After iOS 15
If you can't use voice command while using Carplay, then probably Siri is turned off, you have to turn it back on. Do this: Go to Settings >> tap Siri then search to turn it on.
4. Set Restrictions Correctly
If you can't detect Carplay with your iPhone, ensure it is not restricted. To fix this, go to Settings >> Screen Time >> Content & Privacy Restrictions >> tap Allowed Apps and ensure that CarPlay is enabled. This should fix the issue of iOS 15 Carplay not working.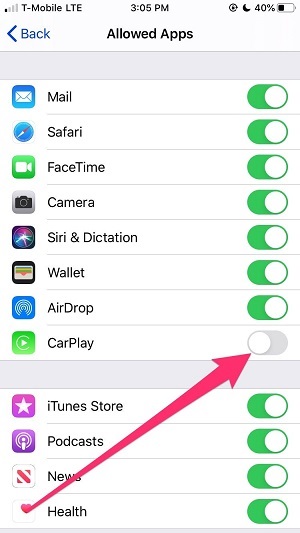 Remember, we mentioned that the reset iPhone suggestion is extreme and that you can lose your files, this would be a disaster. There is a perfect solution to this and it's also a great fix if all the above suggestions don't work, let's discuss more.
What If All the Solutions Above for iOS Carplay Disconnects Issue Not Working
You may need to find a most effective way to fix the issue. Well, when it comes to 100% professional and trustworthy fix for iOS device-related issues we recommend StarzSoft Fixcon.
Why Choose Fixcon?
Fixcon is software that supports all versions and models of Apple systems, no matter if it's an iPhone, iPad, iPod touch and Apple TV.
Secondly, Fixcon does not require extreme knowledge, you don't have to be a tech genius to use the software.
Thirdly, if you need to upgrade or downgrade your iOS version, Fixcon makes it easy with just one click and the best part is no information loss.
Fourthly, your data or information will not be lost, unlike most reset procedures where you lose your data, Fixcon ensures your personal information and stored data is safe, secured and protected.
If you encounter any issues, StarzSoft assures you of great customer service 24/7 to help out with any enquiries you might have. Now let's see how we can use Fixcon to solve the iOS 15 Carplay not connecting problem.
How to Use Fixcon to Fix the iOS 15 Carplay Not Working Issue
At this point, it's clear you want to solve the issue of your iOS 15 Carplay not working finally. Well, here are the steps it'll require:
1. Go to the official website and download StarzSoft Fixcon, there is a free trial (so if you are doubting its credibility, the free trial will convince you of why you should choose Fixcon).
2. After download, the option standard repair pops up on the homepage, select this option.
3.Use a USB cable to connect your iPhone to your computer.
3. Once this is done, the next step is to download the Fixcon firmware package. Use a USB cable to connect your iPhone to your computer.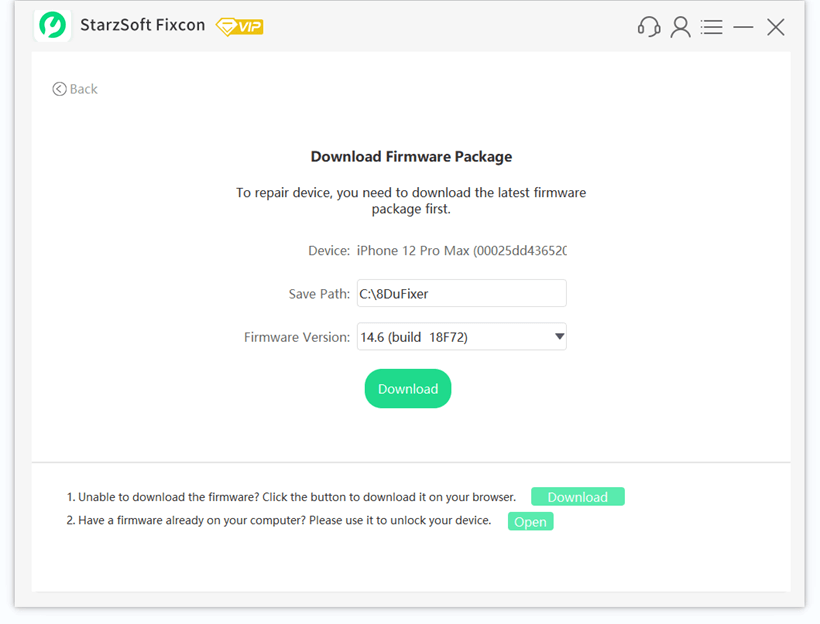 4. After that is done, the firmware is downloaded and installed, then the repair process is launched. Click on the Continue button to start repair.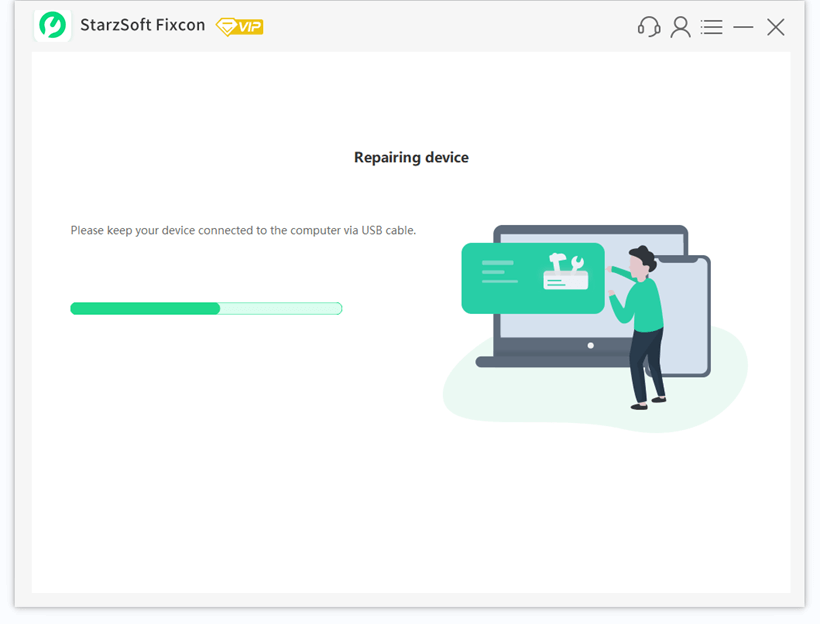 5. At this point your data is safe and intact, check to see that if your Carplay not working issue has been fixed.
Conclusion
So, do not fret when your Carplay does not work after updating to iOS 15, you can check your connection settings, the compatibility of your car with Carplay, apps and updates, these are useful suggestions that can help you fix the problem.
With StarzSoft Fixcon software, you don't need to use the trial and error method, just download and install the software and watch it perform its magic while keeping your files safe. Enjoy a seamless ride with your now working iOS 15 Carplay.