If you forget the iPod's password, you will not be allowed to get into your system and use it as normal. However, if you would like to open the iPod with the wrong password repeatedly, you will eventually have the iPod disabled. In that case, you will have to reset it to get it functional again.
If you face this problem, you need to learn how to unlock iPod touch (only without a passcode). After that, you should set up your computer and use it again. Continue reading this article, as you will have multiple solutions to resolve this issue afterward.
Part 1. When Does an iPod touch Get Locked?
When you enter the wrong passcode on your iPod, you receive a notification saying "wrong passcode." If you keep on typing the wrong passcode repeatedly, your iPod gets locked. Now you can't operate your phone even after typing the right passcode.
There is a limit of 10 attempts to enter a passcode incorrectly. After 10 attempts, the iPod gets disabled. Here is a list of notifications; you get them all in 10 attempts:
1-5 attempt: "The passcode is wrong (Give another try)"
6th attempt: "iPhone is disabled, try again in 1 minute" (Hold on for 1 minute, try again)
7th attempt: "iPhone is disabled, try again in 5 minutes" (Hold on for 5 minutes, try again)
8th attempt: "iPhone is disabled, try again in 15 minutes" (Hold on for 15 minutes, try again)
9th attempt: "iPhone is disabled, try again in 60 minutes" (Hold on for 60 minutes, try again)
10th attempt: "iPhone is disabled, connect to iTunes" (iPhone is completely disabled)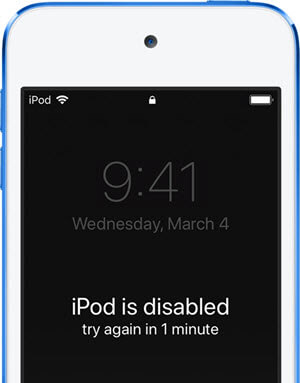 If you enter the wrong passcode almost 6 to 9 times continuously, you will be locked for a specified time. After that time, you can attempt again. Until you enter the wrong passcode for the 10th time. Now, you are completely locked out of your iPod.
Still, there is one last chance for your iPod's survival. Enter the right passcode when you connect your device to a trusted computer. It only works if your self-destruct mode is off. If you have enabled it, then all your device data will be erased immediately after the 10th attempt.
Part 2. How to Unlock iPod Touch without Computer?
It is hard to secure your data while using techniques to unlock your iPod without computer. This means that if you do not have a backup, you will lose everything. Resetting is one of the options if you are unable to recall your passcode. There are other techniques as well that you can use to unlock iPod touch without password.
1
Using iCloud to Unlock iPod Touch without Computer
The use of iCloud is also achievable as far as the iPod alternative "Find My [device]" is activated. With iTunes, you will be able to unlock an iPod touch remotely without a passcode. It is, therefore, a straightforward means of breaking into a locked iPod touch. Follow these steps to reset your iPod touch without its passcode:
Step 1: On your computer, go to iCloud.com and log in with the Apple ID that you have on the iPod touch.
Step 2: Click on 'Find iPhone' and then go to 'All devices.'
Step 3: In the list of your computers, pick your iPod and press 'Erase iPod.'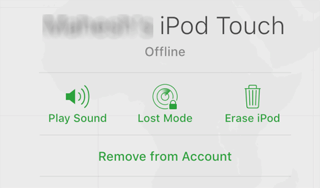 2
Using Siri Bug to Unlock iPod touch without Restoring
You can use Siri to get things finished if you want to disable the iPhone 6 passcode. iPhone exploits that occur on Apple devices running iOS 8.0 to iOS 10.1, is the use of Siri to overcome the iPhone passcode. By shutting mobile data off, reading a status update, and setting an alert, you can use Siri to override your iPhone passcode.
This is an indirect means of bypassing the missing iPhone passcode. However, if you do not want to uninstall your iPhone info, this is the only option.
If you are using iOS 8 to iOS 10.1, use Siri to bypass iPhone passcode.
Step 1: To activate Siri on your iPhone, press, and hold the "Home" button.
Step 2: Set a reminder to Siri.
Step 3: To open the "Reminders" app, tap the recently installed reminder.
Step 4: Press the "Back" button and then go to the Home page. You have now completely bypassed the lock screen.
As you already know, because of iOS bugs, this method is workable and commonly known as a means to access the iPhone. Apple has addressed the problem in later iOS versions. So on iPhones running iOS 8.0 to iOS 10.1, this works best.
Part 3. How to Unlock iPod touch without Password or iTunes?
Don't worry if you are trying to figure out how to unlock iPod touch without iTunes? We will discuss the best possible options for you.
StarzSoft Keypass is used to bypass security locks without knowing the passcode or Apple ID. You can bypass any kind of lock wither password, face ID, Touch ID. KeyPass supports almost all iOS versions. You will end up unlock iPod touch within a few minutes.
Steps to Unlock iPod touch without Password
KeyPass is a very effective way to unlock your device. As it works on very simple steps, you don't need an expert to drive the process.
Step1: Click on start to begin the unlock iPod touch process.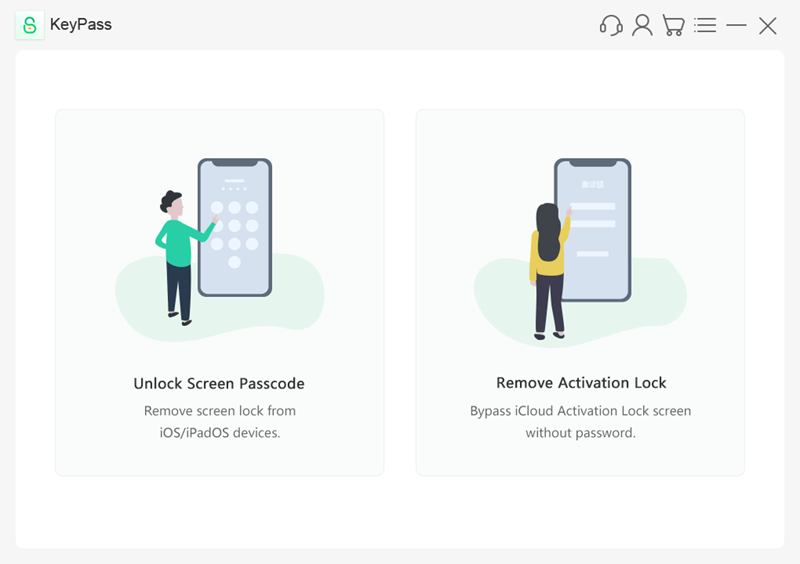 Step2: Choose your device model first. Make sure your device is connected and follow the instructions KeyPass shows to put it into DFU mode.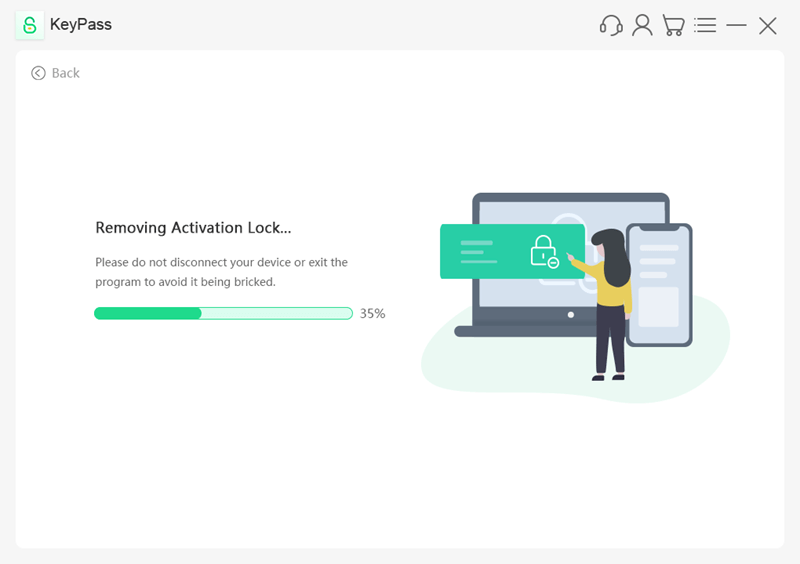 Step3: Remove lock, and your device will be unlocked completely.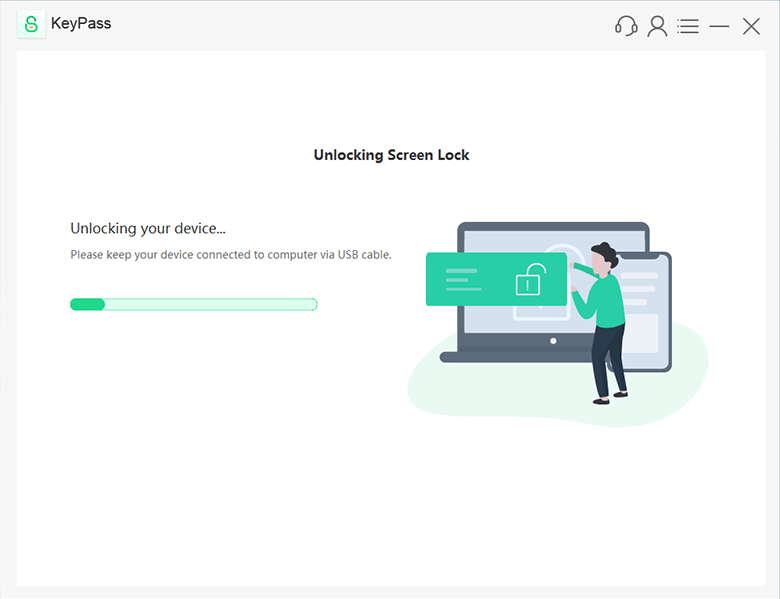 Part 4. Unlock the iPod Touch with iTunes
If your iPod is disabled, it will be shut down completely. Using iTunes or iCloud, the only way you can do it again is by restoring it. You will be able to restore the data if you have a backup, but this method will erase all that is left on the iPod. There is no other way for a disabled iPod to be unlocked.
Step 1: Connect your iPod to the computer. To unlock a completely disabled iPod, you need to erase it or reset it. You can save your data if you have a backup; otherwise, you will lose everything. If you don't have access to iTunes with your computer, move forward to further instructions.
Step 2: Click on iTunes and choose your iPod. Your iPod should be at the top of the list.
If you have never synchronized your iPod with iTunes or are asked to enter a password before this, move forward to the recovery mode discussed below.
Step 3: To create a backup for your iPod, press 'Back up Now.' This will enable you to recover your records. To build a full local backup, please ensure that This Computer' is chosen.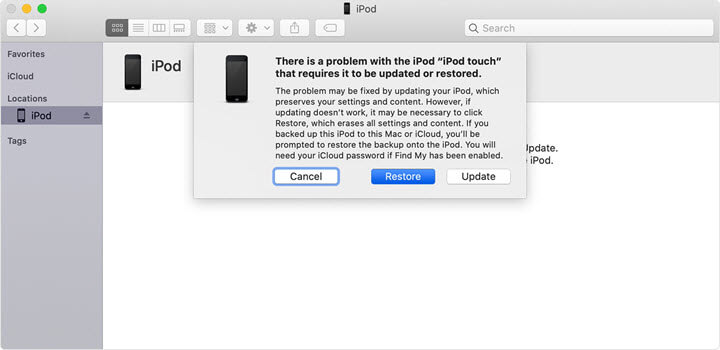 Step 4:To begin the reset process, press 'Restore iPod.' This may take a few minutes to finish. Once the reset process has been finished, the iPod's original configuration process will take you through.
Step 5: During the configuration process, pick 'Restore from iTunes backups.' This will launch the backup you have made so that all the data is preserved.
Bonus. 6 Tips to Remember Your Passcode
It can be devastating to lose a password to a device or an account in this era. Sadly, it happens to certain people. It isn't easy to keep track of a password with too much going on from day to day, especially if you handle many of them in the middle of your different accounts. Therefore, we have discussed a few ways for you to help you remember your passcode.
1
Cycle Through Your Other Passwords
It is typically a smart idea to try other personal passwords that you prefer to use daily. Although having individual passwords for multiple categories is now standard practice for online consumers, several passwords are used for multiple things.
2
Try Out the Obvious
Any quest for passwords cannot take place without focusing on the clearest, generic answers. If you have no understanding of what the passcode is and you are trying to predict from nothing, this is particularly valid. Start thinking about the passwords you might have selected or that are most intuitive and clear. Passwords such as 'Password," Cheeseburger,' or your full name are extremely easy for hackers to crack, and you'll have made yourself an easy code to breach if you thought you might have defaulted on one of those.
3
Recall Your Life at the Time You Made the Password
In certain situations, users will find cues from their lives and environments for their codes. If you have a fuzzy understanding of when an account and a passcode are established, try to look back on the days and determine how important considerations may have affected passcode selection.
Setting up some time to focus on your experience is useful if you're struggling to recall anything like a password.
4
Make Sure You are Typing Correctly
When you type in your code, make sure you write it correctly. Anything as easy as leaving the Caps Lock key on will deny you the already correct password and risk the chance of giving you the idea that the answer is simply incorrect! Since passcodes are generally displayed as asterisks on the keyboard, you must type the passcode carefully if you are uncertain about it.
5
Meditate
While it can sound like the dumbest decision to make when you're worried about missing computer access or account, meditation therapy may be an effective memory awakening. Perhaps the most appropriate method to recall something is to decide not to worry about it at all. Take a deep breath and steadily expel frustration from your body.
6
Purchase and Use a Password Cracker
Several applications are designed to recover missing passwords. Although commonly synonymous with hackers' culture, legitimate businesses recommend these systems as a method of regaining access to a computer. Download the program from another device, place it on a CD or USB drive, and plug it into your computer. Password crackers will automatically infiltrate your device and filter out your account info. This is a fast and automated method, so don't worry about it anymore.
Conclusion
Locked iPods are frustrating! If you encounter this issue, don't worry about it. Take a deep breath and start working on the techniques mentioned above. You can unlock iPod touch without password by different means. If you want to unlock without using the computer, iCloud and Siri bug techniques are good choices.
If you want to resolve your issue without iTunes, go for "how to unlock iPod touch without iTunes." This way, you can use StarzSoft Keypass to unlock your device. This is the best and recommended method because it works without asking you for previous owner details and completes the process in three simple steps. Choose the method that suits you the most, and good luck!