Although iOS 15 has been an excellent addition for iPhone users, it can create some issues in your working applications. For instance, some people have been facing problems with the Safari browser not working correctly, and many users have complained about the YouTube lag after iOS 15.
It isn't practical to think of iOS 15 as the only problem. There can be some other issues with your iPhone that can be damaging to your iPhone. Whatever the reasons are, we're going to explore them, and we'll also brief you about how to fix the problems.
Part 1: Why YouTube is So Low After iOS 15
Many factors can cause your YouTube to run slowly on your iOS device. There are maybe some significant reasons, and some of the reasons are pretty minor. You need to know about these reasons before making any try to resolve the issue.
1. Storage Issues
One of the main factors that can cause your YouTube to run slowly is your device storage. When your device storage is fully consumed, it causes the apps to misbehave. It would help if you tried to clear some memory space to put things in order.
YouTube browser cache might be another reason behind this chaos. When you don't clear cache regularly, it affects your YouTube's speed and forces it to run slowly.
2. Unstable Internet Connection
You got to maintain a strong internet connection to keep playing the YouTube video without any delay. The majority of the people who complain about YouTube's slowness possess pretty unstable or third-class internet connections.
Before trying to solve the issue, you should check the status of the internet connection you're currently using.
3. Hardware Problem
The hardware problem is one particular aspect that most people undermine when talking about YouTube's slowness. This problem can occur due to some reasons.
For instance, when you accidentally drop your iPhone to earth or the drops of water have fallen into your device. If this scenario occurs, you need to contact the technicians before making any judgment about the status of your iPhone.
Part 2: How to Fix YouTube Lag After iOS 15
Some people are having problems with YouTube after installing iOS 15. Luckily, you can fix these problems by looking at some reliable solutions below.
Fix 1: Update YouTube App to Solve YouTube Lag iOS 15
When your YouTube lag on iOS 15 or runs too slowly, you need to check whether a new YouTube update is available or not.
YouTube generally tends to slow down when you don't update it often when the new update comes. You can check it by navigating to the App Store and searching for YouTube there.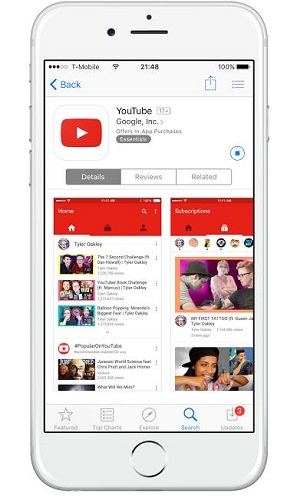 If you see an Update option at the bottom of YouTube's icon, it means you need to update your YouTube. Updating YouTube resolves many issues, but if you face similar problems even after updating it, you need to look for other solutions.
Fix 2: Uninstall and Reinstall YouTube, Keep YouTube Working Background
If nothing changes after updating YouTube, you need to uninstall the application in the first place and then install it again from App Store. Please keep YouTube working background after reinstall as many users said that a background refresh will cause the issue appears again.
Here are the steps to Uninstall and install your YouTube.
1. Long-press on your YouTube icon from home screen.
2. Once it trembling, tab the "X" button and then confirm the operation to uninstall it.

3. After uninstalling it, you need to look for installing it again. Search by writing YouTube on the Search box and press the Install icon to download it again.
After reinstalling it, you need to launch YouTube and check whether the problem is fixed or not.
Fix 3: Change the DNS Server to Fix YouTube Slow iOS 15
Changing your DNS serve can help you get rid of the YouTube issue. It refreshes your network and solves some of the network issues as well. You can follow the steps below to get your job done.
1. Click on the Wi-Fi option after opening the settings.
2. In this phase, you need to press the "i" icon option next to your Wi-Fi to alter DNS servers.
3. After clicking on DNS, you need to eliminate the existing DNS servers. You can key in new server addresses according to your choice.
3. It would help if you keyed the alternate server and primary server separately with a comma. The image listed below tells you how to separate primary and alternate servers with a comma.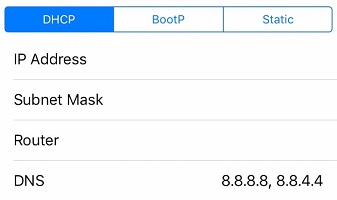 Fix 4: Clear YouTube Watching History and Cache
If you don't want to uninstall YouTube, you can clear the YouTube cache to avoid the problem. Sometimes, clearing histroy and cache makes YouTube run faster.
1. Open your YouTube and click on your profile.
2. Tab on Settings and then Clear Watch History, you can also clear search history.

3. Confirm to clear all the histories, then go back to check if YouTube lag iOS 15 issue has been solved.
Fix 5: Check the Network Connection and Reset Network Settings
If you're currently facing YouTube lag after iOS 15, you need to check your internet connection. Sometimes, an unstable internet connection causes your YouTube to slow down. In addition, you also need to reset your network settings to make things better.
You can reset your network settings by looking at the guidelines below.
1. In the first place, you need to open settings iPhone and click on General settings.
2. After selecting the General Setting option, you need to hit the Reset option and select the Reset Network Settings option.

3. It will reset all your network settings, including cellular, Wi-Fi networks, passwords, APN, and VPN.
Fix 6: Change the Video Resolution for YouTube is Slow iOS 15
Despite performing above mentioned tasks, if you're still facing the same issue, you need to change the resolution of the video you're currently playing.
Sometimes, when running high-resolution video on your iPhone, it doesn't run properly due to a slow internet connection or other issues. It is why you need to change your video resolution and assess the situation afterward.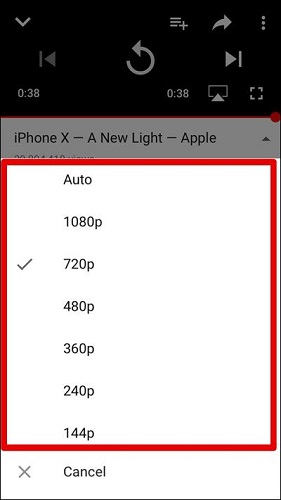 Fix 7: Download the YouTube Video to Watch It Offline
If neither of the options mentioned above helps your cause, you need to download the YouTube video instead of playing it online. Sometimes, due to technical issues in YouTube, you won't be able to play videos properly YouTube.
After downloading the preferred video, you can try playing it. If it still doesn't run properly, there might be some other issues with your iOS device. You can contact Apple Support, or you can also use a third-party tool to get rid of this fuss.
Part 3: What If The YouTube Lagging iOS 15 is Caused By System
If you haven't succeeded in getting rid of the problem, there might be some issues with your iOS device. Using StarzSoft Fixcon, you can fix various YouTube issues on your iPhone.
It is an incredible third-party tool that can restore your device to solve iOS problems in three steps. To fix the YouTube issue, repair iPhone with Standard Repair will be befitting. Let's try to find how to restore the device in Starzsoft Fixcon.
1. After launching Starzsoft Fixcon and hitting Standard Repair, you need to connect the iPhone device to the computer.
2. Now, you need to download the available Firmware package by pressing the Download icon.

3. Next, you need to hit the Continue button to start the repairing proceedings.
Final Words
It is common to face issues related to YouTube on your iPhone. You can take the notes from this article to get rid of the problem.
However, if these solutions are not helpful, you can look at third-party tools like StarzSoft Fixcon. It offers the facility to solve all of your iPhone issues in a flash. You only need to repair your device using this software to resolve the problems you face.