Have you ever wondered about how you can screen mirror your Huawei phone to a TV/PC device? If so, there are several different options you could consider, and each offers something a little different. Luckily, we've outlined some of the best screen mirroring tools that you could use to screen mirror your Huawei phone to a TV/PC device as follows. Hopefully, this may help you find the most effective solutions for your needs, too.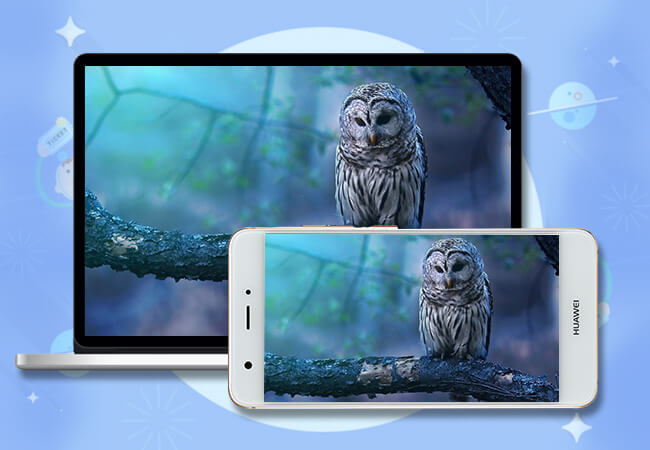 But remember: there's no single option for how to screen mirror your Huawei phone to a TV/PC device that's best suited for every requirement. With this thought in mind, we hope the information presented below will allow you to make a reliable and informed decision for your screen mirroring needs.
Screen Mirroring Huawei Phone to TV
If you've been looking for ways to screen mirror your Huawei phone to a TV device, don't worry – you could consider several different options. Fortunately, we have outlined a few of the simplest as follows to help inform your decision
– because, after all, everyone deserves the chance to use their phone to the best of its ability. However, sometimes, there's very little you can do if the issue is in relation to screen size. However, one alternative here that's incredibly valuable is simply to screen mirror your phone onto a television.
The exact method you use to screen mirror your Huawei phone to a TV device will depend on the type of TV you own. But fortunately, one of the following methods at least should work to allow you to screen mirror your device easily and efficiently onto a TV. But, if not, don't worry; we've also covered a little later how you can screen mirror your Huawei phone to a PC just in case you decide that mirroring to a TV might not be right for you.
1. MirrorShare Wireless Projection
Did you know that Huawei devices come inbuilt with a MirrorShare option that allows you to easily screen share to any TV device you might own?
1. We recommend highly connecting to the same WiFi network and ensuring that your Huawei mobile device is fully charged before starting this process.
2. Simply swipe down from the top of your Huawei device's screen and enable Screen Share.
This action should bring up a list of MirrorShare compatible devices, allowing you to select your TV (if screen mirroring is enabled).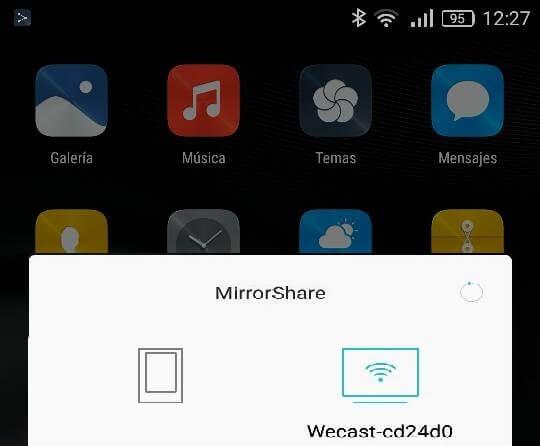 2. LetsView App
If you've been planning to screen mirror your Huawei phone to a TV device, then one option you could consider is the LetsView app.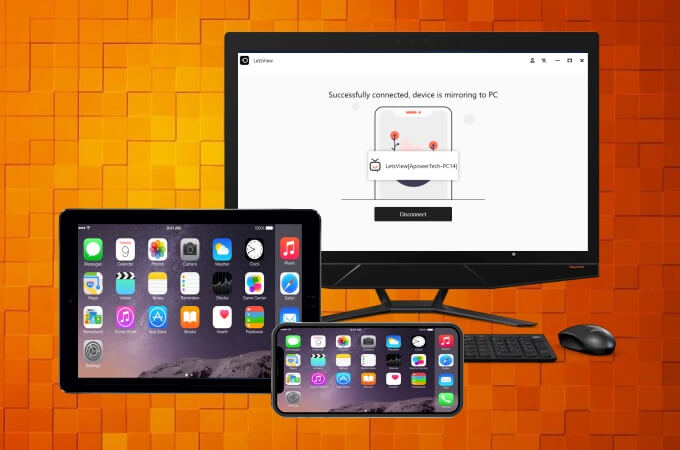 LetsView offers numerous benefits and is a highly simple way for individuals looking to share content between a Huawei phone and their TV or Smart TV to begin the process. What's more, LetsView allows you to screen mirror your favorite content for free to your TV, which could make it a valuable option to consider.
To use the LetsView app to screen mirror content from your Huawei phone onto a PC device,
1. First, download the app onto your respective devices, and then follow the on-screen instructions presented to connect your devices together.
2. Then, you'll need to download LetsView onto both of your devices and be running on the same WiFi network for this to work effectively.
3. At last, click the "Scan" icon on your Huawei phone and scan the QR code displayed on the TV, then you have successfully mirrored your Huawei phone to the TV.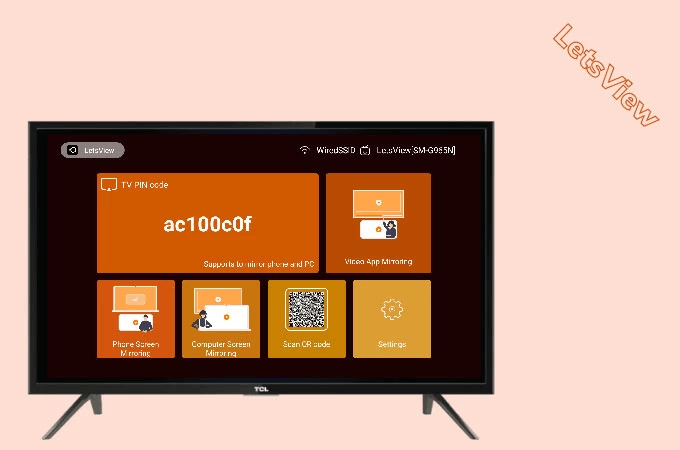 However, before you download the LetsView app, we absolutely have to give a word of warning: before downloading any apps or software online, you should always check that your device is running paid-up and up-to-date Anti Virus software which will allow you to check whether your chosen download is safe.
While this may not always be the case, using Anti Virus might help alert you to any dangers within download files, thereby keeping you safe and secure for as long as possible.
3. Chromecast
As a third option, we highly recommend using the Chromecast device to screen mirror your Huawei phone.
Indeed, while the Chromecast is admittedly more expensive than the other options on this list, it's also one of the most effective screen mirroring methods. Plus, it can even be used to screen mirror your Huawei phone to a TV device while on the go (such as when staying in a hotel, provided the hotel's TV has a WiFi connection).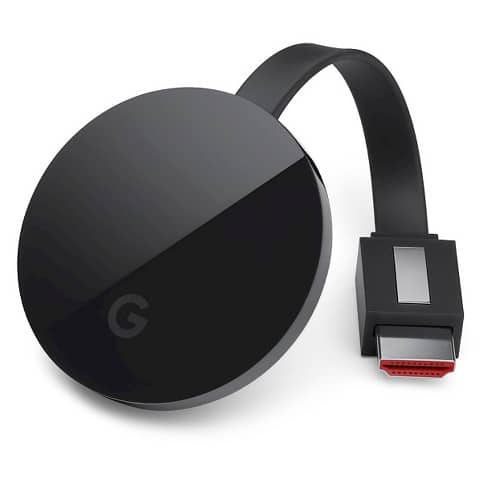 Using the Chromecast is also effortlessly easy, making it a worthwhile option (even if you're not tech-savvy). To begin with,
1. Purchasing your Chromecast from a tech store
2. Plug the Chromecast into a power source (ideally the main wall power outlet) and then connect the Chromecast to the TV device using the HDMI port.
3. From there, you will be able to directly connect the Chromecast to your Huawei phone device using the Google Home app, and from there, you can begin streaming your favorite content on your Huawei phone directly to your TV device.
One notable benefit of using a Chromecast is that it can work for almost any TV – even if your TV isn't actually a Smart TV.
Screen Mirroring Huawei Phone to PC (How-to Video Included)
For how to screen mirror Android phones (including Huawei, Samsung phones, Xiaomi, OPPO, and Vivo) to PC, there are 2 excellent ways to be considered as following.
Indeed, it's actually surprisingly easy to learn how to screen mirror your Huawei phone to a PC device using one of the two following options.
#1 StarzMirror
If you would like to try to screen mirror your Huawei phone to a PC, the first method we would recommend is trying out StarzMirror.
Designed to make screen mirroring straightforward and seamless, StarzMirror is one of the most powerful screen mirroring tools available online. It allows you to stream up to six mobile devices simultaneously via wireless WiFi connections or through a USB connection.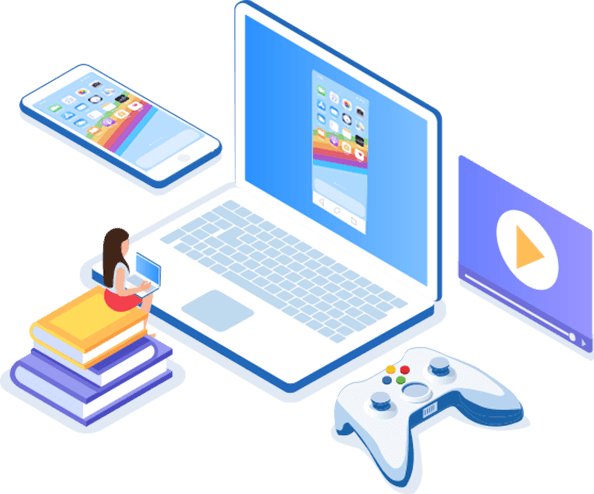 The software effortlessly controls your phone using a large laptop screen
Records or screenshots your phone's activities at any time
Supports iOS devices (above iOS 7) and most Android devices
Ability to Livestream a phone's audio and screen to Zoom, YouTube, among other platforms
Getting started with StarzMirror is very simple.
Step1: Download the app (keeping your Anti Virus running, of course!) from the main developer's website.
Step2: Then, launch the app on your devices and select the appropriate screen mirroring option. From here, you will then be able to follow the simple on-screen instructions to establish the connection between your devices;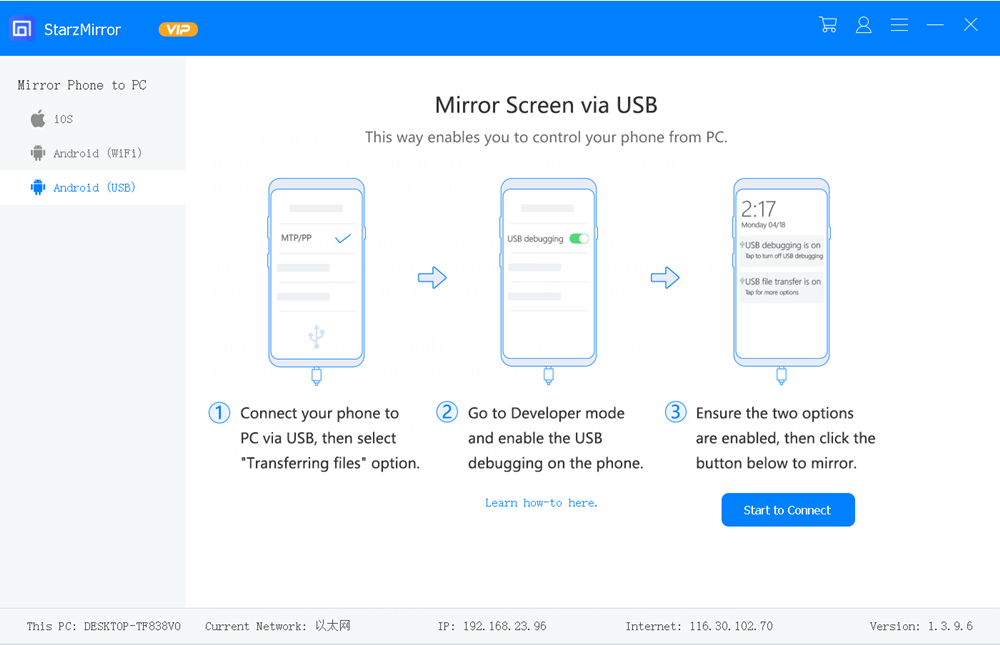 1. Connect your phone to PC with a USB, then select use USB for "File Transfer";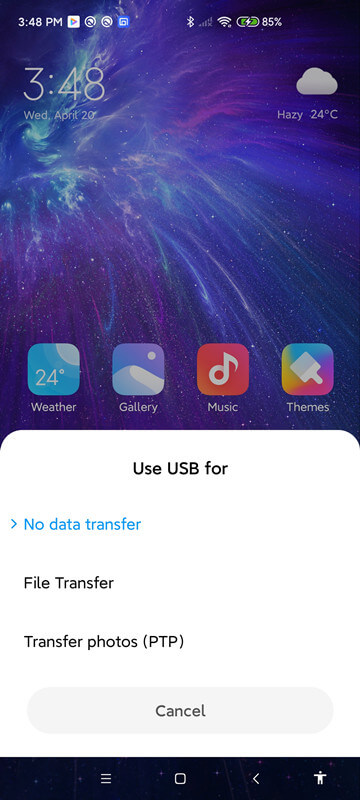 2. Enable the developer mode and turn on the USB debugging.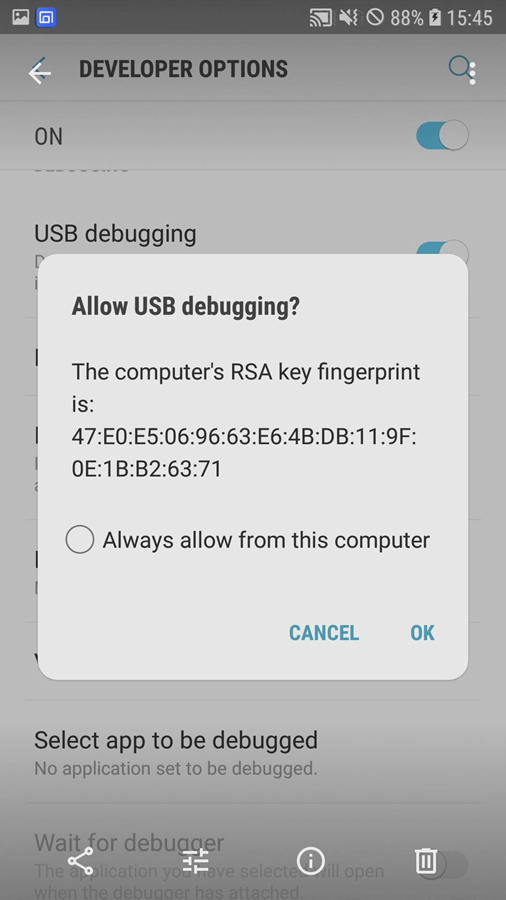 Step3: Once you have done so, StarzMirror should then be able to finish up, so all you need to do is wait until the connection is secure.
Step4: Then, you'll be able to begin controlling your Huawei phone screen directly from your PC – allowing you the highest level of freedom.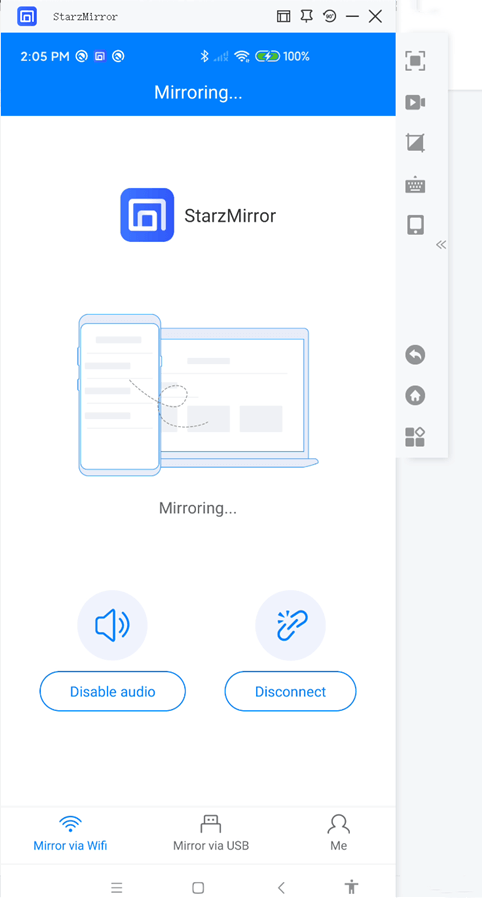 Many other screen mirroring options are unable to provide this level of quality and customization; often, you'll still need to control your phone screen directly from the device itself. As such, this definitely sets StarzMirror apart from the crowd, and this might be one of the reasons why it's growing in popularity
#2 Huawei MirrorShare
We've already mentioned the inbuilt sharing mechanism for Huawei devices, but did you know that you could potentially also use this to screen mirror your Huawei phone to a PC?
While it's not quite as versatile as StarzMirror, which allows you to screen mirror up to six of your Huawei phones to a PC in ultra-high definition, Huawei MirrorShare is still a great feature. As such, we recommend you give it a try if you've been looking to mirror your Huawei phone to a PC.
To use Huawei MirrorShare,
1. Head to your device's Settings > About Phone > Android Version and ensure your phone is running 4.4.2 or higher.
2. Then, open the General Menu > Network > Broadcast > Streaming the Screen. This will then allow you to connect your Huawei device with PC devices on the same network.
3. You'll need to be on the same WiFi network for this process to work effectively, however.
Conclusion
If you've been looking to find out more about different screen mirroring options and methods, we hope today's guide may have given you some ideas on where to start.
Indeed, in many cases, it can be incredibly useful to know how to screen mirror your Huawei phone to a TV device. Whether you're looking to play your favorite mobile games on another device, mirror great videos and content, transform a standard TV into a "Smart TV" alternative, or even help with presentations, there are many options.
Overall, perhaps the simplest way to screen mirror your Huawei phone to a TV device is to use the Chromecast tool, which offers an incredibly easy option. Alternatively, if you're looking for another way to screen mirror your Huawei phone to a PC, you could always try the StarzMirror tool, which allows you to screen mirror up to six devices to a PC simultaneously. Definitely worth considering as part of your final goal – but remember, not every tool is created equally.