Is Your iOS FaceTime Share Screen Not Working?
Apple wants to take on powerful video conferencing services like Zoom, Microsoft Teams, and Google Meet with a versatile FaceTime app. And its features like the ability to conduct FaceTime Screen Share calls from iPhone to Android, share your iPhone screen, and watch movies together, give it a good run against its rivals.
However, some users complain about FaceTime having some issues that need to be looked at. Since Apple has come a long way by investing in FaceTime, it's essential to solve all users' problems. However, Apple has given some solutions to iOS 15 FaceTime screen share, which we will explore in this article.
Many users complain about FaceTime features. The screen freezes or goes blank whenever a user tries to call someone. There can be numerous reasons behind the issues of Facetime screen share that deny users to enjoy the calls. Let's try to explore some of the senses.
When someone adds an emoji while saving the contact number of his friends or family members, it can affect FaceTime not to function correctly. Several users have claimed that adding emoji next to contacts' caused problems but removing emoji solved those problems.
One of the most significant reasons behind the Facetime screen not working is that your country doesn't support the Facetime feature.
If you possess a weak internet connection, it can cause a Facetime screen share problem also. Some issues with your service or your iPhone not catch the signal as it should, can create a problem for you to operate Facetime screen share.
iOS 15 Beta bug can be a significant factor behind the inability of your FaceTime to run appropriately. iOS 15 Beta possesses many glitches that need to take care of.
Before taking the necessary steps to troubleshoot the FaceTime screen share problem, you'll need to check whether FaceTime works in your country or not. FaceTime isn't available in some parts of the world. You can visit Apple's wireless support page to figure it out.
We have three straightforward solutions that might help you in preventing the Facetime problem.
1: Delete Emojis from the Facetime Screen Contact Name
We've explained in the beginning that adding emoji besides contact is one reason behind the Facetime problem. Thus, removing these emojis can solve your problems.
1. Open contacts app and find a person you want to call—[That contact's name contains emojis].
2. Press on the" Edit option" after tapping on the contact name.
3. Now, you can delete any emojis you've saved earlier. Hit "Done" to save the changes. Now, you'll need to restart Facetime and make a call to that contact again. It'll work instantly.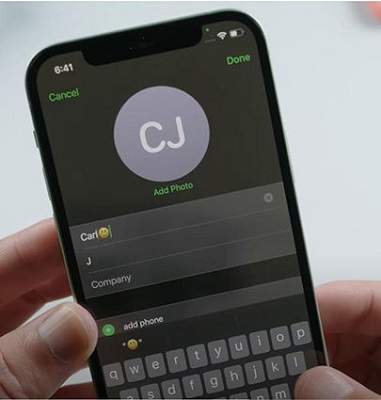 2: Force Restart Your iPhone
Another way to solve Facetime's problem will be to restart your iPhone.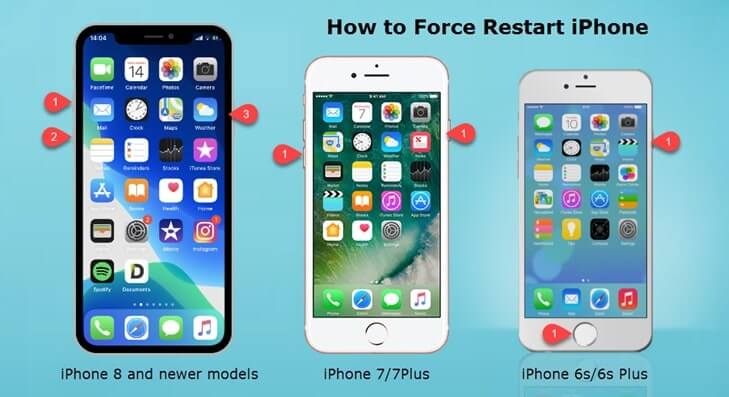 On iPhone 8 or later
Press and release the Volume down and up button. Now you'll need to hold a side button until iPhone restarts again.
On iPhone 7 or later
Click and hold the Volume down and side button for a while.
On iPhone 6s/6s
Hold both the power and home until the Apple logo appears.
3: Use iOS System Recovery Tool: StarzSoft Fixcon
If both of the above solutions don't achieve the desired results, you can repair the iOS or update the iOS system. You can use StarzSoft Fixcon to repair your device.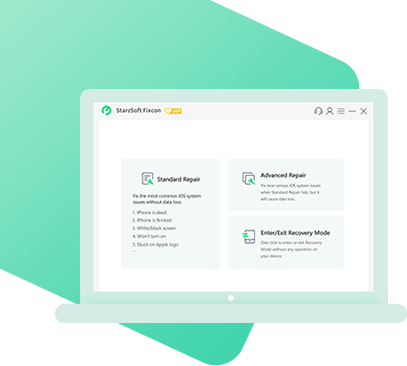 Easily fix iOS 15 beta bugs, glitches, or general problems with your iPhone/iPad
Users don't need to be tech-savvy to use this software
Data is kept intact after using Fixcon and there is no risk of data loss
Suitable for any iPhone/iPad model and works with all recent iOS versions
Available as a free trial version (try before you buy!)
A third-party tool possesses all the abilities to remove all your iOS bug issues. It's by far the ideal option for you to counter the FaceTime screen share problem ls.
Step 1: Install StarzSoft Fixcon
Press Standard Repair after downloading and installing StarzSoft Fixcon.
Step 2: Connect your iPhone
In this step, you'll need to connect a device to your computer via a Micro USB.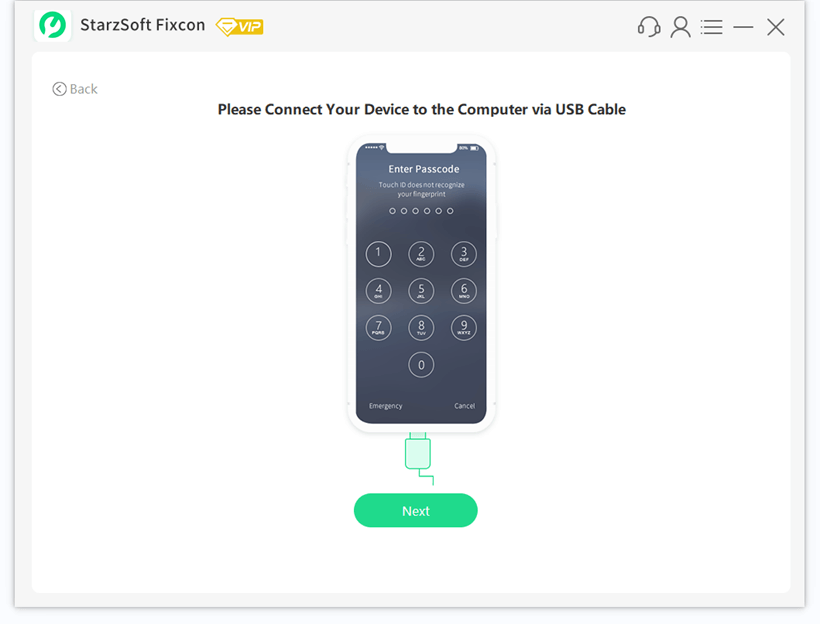 Step 3: Download Firmware Package
Now, you need to download Firmware Package and repair your device.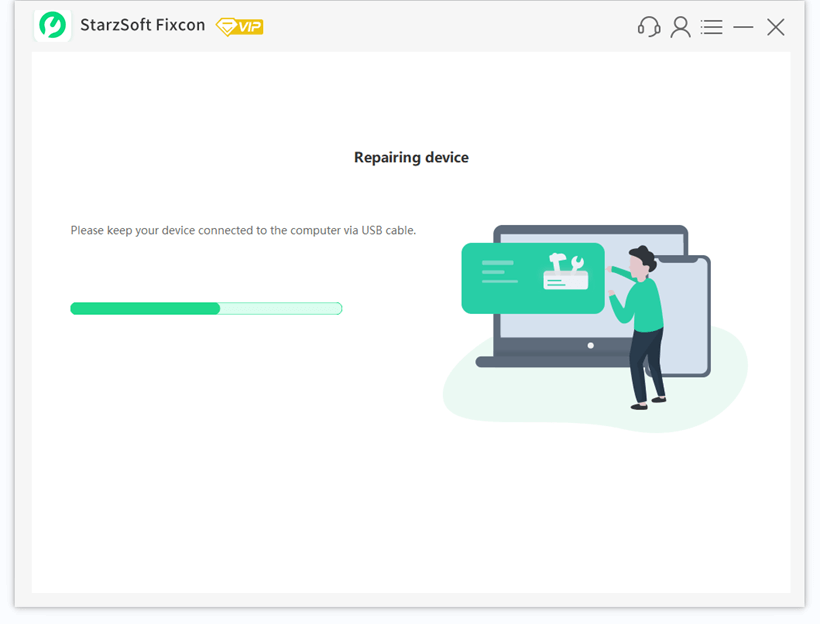 After you repair your device, the device will store in a normal position, and your Facetime will show no problem. You can use it without any fuss.
Part 3: What are the New Features of FaceTime in iOS 15?
Apple has introduced some new FaceTime features that are worth appreciating. Let's talk about them.
1.Generate invite Link
Instead of making video calls with other FaceTime users through the application, you can now generate links to send your colleagues, family, and friends.
2.FaceTime with Windows and Android
In the past, FaceTime was only available for Mac or iPhone users. But due to the emergence of invite links, users can now send meeting links to Windows or Android users, and they can also join a meeting.
3.Spatial audio
Spatial Audio is one of the best features that Apple has recently introduced for FaceTime applications.
After activating this feature, you'll be able to prevent your friends from listening to irritating background music during a meeting.
In this way, your friends will hear your voice only. It's a fascinating feature that permits you to attend a meeting without any noisy background comfortably.
4.Portrait mode for FaceTime
When you're conducting a video call with your friends on Facetime, it will blur anything in your background. In this way, your friends can see your visuals without any trouble.
5.SharePlay
Another fascinating feature of Facetime is SharePlay. It allows you to listen to music or watch movies totally in sync with family members and friends over FaceTime.
Suppose you want to watch a movie with your friends; SharePlay will enable you to start the film on both sides simultaneously. During this process, you can also make calls and enjoy yourself.
However, this feature hasn't been added to the official iOS 15 as Apple claims that it would be available later in this fall.
With the update of iOS 15.1, we find that Apple has added this feature and optimized it for many times, now you can enjoy as you like.
Here are some steps of using iOS 15 FaceTime screen share
1.In the first step, you need to open FaceTime on your iPhone device.
2.Now, you'll need to hit "Create" Link to generate a meeting link. Then, click on the "i" button option and select Share Link.

3.Later, you can share meeting links with your family members or friends using iMessage, text, email, or WhatsApp. After doing it, start a FaceTime call.
4.Now you'll need to press on "New Facetime". After tapping it, you can now enter your family member's name or a friend you want to share the screen with. After entering a name, hit FaceTime to proceed with video calling.
5.During a video call, you'll need to click on the "Screen Share".
6.Now, you only need to click on "Share My Screen". You'll see the screen starting after the count down.
7.Now, you'll need to open a particular app whose screen you want to share with family members or friends.
Final Words
To counter FaceTime Screen share problems, you'll need to figure out the reasons for issues. Sometimes it might be due to emoji being added to your contact number, or your internet speed is too slow.
However, it doesn't matter what's the reason behind your Facetime's functionality; if you follow the above guidelines, you can solve all these problems.
If the situation doesn't improve after trying each step we've mentioned above, you need to look for StarzSoft Fixcon, who guarantees you to solve your problems in a hurry.