Have you ever wondered how to unlock disabled iPhone devices with iTunes? There are fortunately several different methods you can use to learn how to unlock a disabled iPhone – and, with this in mind today, we'll be summarizing a few of the best options you could consider.
Indeed, we know how important your iPhone device is; as such, getting locked out of your iPhone can be incredibly frustrating, but we're here to help you find the solutions you need to counter this issue!
Why it Shows "iPhone is Disabled, Connect to iTunes"
There are several different reasons why you might find yourself locked out of your iPhone device due to it being disabled. Of course, there's the stereotypical case of "my friends disabled my iPhone for a prank." Alternatively, you might be struggling to remember your iTunes password and can't regain access to the device (for example, if you normally rely on FaceID or TouchID).
Luckily, while this might be a stressful time, there are options for how to unlock iPhone without passcode or with long disabled times in place. One of the most apparent methods for how to unlock a disabled iPhone is with iTunes – but could this be a valuable solution for your needs?
How to Unlock iPhone 7/8/XR/11/12/13 with iTunes
If you've managed to get locked out of your iPhone device, then Apple will prompt you to enter the device into recovery mode to re-enable access.
Generally speaking, using iTunes to recover your iPhone device is the most involved and complex process for bypassing an iPhone disable; nevertheless, it is effective. What's more, the process for how to put your device into recovery mode will also depend on the type of iPhone model you own, which may add a further layer of complication if you're already struggling.
Step1: To enter your device into recovery mode, start by checking the type of iPhone you own.
Step2: Power up your computer device and launch the iTunes app. Then, connect your iPhone to the computer using USB cables.
From here, the exact process varies slightly depending on your iPhone type. We've summarized the steps for different iPhone models below.

For all recent models (iPhone 8 and later, such as iPhone XR, 11, 12, and 13) press volume up > volume down > power. Continue holding the power button until the "Connect to iTunes" screen appears.
For iPhone 7 models, press power for three seconds > swipe to power off > hold volume down until the "connect to iTunes" screen appears.
For older iPhone models (iPhone 6 or before), press power for three seconds > swipe to power off > hold home until the "connect to iTunes" screen appears.
Step3: Then, all that's left to do select "restore" from the error box that appears on your computer, which should unlock your iPhone device.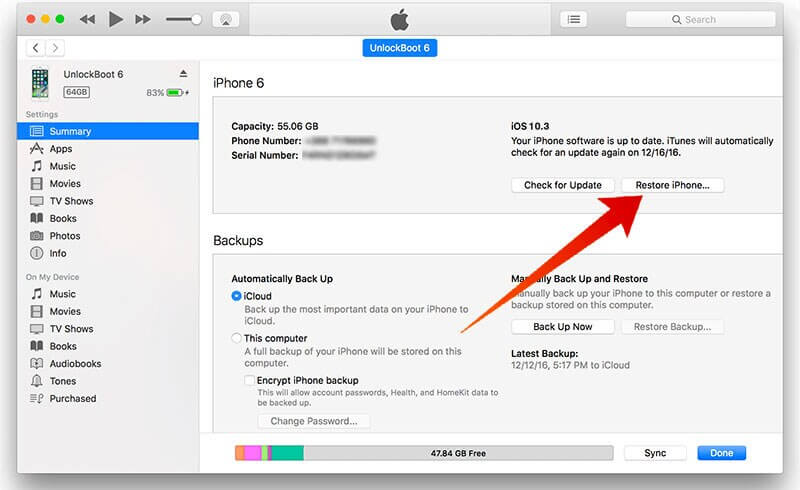 We should note here that, even though this method is approved by Apple itself, you will still lose all of your data; as such, always take a backup of data first!
While these steps are pretty simple, it's easy to make a mistake with them all the same. As such, if you're a little concerned about this process, you may want to try a different method for how to unlock a disabled iPhone or otherwise ask for support from someone who has done it before or knows their way around iPhones.
How to Unlock iPhone 7/8/XR/11/12/13 without iTunes —StarzSoft KeyPass
Looking for a reliable alternative method for how to unlock disabled iPhone with iTunes? If so, then there's no denying that using StarzSoft KeyPass is one of the most reliable and effective options.
Indeed, KeyPass is effortless to use and can help you quickly and reliably regain access to your iPhone device. In turn, this helps to ensure that you are able to use your device again, even after it has been disabled.
1. Features of StarzSoft KeyPass
StarzSoft KeyPass is one of the most contemporary and up-to-date iPhone unlocking software, and with this in mind, there are several features you should be aware of that make it effective for how to unlock iPhone without passcode.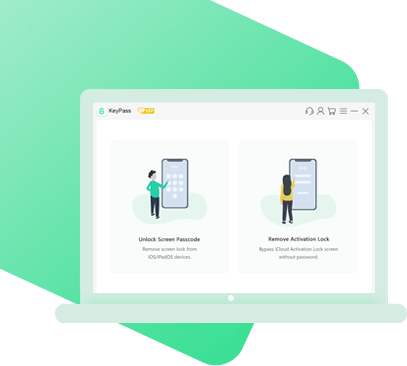 It can bypass iPhone lock screen without previous owner or password
It ensures 100% success rate for you to unlock your iPhone/iPad/iPod touch
Fast & easy to unlock your iPhone, no tech required
Supports all versions of iOS & iPad OS
Free trial is available for you!

Free Trial
100% Clean & Safe
KeyPass works with a wide variety of iPhones for unlocking disabled iPhones; in fact, it supports all devices, be it iPhone, iPad, or iPod, running iOS 7 or later to unlock screen passcodes. Meanwhile, if you want to use the tool to remove an activation lock, it's effective for all models, ranging between iPhone 5S and iPhone X with iOS 12 or later.
StarzSoft KeyPass is 100% safe and secure, and boasts a 98% plus success rate – something that's very rarely achieved by competitors' tools.
The simple three-step unlocking method makes it almost effortless to use, allowing you to learn an alternative for how to unlock iPhone with iTunes quickly and reliably.
Make life easier for yourself if you've been locked out of your iPhone; give StarzSoft KeyPass a try instead! And, if you happen to fall in the small number of users for whom it doesn't work, you can enjoy a money-back guarantee!
2. How to Use StarzSoft KeyPass for iPhone Disabled Bypassing
One key selling point of the StarzSoft KeyPass tool is that it's highly effective for bypassing iPhone-disabled locks. Indeed, efficiency is something that's so important these days – and StarzSoft KeyPass allows you to unlock your iPhone device in three simple steps. These are summarized as follows:
Step1: Select the unlocking mode you need for your iPhone device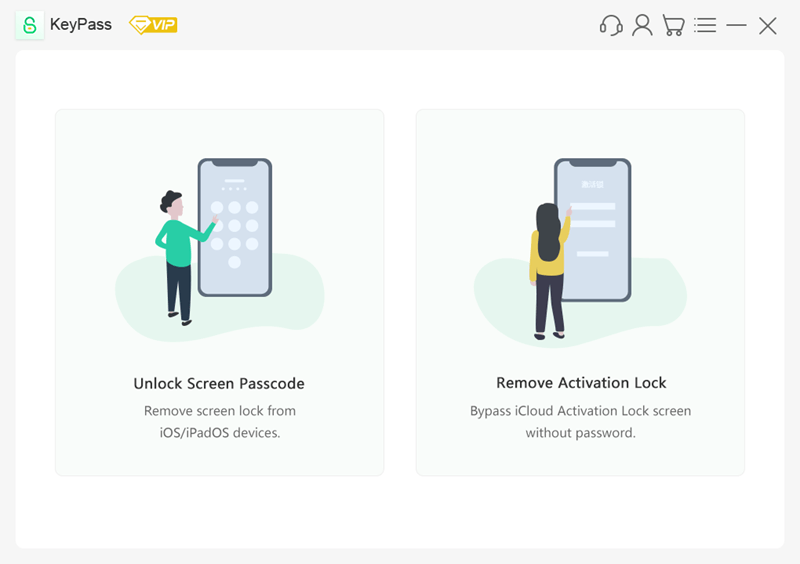 Step2: Connect your device to the computer using a USB cable and follow the instructions as prompted.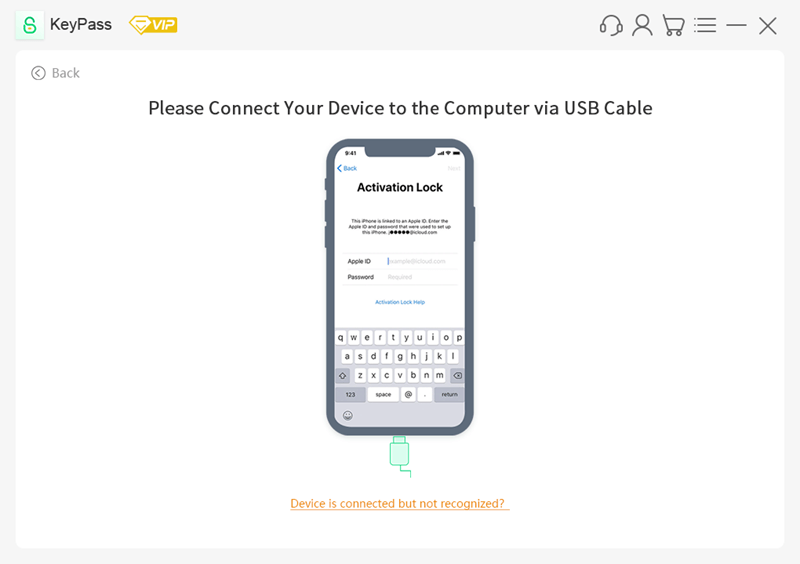 Step3: Wait for StarzSoft KeyPass to remove locks on your iPhone device!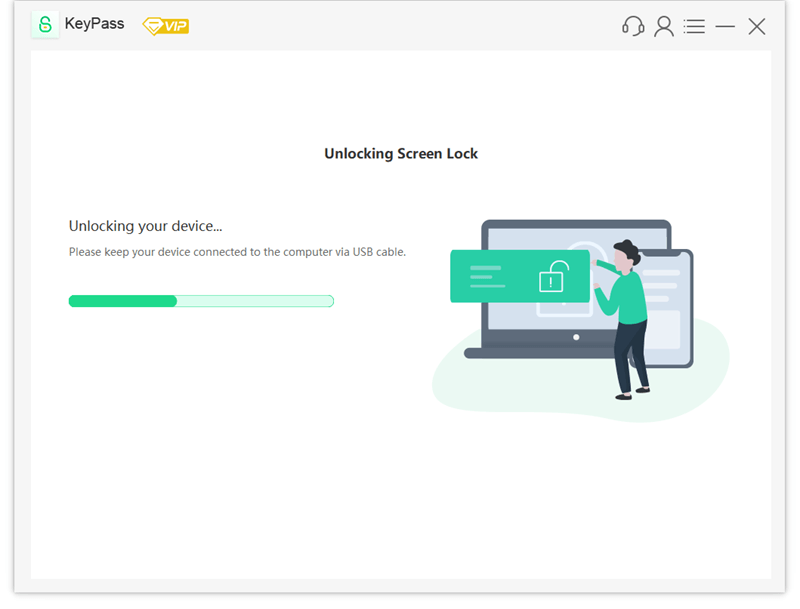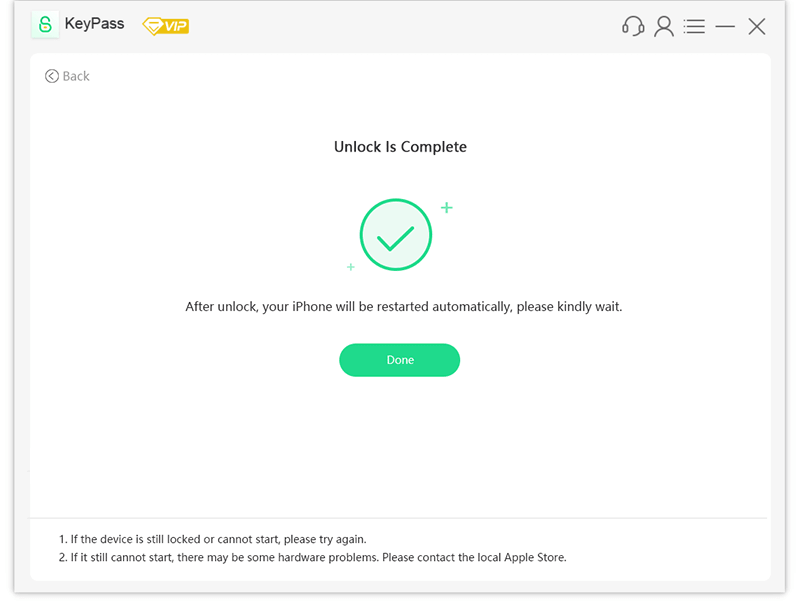 Here's a specific User Guide of StarzSoft KeyPass for you.
It really is that simple! It takes just a matter of minutes. You'll soon be able to redownload your data backup onto your iPhone device and get back to using your iPhone as normal.
The most important thing to remember is not to disconnect your iPhone from the computer at any point during the unlocking process until the iPhone has been fully unlocked.
3. Is StarzSoft KeyPass Reliable?
StarzSoft KeyPass is one of the most reliable iPhone and iOS unlocking tools on the market, which is largely owed to its recent updates. All too often, iPhone unlocking tools get bad press because the developers have not updated the tool; as such, in these instances, the tool will likely not work well, if at all, with newer versions of iPhone devices or iOS.
However, the StarzSoft Tool is reliable and more secure, owing to its more recent updates. This has helped contribute to the tool's success, with sites such as iPhone Hacks describing it as the "most effective iPhone password unlocker."
4. Always Download StarzSoft KeyPass from the Developer's Website
If you have been looking for a download link to StarzSoft KeyPass, it's crucial that you always download the tool from the approved developers' website. Indeed, while there may be some fraudulent copies of the tool available from less-than-stellar publishers online, this could be putting you at great risk!
At the end of the day, the tool is completely free to download onto your device anyway and is competitively priced thereafter – meaning there's really no reason to had to third-party websites download it.
What's more, if you attempt to download StarzSoft KeyPass from a third-party website, it is likely that you may download malware and viruses onto your device. Many third-party "publishers" of fraudulent download links will infect the download with malware which, in turn, could wreak havoc on your computer device. Don't take this risk for your computer; make the right, safe choice instead and download StarzSoft KeyPass directly to be confident.
How to Unlock iPhone 7/8/XR/11/12/13 without a Computer —Find My(iCloud)
What about methods to unlock your iCloud device without a computer? Both the iTunes and StarzSoft KeyPass methods need computer access; however, you don't need this with iCloud and the Find My function!
On your iOS device,
Step1: Navigate to the iCloud website (iCloud.com) and log in with your iCloud credentials.
Step2: Then, you will be sent to a dashboard with several functions; find the "Find My Device" function and select this to open the Find My iPhone website. On this page, you'll be presented with various different iOS devices; these are all of the devices linked to your iCloud account.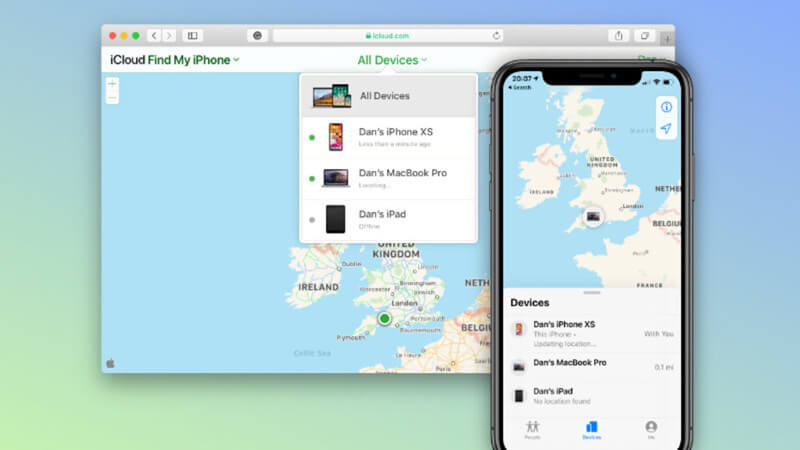 Step3: Find the device in question from this dropdown list and select it to bring up a list of information about the device. You should also see an option to erase or remove the device; select this to bypass iPhone disabled restrictions.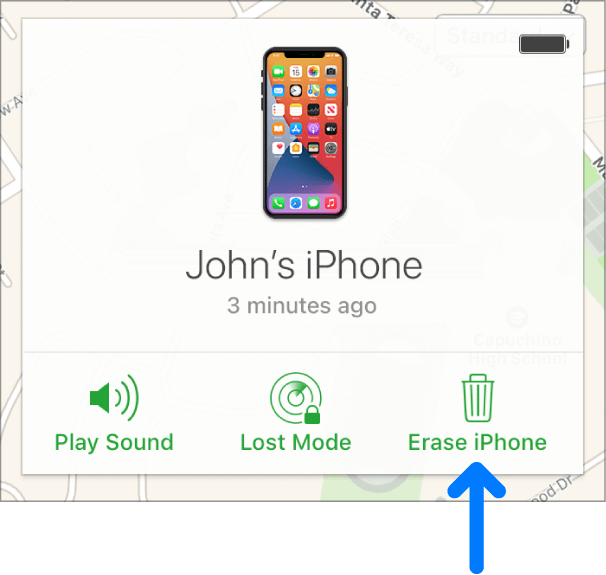 Further Reading: [Solved] How to Bypass Apple Activation Lock on iPhone or iPad
The Bottom Line
There's no doubt that it can be incredibly frustrating to get locked out of your disabled iPhone device, and there are several reasons why this might be the case. Nevertheless, there are methods of iPhone disabled bypass you could try to regain access to your device – even if it's been locked for an obscene length of time!
Today, we've summarized some key popular methods for how to unlock a disabled iPhone with and without iTunes; hopefully, this will help you make the right decision for your iPhone unlocking needs. So, please don't leave things to chance; give one of these methods a try, and you'll soon be back to using your iPhone device as normal!

Free Download

For Mac OS X 10.7 or Later
Secure Download